A butter cow, actual cows and candidates at Iowa fair; Clinton and Trump don't meet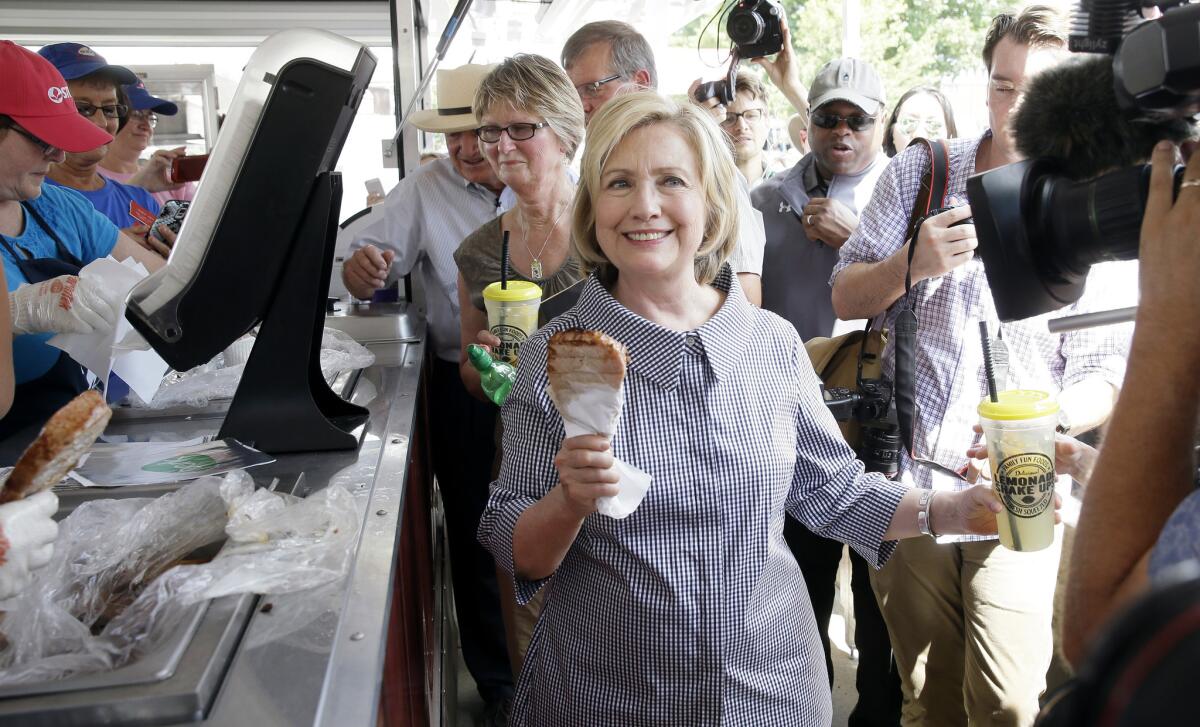 Two forces of nature overtook the Iowa State Fair on Saturday, adding new spectacles to the massive annual celebration of livestock, sculptures carved out of butter and cholesterol-laden treats on a stick.
Presidential candidates Hillary Rodham Clinton and Donald Trump toured the fairgrounds, a traditional rite of passage for White House hopefuls in the state that holds the first nominating contest in the nation.
The former secretary of State arrived first, greeting a cow named Maggie and the boy who owns her before talking to the press. Clinton was accompanied by former Iowa Sen. Tom Harkin, a beloved figure among the state's Democrats who endorsed her the prior day.
Harkin, who was neutral during the 2008 primary contest between Clinton and then-Sen. Barack Obama, said Clinton is running a far superior campaign this time.
"No doubt in my mind," he said. "More personal, more hands-on, more small-towns and little groups around the state of Iowa. She has an organization that is much sharper and keener."
Energetic crowds mobbed the candidate, snapping selfies and chanting her name. Clinton spoke of the joy of being a new grandparent — "Bill and I are crazy" — and answered questions on issues such as medical marijuana.
In the agriculture building, Clinton passed displays of Iowa produce such as tomatoes, beets and cabbage before coming upon one of the icons of the state fair, the 600-pound butter cow. But Clinton appeared more impressed by a Monopoly-themed butter sculpture, exclaiming, "I love it."
As Clinton sampled the fair's signature fresh-squeezed lemonade and grilled pork chops, Trump landed in a nearby field in a helicopter emblazoned with his name (state fair officials did not allow him to land it on the fairgrounds).
Trump told reporters that Clinton, whom he donated to previously and who attended one of his weddings, was the "single worst secretary of State in the history of this country." Asked what he would do if they crossed paths at the fair, he said he would "say hello."
Alas, the pair did not meet.
A large crush of supporters flocked to the businessman-turned-reality television star. One man yelled at the candidate that he had a crowd 10 times larger than Clinton, a comment Trump seized upon.
"People said 10 times Hillary, 10 times," Trump said, who is leading in polls in Iowa and across the nation. "People are tired of politicians," he told reporters. "They're tired of incompetence."
As Trump toured the fair and sampled a pork chop, his helicopter took children for rides over the fair.
Neither Clinton nor Trump took a turn on the Des Moines Register soapbox, a venue for candidates to address fair attendees for 20 minutes each. The unscripted format and the unscreened audience can be risky for candidates, with the potential for hecklers, hostile questions and gaffes. The Soapbox was the spot in 2011 where Mitt Romney infamously said, "Corporations are people, my friend," in a back-and-forth with voters over taxation.
As Vermont Sen. Bernie Sanders was speaking there about issues such as income inequality, equal pay, healthcare access and climate change, Trump's chopper appeared overhead.
"Oh look, there's Donald Trump," Sanders said. "I apologize. We left the helicopter at home. I forgot to bring it."
Sanders, an independent and self-described socialist who is seeking the Democratic nomination, is considered an underdog but for the first time pulled ahead of Clinton in a poll this week of New Hampshire voters. He has also been drawing enormous crowds on the campaign trail, including one of 27,000 in Los Angeles earlier this week.
"Three and a half months ago we just began this campaign. Everyone said this campaign was a joke," he said, before noting the large audiences he is seeing. "The American people are saying enough is enough. This country belongs to all of us, not just a handful of billionaires."
Times staff writer Don Lee in Washington contributed to this report.
For more campaign coverage, follow @LATSeema
---
UPDATES
3:10 p.m.: This article was updated with information about Saturday's happenings at the Iowa State Fair.
---
Tweets by @LATSeema
Sign up for Essential California for news, features and recommendations from the L.A. Times and beyond in your inbox six days a week.
You may occasionally receive promotional content from the Los Angeles Times.