'She died doing what was right:' Details emerge about those killed in Charlottesville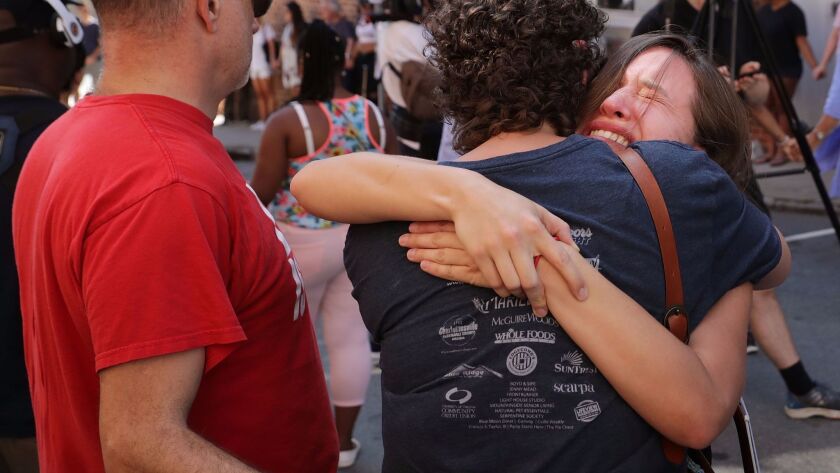 Heather Heyer was a paralegal known to family and friends as someone who stood up for what she felt was right.
Lt. Pilot H. Jay Cullen spent years flying the governor of Virginia around the state. Trooper Pilot Berke M.M. Bates had recently realized his dream of joining the state police aviation unit.
Details are emerging about those killed after a white nationalist rally in Charlottesville, Va., turned violent Saturday. They included a woman, Heyer, who died when a man drove his car into a crowd of anti-racist counter-demonstrators and two state troopers whose helicopter crashed near the city after monitoring the protests.
The cause of the crash remains under investigation.
Heather Heyer, 32
Friends and family members remembered Heyer as a caring person with strong moral convictions.
"She died doing what was right," said Heyer's mother, Susan Bro, according to a GoFundMe page set up by the woman's friends to raise funds for her family. "My heard is broken, but I am forever proud of her."
As of Sunday evening, more than $200,000 had been raised on the site.
The 32-year-old paralegal grew up in nearby Ruckersville, Va., and later moved to Charlottesville, according to a biography posted on the website of the Miller Law Group, where she assisted clients in the bankruptcy department.
Sarah Albro, a former coworker and friend, told NBC News that she wasn't surprised that Heyer had attended the counter-protest.
"She was vocal," Albro said. "She had transgender friends. She had black friends. She had gay friends."
"I wouldn't say that she was an activist," Albro added. "But I would say that she felt strongly about certain things and had no problem standing up and showing support."
Heyer died while "exercising her peaceful first-amendment right to speech," Charlottesville government officials said in a statement.
"This senseless act of violence rips a hole in our collective hearts," the statement said. "While it will never make up for the loss of a member of our community, we will pursue charges against the driver of the vehicle that caused her death and are confident justice will prevail."
Lt. Pilot H. Jay Cullen, 48
Cullen, 48, was a veteran of the state police force.
He graduated from the Virginia State Police Academy in May 1994 and in 1999 joined the Virginia State Police Aviation Unit.
Virginia Gov. Terry McAuliffe and First Lady Dorothy McAuliffe said they knew Cullen and Bates and considered them close friends. Cullen had flown the governor and his wife around Virginia for more than three years.
"These heroes were a part of our family and we are simply heartbroken," the couple said in a statement.
Cullen, who was piloting the helicopter when it crashed Saturday, was from Midlothian, Va. He is survived by his wife and two sons, Virginia State Police said in a statement.
"Our state police and law enforcement family at-large are mourning this tragic outcome to an already challenging day," said Col. W. Steven Flaherty, the Virginia State Police superintendent.
Trooper Pilot Berke M.M. Bates, 40
Bates, who was from Quinton, Va., was just beginning his career as a pilot, a job he had dreamed of pursuing for decades.
He would have celebrated his 41st birthday Sunday. He graduated from the Virginia State Police Academy in 2004 and transferred to the aviation unit in July.
"Trooper Pilot Bates was a welcome addition to the Aviation Unit after a distinguished assignment as a special agent with our Bureau of Criminal Investigation," Flaherty said in a statement.
Bates is survived by a wife and two children.
Please consider subscribing today to support stories like this one. Already a subscriber? Your support makes our work possible. Thank you. Get full access to our signature journalism for just 99 cents for the first four weeks.
ALSO
A day of heightened tensions and casting blame after white nationalist rally turns deadly in Charlottesville
White House defends Trump's response to deadly violence in Charlottesville as criticism intensifies
Hip-hop artist recalls his beating in Charlottesville: 'They were trying to kill me out there'
---
Must-read stories from the L.A. Times
Get the day's top news with our Today's Headlines newsletter, sent every weekday morning.
You may occasionally receive promotional content from the Los Angeles Times.