Deep freeze hits Deep South
A person walks with an umbrella to block the wind and snow in Manhattan as a winter storm pounds New York on Jan. 4.
(Carolyn Cole / Los Angeles Times)
People cross 42nd Street at Grand Central Station in Manhattan as the first major snowstorm of the year hits New York on Jan. 4.
(Carolyn Cole / Los Angeles Times)
A person crosses 42nd Street at Grand Central Station with an umbrella to block the wind and snow in Manhattan on Jan. 4.
(Carolyn Cole / Los Angeles Times)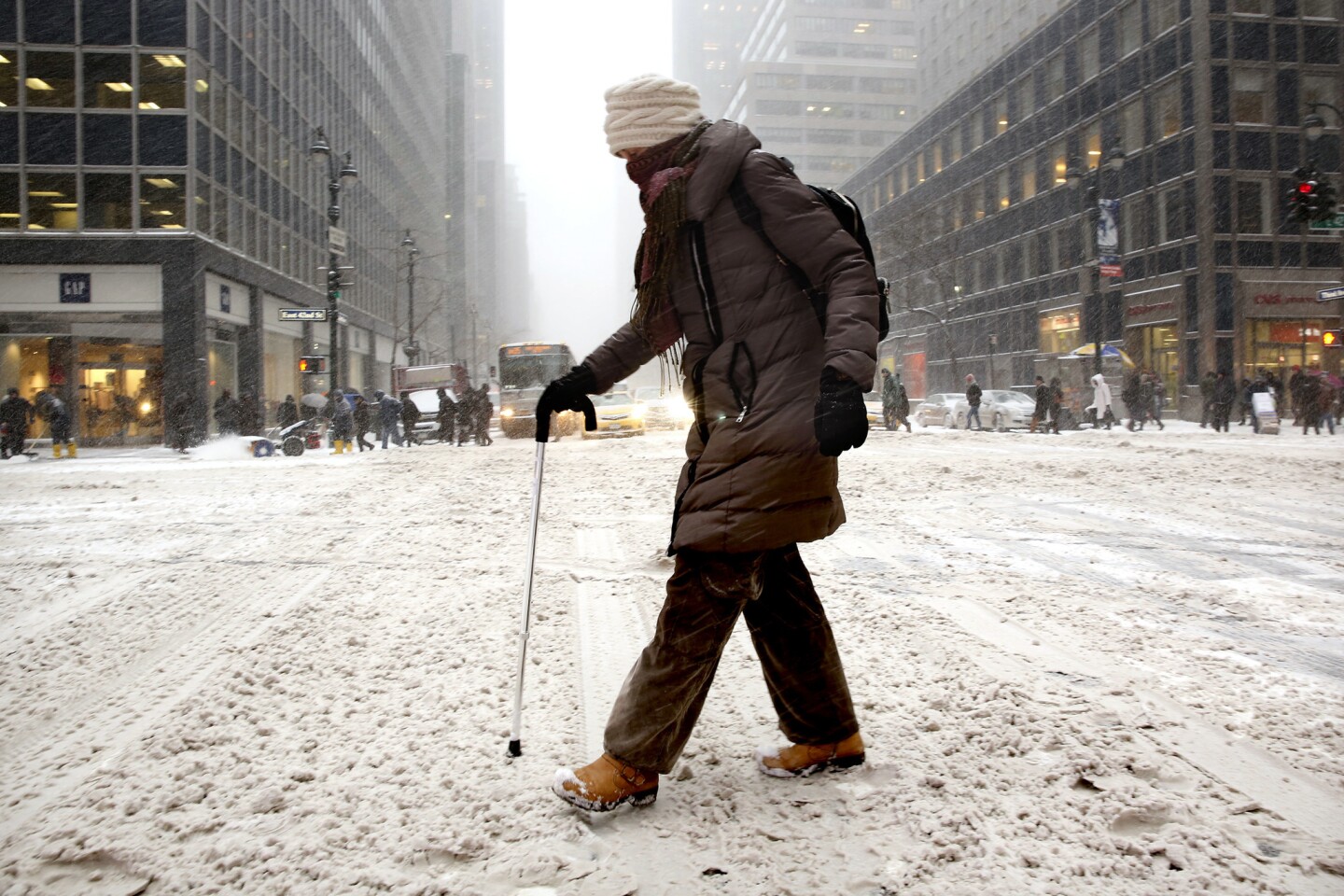 As a major winter storm pummels New York on Dec. 4, Laura Jackson makes her way across 3rd Avenue and 42nd Street on the way to a rehabilitaion appointment after having knee surgery.
(Carolyn Cole / Los Angeles Times)
With New York in the grip of a cold and snowy storm, Theo waits for his owner, Honda Wang (not shown), as he shops in a butcher store.
(Carolyn Cole / Los Angeles Times)
A winter storm covers much of New York in snow on Dec. 4.
(Alba Vigaray / EPA /Shutterstock)
Ice collects on the river in Chicago on Jan. 3.
(Scott Olson / Getty Images)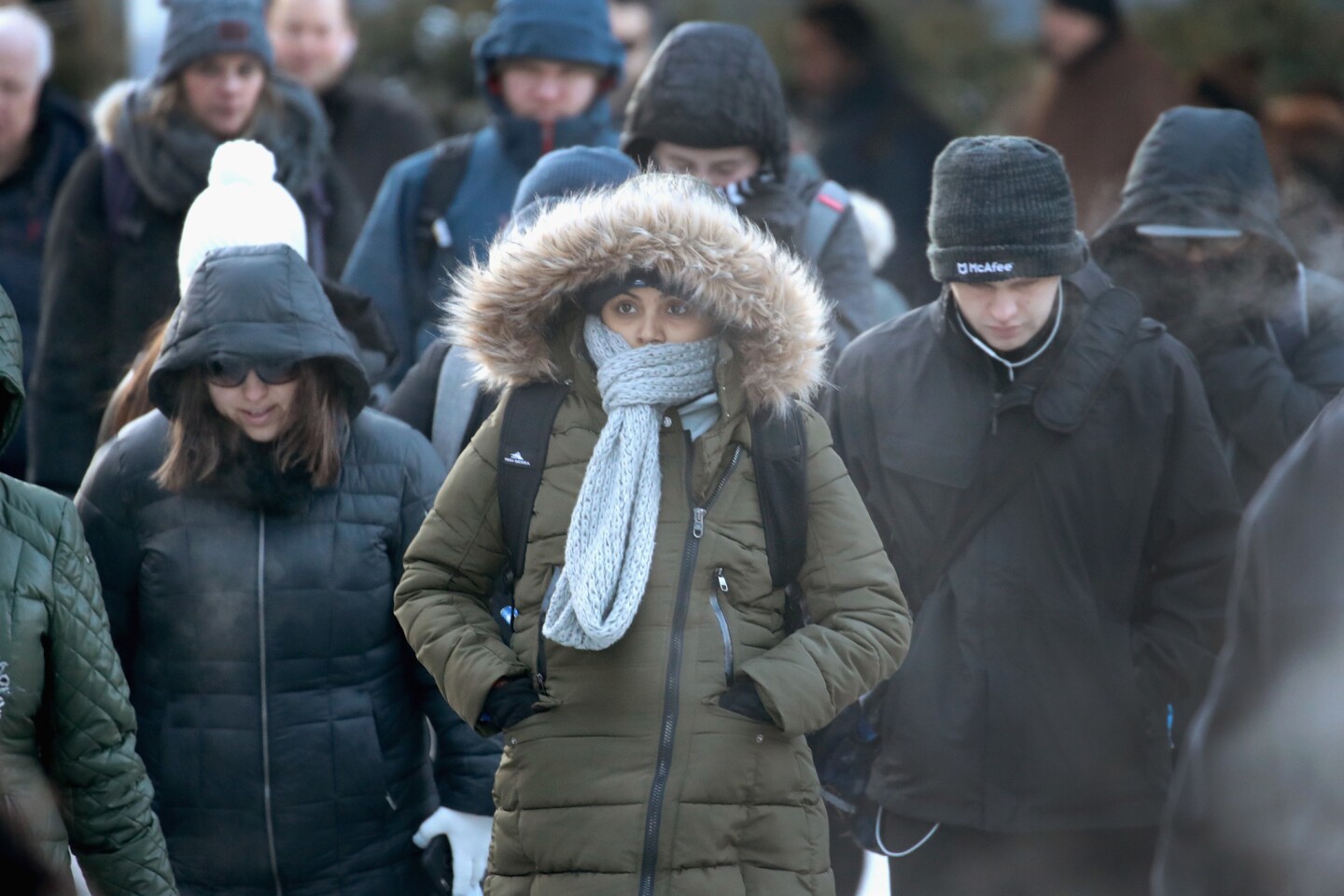 Commuters brave sub-zero temperatures as they make their way to work in Chicago on Tuesday. Record cold temperatures are gripping much of the U.S.
(Scott Olson / Getty Images)
Water squirts from a mostly frozen fountain in Charlotte, N.C.
(Chuck Burton / Associated Press)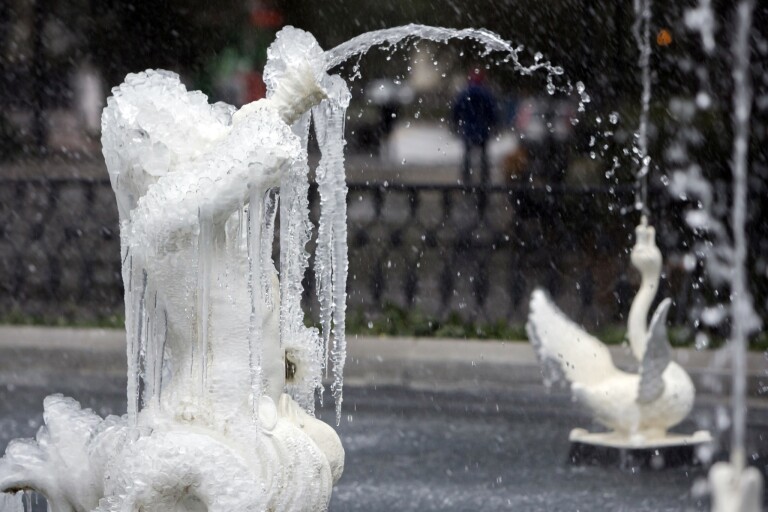 Water sputters through a frozen fountain in Historic Forsyth Park in Savannah, Ga., on Wednesday.
(Stephen B. Morton / Associated Press)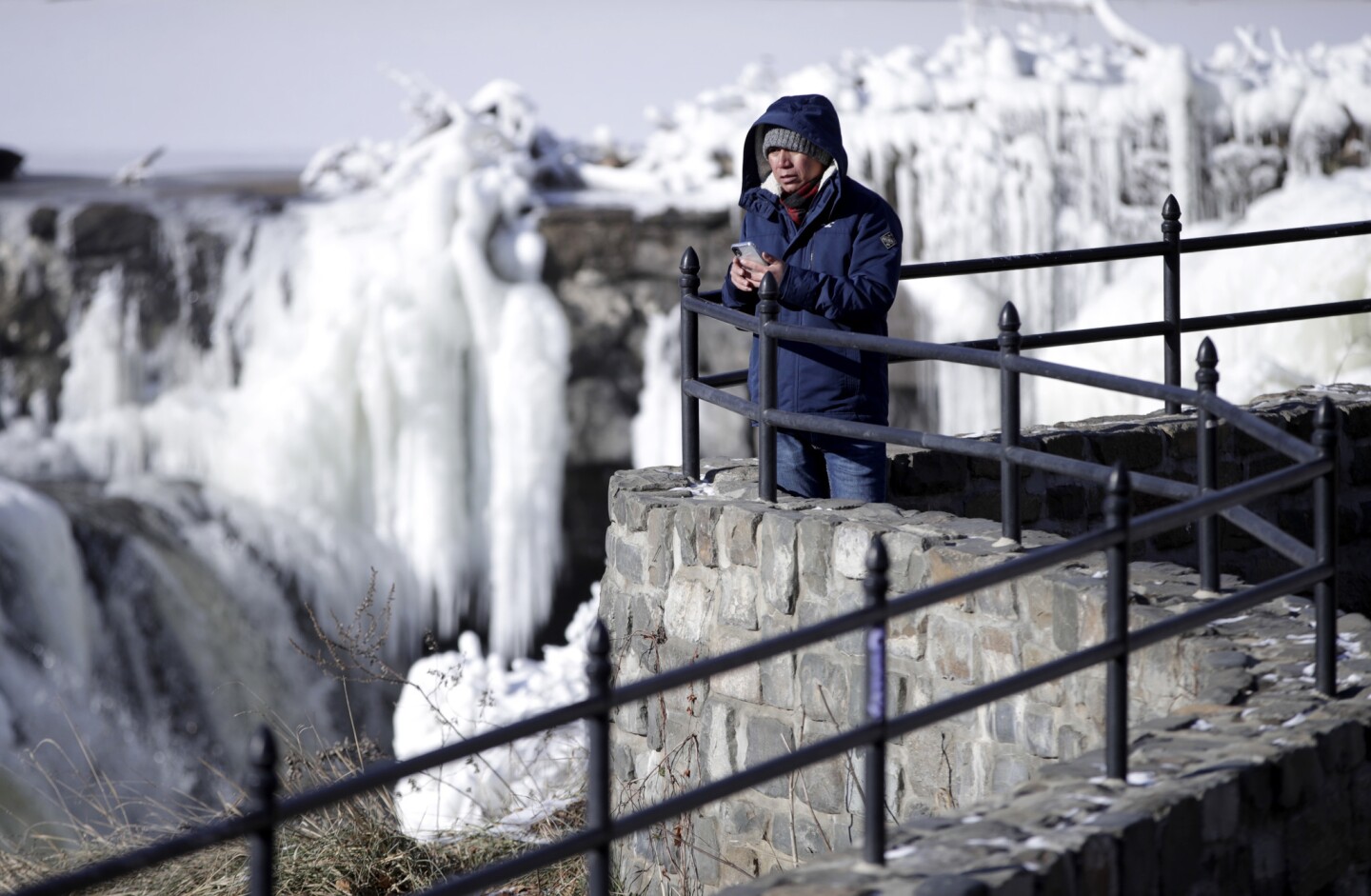 Obdulio Arenas looks over the partially frozen falls at Paterson Great Falls National Historical Park in Paterson, N.J., on Tuesday.
(Julio Cortez / Associated Press)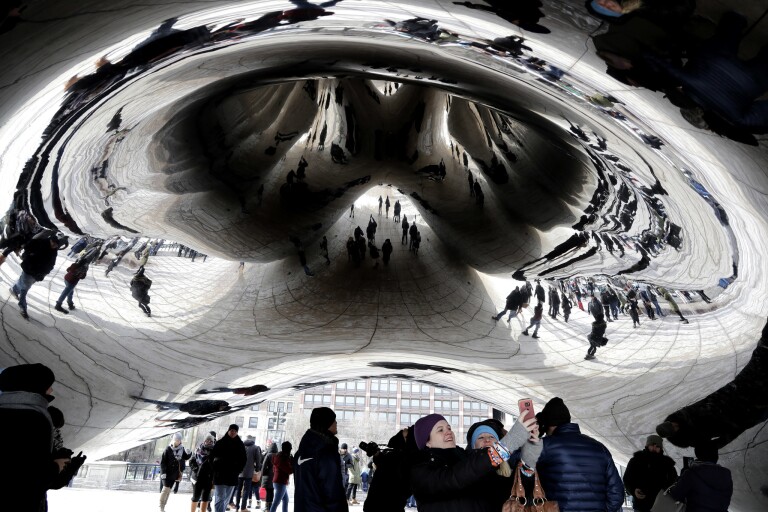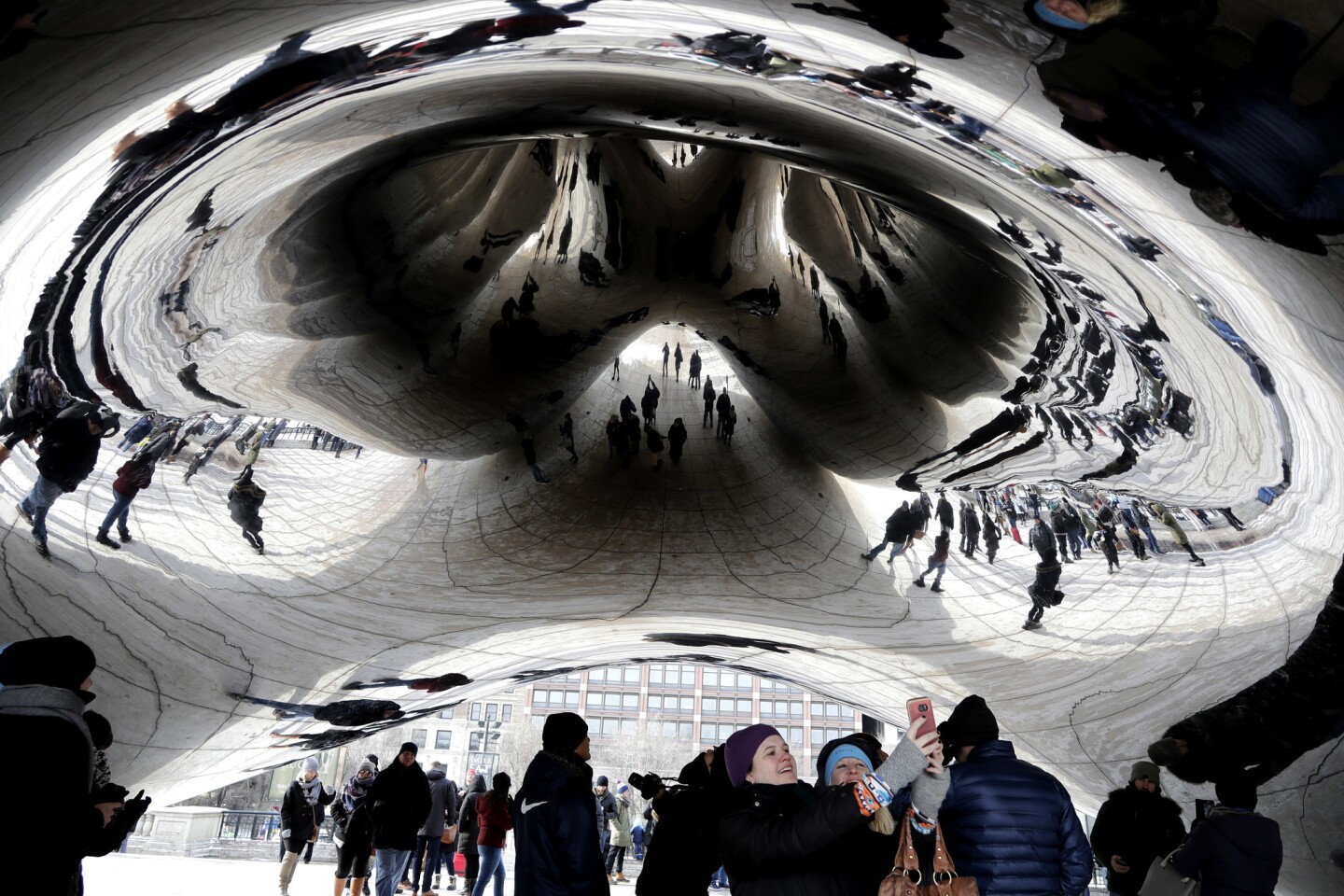 People have bundled up against the cold at the Cloud Gate at Millennium Park in Chicago on Sunday.
(Nam Y. Huh / Associated Press)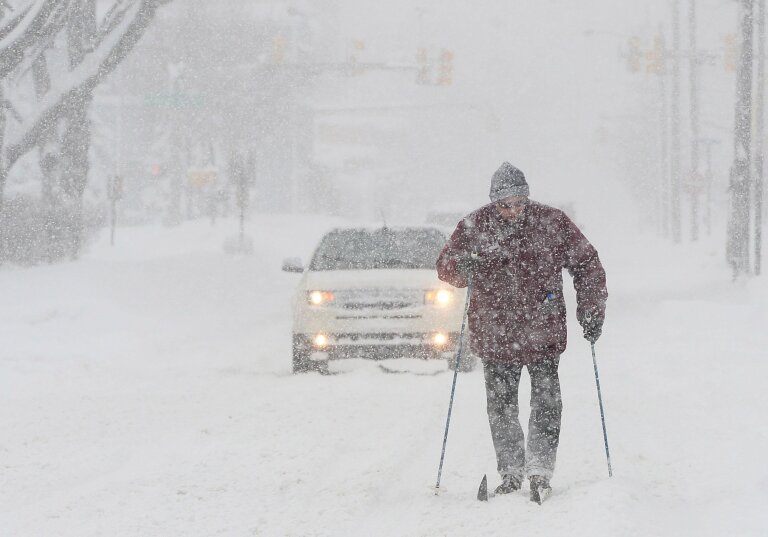 Timothy Gigone, 51, skis along a road in Erie, Pa., on Saturday.
(Jack Hanrahan / Associated Press)
A person fishes near Lock and Dam No. 11 in Dubuque, Iowa, on New Year's Day.
(Nicki Kohl / Telegraph Herald)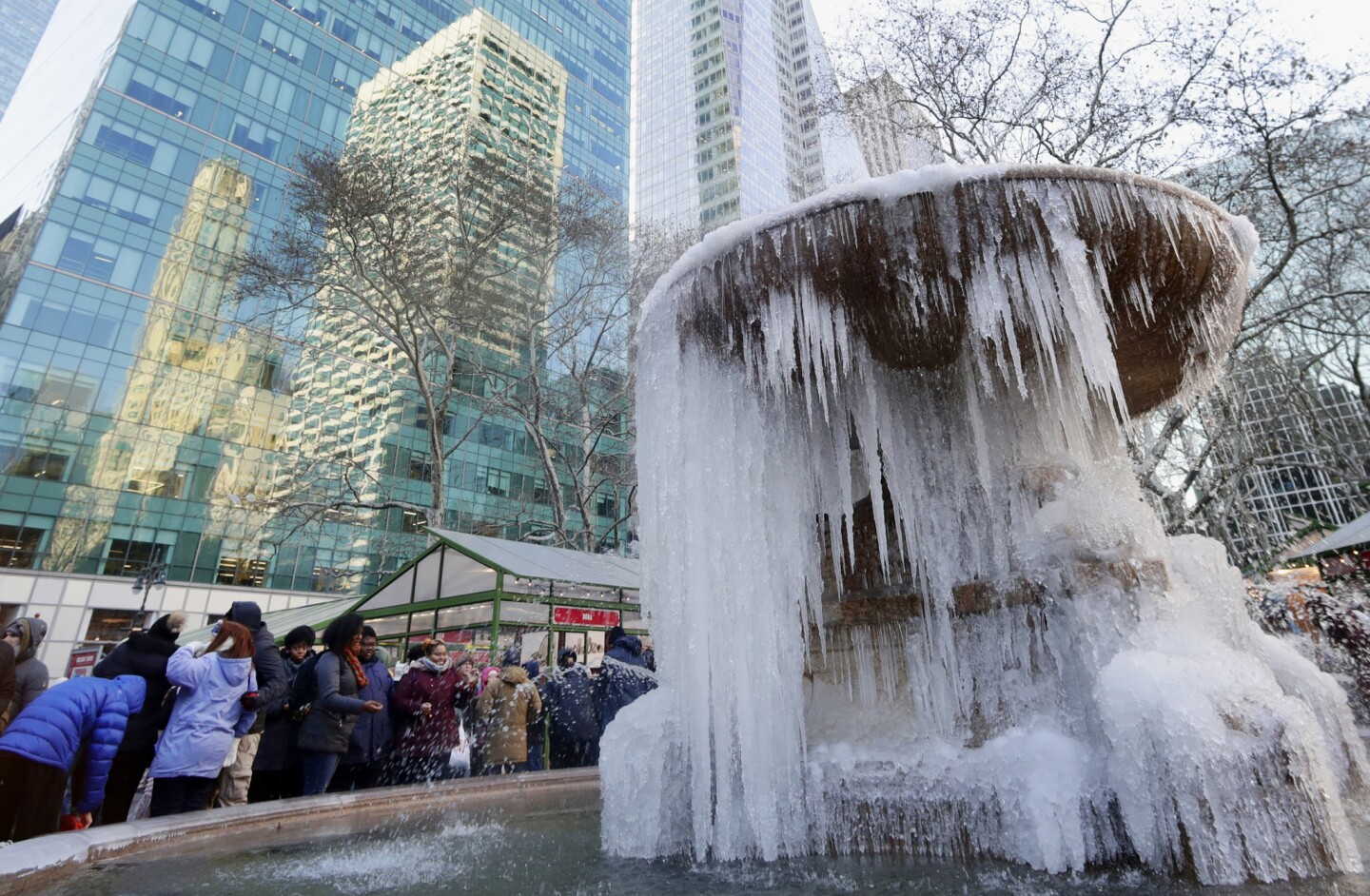 People pose for photographs in front of a frozen water fountain in New York's Bryant Park.
(Frank Franklin II / Associated Press)
There's a common phrase among Southerners about weather: "If you don't like the weather, wait five minutes."
The presumption is that the weather will get nice soon enough. These days, however, for millions of Southerners enduring unexpectedly cold weather, the wait will be much longer than five minutes.
Jonathan Kurtz, a meteorologist with the National Weather Service in Norman, Okla., said cold air from near the Arctic Circle in Canada came into the Southern region of the United States and stayed for several days, causing lower temperatures than usual across the South.
Bitter cold has descended on large portions of the country, clogging rivers with ice, forcing schools to close and freezing a water tower in Iowa. The Midwest and New England are used to temperatures around or even below zero. Not so parts of Georgia, where Tuesday the thermometer read 13 degrees.
The frigid weather will remain a few days, with heavy snow in the Mid-Atlantic and Northeast. According to the National Weather Service, a quarter-inch of ice and a couple inches of snow are possible Tuesday night and Wednesday from portions of the Florida Panhandle to eastern North Carolina.
Here's a closer look at several Southern states:
---
Georgia
Hundreds of Georgians have missed much of the cold, having traveled to Southern California for the Rose Bowl. But for those back home, the night low temperature in Athens, home to the University of Georgia, is expected to range from the high teens to the lower 20s.
In northeast Georgia, it's been so cold people are running their heaters all night, adding stress to the electrical power system, said Greg Brooks, a spokesman for the utility Walton EMC.
A lifelong Georgian, Brooks said residents are used to mild winters, with temperatures usually in the low to mid-50s during the day, and night temperatures dipping into the mid-30s.
On Tuesday morning, Brooks and many Georgians flinched at the 13-degree weather.
That said, it could be worse.
"The dirty word around here is ice, and I don't think any of that is in the forecast," Brooks said.
---
Texas
In south Texas, fishermen were told that their favorite hobby is off-limits for now because of the cold.
The Texas Parks and Wildlife Department issued a two-day temporary closure to saltwater fishing along parts of the coast to protect game fish. A hard freeze can kill fish in shallow bay waters but also cause fish to gather in a few deep areas, where they become sluggish and more prone to being caught by fishermen.
"The high mortality that a freeze can cause may deplete fish stocks for years," Robin Riechers, director of the agency's Coastal Fisheries Division, said in a news release. "Protection of the surviving fish during the few days when they are especially vulnerable to capture would likely shorten the time period for overall recovery of coastal species, especially spotted sea trout."
Texas has about 2 million acres of bays and estuaries susceptible to freeze, according to the agency. There were three major freezes in the 1980s, including one in 1989, when the temperature at Brownsville dropped to 16 degrees. An estimated 11 million fish were killed.
The National Weather Service said Tuesday that southeast Texas likely won't see temperatures climb out of the 30s, with a below-freezing wind chill.
---
Alabama
The National Weather Service in Huntsville anticipates that a very cold, dry arctic air mass will remain in place across the Tennessee Valley, which includes part of Alabama, for much of the upcoming week.
Although mostly sunny to partly cloudy conditions are expected, afternoon temperatures will struggle to approach the freezing mark, and lows will drop into the teens each morning.
"Typically, we only get like a day or two with a cold snap, but this is a little different because it's a longer duration of colder weather," Jason Holmes, a National Weather Service meteorologist, told the Opelika-Auburn News. "So people are advised to check on relatives and the elderly and make sure everyone has a safe way to stay warm. Definitely have a safe and warm place for outdoor pets as well."
---
Louisiana
An estimated 200,000 visitors were in New Orleans over the weekend, in part for the Sugar Bowl, and it was sometimes easy to tell the out-of-towners from the locals.
"You had some people who came down from the Northeast for the game who weren't wearing jackets at all — it was 35 or 40 degrees, and they were fine," said Mark Romig, New Orleans Tourism Marketing Corp., president and chief executive. "They probably thought it was a warm front, and others who are from closer to New Orleans, they pulled out their thickest jackets, scarves and gloves."
Barry Keim, Louisiana state climatologist, said Louisiana, like much of the Eastern United States, is experiencing an "arctic outbreak," which is basically the "polar vortex" making a comeback.
The jet stream has dipped far south, which creates a highway of sorts for cold air from Canada, causing temperatures to plunge, he said.
Louisiana normally sees lows in the mid-40s and afternoon highs in the low 60s. Currently, temperatures across the state are 20 to 25 degrees below normal.
"This is not record-breaking cold, in terms of the coldest we've ever seen, but we're nipping at extremes for specific days," Keim said.
Keim said he's among the many Louisianans trying to save his plants from the bitter cold. He has employed Christmas lights underneath protective coverings on his outdoor plants, in hopes that keeps them alive.
---
Mississippi
Gary Sturdivant, a Salvation Army major in Biloxi, says he has never experienced such cold during his five years working in Mississippi.
On Tuesday, the nighttime temperature is expected to dip into the low 20s. WLOX reported that, for the first time in years, ice formed on the Biloxi Back Bay.
Sturdivant said the Salvation Army opens a cold-weather shelter when the temperature is expected to dip below 40 degrees, and for most of 2017, it was hardly open.
However, the shelter opened toward the end of the year and into 2018 for six days.
On Monday night, almost 50 people came to the shelter — double the number coming to seek refuge from the cold in previous days.
At church Sunday, Sturdivant made a plea to a group of people who are homeless.
"We're in south Mississippi, so our bodies are not used to that," he told them. "I beg you to come inside, especially with it getting down into the 20s."
Please consider subscribing today to support stories like this one. Get full access to our signature journalism for just 99 cents for the first four weeks. Already a subscriber? Your support makes our work possible. Thank you.
---
Twitter: @jaclyncosgrove
---
Must-read stories from the L.A. Times
Get the day's top news with our Today's Headlines newsletter, sent every weekday morning.
You may occasionally receive promotional content from the Los Angeles Times.