In a year of mass shootings, an ambush on police adds one more victim to the toll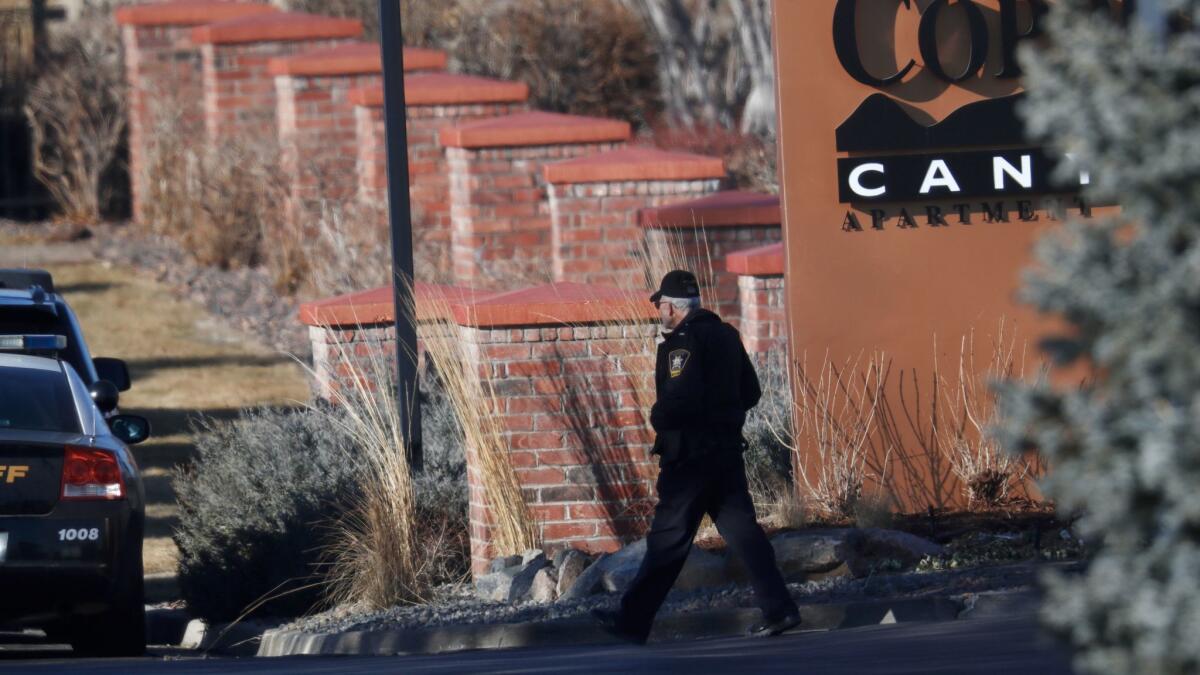 Reporting from HIGHLANDS RANCH, Colo. —
In a year racked by mass shootings, including the deadliest in U.S. history, a spasm of violence here on the last day of 2017 added one more to the grim tally.
Four Douglas Country sheriff's deputies responding to a noise complaint were ambushed by a gunman who sprayed them with more than 100 bullets.
All four were hit. Those who could crawled away. But Deputy Zackari Parrish, 29, was shot repeatedly and killed.
Douglas County Sheriff Tony Spurlock said at a news conference that the officers were responding to a complaint about raised voices at the Copper Canyon Apartments in Highlands Ranch, about 12 miles south of Denver, at about 5:15 a.m.
One of the two men in the apartment let them inside. Spurlock said the other, identified as 37-year-old Matthew Riehl, spoke briefly with the officers before firing on them from a bedroom.
"Almost immediately he began shooting," Spurlock said. "They were all shot very quickly. It was more of an ambush attack on our officers. They knew we were coming."
With all of the officers down, a second unit went in to rescue Parrish. In an exchange of gunfire, a fourth officer was wounded and the gunman was killed.
All the wounded officers are in stable condition at local hospitals, authorities said. Two civilians also sustained non-life-threatening injuries.
Authorities said the gunman used a rifle but did not identify the type. The other man in the apartment is cooperating with law enforcement.
As the sheer scope of the incident set in, an extraordinary scene unfolded. Parrish's body was placed inside a black hearse and escorted from Littleton Adventist Hospital by a fleet of 60 law enforcement vehicles and motorcycles. The moment was carried live on local television. One resident stood on a sidewalk bearing an American flag as the procession went past.
Parrish had been a deputy for just seven months, and Spurlock grew emotional as he recounted having to speak to his widow.
"This is a tragic day. Zack was a good kid, a smiley kid, eager to work, eager to serve," he said. "His wife told me he loved this job, loved coming to work each day."
He said Parrish had two very young children but did not give their ages. Spurlock said he expected to learn more once the officer's body-camera footage was processed.
The gunman was well known to law enforcement but did not appear to have a criminal record in the Denver area, Spurlock said. He did not elaborate on previous interactions with the suspect.
Hours after the shooting, dozens of officers could be seen moving in and out of an apartment not far from the leasing office.
After staying inside most of the day, Summer Sayed, 21, finally ventured out. She and her family moved here from Egypt and were awakened Saturday morning by the sound of gunfire.
"I didn't know what it was at first, then my sister said, 'That's a gun,''' she said. "We have never had an issue here before. This is pretty shocking. Why did it happen here? Who has the nerve to do this? My mom is pretty shaken up. We are thinking twice about living here."
Colorado Gov. John Hickenlooper, a Democrat, wished a speedy recovery to the wounded.
"The call to protect and serve too often leads to this ultimate sacrifice. We are grateful for the service of Deputy Parrish, his fellow deputies, and that of the Castle Rock police officer," he said. "We pray for them and their families' strength and resolve in the days and months ahead."
President Trump offered his condolences to "the victims of the terrible shooting in Douglas County and their families."
"We love our police and law enforcement — God Bless them all," he tweeted.
The shooting punctuates a year of gun violence, sobering even in a country long accustomed to mass killings.
The deadliest mass shooting in U.S. history occurred on Oct. 1, when Stephen Paddock, 64, opened fire on concertgoers from the window of the Mandalay Bay hotel in Las Vegas, killing 58 and injuring more than 500.
On Nov. 5, Devin Patrick Kelley, 26, shot 26 people to death and wounded 20 inside the First Baptist Church in Sutherland Springs, Texas.
The National Law Enforcement Officers Memorial Fund reports 44 officers killed by firearms this year, compared to 65 last year.
"As we prepare to usher in the New Year, I hope that every single American will resolve to get involved and demand our lawmakers do more to end the gun violence that kills more than 90 Americans every day," Shannon Watts, a Colorado resident and founder of Moms Demand Action for Gun Sense in America, said in a statement after Sunday's shooting.
Karin Asensio, a volunteer with the group, lives in Highlands Ranch, a largely safe, middle-class enclave of about 100,000 south of Denver.
"This tragedy happened in my neighborhood — less than a mile from my home — and feels deeply personal," she said. "It's another devastating reminder that gun violence can and does happen anywhere. It is my hope that in 2018, elected officials in our state will do more to prevent the gun violence that has become commonplace in our country."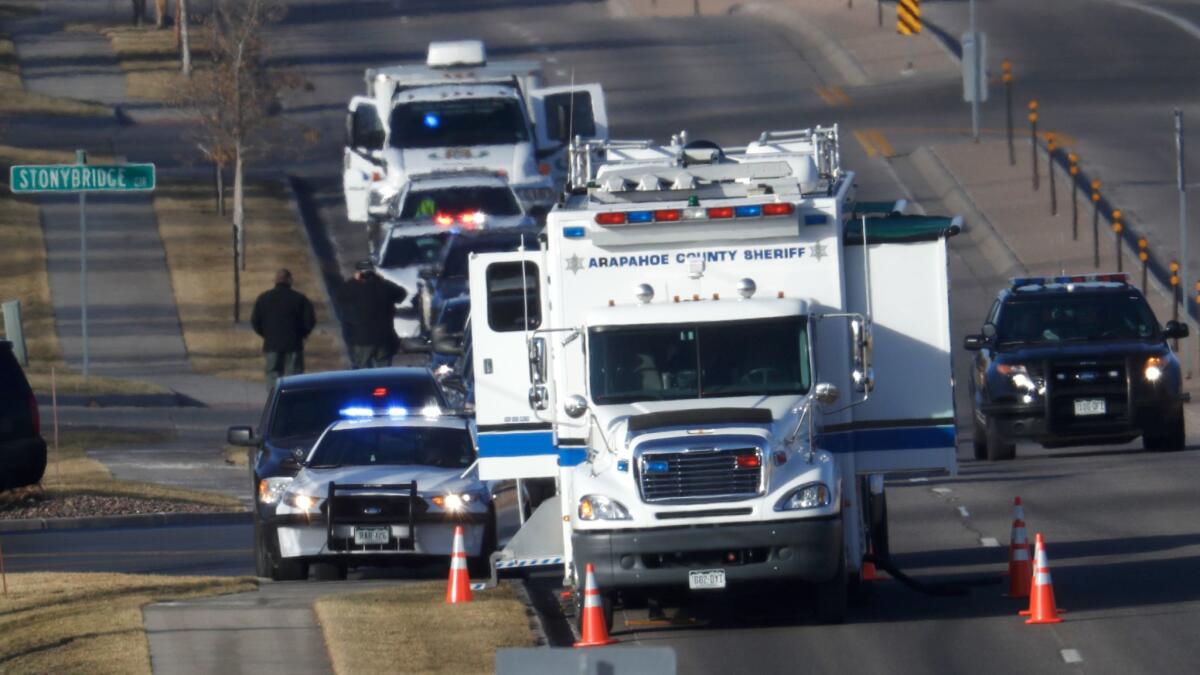 Kelly is a special correspondent.
---
UPDATES:
7:10 p.m. This story has been updated with the name of the gunman and new details of the shooting and information about other gun violence.
2:30 p.m.: This story has been updated throughout with staff reporting.
1:29 p.m.: This story has been updated with details and quotes from Douglas County Sheriff Tony Spurlock, and the conditions of the injured deputies and civilians.
11:16 a.m.: This story has been updated with the health status of three victims.
8:40 a.m.: This story has been updated with authorities saying 1 deputy was killed, four others injured and the suspect believed to be shot dead.
7:59 a.m.: This story has been updated with authorities saying they responded to a domestic disturbance this morning.
This story originally published at 7:35 a.m.
Sign up for Essential California for the L.A. Times biggest news, features and recommendations in your inbox six days a week.
You may occasionally receive promotional content from the Los Angeles Times.