8 Images
Exxon Valdez devastation lingers
Mike Maxwell stands near dry-docked boats in Cordova, Ak. The herring that used to be so plentiful in the area, and a steady source of income for Maxwell and other fishermen, disappeared four years after the Exxon Valdez spill in 1989. "For the rest of the country, Exxon happened a long time ago. For me, for the people I grew up with, the oil is still spilling," he says.
(Rob Stapleton / For The Times)
Mike Webber is shown in his Cordova studio, where he carved a "shame pole" dedicated to Exxon Mobil. The piece is a kind of totem once used by natives to bring shame to people who have committed dishonorable acts.
(Rob Stapleton / For The Los Angeles Times)
Cordova's 2,300 residents are among the almost 33,000 plaintiffs in the $2.5 billion Exxon Valdez judgment. The town looks anxiously to the U.S. Supreme Court, which will hear arguments Wednesday from Exxon on why the company should not have to pay any punitive damages.
(Al Grillo / Associated Press)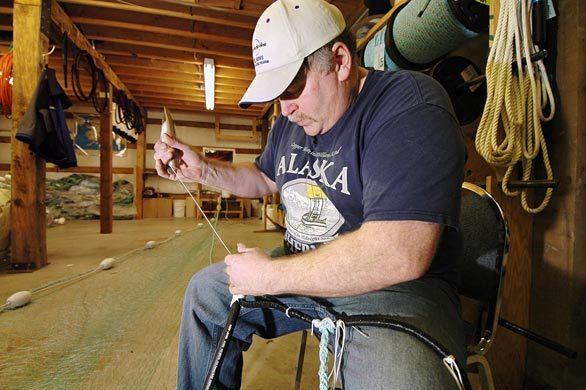 Mike Maxwell knots up a line on a fishing net in his Cordova warehouse. At the time of the oil spill, no one recognized the herring's prime place in the ecosystem, nor did anyone know that its demise would lead to years of hardship for Cordova residents.
(Rob Stapleton / For The Times)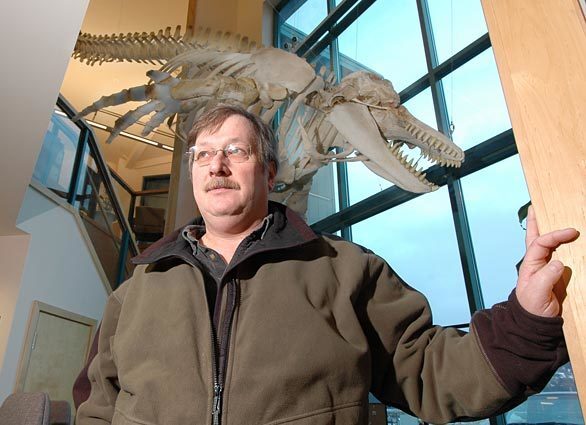 Former fisherman Mark King stands under a whale skeleton in the Ilanka Cultural Center in Cordova. King now works with marine mammals in Prince William Sound.
(Rob Stapleton / For The Times)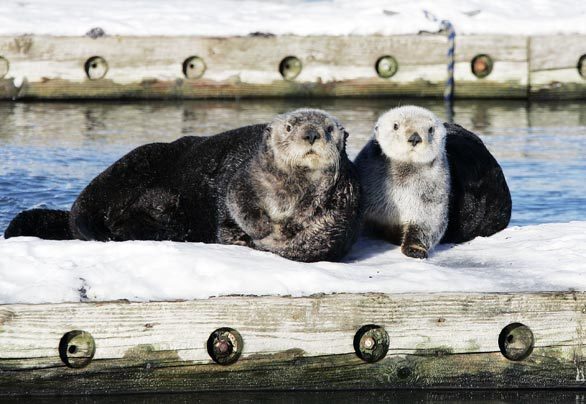 Sea otters sit on a float in the Cordova boat harbor. The Exxon Valdez dumped 11 million gallons over 1,200 miles of coastline, devastating bird and marine populations.
(Al Grillo / Associated Press)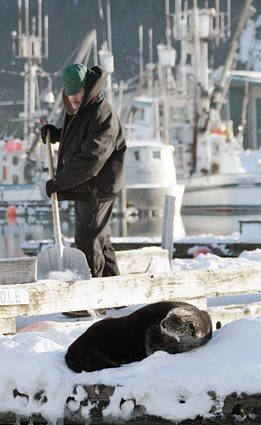 A sea otter rests on the dock in Cordova as Carl Church clears snow. Scientists hired by Exxon declared the Sound "essentially recovered" within a few years of the accident but residents note that it wasn't until years later that the herring and pink salmon fisheries collapsed about the same time, setting off the town's decline.
(Al Grillo / Associated Press)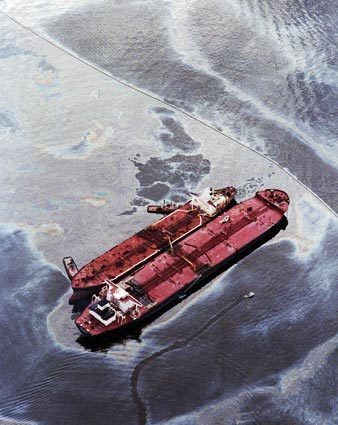 This March 26, 1989, photo shows the Exxon Baton Rouge attempting to off-load crude oil from the Exxon Valdez in Prince William Sound near Valdez. Exxon Mobil has reportedly paid $3.5 billion in cleanup and fines, including compensatory damages to plaintiffs within a year of the spill.
(Rob Stapleton / Associated Press)