Nevada barber lives by lessons from former clients on Georgia's death row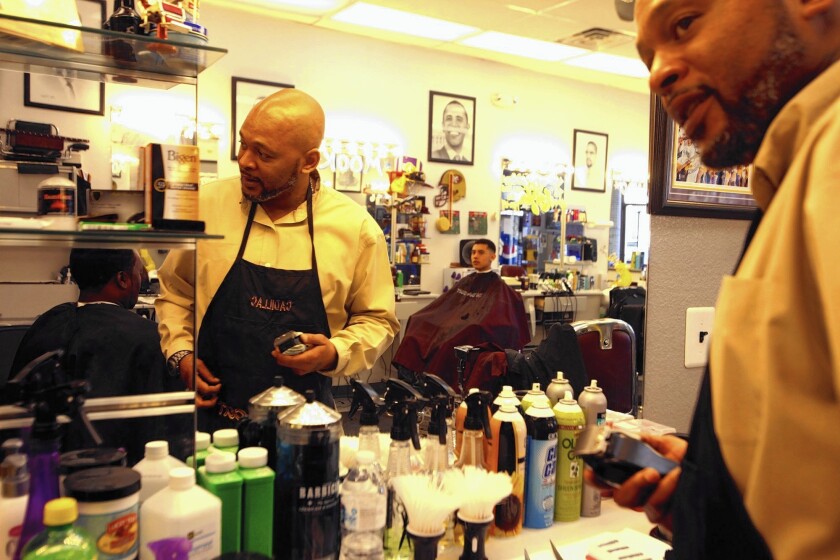 HENDERSON, Nev. —
Cornelius Burse can still see the faces of those doomed men, the hardened Southern convicts with an execution date looming.
They had nicknames like Shorty and Bull, Hammer and Diddy. And when they walked into that windowless room in G House, he'd play it real cool; no stupid questions about who they killed or when they faced the needle. Like he did with clients outside those prison bars, Burse calmly asked, "How do you want it?"
They'd take a moment to peer into a scuffed mirror bolted to the cinder-block wall. Then he'd tip them back in the solitary leather chair and clip their hair. Burse was himself a career criminal who'd already served time in seven prisons in two states. Still, these men scared him: convicted murderers, the infamous authors of heinous crimes.
For nearly two years, Burse was the regular inmate barber on Georgia's death row.
"Some of those men you just didn't want to be around," he recalled. "Others, you couldn't wait until they came back."
It all seems like so long ago. The 40-year-old Burse — who goes by the moniker Cadillac — left prison in 2009 and cuts hair in a mostly black-men's barber shop called In Da Cut outside Las Vegas, southeast of the Strip. He keeps regular customers, most of whom know his past. At home, he's the doting single father to a young daughter and son. Informally, he mentors troubled teens, who remind him of himself.
Burse says he owes his redemption to those ruined men in Georgia.
He was 33 when he stepped off the "Gray Goose" prison bus in 2007 for a second stint at Georgia Diagnostic and Classification Prison, his last stop on a penitentiary tour prompted by a life of hurting people, taking what wasn't his, via assault and robbery.
He considered himself ruthless, until he met condemned criminals who were all that and more. He learned hard-time lessons from luckless convicts who later made that long walk to the death chamber, hands shackled to their belts, a phalanx of guards in tow.
He recalls the advice of Troy Davis, executed in 2011 for killing a police officer.
"This is it for me," he told Burse from the barber's chair. "You get a chance to do the right thing. You don't know the place, the day or the time you're going to die. But I do. I do."
Burse was born in Georgia, the eldest of three boys. He became their father figure after his dad, Melvin Burse, was slain when Cornelius was 8.
Rachel Burse later told her oldest son she couldn't afford the boys' $7.50 haircuts on her factory worker's salary. She gave 13-year-old Cornelius a pair of scissors and told him to watch his older cousin cut hair. He got good with those shears.
At 17, Burse was already a father, with a second child on the way. That's where his life sprung a gear like an old alarm clock. After the mother of his babies died in a house fire, Burse felt the weight of being a single provider.
He learned the power of a knife and a .38-caliber handgun, how they could make people do what you wanted. Cutting hair was over. Working was hard; taking was easy. People called him Cadillac for the cars he drove, the bling of a street thug.
He robbed stores and people, burglarized businesses, sold drugs. He didn't see his victims as people, just means to an end. His only real fear was going to prison, but that's where he ended up.
Behind those ominous walls, he joined a gang called the Vice Lords, got crude tattoos with threatening skulls all over his body. He bulked up, gaining 60 pounds of muscle, because that's how you survived in the pen.
He also earned his barber's license after a trustee suggested it could be his ticket on the outside. "I never planned on being a barber," Burse said. "That's what I did as a kid."
But he learned.
A convict nicknamed Hammer was Burse's first death row client. And Emmanuel Fitzgerald Hammond was one rough customer: He raped a woman, "blew the side of her face off" with a shotgun.
Burse had thought barbering meant easy time in his 10-year-sentence. But when Hammer sat in his barber chair, Burse's hands shook.
"That was the most terrifying moment of my entire life," he recalled. "I thought I'd be working with an armed officer present. No. We were alone."
Burse's barber chair was just steps from the death row cells that held about 100 inmates. Before he was through, Burse had worked on most of them.
"At first I didn't know who they were or what they'd done," he said. "All I knew was the guy was going to die; he had a date."
Some men admitted their crimes. Others, like Davis, insisted on their innocence. Said Burse: "He told me, 'God's gonna take care of me. It's going to be OK.'"
He got to know men by their faces, rarely their full names. To calm his nerves, he pretended they were friends from his past.
Barbering a con nicknamed Diddy, he froze; he knew that face.
"Man, you look so familiar," Burse said.
"Why's that?"
The tone ruffled Burse. "There was a guy I went to school with. John Dobbs."
"That's my son," Diddy said. He laughed coldly.
In time, haircuts became schooling sessions. Older inmates advised Burse to appreciate life's simple moments, never lie to himself, believe in God, read as much as he could. "They helped me change," he said.
Burse was an inmate during three executions, each scheduled for 7 p.m.
"You hear that?" he asked, sitting in a restaurant near the barber shop. "That's what it sounds like on execution night. Quiet."
He paused. "When 7 p.m. hit, you knew they were gone. That moment of silence was the loudest thing I ever heard."
Once, he ran into a condemned man nicknamed Shorty on the day of his execution. "You take care of yourself, Cadillac," he said.
"It's been a pleasure to have known you," he recalled saying. "May God be with you."
A few moments after 7 p.m., Shorty was gone.
Now, Burse works beside barbers with names like Ron-Ron, Mondo and Mook, beneath posters of Michael Jordan and Tupac Shakur.
Slender, head shaved, a thin beard lining his jaw, Burse is a family man. The two of six kids still at home — Rhonwyn, 13, and Chaz, 11 — know he's been to prison. He tells them he's a different man now, despite an arrest last year for marijuana possession. He was fined and ordered to take an online drug course.
Duane Melvin, owner of In Da Cut, knows all about Burse's hard time. "He marches to his own beat. He's a good man; he's stayed clean," Melvin said. "He doesn't broadcast his past, but if you ask him, he'll tell you."
Burse still sees the faces of those condemned men, when he dons the Air Jordan sneakers he got from death row prisoners via barters. And he keeps their letters — including one from Jack Alderman, executed in 2008 for beating his wife to death with a crescent wrench:
"For Cadillac. Good man, excellent barber and believer in bettering people. I beg you not to do anything that sends you back behind bars. Trust me, it ain't pretty, and it ain't cool."
Burse makes no excuses: "You live by the sword, you die by the sword. It's not my place to judge, but these men were lambs who led themselves to slaughter."
Still, news of each execution rocks him hard. The other day, Burse read a list of men put to death since he left prison.
Then he saw the name: Emmanuel Fitzgerald Hammond. Tears welled.
"Hammer," he gasped. "He's gone. He's gone."
Twitter: @jglionna
---
Must-read stories from the L.A. Times
Get the day's top news with our Today's Headlines newsletter, sent every weekday morning.
You may occasionally receive promotional content from the Los Angeles Times.