Denver's Colfax Avenue is jammed with history, freaks, neon. Its champion is an Elvis impersonator, of course
One of the occupational hazards of dressing like Elvis is having a homeless guy throw you into a headlock and refuse to let go until you sing him a song.
"I said, 'What do you want to hear, 'Please Release Me?'" recalled Jonny Barber, the Elvis impersonator in question. "He says, 'No, sing me 'In the Ghetto.'"
Anywhere else it would have been a scene, but here on Colfax Avenue it was just another night.
As perhaps the nation's longest commercial street, Colfax is jammed with history, freaks, neon and occasional peril as it cuts through Golden, Denver, Lakewood, Aurora and beyond.
Barber, 49, has spent the last 14 years chronicling the history of Colfax, collecting thousands of artifacts, including a stegosaurus footprint dating back 150 million years to the Jurassic period.
He's now moving it all from his basement into the new Colfax Museum, a celebration of the road that runs 53.3 miles from the Denver metro area clear through Bennett on Colorado's eastern plains. It's actually part of U.S. 40, which once stretched from Atlantic City, N.J., to San Francisco but now ends in Utah.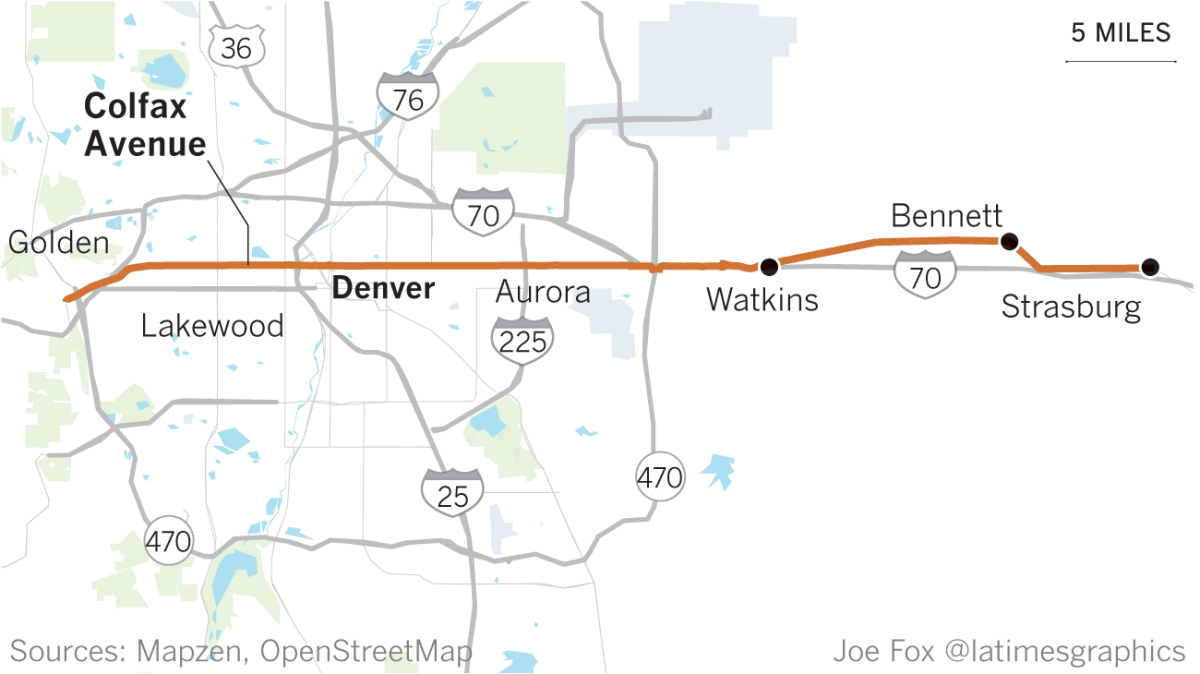 Colfax is an eclectic patchwork of people, commerce and architecture. East African immigrants in traditional dress thread their way through clusters of homeless people at bus stops. Upscale condos stand near worn-out motels with flickering 1950s-era neon signs. World-class hospitals share the road with strip joints and dive bars.
"Everyone knows Route 66 because they had a better PR guy, a better song and a TV show," Barber said. "But much of American pop culture got its start on Colfax."
The Beat generation, he contends, was born when Hal Chase, a Columbia University anthropology major, met Denver native Neal Cassady at the old public library on Colfax. Chase later introduced Cassady to writer Jack Kerouac and poet Allen Ginsberg in New York.
"If Neal Cassady hadn't met Hal Chase at the library, there would have been no Beat generation," Barber said.
Ginsberg later came to town, hanging out at the Colburn Hotel near Colfax with his fellow Beats; he mentions Denver in his poem "Howl." Kerouac moved to a house off Colfax. His classic work "On the Road" describes its main character, Dean Moriarty, famously leaving Denver by roaring "east along Colfax and out to the Kansas plains."
Barber, a musician and semiretired Elvis impersonator, revels in this sort of history. He invited a visitor for a drive along Colfax, launching immediately into a stream-of-consciousness soliloquy on the life and legends of the road.
"That was once Smiley's, the world's biggest laundromat," he said, passing a warehouse-like building. "That hotel? The uncle of the Red Baron had his funeral there. Clint Eastwood walked his orangutan past that place in 'Every Which Way But Loose.' The guy who created the Colorado Gay Rodeo worked over there. I performed an Elvis wedding at that church."
He pulled up to the Satire Lounge, where a neon arrow leads to a big martini glass.
"This is where Judy Collins got her start," Barber said. "The Smothers Brothers had an apartment upstairs."
He wandered next door to Pete's Kitchen, a 50-year-old Greek diner with a neon sign showing a pancake flipping through the air. A picture of Barber in Elvis regalia hangs on the wall.
A customer spun around. A fan?
"When are they going to take my order?" he groused. "I've been waiting like 20 minutes."
Before U.S. 40 was shortened to end in Utah, it ran past the San Francisco hospital where Barber was born.
His father was a law professor who moved to Colorado and bought a ranch in the mountains. Barber managed it but he really wanted to sing and play guitar. He finally scored a gig at the Lion's Lair, a renowned dive bar on Colfax.
"When I drove in someone literally shot at my van," he said. "I get to the Lion's Lair and two guys are having sex in a Dumpster."
Finding it seedy yet thrilling, he rented a place nearby and began collecting the stories of Colfax. The road was named after Schuyler Colfax, vice president to Ulysses S. Grant and onetime speaker of the House.
"Everything that happened in Colorado or the American West passed through Colfax," Barber said.
The road gained popularity after World War II with the birth of the automobile culture. Hundreds of motels, dinner clubs and tourist traps sprang up to reel in passing motorists. Kitsch was king.
Some places, like the futuristic Science Fiction Land, never got off the ground. Others, like Alligator Gardens and Snake Stockade, probably shouldn't have.
"What would I have given to wrestle a gator on Colfax?" Barber asked dreamily.
He and his wife had plenty of run-ins with the two-legged denizens of the street. They were once managers of a bed-and-breakfast on a sketchy stretch of Colfax. There was occasional gunfire outside; prostitutes worked the street. One night a drunk broke through the door of Room 32. Barber kept the door, which will join the posters, postcards and historical photographs inside the museum, which opened Saturday inside Ed Moore Florist shop on Colfax.
The museum will also commemorate the 200 or so motels that once lined Colfax, places like Lloyds of Lakewood and Charlie Chan Village. The Bugs Bunny Motel, where actress Sue Lyon of "Lolita" fame once stayed, still stands. Its name was changed to Big Bunny Motel in 1997, Barber said, after a copyright dispute with Warner Brothers. The Golden Hours Motel, where John Hinckley plotted to assassinate Ronald Reagan, also remains.
Barber has collected these details on his extensive colfaxavenue.com site, earning him a reputation as the unofficial historian of the street.
"If Colfax looks different in 20 years, I can't change that," he said. "But I can create a time capsule full of its stories and tall tales."
Local leaders have embraced his efforts.
"Today, Colfax is undergoing a lot of development. It's becoming a bit more mainstream than eclectic," said former Colorado state Sen. Bob Hagedorn, who grew up near Colfax. "It's inevitable that it will change, but the legend will live on. The museum will tell the story to future generations."
Frank Locantore, executive director of the Colfax Avenue Business Improvement District, says the road has been defined by change.
"This is the most democratic street in Denver," he said. "We are not going backward; we are creating our own new history, and that history will be very different from the 1950s."
It already is. Many of the motels are gone; others are long-term rentals for low-income residents. Meanwhile, expensive condos are going up.
Back in the van, Barber cruised down West Colfax, passing a place offering Turkish baths and another selling cremations for $495. Next up was the Pepto-Bismol-pink Casa Bonita, a Mexican restaurant where divers leap from 30-foot-high artificial cliffs into a deep blue pool. The foul-mouthed animated show "South Park" dedicated an episode to the place.
A car pulled up beside him.
"Hey, Elvis! What are you up to, man?" yelled the driver, who had worked with Barber at the bed-and-breakfast.
They shouted pleasantries before the driver sped off.
"That guy was homeless. The motel owner gave him a job, and now look at him," Barber said. "Colfax can be tough, but there is a tender side as well."
He grew quiet and scanned the road ahead.
"I recall a guy who roller-skated around here in a pink tutu," he finally said. "I wonder what happened to him."
Kelly is a special correspondent.
---
Must-read stories from the L.A. Times
Get the day's top news with our Today's Headlines newsletter, sent every weekday morning.
You may occasionally receive promotional content from the Los Angeles Times.