Fauci acknowledges that Ebola guidelines failed to protect caregivers
Nurse Kaci Hickox defies quarantine orders by leaving her home in Fort Kent, Maine, to take a bike ride with her boyfriend. State officials are going to court to keep Hickox in quarantine for the remainder of her 21-day incubation period for Ebola that ends on Nov. 10.
(Robert F. Bukaty / Associated Press)
Barack Obama hugs Dallas nurse Nina Pham, who was declared Ebola free. Pham was the first nurse to be diagnosed with Ebola in the United States.
(Olivier Douliery / EPA)
Dallas-area resident James Faulk displays his Ebola-themed Halloween decorations in University Park, Texas. Faulk has set up a Twitter account and a website in an effort to raise money for Doctors Without Borders.
(Tom Pennington / Getty Images)
United States Postal Service worker Keven Ngo makes a delivery to West 147th Street in New York, while wearing a protective mask. Ngo said that he didn't typically wear a mask but, since Dr. Craig Spencer was diagnosed with Ebola, he had begun wearing the mask for his protection.
(Bryan Thomas / Getty Images)
New York Gov. Andrew Cuomo, left, speaks as New York Mayor Bill de Blasio listens during a press conference in the governor's office on the status of Ebola patient Dr. Craig Spencer and New York's new Ebola policies.
(Jason Szenes / EPA)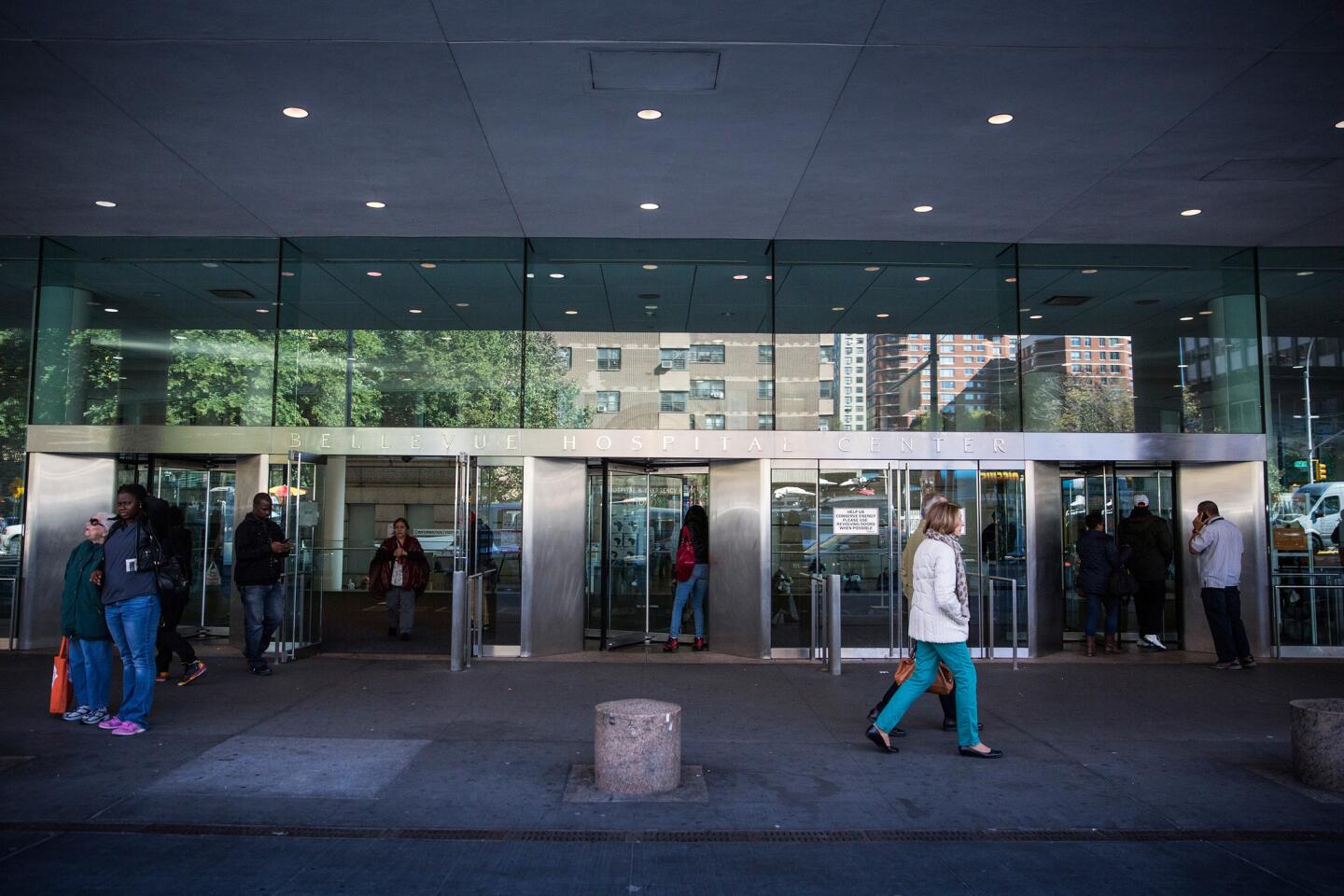 People walk past the entrance to Bellvue Hospital in New York City, where a 5-year-old was brought early Oct. 27 after showing Ebola-like symptoms after recently returning from West Africa.
(Andrew Burton / Getty Images)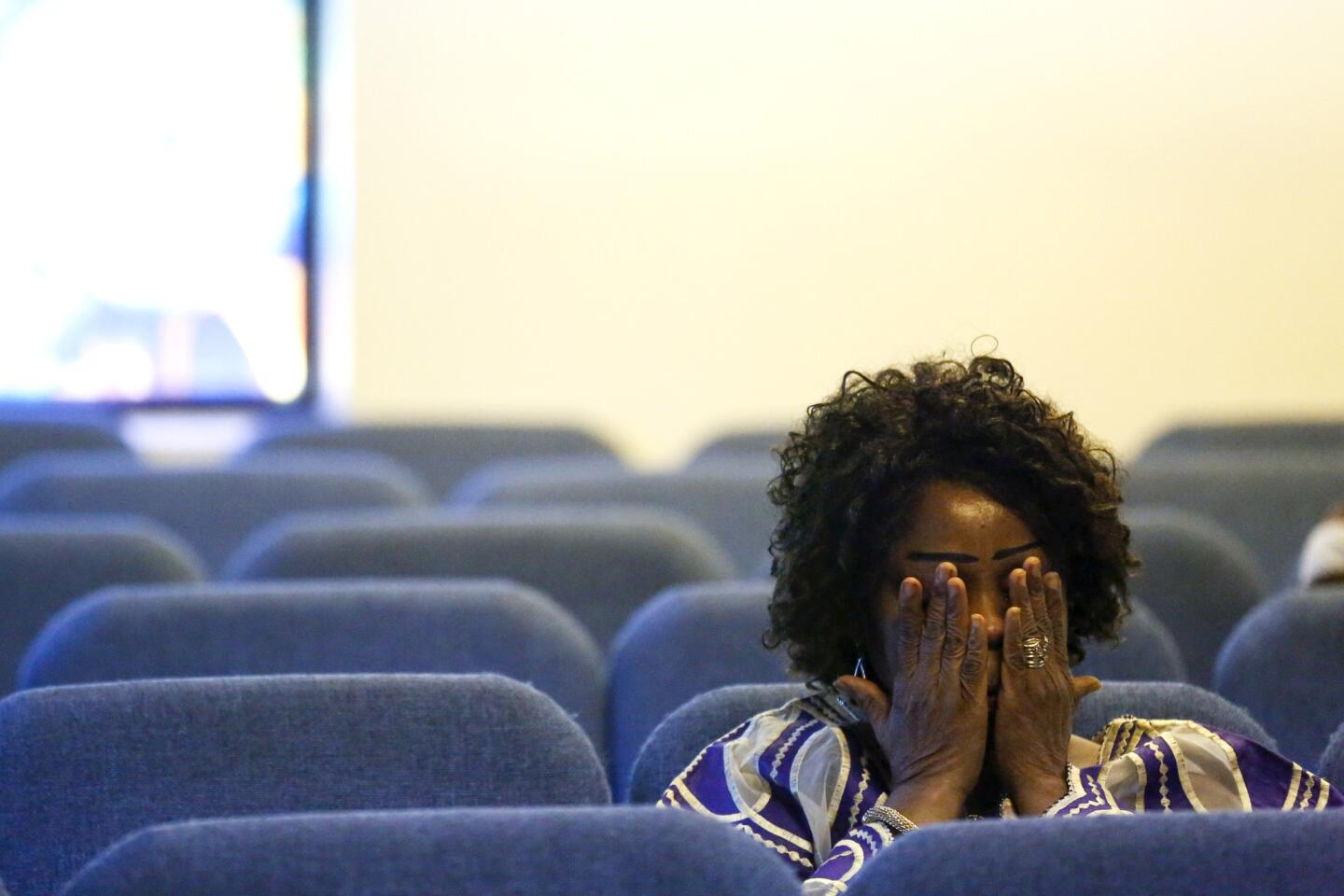 A mourner cries during a memorial service for Thomas Eric Duncan Oct. 18.
(Nell Redmond / Associated Press)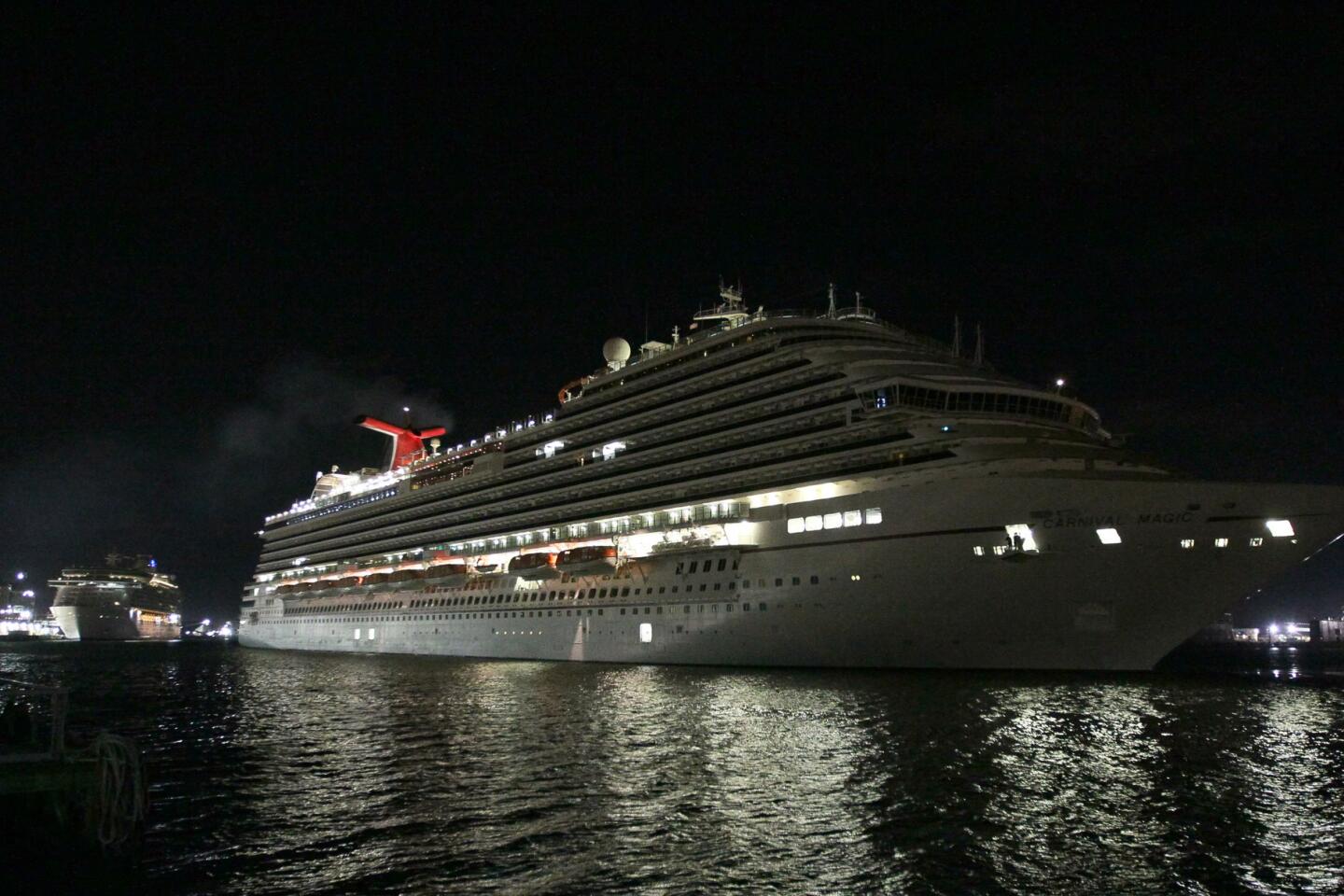 The Carnival Magic docks at Pier 25 in Galveston, Texas, early Oct. 19. A passenger aboard the cruise ship had been in voluntary isolation in her cabin because of potential contact with the Ebola virus. The woman works as a lab technician at Dallas' Presbyterian Hospital and may have come into contact with clinical samples belonging to Thomas Eric Duncan, who died after contracting the disease.
(Jennifer Reynolds / Associated Press)
Christine Wade, a registered nurse at the University of Texas Medical Branch, greets Carnival Magic passengers disembarking in Galveston, Texas, Oct. 19. Nurses met passengers with Ebola virus fact sheets and to answer any questions.
(Jennifer Reynolds / Associated Press)
A man in a Hazmat suit cleans the station where a person became sick at a DART train station in Dallas Oct. 18. The person had supposedly been at the same apartment complex as where Ebola victim Thomas Eric Duncan was staying.
(Larry W. Smith / EPA)
Ebola patient Amber Vinson arrives by ambulance at Emory University Hospital in Atlanta on Oct. 15, 2014. She is the second nurse to contract Ebola at Texas Health Presbyterian Hospital while treating patient Thomas Eric Duncan, who died.
(Kevin C. Cox / Getty Images)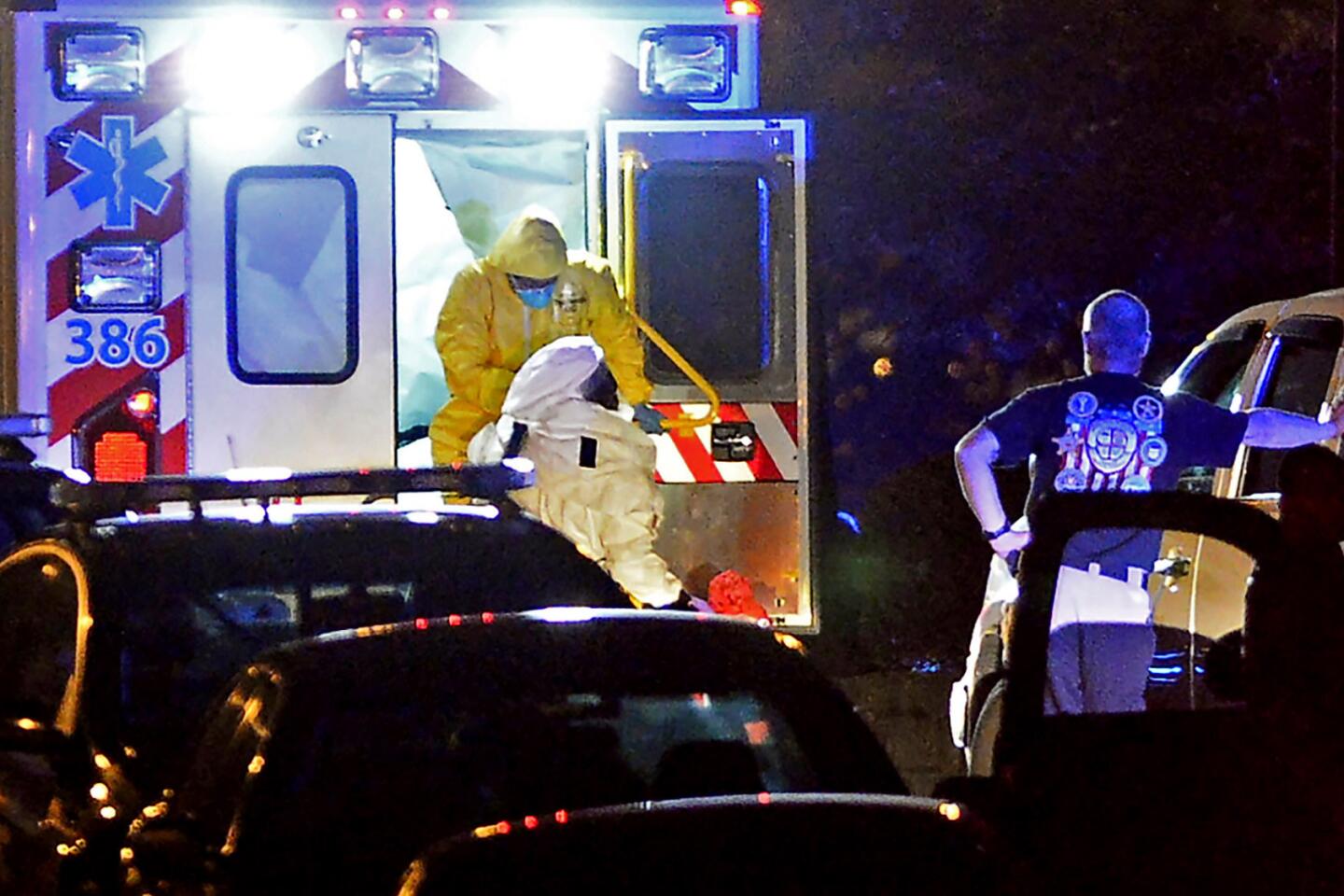 The ambulance carrying Ebola patient Amber Vinson arrives at Emory University Hospital in Atlanta. A joint emergency isolation unit administered by the hospital and the CDC has successfully treated two Americans stricken by Ebola.
(David Tulis / Associated Press)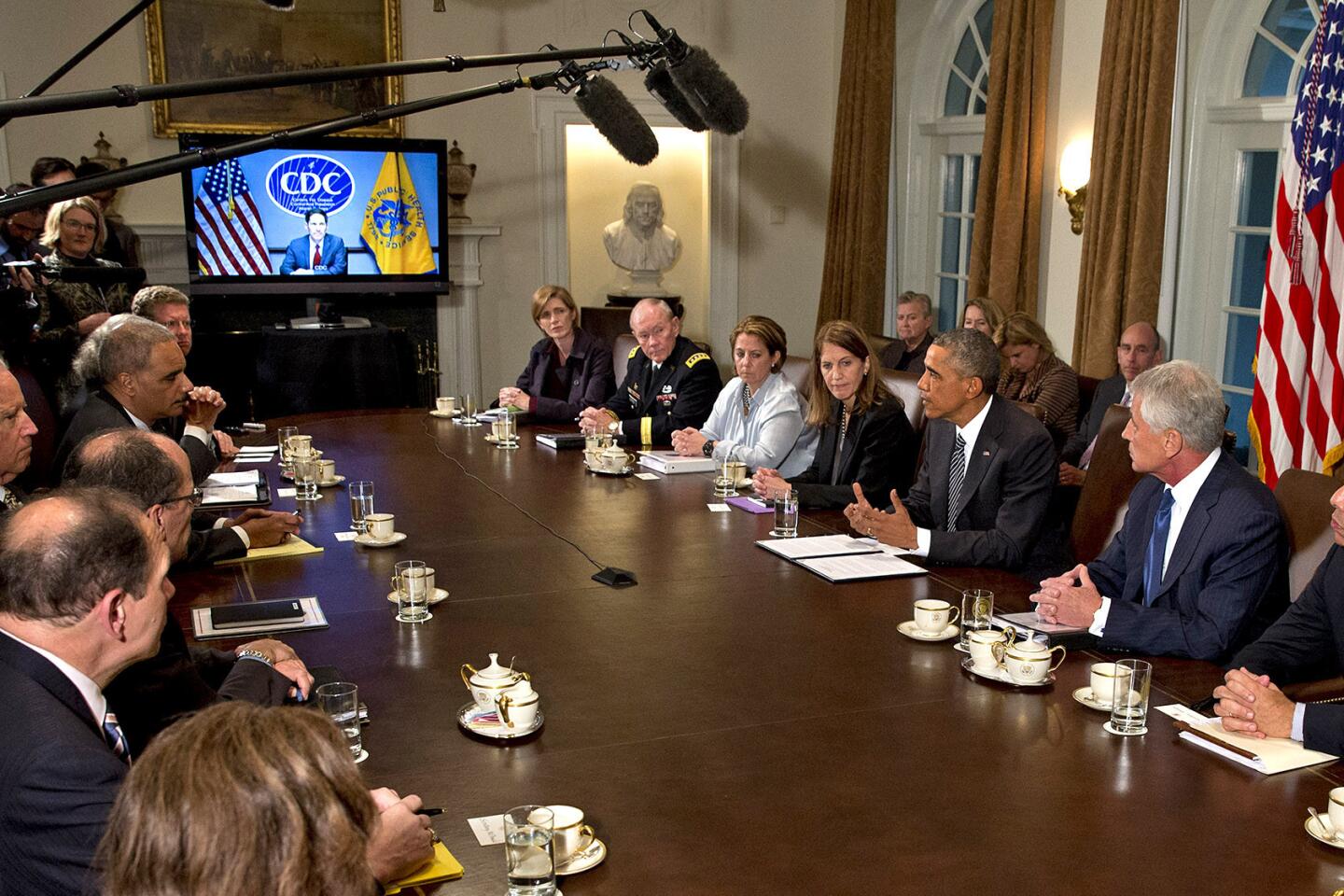 President Obama, joined via teleconference by Dr. Thomas Frieden, director of the Centers for Disease Control and Prevention, speaks to the media during a meeting with members of his team coordinating the government's response to Ebola cases.
(Jacquelyn Martin / Associated Press)
The Frontier Airlines plane that Amber Vinson took from Cleveland to Dallas on Monday flies out of Cleveland Hopkins International Airport on Wednesday. It was decontaminated twice before it left for Denver without any passengers, said Jacqueline Mayo, an airport spokeswoman.
(Tony Dejak / Associated Press)
A "no trespassing" notice is posted outside the apartment of a healthcare worker who tested positive for Ebola after treating Thomas Eric Duncan, who died from the disease.
(Brandon Wade / Associated Press)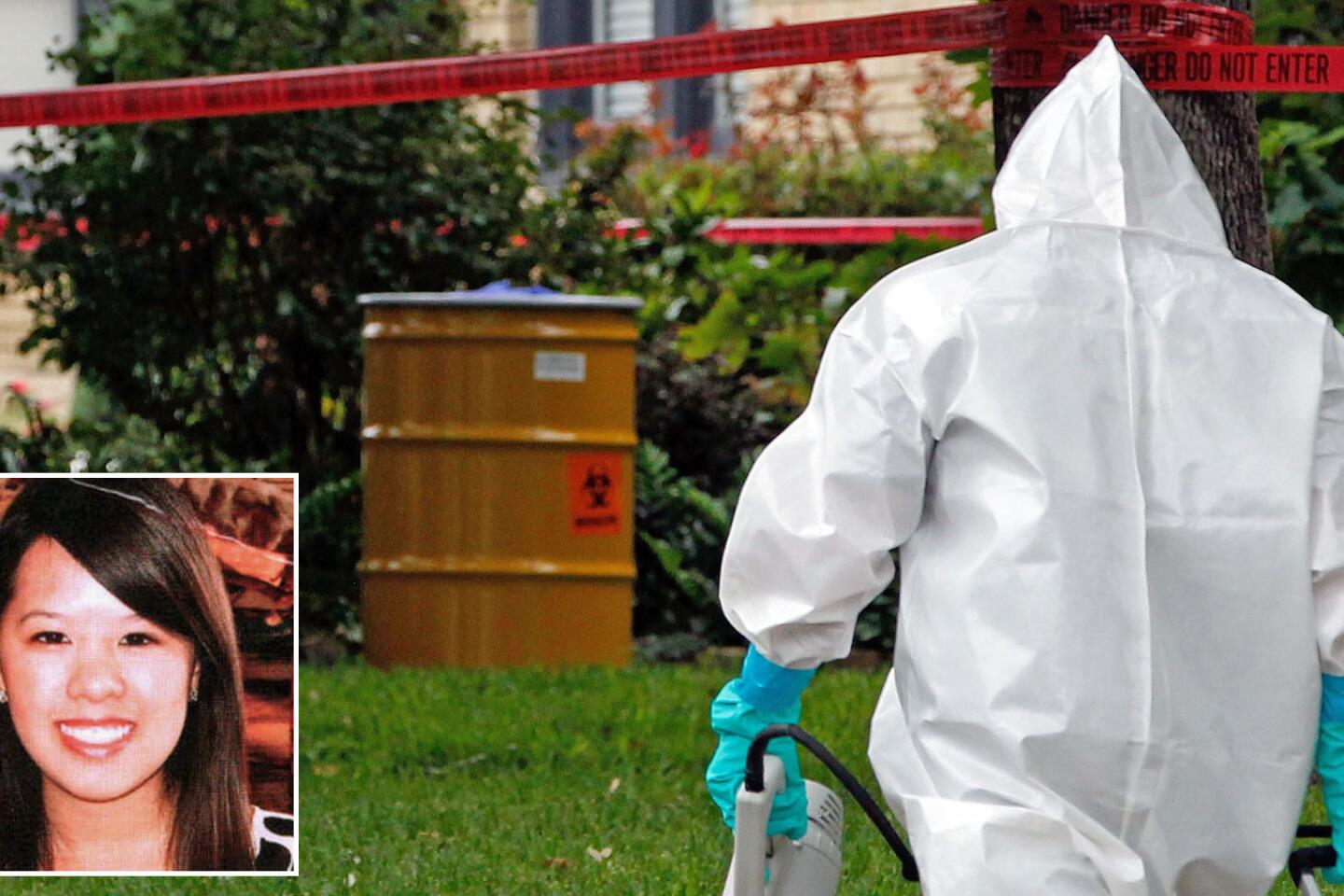 The breach in protocol that allowed Texas nurse Nina Pham (inset) to contract Ebola may have exposed others.
(Associated Press / Getty Images)
A worker cleaning up outside the apartment building of an Ebola-infected hospital worker in Dallas.
(LM Otero / Associated Press)
A patient at Beth Israel Deaconess Medical Center in Boston does not have Ebola, the hospital concluded Monday.
(Steven Senne / Associated Press)
A hazardous materials worker puts up a plastic sheet before starting to clean the apartment of a hospital worker Sunday.
(LM Otero / Associated Press)
A man dressed in protective clothing leaves after treating the front porch and sidewalk of a Dallas apartment on Sunday where a second person diagnosed with the Ebola virus resides.
(Mike Stone / Getty Images)
Dallas police stand guard at a two-story tan brick apartment building, the home of a healthcare worker who has tested positive for Ebola after caring for an infected Liberian man.
(Molly Hennessy-Fiske / Los Angeles Times)
Media and bystanders look on outside the home of a healthcare worker who tested positive for Ebola in Dallas. The worker had cared for Ebola patient Thomas Eric Duncan.
(Louis DeLuca / Associated Press)
Dr. Daniel Varga of Texas Health Presbyterian Hospital answers questions Sunday about a healthcare worker who contracted Ebola in Dallas.
(Brandon Wade / Associated Press)
Johnson Nellon, left, and his brother Thomas Nellon smile at their mother as they arrive from Liberia at John F. Kennedy International Airport.
(Craig Ruttle / Associated Press)
A Dallas County sheriff's deputy arrives Oct. 8 for treatment at Texas Health Presbyterian Hospital in Dallas. The deputy, who had visited the apartment where Thomas Eric Duncan had been staying, was released after he was found not to have Ebola, officials said.
(Louis DeLuca / Associated Press)
A Dallas hospital sent Liberian national Thomas Eric Duncan home with antibiotics, even though the hospital knew that he had recently arrived from Liberia. Duncan died on Oct. 8.
(Wilmot Chayee / Associated Press)
Ashoka Mukpo is placed into an ambulance Oct. 6 after arriving in Omaha, Neb. The American video journalist, who contracted Ebola while working in Liberia, was taken to Nebraska Medical Center for treatment.
(James R. Burnett / Associated Press)
Nearly 200 airline cabin cleaners walk on a picket line at LaGuardia International Airport. The workers went on strike out of concern over health and safety issues including the possible exposure to the Ebola virus.
(Spencer Platt / Getty Images)
Reporting from Washington —
A top federal health official conceded Sunday that the government-recommended protective gear worn by nurses and doctors caring for patients sickened by Ebola has been inadequate to protect caregivers from infection.
The official, Dr. Anthony S. Fauci, director of the National Institute of Allergy and Infectious Diseases, said that medical professionals need gear that would provide complete, head-to-toe coverage, shielding their skin from contact with an Ebola patient's body or its fluids.
Serving as the Obama administration's sole spokesman for Ebola on five national television talk shows Sunday, Fauci indicated that new guidelines for "personal-protective'' gear were about to be issued by the federal Centers for Disease Control and Prevention. He acknowledged that two nurses in Dallas may have been infected by their exposure to an Ebola-infected patient that they cared for who ultimately died, Thomas E. Duncan.
The original guidelines, Fauci said, "did have some exposure of skin in the sense you had a mask—but there was some skin that was exposed and some hair that was exposed.'' Speaking on CBS' "Face the Nation,'' Fauci added, "we want to make sure that's no longer the case.''
Fauci also described the condition of Nina Pham, the Dallas nurse and first American to be infected with Ebola in the U.S., as "fair'' and "stable.'' Fauci, who has been among those overseeing Pham's care since her arrival late Thursday at the specially-equipped hospital of the National Institutes of Health in Bethesda, Md., said that he had spoken at length with the nurse on Saturday evening.
The second nurse sickened with Ebola, Amber Vinson, was transferred last week from Dallas to Emory University's hospital in Atlanta.
Fauci for the first time conceded that most American hospitals are not equipped to treat patients sickened with the virus. The Ebola epidemic now besieging the West Africa countries of Liberia, Sierra Leone and Guinea is history's worst, and it has killed 4,493 people as of Oct. 15, according to the CDC.
Before Pham and Vinson became infected, top U.S. government health officials, including Dr. Thomas R. Frieden, director of the CDC, had said that typical American hospitals could safely handle Ebola patients.
As of now, Fauci said, only a handful of institutions, including the hospitals in Atlanta and Bethesda, plus two others, in Omaha, Neb., and in Missoula, Mont., had both the proper equipment and trained personnel for such high-risk work.
"I think this idea that every single hospital can take care of a seriously ill Ebola patient right now is just not true,'' Fauci told ABC-TV's "This Week.''
Sign up for Essential California for news, features and recommendations from the L.A. Times and beyond in your inbox six days a week.
You may occasionally receive promotional content from the Los Angeles Times.