'El Chapo' trial: When is a cartel killing not a drug crime, and other questions from jurors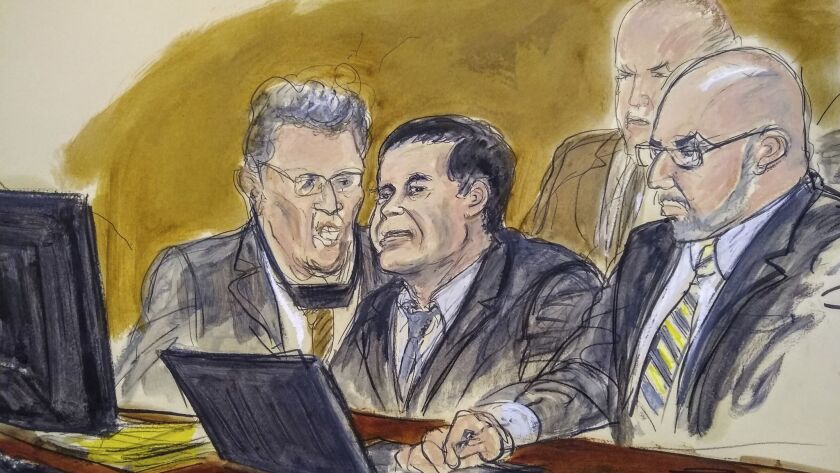 Reporting from NEW YORK —
It could just be the long, hard hours of a grueling case taking their toll, but on Wednesday afternoon, there was something in the faces of the assistant U.S. attorneys who've spent months prosecuting Joaquin "El Chapo" Guzman in federal court in Brooklyn. It looked like frustration.
About 2:45 p.m., jurors, now on their third day deliberating the case of the notorious drug kingpin, had some requests for the judge.
They wanted the entire testimonies of three cooperating witnesses, former higher-ups in Guzman's multibillion-dollar Sinaloa cartel who detailed the inner workings of the vast narcotics empire.
Each man spent several days on the stand, so transcripts of their testimony would be voluminous, and there was no telling what, exactly, the jurors were trying to determine. The jury will get the transcripts on Thursday.
Prosecutors presented sweeping evidence of Guzman's large-scale drug trafficking and brutal drug warfare in the monumental 12-week case, much of it based on the testimony of the kingpin's former cartel lieutenants, who cooperated with the government in hopes of reducing their own prison sentences.
The defense case, in contrast, took about half an hour to present. Guzman's lawyers argued instead that their client was the victim of a multi-nation conspiracy.
If prosecutors thought their case against one of the world's most notorious drug bosses would be handily won, these 12 jurors were not obliging.
Not that three days of deliberations after such a long and intense trial is cause for the government's concern.
The men and women charged with deciding Guzman's fate have a complex set of charges to parse through — 10 counts covering accusations that he sold and manufactured hundreds of tons of cocaine, meth and heroin; conspired to murder a host of rivals; and helped run one of the world's largest international drug cartels. Each count comprises multiple violations. If found guilty, the 61-year-old Guzman faces life in prison.
The judge granted the jurors' request for the testimonies, but the panel had another, more enigmatic question: "If members of a drug cartel are killed by an opposing cartel for personal reasons, does that constitute a drug trafficking crime?"
As part of the first count against the kingpin, the continuing criminal enterprise charge, Guzman faces a murder conspiracy violation, meaning he conspired to kill people "who posed a threat to the Sinaloa cartel," in the words of his indictment.
The judge's response to jurors, who didn't seem particularly stressed when they reentered the courtroom: If they were killed for "wholly personal reasons" then no, it's not part of a drug trafficking crime.
Others who didn't appear stressed: Guzman and his lawyers. They shared big smiles and handshakes.
Another indication that Guzman's defense team was feeling pretty good today: The law firm of one of his lawyers, Eduardo Balarezo, posted a photo on Twitter of a tequila bottle shaped like a gun, with the description: "For after trial. #ElChapo"
Jurors are expected to continue deliberating Thursday morning.
Plagianos is a special correspondent.
---
Must-read stories from the L.A. Times
Get the day's top news with our Today's Headlines newsletter, sent every weekday morning.
You may occasionally receive promotional content from the Los Angeles Times.