'El Chapo's' defense team takes aim at a key witness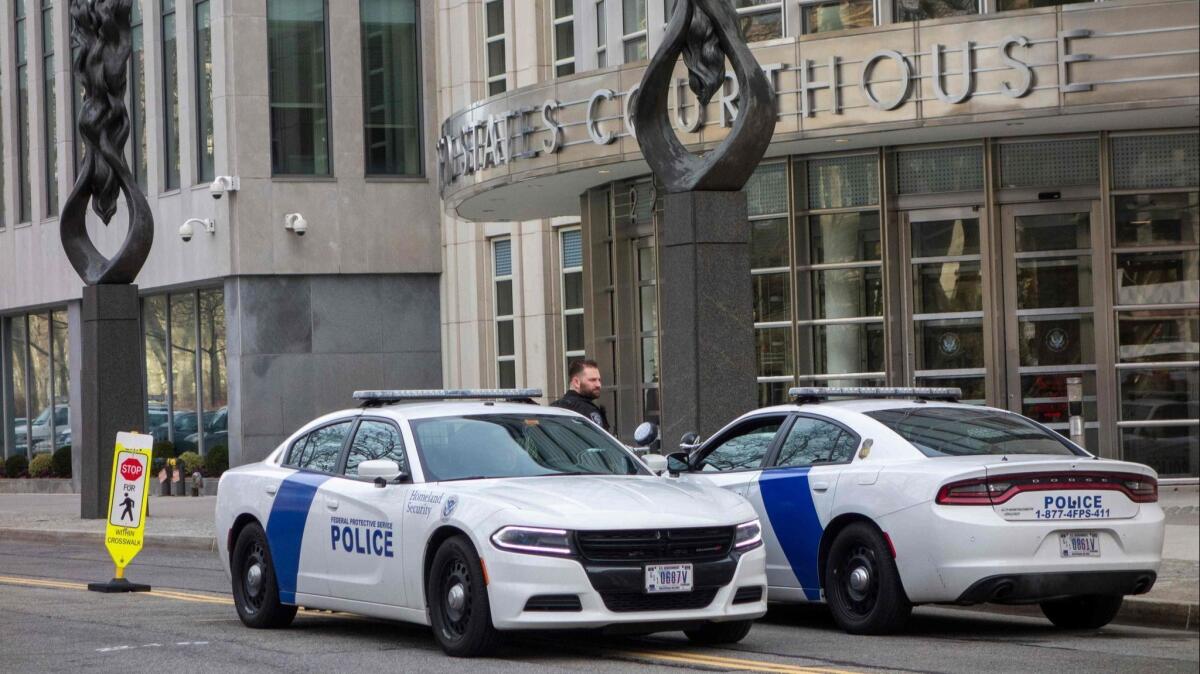 Reporting from New York —
Joaquin "El Chapo" Guzman's defense team was on the attack.
The target: Vicente Zambada Niebla, once a member of Guzman's inner circle, now one of the most damning witnesses in the sprawling case against the infamous drug kingpin.
In three days of testimony that concluded Monday, Zambada, 43, the son of Guzman's longtime partner, Ismael "El Mayo" Zambada, coolly detailed the intimate workings of the Sinaloa cartel, explaining how he helped his bosses traffic thousands of kilos of drugs and guns, pay off scores of Mexican officials and order the torture and killings of rivals.
But during cross-examination, Eduardo Balarezo, Guzman's burly defense lawyer, hammered away at Zambada, trying to pull apart his motivations for testifying against a man he always referred to as "mi compadre Chapo."
"Let me ask another simple, stupid question so I might get a simple stupid answer," Balarezo said at one point.
The performance appeared to entertain the jurors — some of whom have previously dozed off during the long trial, which has featured vast detail about wars between rival cartels.
"Was your Papa Mayo a social worker?" Balarezo asked sarcastically.
"I know that in the past he was a worker," Zambada replied flatly through his interpreter, drawing laughs from the courtroom.
"What I meant was your father wasn't in the business of helping struggling drug traffickers," Balarezo said.
He was working toward the defense's central argument: Zambada's father, not Guzman, has always been the leader of the Sinaloa cartel, and Guzman had been set up to take the fall for him.
Guzman faces charges of drug trafficking, conspiracy to murder and firearms violations. His trial at the Brooklyn Federal Courthouse is expected to last at least another month.
Prosecutors went after him because he was "all over the news," while the elder Zambada remained "in the shadows," Balarezo said.
He described the witness as his father's protege, who was climbing the cartel ranks until his arrest in Mexico City in 2009.
Zambada was later extradited to the U.S. He signed a plea deal, agreeing to provide the government with information, in hopes of a reduced sentence. He faces 10 years to life for drug trafficking.
Two of his brothers and an uncle were arrested as well and have both become government cooperators.
Balarezo questioned how it was possible that Zambada and his jailed relatives never led authorities to his father.
In all these hundreds of meetings with the government, "didn't they ever ask where your dad is?" he asked.
"Yes, I was asked many times, I gave them all the details, all the coordinates, the mountains, the ranches, the airstrips," Zambada said.
"All these meetings, all this information, and they still can't find him?"
"If he hasn't been arrested, it's not my fault," Zambada said.
Before stepping down from the witness stand, Zambada declared, "My compadre Chapo is not my enemy."
The next witness was Jose Moreno, an FBI agent who worked with Mexican officials in a failed attempt to arrest Guzman from one of his homes, in Cabo San Lucas, in 2012.
Moreno testified that Mexican federal police not only showed up to the raid late, they also deviated from "standard practice" by failing to place agents in the back of the home. The implication was that the officials had allowed Guzman time to escape.
The jurors were shown video that Moreno made of the large Spanish-tiled home, which sat behind big black gates and had a pool with a water slide. Inside, Moreno walked through what he said he believed were some of Guzman's belongings, including his underwear.
"Size 30," Moreno testified.
The investigators also found grenades, grenade launchers, a receipt for a $20,000 plane, as well as a ledger with details about drug sales, including one for "three tons of weed" and an entry that listed "PGR" or the Mexican attorney general's office.
Balarezo, however, said there was no proof the home was Guzman's. Referring back to a pair of black "size 9" sneakers that appeared in the video, he suggested they should have been brought to the courtroom for Guzman to try on.
"And if they don't fit, what?" he asked Moreno.
Laughter from the crowd in the court room erupted, with one woman saying, "You must acquit."
Moreno responded: "What is this, the O.J. trial?"
Plagianos is a special correspondent.
Sign up for Essential California for news, features and recommendations from the L.A. Times and beyond in your inbox six days a week.
You may occasionally receive promotional content from the Los Angeles Times.