From the Archives: Border issue moves into landowners' yards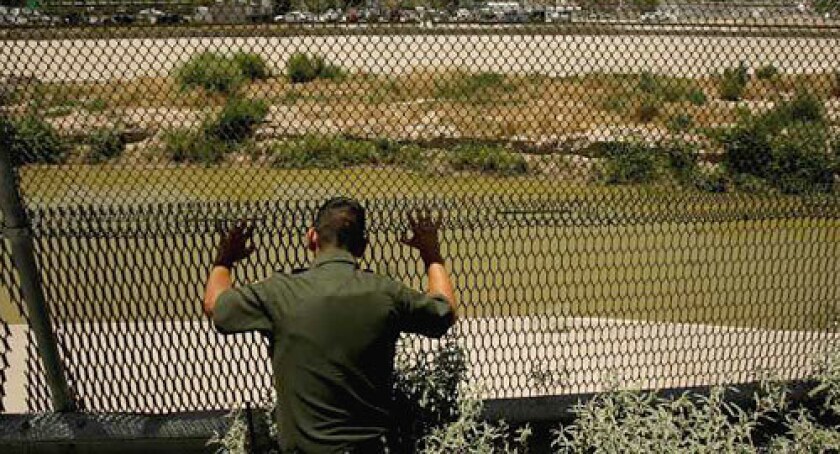 Los Angeles Times Staff Writer
WASHINGTON —
The Bush administration warned landowners along the southern border Friday that it would seize their property if they refused to cooperate with federal efforts to build a fence meant to slow illegal immigration.
Homeland Security Secretary Michael Chertoff said he would give landowners 30 days to indicate whether they would allow federal officials on their land to survey its suitability for fencing. If they decline, he said, he would turn to the courts to gain temporary access.
If the agency determines the land is appropriate for fencing and landowners refuse to cooperate, the department will turn to the courts to get title.
"The door is still open to talk, but it's not open for endless talk," Chertoff said of the time landowners have to respond. "We do need to get moving."
He added, "We won't pay more than market price for the land."
Chertoff said that access to 225 miles of noncontiguous land, most of it in Texas and Arizona, was essential to meeting the administration's goal of building 370 miles of border fencing by the end of 2008.
Reaction was swift.
"I tell you, on this one issue, the Farm Bureau, the United Farm Workers, Democrats and Republicans, white, black, brown, everybody is against the border fence. It just doesn't make sense," said Juan D. Salinas, Hidalgo County judge in Texas.
Salinas, who is the chief administrator of the local government, said objections stemmed from economic, cultural and environmental concerns. "We've been trying to talk to them about using other ways," he said. "It's a disappointment that again the Department of Homeland Security is not listening to local taxpayers."
Chertoff also announced that his agency had given conditional approval to an experimental 28-mile combination of technology and physical fencing in Arizona that enabled border agents not only to detect intrusions, but to see what or who had crossed onto U.S. land. Cameras in the system are so powerful that they can distinguish between cattle and people from 10 miles away and can show whether anyone is toting packages and guns.
Border agents will test the system over the next 45 days and determine how it can be improved before a decision is made about whether to expand it.
The fencing projects are part of a larger administration effort to improve enforcement at the border and within the country and repair some of the political damage that immigration has done to President Bush and his party. Bush vigorously supported the failed immigration bill that would have given some legal status to undocumented immigrants in the United States.
The president's stance left many GOP voters angry about his support for what they called amnesty. The issue also bitterly divided Republicans, many of whom argued that enforcement should be the government's first or even sole response.
To appease conservative GOP critics and bolster support for broader reforms, Bush approved a plan in 2006 that authorized 700 miles of fencing along the border with Mexico.
Chertoff said that by the end of next year, the administration planned to fence off 90% to 95% of the border from the Pacific Ocean to Texas, adding that the Rio Grande forms a natural barrier. In addition to 370 miles of fencing, the agency is building 300 miles of vehicle barriers.
"That is a big step forward in answering the public outcry to have some protection at the Southwest border," Chertoff said. But he added that two challenges are getting funding from Congress and dealing with uncooperative landowners.
Homeland Security contacted some 600 owners and held town hall meetings in border communities to explain the fence project. The agency mailed about 150 letters Friday.
Department officials say "relatively few" letters will be going to California landowners. They were unable to give an exact count but said the state's landowners had been cooperative.
The agency has encountered the most resistance in Texas, where much of the land along the border is privately owned. Ranchers and farmers say that the fence would cut off their access to the Rio Grande, the only regional source of fresh water. Business groups say fencing will slow cross-border traffic that is crucial for local economies.
Salinas says that many Americans work and volunteer on the Mexican side of the border, or have family there. "What kind of message are we sending them?" he asked.
Chertoff said two-thirds of Texans who were approached agreed to give Homeland Security access to their land, a quarter did not respond, and about 10% refused.
The objections, the secretary said, stem from "the problem of what we sometimes call 'not in my backyard.' " He said his agency had been receptive to suggestions, including the creation of open areas that allow for easy visibility instead of a fence.
Chertoff said that the fence was necessary not only to stop border-crossers, but also drug trafficking, and that it would help reduce violence.
---
Must-read stories from the L.A. Times
Get all the day's most vital news with our Today's Headlines newsletter, sent every weekday morning.
You may occasionally receive promotional content from the Los Angeles Times.