Related story: Jeh Johnson says 'no free pass' for children after border crossings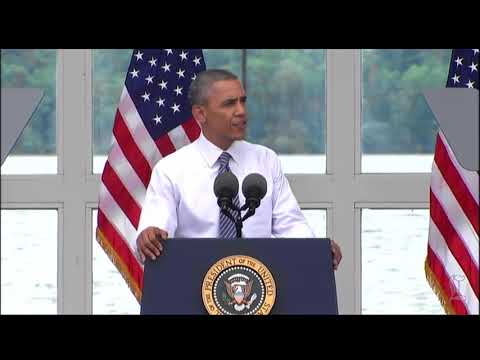 President Obama is urging Central American parents trying to help their children escape violence and poverty to not send them to the borders.
Reporting from Nogales, Ariz. —
Moments after Homeland Security Secretary Jeh Johnson took his first tour of a southern Arizona detention facility housing about 900 migrant children in makeshift cages Wednesday, he had a message for Central American parents who are on the brink of sending their children illegally and alone into the United States.
"This journey is a dangerous one, and at the end of it there is no free pass," he said. "There are no permisos for children, for your children, who come to the United States. The journey from Central America into south Texas is over a thousand miles long. It is hot. It is treacherous and you are placing your child in the hands of a criminal smuggling organization. It is not safe."
After walking through the facility with Arizona Gov. Jan Brewer, Johnson reiterated the warning in an attempt to dispel rumors that are contributing to the unprecedented wave of unaccompanied children who are illegally entering the U.S. through the Rio Grande Valley.
A surge of border crossers, about half of whom are unaccompanied children, has led to what many see as a humanitarian crisis. Faced with such increasing numbers, immigration officials transported some of them to Arizona for further processing, such as the children who are housed in Nogales.
Brewer on Wednesday renewed her criticism of the Obama administration's handling of the situation.
"This crisis that America is facing with these children, unaccompanied children, is because we have not sent a strong message to these countries that our borders are closed," she said. "And we need a federal government to step up and secure the borders."
Although illegal immigration has decreased overall, there has been a jump in the number of children from Central America making the illegal trek without parents or other adult relatives.
Since October, nearly 52,000 unaccompanied children have been caught crossing the border, an increase of more than 90% from last year, according to federal officials, who said the number could reach 90,000 this year.
Meanwhile, there is also an influx of single parents from Central America with at least one child.
Although many of these family units and unaccompanied children have said they are escaping crushing poverty and escalating violence fueled by gangs, many have told The Times that they are also coming because of a rumor circulating in Guatemala, Honduras and El Salvador that there is a new opportunity for a permiso, or pass, that will allow them to stay indefinitely.
"When your child comes here, they are given a notice to appear in a deportation proceeding," Johnson said in his message to parents.
Johnson again declined to say how many children are actually appearing in immigration court. He also said he couldn't provide information on the number of single parents with at least one child who have been released and given notices to appear at an immigration office, or whether they were reporting as directed.
Unaccompanied children, though, are often reunited with family members already in the U.S. while they wait to make their case before an immigration judge to stay. A ruling could take months and even a year.
For now, officials are focusing on processing and housing these children. Plans are underway to house families with children at a federal law enforcement training facility in Artesia, N.M.
In Nogales, about 140 children daily are brought to the facility, and about the same number are transferred to the care of the Department of Health and Human Services, which looks to place a child with a parent or family member in the U.S., Brewer said. Some of the youths in the facility are pregnant, she said.
"I can tell you that as a mother it breaks your heart to know that they are in the situation that they are in," Brewer said. "But more than that it breaks your heart that the parents themselves would put their children in harm's way in the manner of which they have arrived here in."
Sign up for Essential California for the L.A. Times biggest news, features and recommendations in your inbox six days a week.
You may occasionally receive promotional content from the Los Angeles Times.