Florida election fallout escalates after Gov. Scott ousts Broward County supervisor who'd already resigned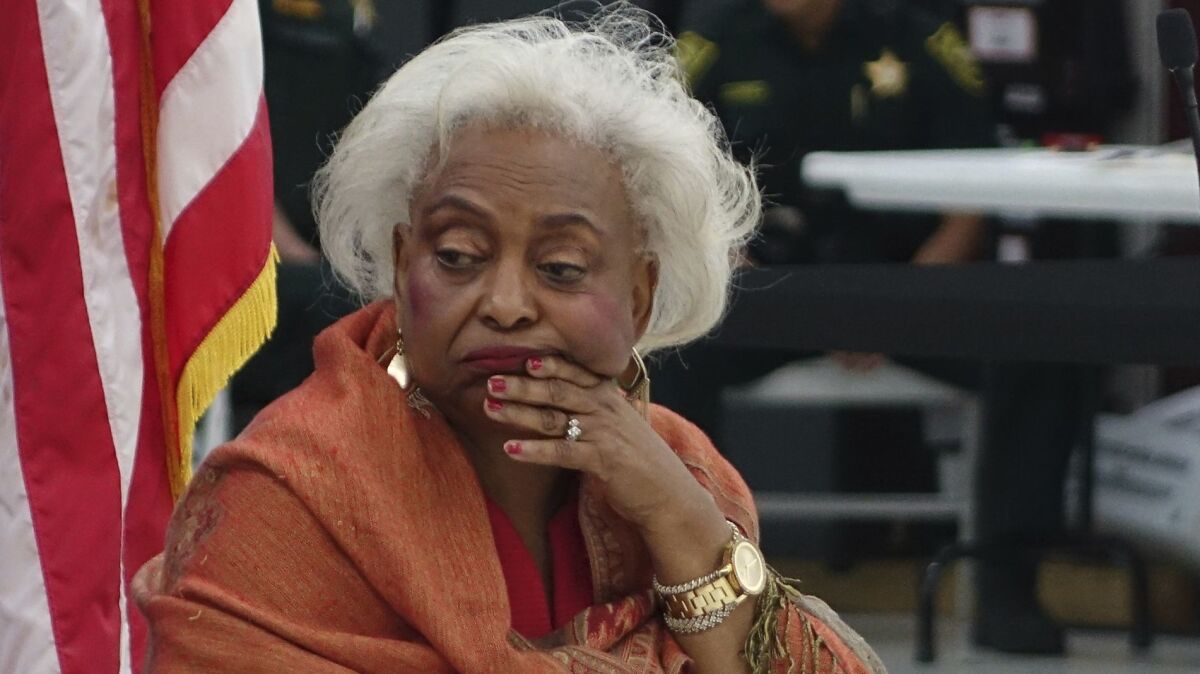 Reporting from Tallahasse, Fla. —
The fallout over Florida's turbulent recount is escalating after the state's outgoing Republican governor decided to oust a south Florida elections official.
Gov. Rick Scott late Friday suspended embattled Broward County Supervisor of Elections Brenda Snipes even though Snipes had already agreed to step down from her post in early January. Scott replaced Snipes with his former general counsel, even though Peter Antonacci has no elections experience.
Snipes responded by rescinding her resignation — and will now be "fighting this to the very end," her attorney said during a Saturday news conference.
"We believe these actions are malicious," said the attorney, Burnadette Norris-Weeks, who added that Broward County voters should be concerned about what Scott is trying to do in the Democratic stronghold by putting in an ally who could oversee the office into the 2020 elections.
Snipes has been the top elections official in the south Florida county since 2003 when then-Gov. Jeb Bush appointed her. She came under withering criticism for her handling of this year's elections, as well as its legally required recount in close races for governor and U.S. Senate, the latter of which Scott won. She had been elected three times, and her current term was not scheduled to end until 2020.
In his executive order, Scott said he was suspending Snipes due to misfeasance, incompetence and neglect of duty. His order cited problems during the recount, including reports of more than 2,000 ballots being misplaced. She also came under fire in 2017 after she destroyed year-old ballots in violation of law. Shortly after the recount started, Scott himself suggested possible fraud, but never offered any evidence.
"After a series of inexcusable actions, it's clear that there needs to be an immediate change in Broward County and taxpayers should no longer be burdened by paying a salary for a supervisor of elections who has already announced resignation," Scott said in a statement.
During his eight years in office, Scott has rarely suspended elected officials unless they were first charged with a crime. Florida law requires the state Senate to either remove or reinstate county officials who are suspended by the governor.
Scott replaced Snipes with Antonacci, who has held a number of posts at the governor's direction. Antonacci also played a pivotal role in the controversial decision to force the ouster of Florida Department of Law Enforcement Commissioner Gerald Bailey in 2015. Antonacci has been president of Florida's economic development agency since last year.
Snipes appeared at the start of the Saturday news conference, where she urged people to "have an open mind about this whole process." She maintained that "we have always done our work in an air of quality and integrity."
Norris-Weeks expressed concern that the appointment of Antonacci was being done in order to push ahead with questionable actions ahead of the next presidential election. Scott's administration has been sued several times over election matters, including lawsuits over early voting and attempts to purge voters from the rolls.
Democrats in south Florida echoed some of those concerns.
Cynthia Busch, chairwoman of the Broward County Democratic Party, questioned why Scott did not appoint someone from the community but instead someone who is a "Republican Party stalwart."
Chris Smith, a former state senator from Fort Lauderdale, called the decision to suspend Snipes after she had agreed to resign "spiteful."
McKinley Lewis, a spokesman for Scott, did not respond to statements from Snipes or her attorney, saying that the governor's "executive order and statement speak for themselves."
While Scott initiated the action against Snipes, his administration told Gov.-elect Ron DeSantis about the pending move shortly before it happened. DeSantis will be sworn in as governor on Jan. 8.
Must-read stories from the L.A. Times
Get the day's top news with our Today's Headlines newsletter, sent every weekday morning.
You may occasionally receive promotional content from the Los Angeles Times.