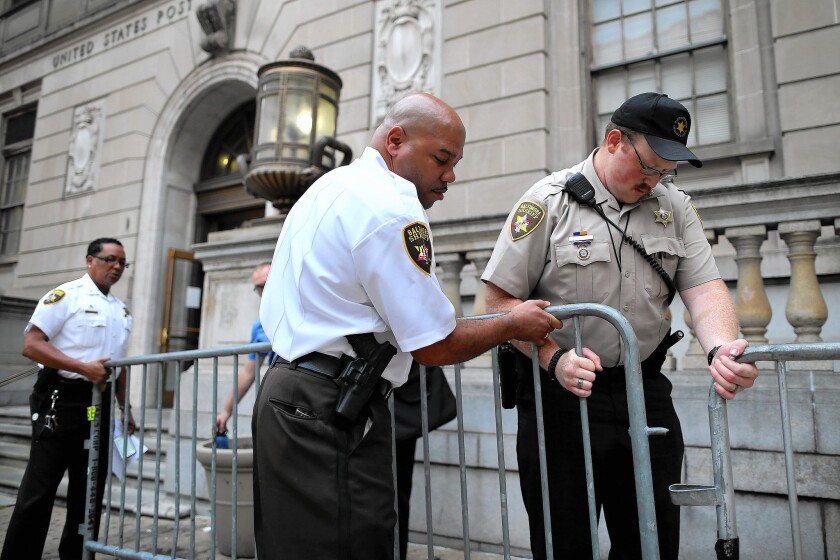 Reporting from Baltimore —
In his decision to order separate trials for each of the six Baltimore police officers accused in the arrest and death of Freddie Gray, legal analysts say, the judge has shaped how prosecutors and defense attorneys alike will craft their strategies in months to come.
And, depending on the viewpoint, his decision could aid or hinder defense attorneys representing the officers in yet another closely watched case in which police abuse is alleged.
As expected, Judge Barry Williams rejected defense motions to dismiss the charges outright. Nor did he boot from the case the office of the state attorney who made what were denounced as inflammatory comments about the incident that touched off days of rioting.
But Williams' decision to order separate trials for each officer — also sought by the defense — was a surprise.
The six face a range of charges, which was a factor in Williams' decision. Officer Caesar R. Goodson Jr., who drove the van in which the 25-year-old Gray suffered a fatal spine injury, is accused of second-degree murder. Goodson and three other officers are accused of manslaughter; two others face lesser charges.
Douglas Colbert, a University of Maryland law professor who attended the Wednesday hearing, said a key issue was the possibility that different evidence against the defendants and the different degree of seriousness of the charges could affect their ability to get a fair trial.
"I thought the defense lawyers presented a persuasive argument that one defendant would be prejudiced by being tried with another charged with a serious crime," he said.
NEWSLETTER: Get the day's top headlines from Times Editor Davan Maharaj >>
Now attention turns to the order in which the defendants are tried — a decision typically left to prosecutors.
The cases will most likely be heard one after the other. Colbert said different judges could be assigned to avoid a single judge being influenced by what he or she hears in multiple proceedings.
Former Baltimore prosecutor Kurt Nachtman, now a defense attorney, said trying the defendants in sequence means lawyers for all but the first defendant get a chance to preview the likely evidence against their clients and pounce on any inconsistencies in what witnesses say on the stand from one trial to the next.
"I would have transcripts made of each of the first five trials if I was number six," Nachtman said.
But Thomas Maronick, another Baltimore defense lawyer, said separate trials mean prosecutors have an opportunity to rethink their approach from defendant to defendant.
"If the state loses one case and they figure out the weaknesses, they could patch up the holes," he said.
When the cases go to trial, University of Baltimore law professor David Jaros said, the officers could try to implicate one another in a bid to create doubt about their own guilt.
There is also a remote possibility that one or more of them will decide their interests no longer align with the rest of the group and try to strike a plea deal, he said.
See the most-read stories this hour >>
The prospect of six closely scrutinized trials being covered in the media could factor into Williams' ruling on whether to keep the case in Baltimore or move it to another jurisdiction. A hearing on a defense motion to change the venue is scheduled for this week.
Gray died April 19, a week after his arrest. Rioting erupted April 27, with hundreds of people setting police cars and businesses ablaze, throwing rocks and looting stores. This summer the state asked the Federal Emergency Management Agency for $19 million to help Baltimore recover; the request was denied, but the state is appealing.
The hearing Wednesday was the first time the two sides had squared off in court since State's Atty. Marilyn J. Mosby filed charges against the officers May 1.
"I heard your call for no justice, no peace," Mosby told protesters that day. "Your peace is sincerely needed as I work to bring justice for Freddie Gray. To those that are angry or hurt or have their own experience of injustice, I urge you to channel your energy peacefully."
Mosby's announcement of the charges was hotly contested in court filings leading up the hearing.
The officers' lawyers described Mosby's comments as inflammatory, saying that they riled up potential jurors against their clients.
Mosby later accused Goodson, the driver, of ignoring Gray's pleas for medical assistance "in a grossly negligent manner." She said Sgt. Alicia D. White, who is charged with manslaughter, assault and misconduct, "made no effort to look, or assess, or determine his condition."
Prosecutors have said she had acted responsibly to calm the city.
Williams took the opportunity to admonish both sides for the aggressive tone found in many of the legal filings and to tell the lawyers that he expects calmer behavior as the cases progress. He called some of the defense arguments "condescending" and said some of Mosby's comments to the press had been "inappropriate."
"The unnecessary name-calling and over-the-top rhetoric to which this court has been required to wade in order to get to the heart of the legal issues in this case is remarkable," Williams said.
He said attorneys should be mindful to craft their arguments in a way that is supported by facts and will "assist the court in understanding the legal issues, not to get the best media sound bites."
Joshua Insley, a Baltimore defense attorney, said the judge's comments showed he was working to impose order.
"The court's tone and remarks will throw some cold water on the rhetoric of both sides and serve well to remind them that all cases proceed under the same rules, despite the publicity," Insley said. "I think it will do a lot to get things moving forward in a less dramatic fashion."
Twitter: @iduncan
ALSO
New York town can't ban day laborers soliciting work, judge rules
8 homicides in 1 day are latest signs of Chicago's bloody summer
Who is Maj. Gen. Qassem Suleimani, the man who stumped Trump?
---