Dramatic temperature swings heading to Midwest as death toll climbs to 13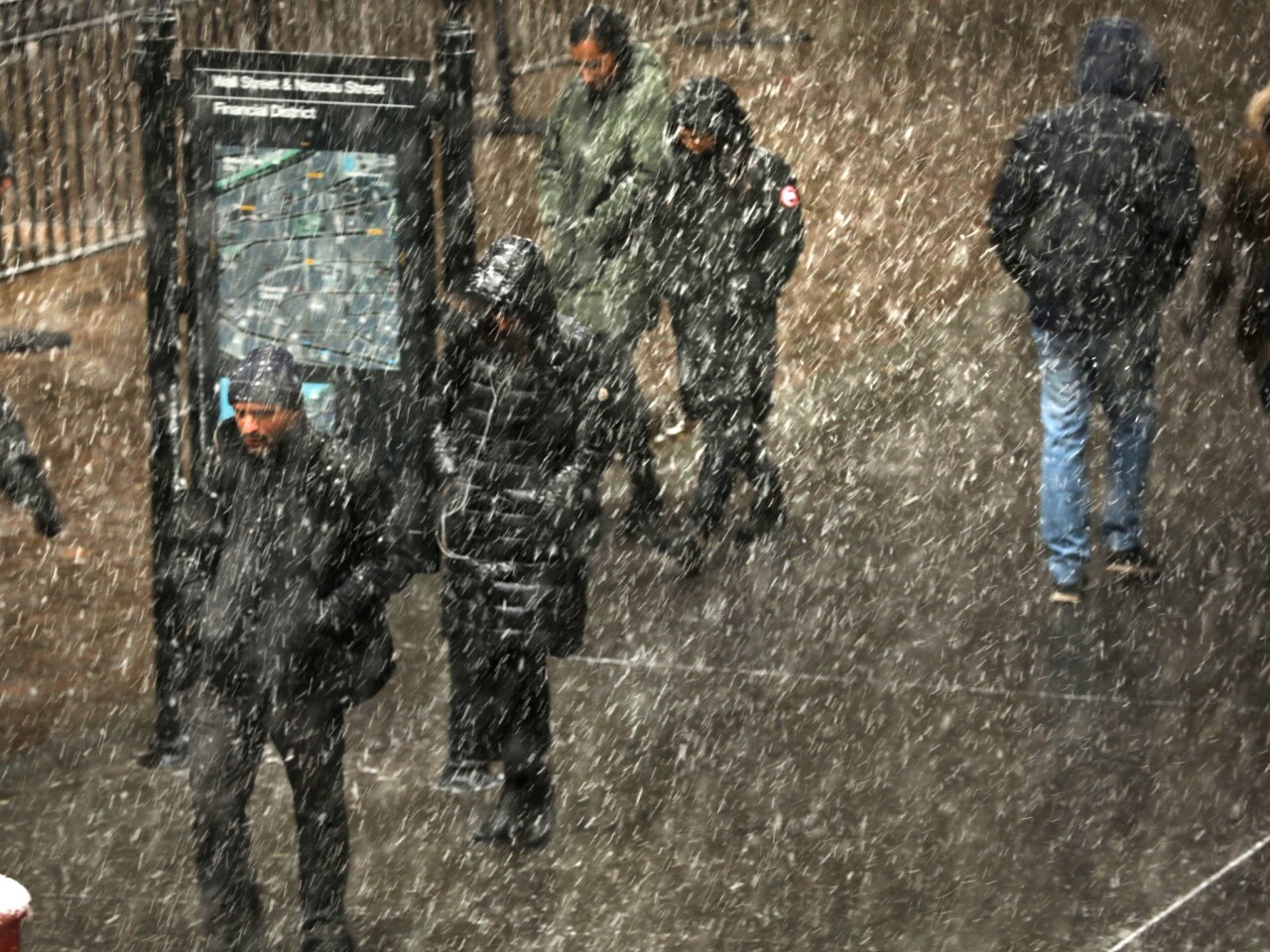 People walk through the snow in lower Manhattan as extremely cold temperatures are predicted for New York City in the coming days as a Polar Vortex, which is now over parts of the midwest, heads towards the region.
(Spencer Platt / Getty Images)
Ice forms on tree branches as New York firefighters battle a blaze in a commercial building in Brooklyn, New York.
(Mark Lennihan / Associated Press)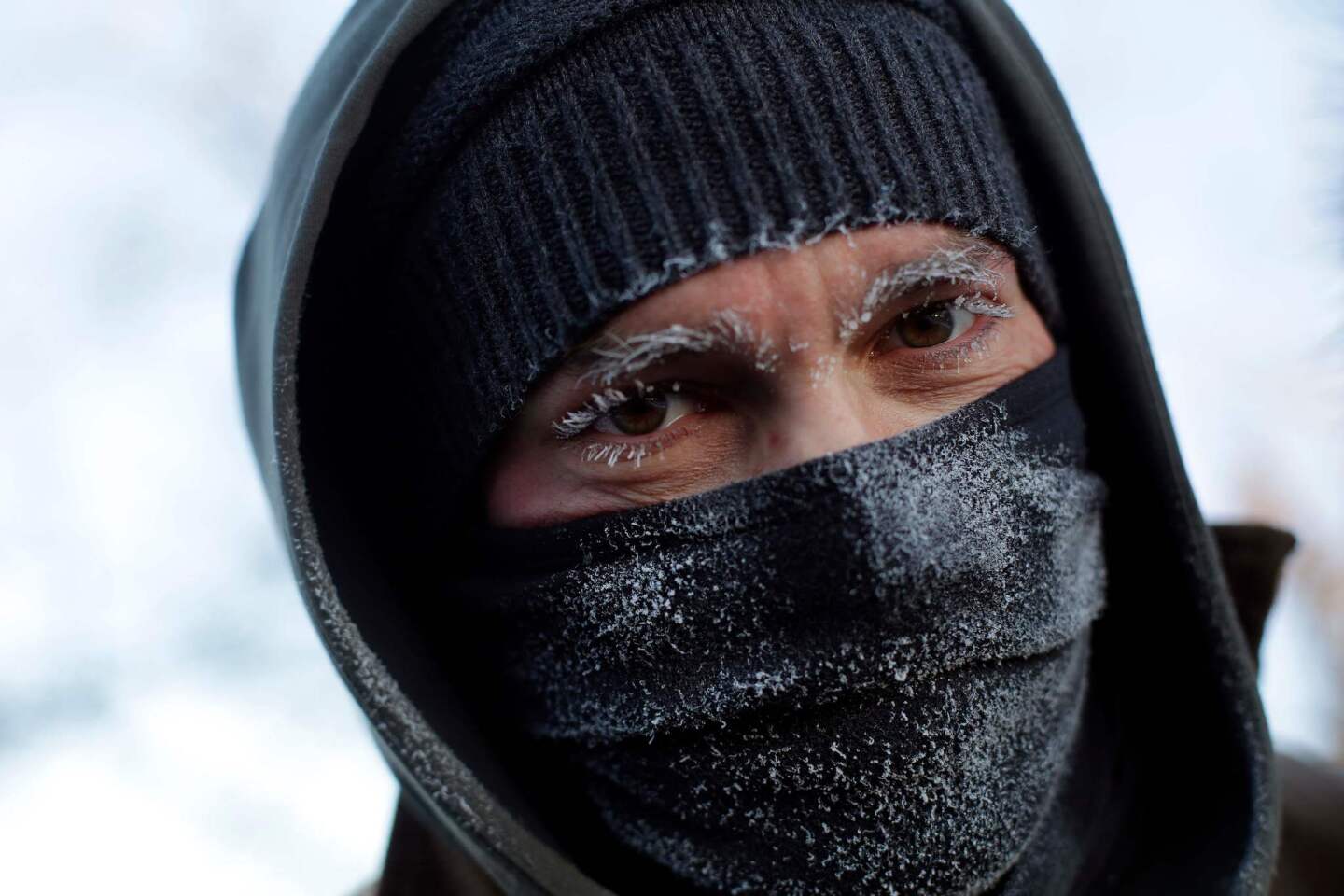 Frank Lettiere's eyebrows and eye lashes are frozen after walking along Lake Michigan's ice covered shoreline as temperatures dropped to -20 degrees F in Chicago.
(JOSHUA LOTT / AFP/Getty Images)
At Chicago airports, more than 1,700 flights were cancelled, according to the city's Aviation Department due to the polar vortex in the Midwest.
(KAMIL KRZACZYNSKI / EPA / REX / Shutterstock)
A man waits to cross a street during heavy snow fall in downtown Manhattan.
(JOHANNES EISELE / AFP/Getty Images)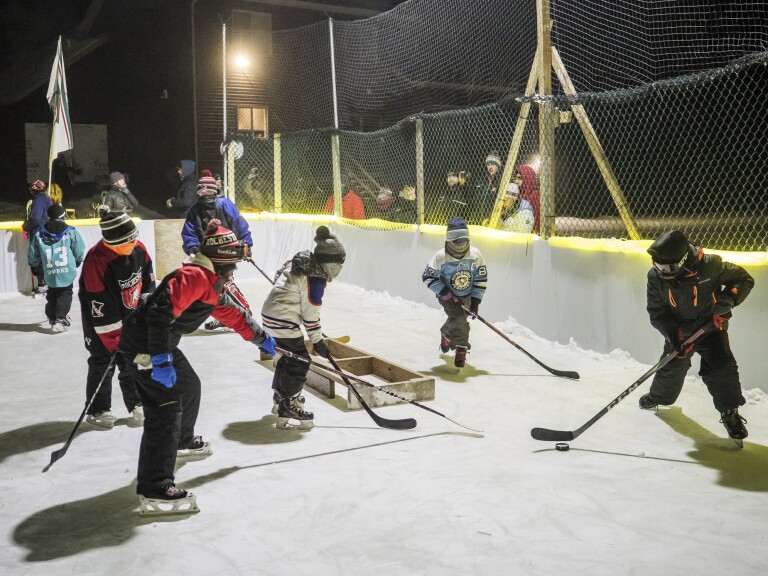 Hockey players chase the puck during an attempt at the Guinness Book of World Records record for coldest hockey game played in the backyard of a home in Rochester, Minn. About 25 kids took to the ice in the attempt. The air temperature, according to the National Weather Service, was in the high -20s below zero, and the wind chill was in the mid-40s below zero.
(Joe Ahlquist / The Rochester Post-Bulletin)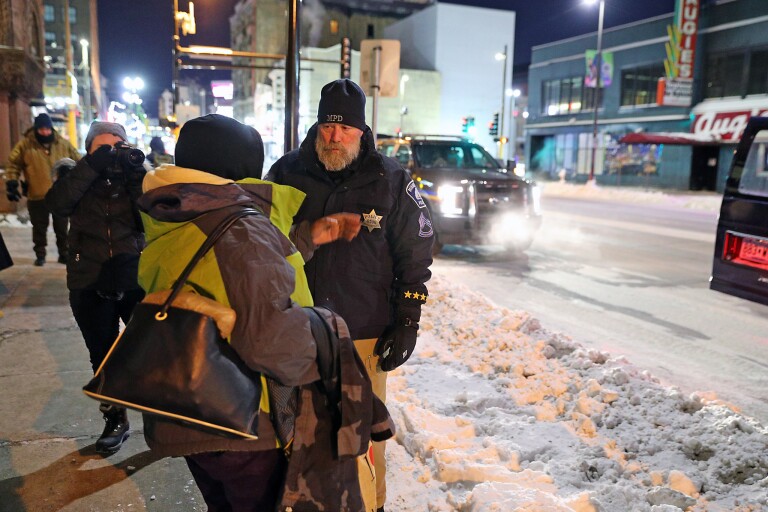 Minneapolis Police Sgt. Grant Snyder hands out gloves, hats and food to the homeless while temperatures dropped to -24 degrees Fahrenheit in Minneapolis, Minnesota.
(Adam Bettcher / Getty Images)
Steam rises from the city and Lake Michigan as the sun comes up in Chicago. The Midwest is braced with a coldspell as a polar vortex sent temperatures below zero degrees Fahrenheit.
(KAMIL KRZACZYNSKI / EPA / REX / Shutterstock)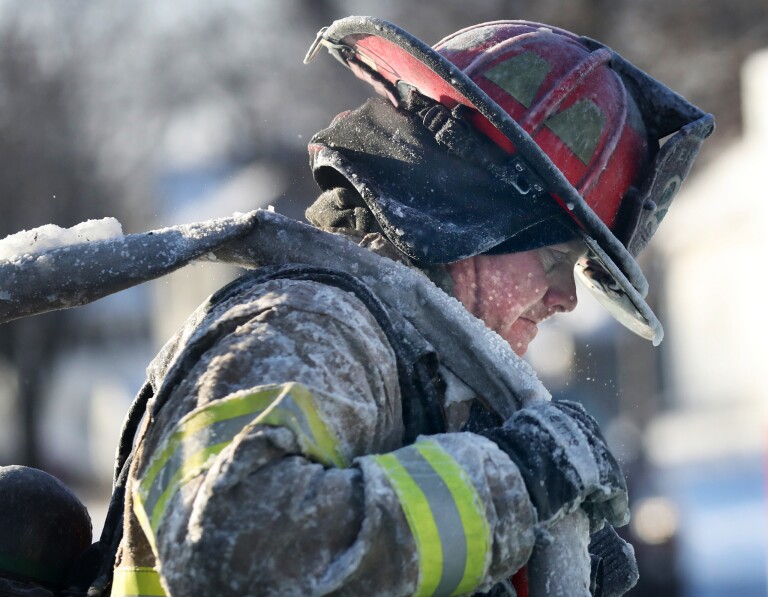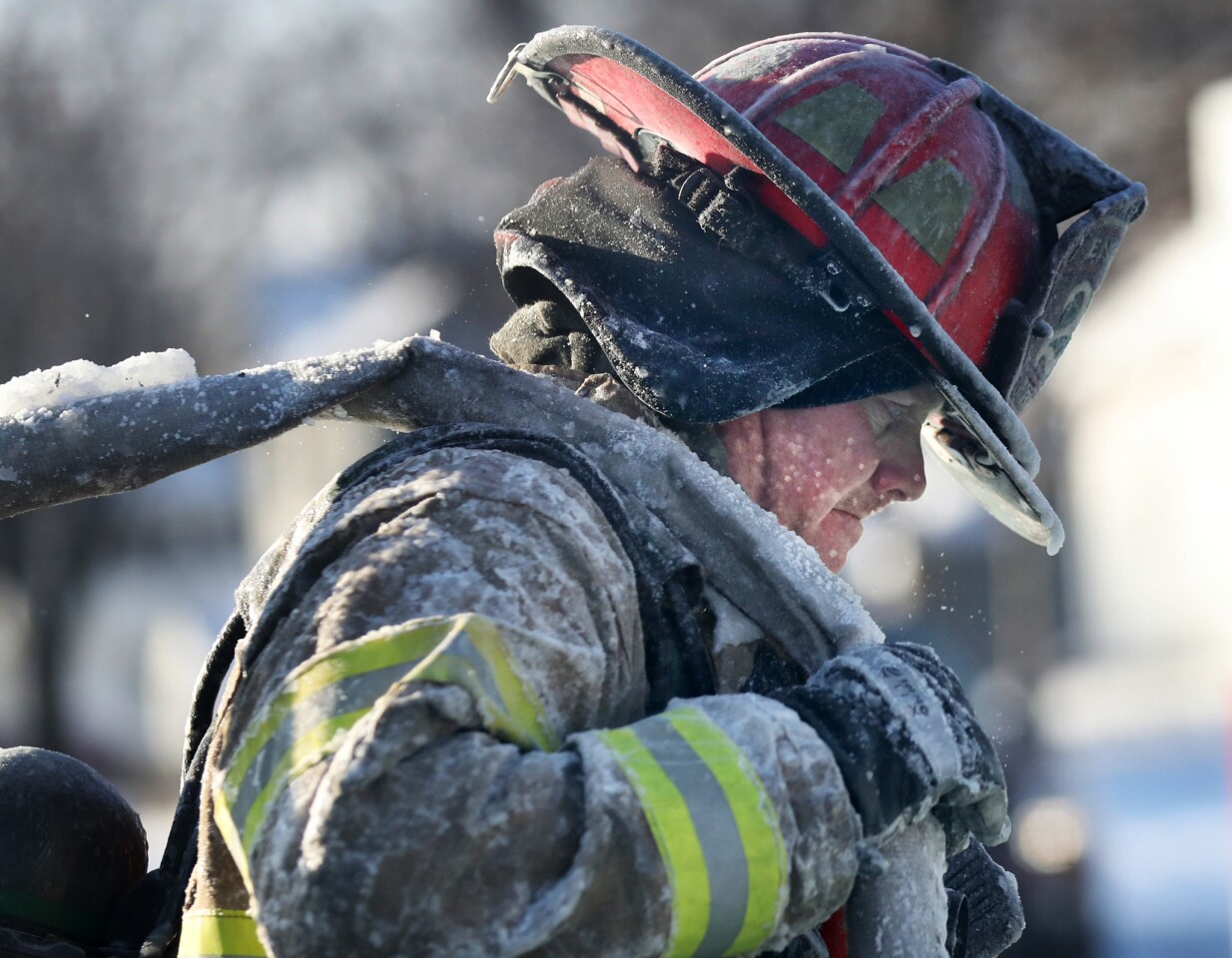 St. Paul firefighters at the scene of a house fire at Hatch Ave. and Park St. in St. Paul, Minn.
(David Joles / Minneapolis Star Tribune)
With temperatures dipping into the upper 20's below zero with a -50 wind chill, St. Paul's West 7th neighborhood was steaming Wednesday morning as furnaces tried to keep up with the record breaking cold.
(Brian Peterson / Minneapolis Star Tribune)
The sun is seen through ice formed on a window in Burnsville, Minn.
(Brian Peterson / Star Tribune)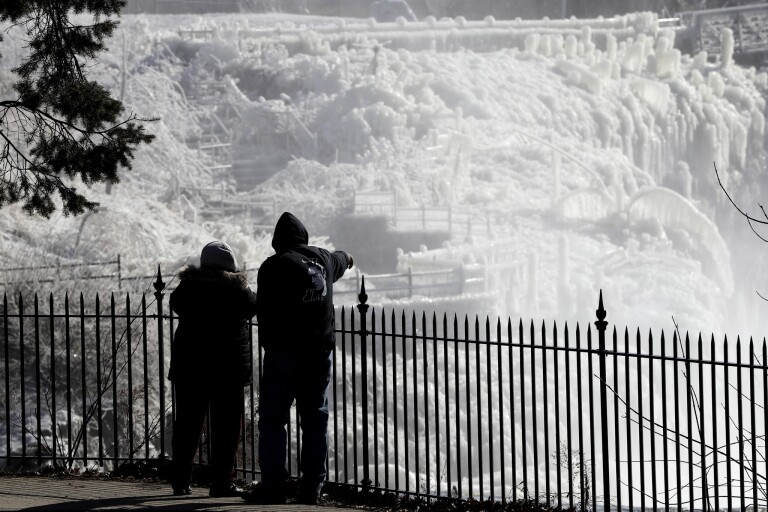 Ice is seen on the side of the Great Falls National Historic Park as a couple takes in the sights during a frigid winter day in Paterson, N.J.
(Julio Cortez / Associated Press)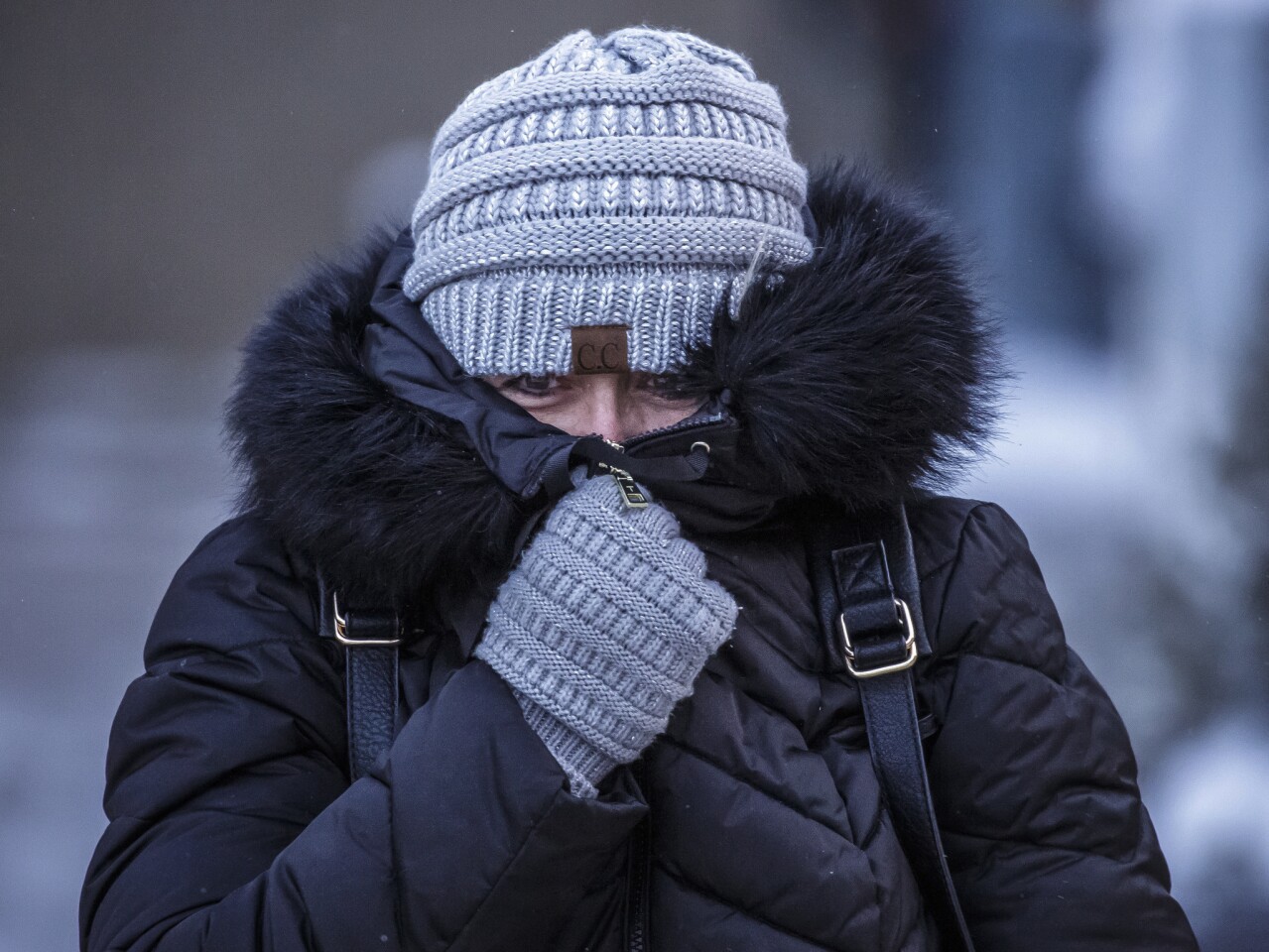 Andrea Billings keeps her face covered amid subzero temperatures in Rochester, Minn.
(Joe Ahlquist / The Rochester Post-Bulletin)
Chloe Adams of Minneapolis goes for a ski run with her dog, Roscoe. Temperatures in parts of southwestern Minnesota fell to negative 29 degrees Fahrenheit.
(Craig Lassig / EPA/REX/Shutterstock)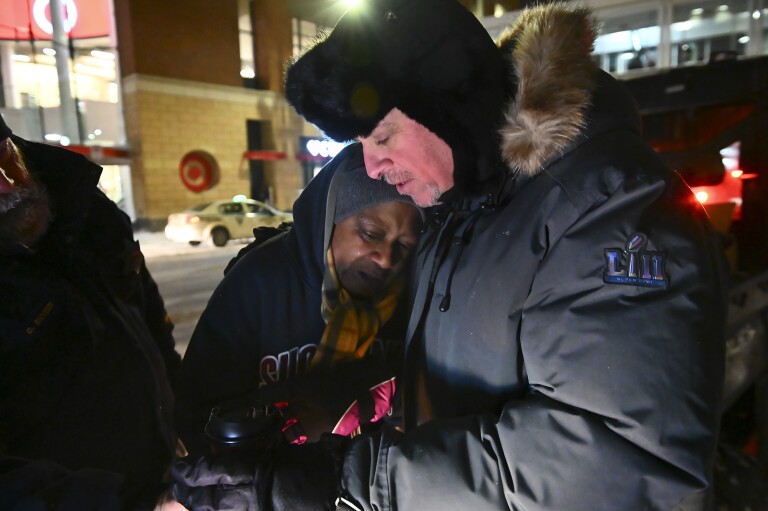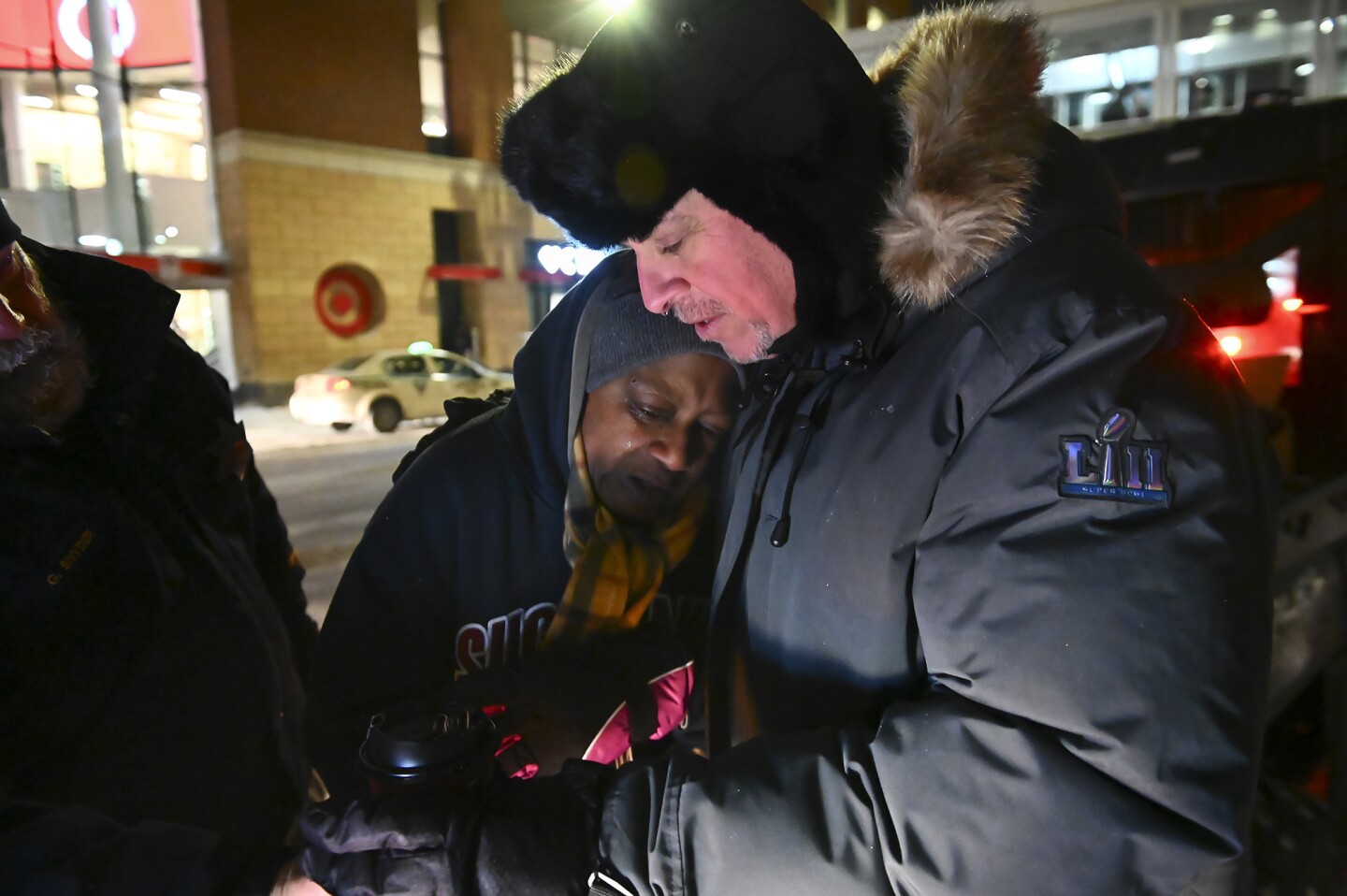 Pastor John Steger, with Grace in the City church, embraces Jearline Cyrus, a homeless woman, in downtown Minneapolis while delivering cold-weather gear, hot chocolate and food.
(Aaron Lavinsky / Minneapolis Star Tribune)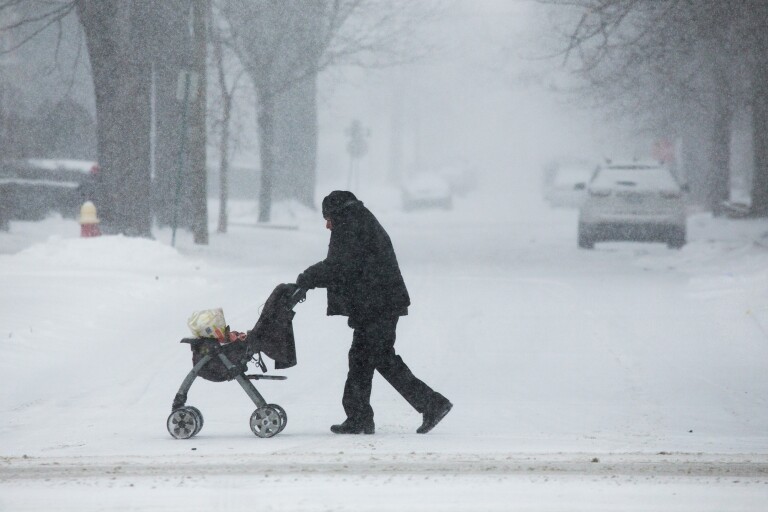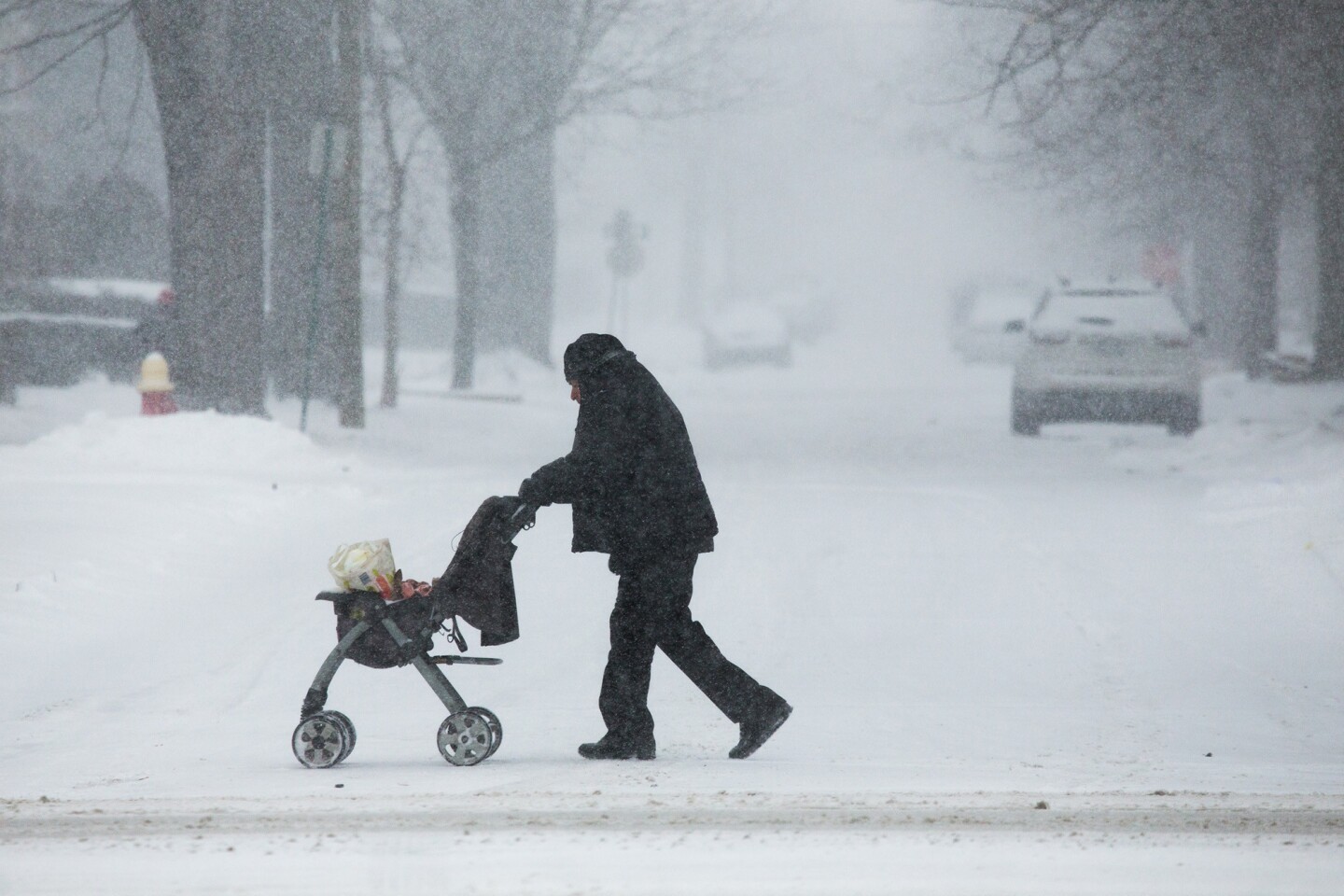 A man pushes a stroller full of groceries through the snow-covered streets of Detroit.
(Ryan Garza / Detroit Free Press)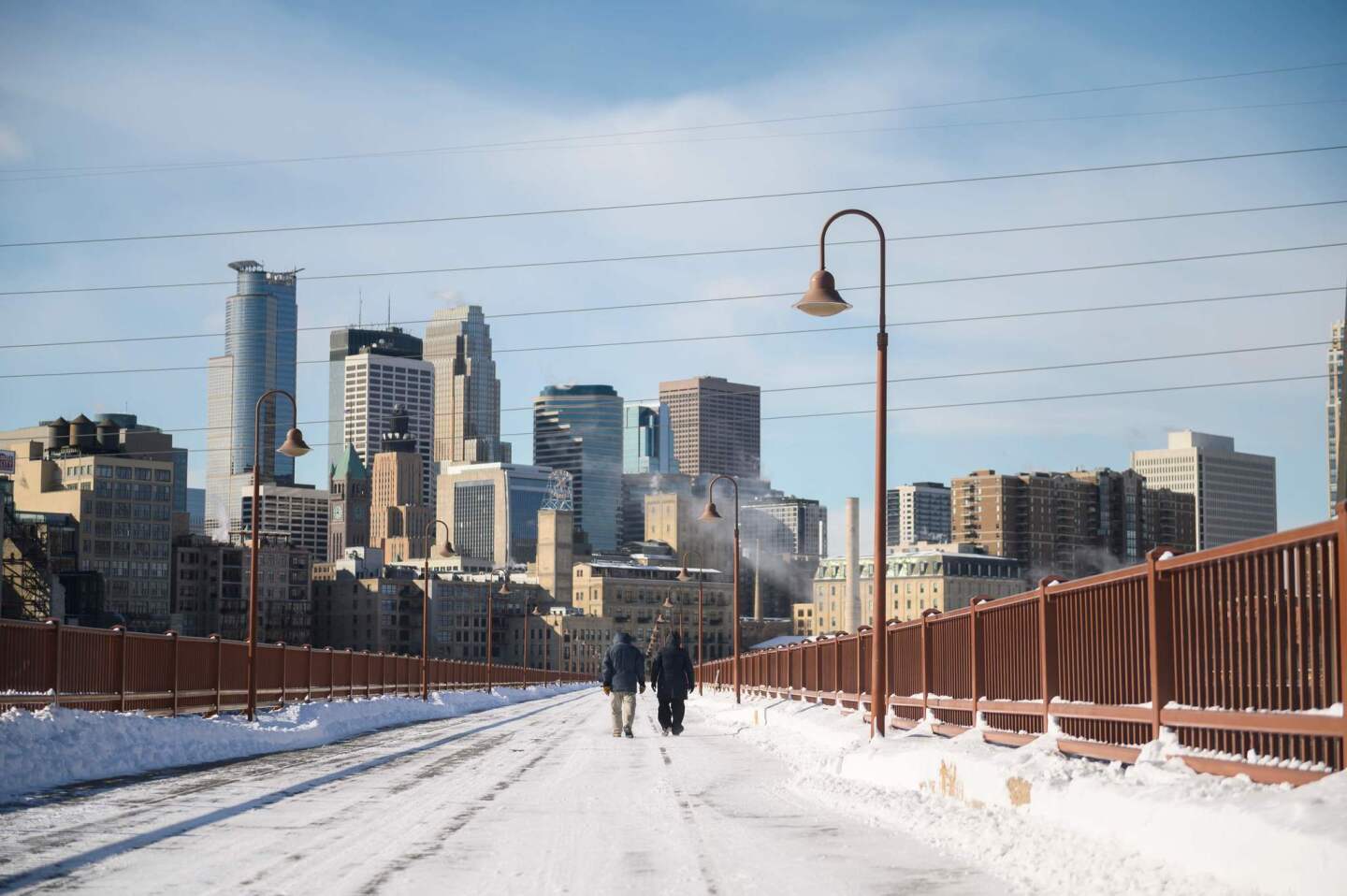 Braving the cold for a walk along Stone Arch Bridge in Minneapolis.
(Stephen Maturen / AFP/Getty Images)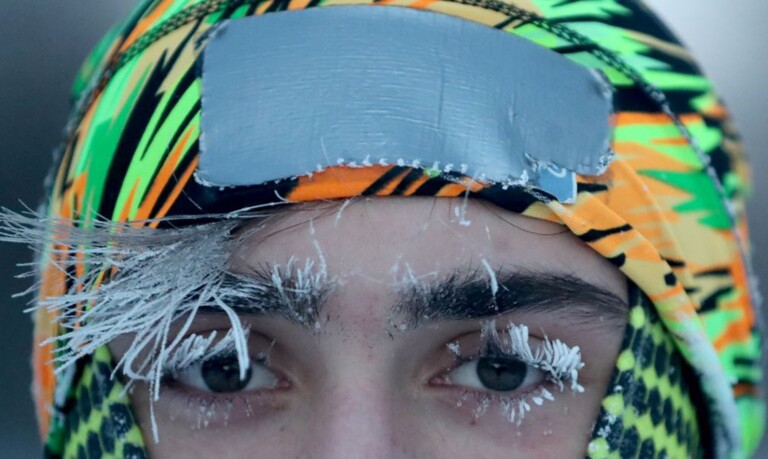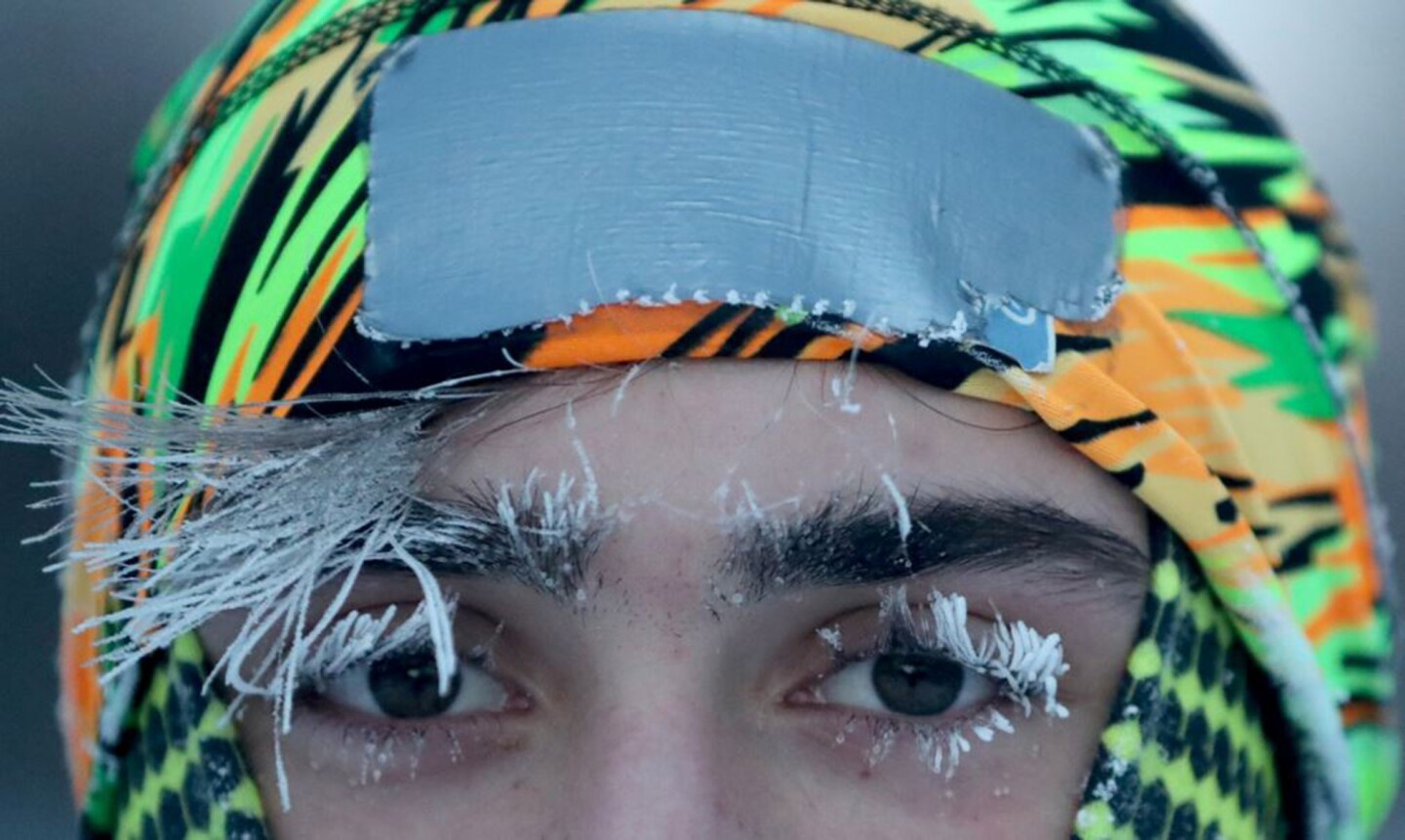 University of Minnesota student Daniel Dylla, out for a jog in Minneapolis, frosted over in the morning cold Tuesday.
(David Joles / Minneapolis Star Tribune)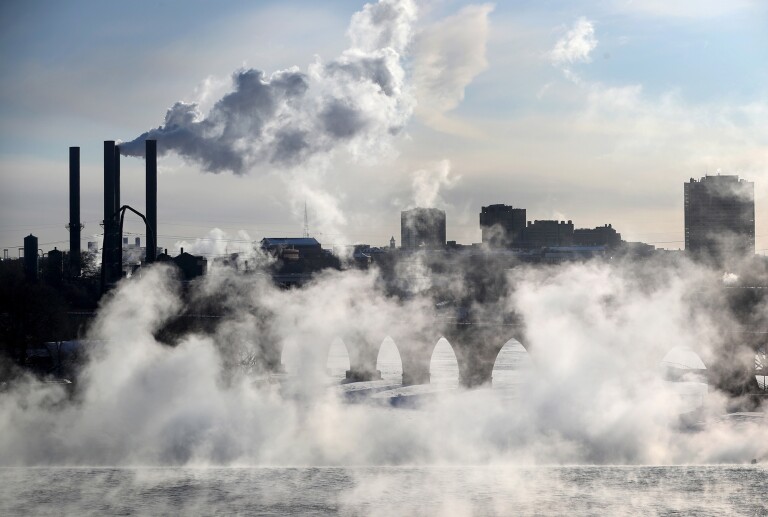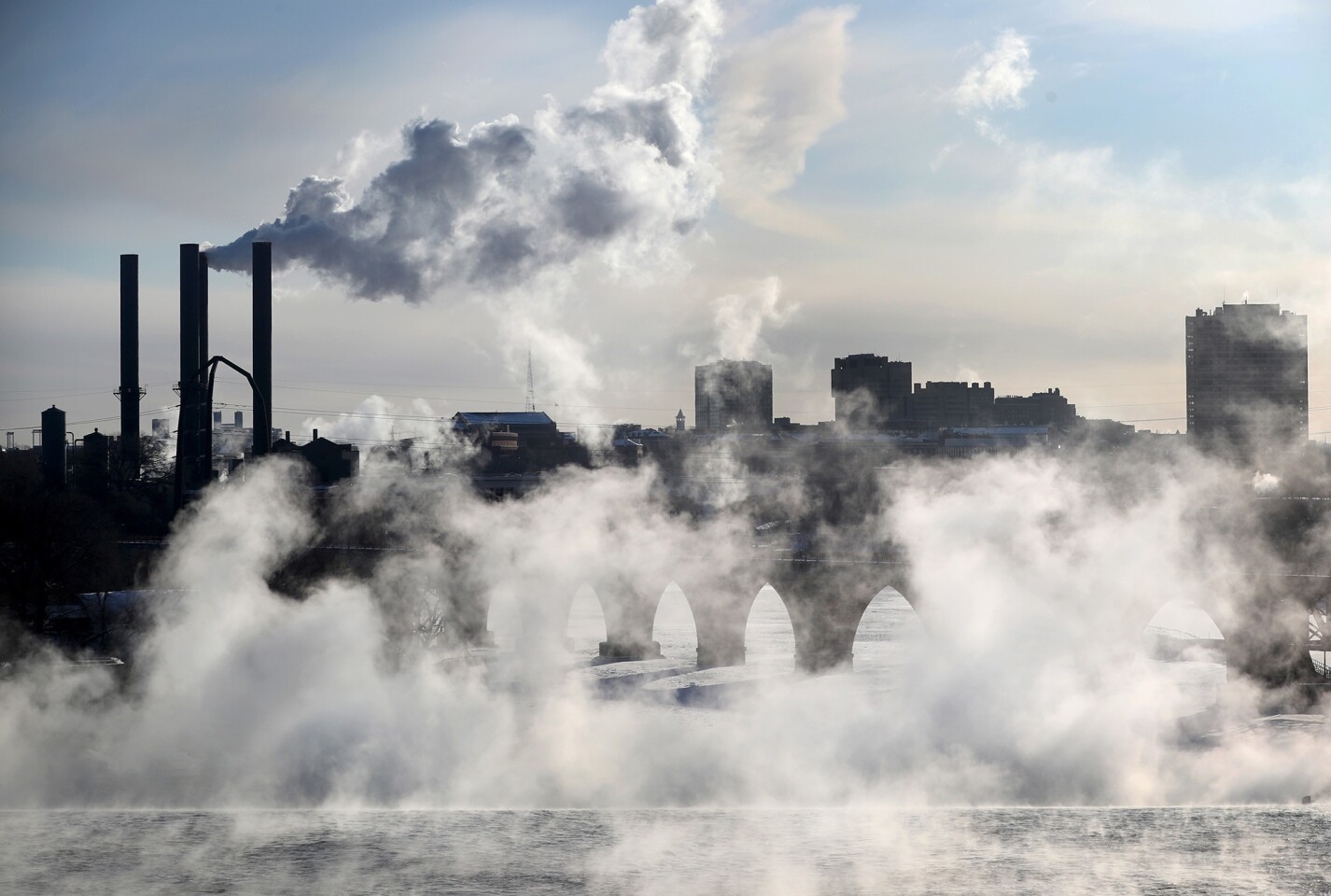 Water vapor rises Tuesday from Saint Anthony Falls on the Mississippi River in Minneapolis.
(David Joles / Minneapolis Star Tribune)
"They're going to call me 'wife of the frozen pants guy' in my obituary," said Karla Grotting with a laugh. Husband Tom has a winter tradition of freezing clothing for their yard in northeast Minneapolis.
(Anthony Souffle / Minneapolis Star Tribune)
A student from China poses for a picture along Lake Michigan in Chicago on Tuesday. Temperatures in the city plunged early Wednesday to minus 19 degrees.
(Kamil Krzaczynski / EPA / Shutterstock)
A Metra train moves southbound toward downtown Chicago as the gas-fired switch heater on the rails keeps the ice and snow off the switches.
(Kiichiro Sato / Associated Press)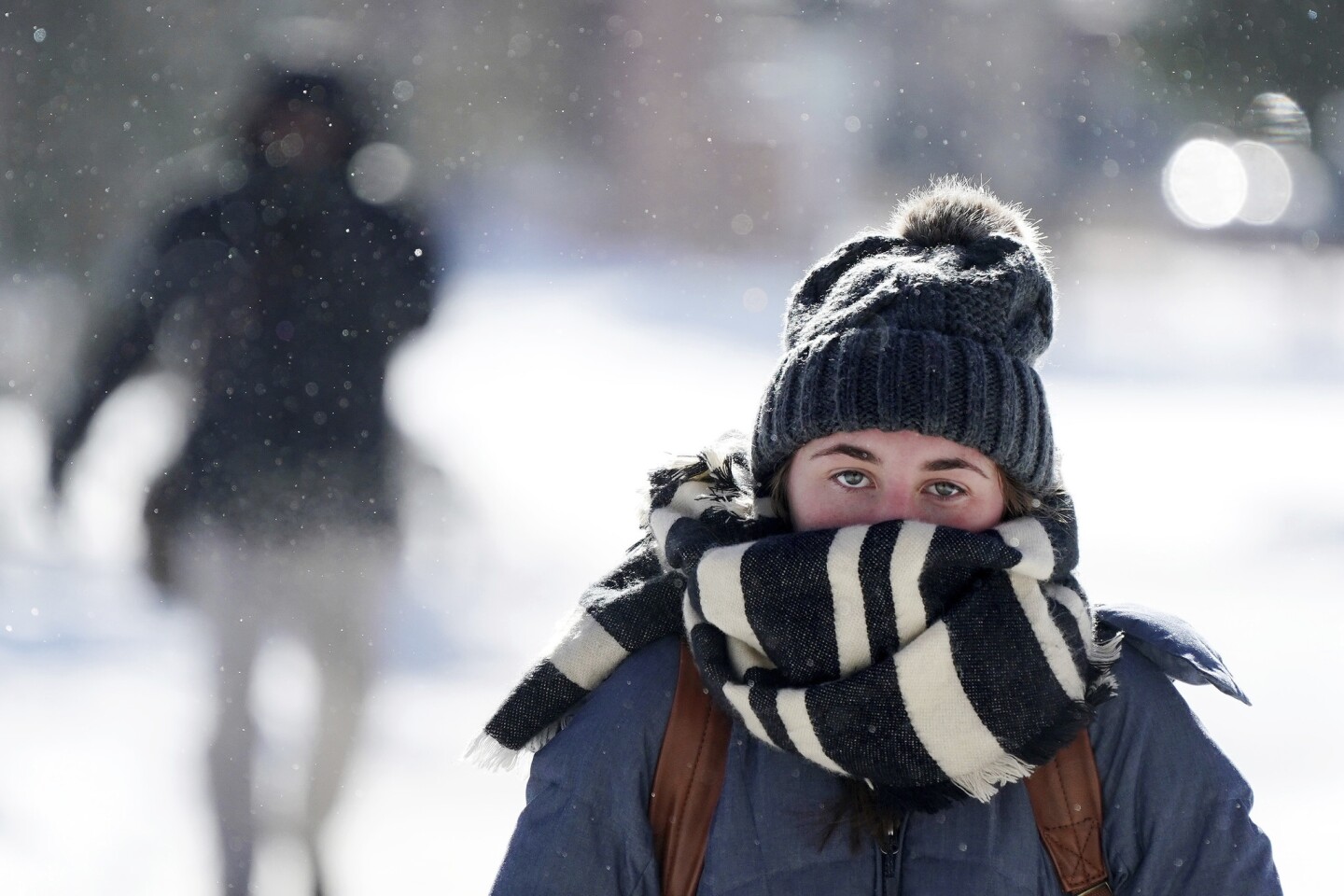 Jillian Hansen, a senior at the University of Minnesota, makes her way across campus.
(Anthony Souffle / Minneapolis Star Tribune)
Drivers on southbound Interstate 81 travel through heavy snow in Emory, Va.
(Andre Teague / Bristol Herald)
A traffic sign in Madison, Miss., after a cold front moved through state on Tuesday.
(The Clarion-Ledger)
A man walks along a residential street during the severe weather Monday in Green Bay, Wis.
(Adam Wesley / The Post-Crescent )
Heidi French, of the Two Rivers Post Office, delivers mail Monday in Two Rivers, Wis. By Wednesday, the Postal Service had suspended mail delivery in a wide swath of the Midwest.
(Joshua Clark / The Post-Crescent)
Sheets of ice sit on the Chicago River near Wolf Point in Chicago.
(Armando L. Sanchez / Chicago Tribune)
A cyclist rides in downtown Green Bay, Wis., during the wild winter weather.
(Adam Wesley / The Post-Crescent)
Aaron Braun puts in extra effort to get through the pile of snow at the end of his Mankato, Minn., driveway.
(Pat Christman / The Free Press)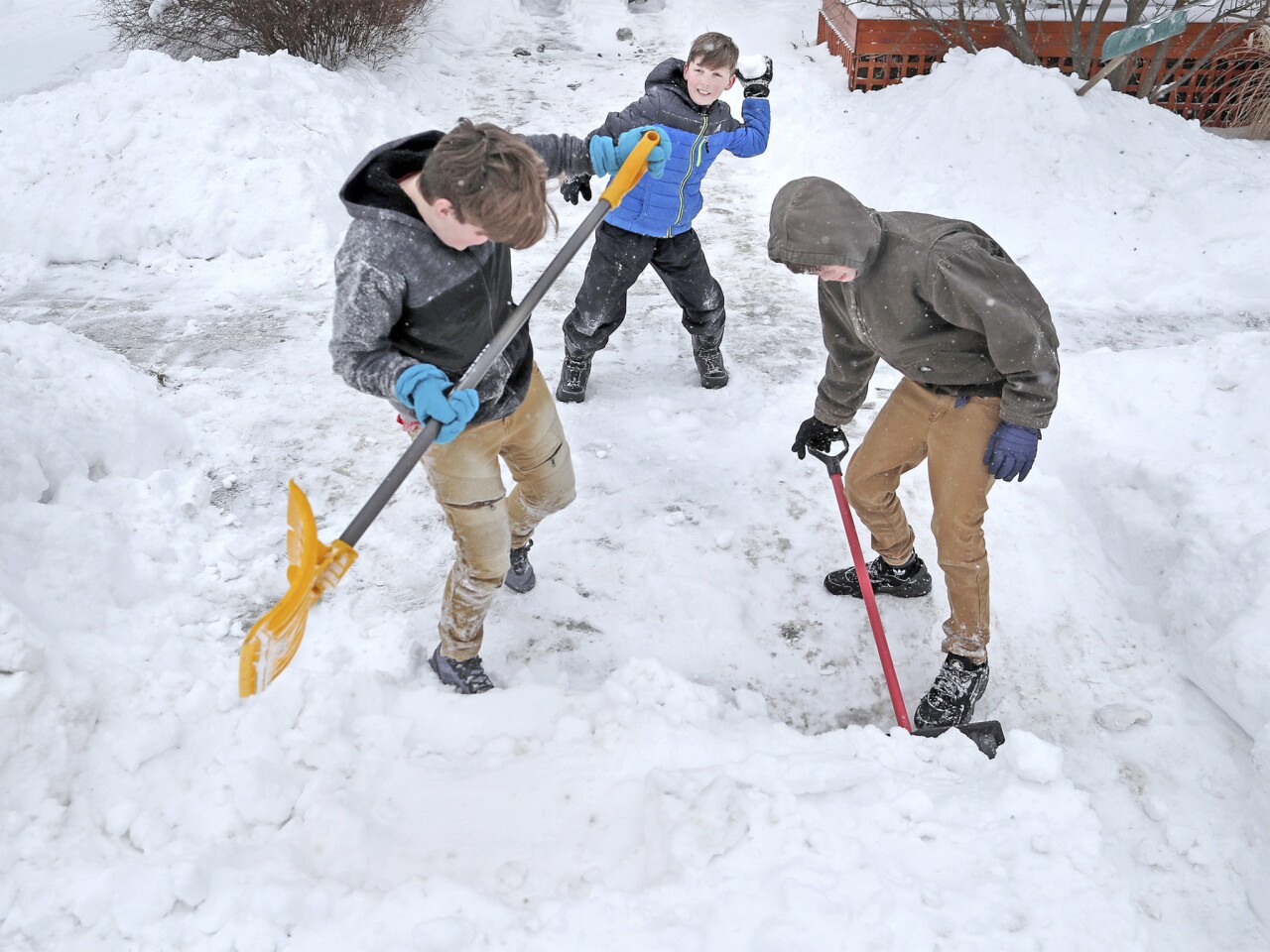 Samuel Tearman throws snowballs at brothers James, left, and Nathan as the two shovel the driveway of their home in Janesville, Wis.
(Anthony Wahl / The Janesville Gazette)
Morning commuters face a tough slog on Wacker Drive in Chicago.
(Rich Hein / Chicago Sun-Times)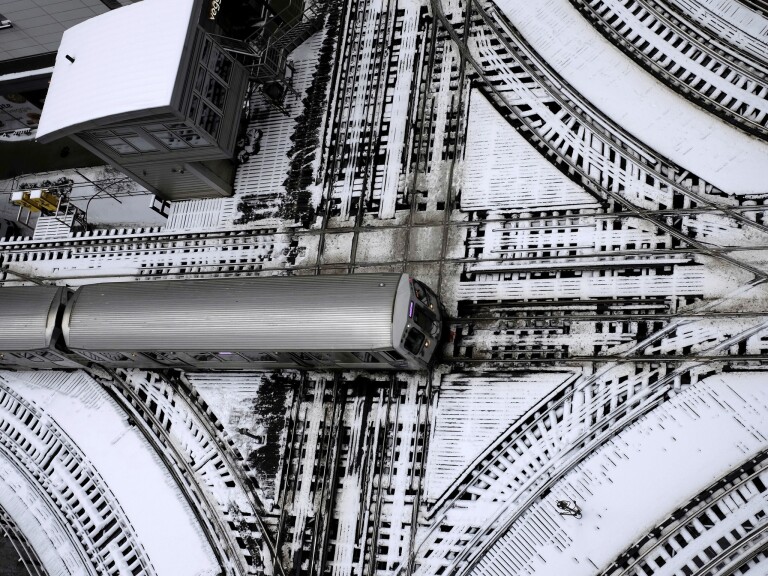 Chicago's El train moves along a snow-covered track in Chicago. The plunging temperatures expected later this week have forecasters especially concerned.
(Kiichiro Sato / Associated Press)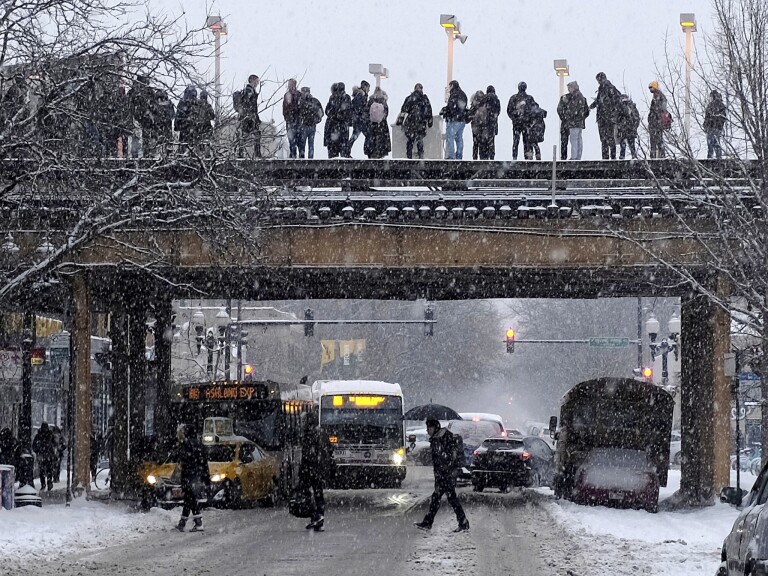 Commuters wait for a train as snow falls Monday in Chicago.The National Weather Service called the storm hitting the Midwest "possibly life threatening."
(Kiichiro Sato / Associated Press)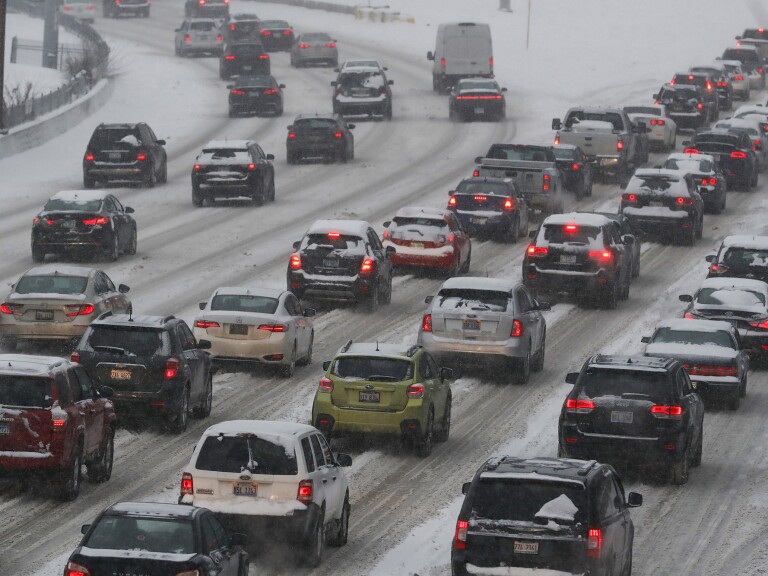 The outbound Kennedy Expressway, left, and Edens Expressway in Chicago on a cold and snowy Monday morning.
(Jose M. Osorio / Chicago Tribune)
Frost forms patterns on the window of a St. Joseph, Mich., home.
(Don Campbell / Associated Press)
Vapor rises from Lake Michigan in Milwaukee.
(Carrie Antlfinger / Associated Press)
Vehicles travel along a highway during a snowstorm in Appleton, Wis. Heavy snow and gusting winds created blizzard-like conditions across the Upper Midwest.
(Danny Damiani / Associated Press)
In Illinois, Don Milliken of Palatine clears snow from his neighbors' sidewalks and driveways on Monday.
(Stacey Wescott / Chicago Tribune)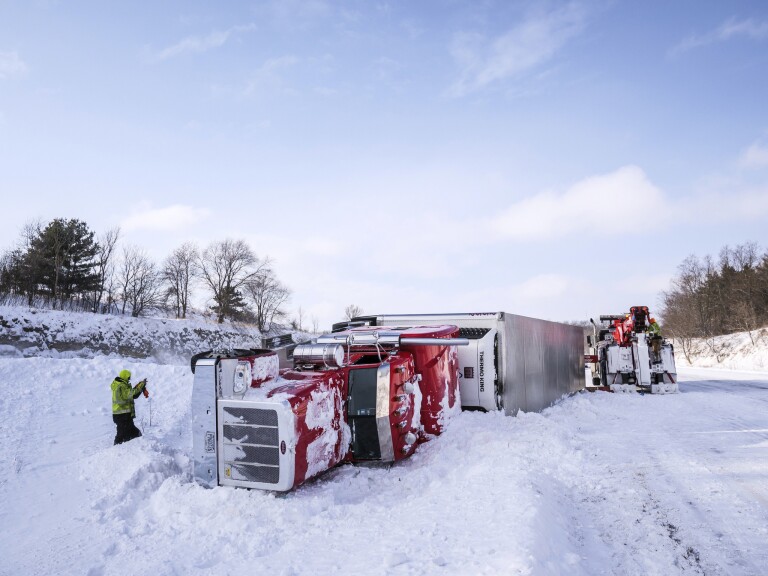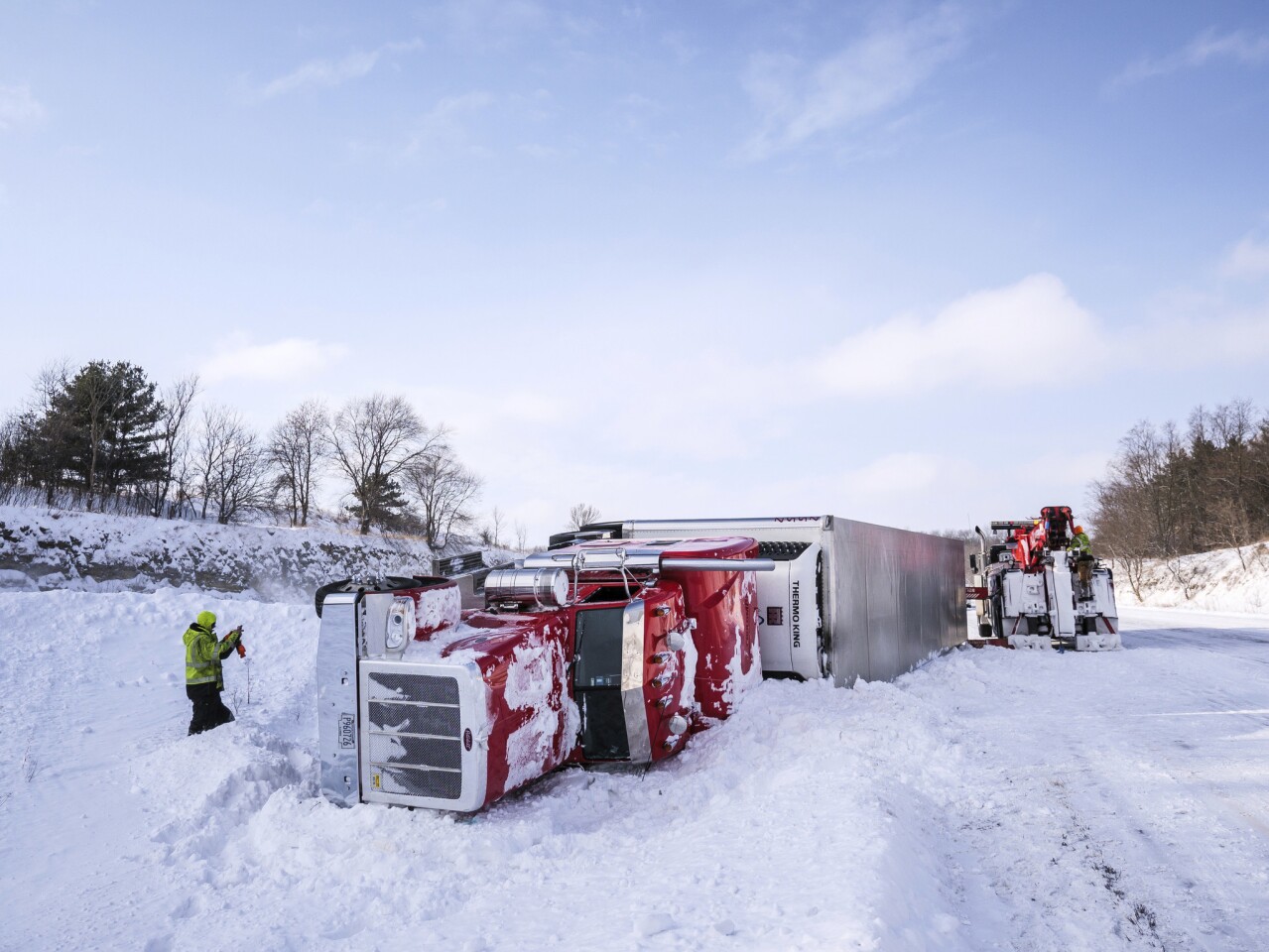 A semi awaits its tow Monday. Blowing snow caused the truck to overturn near Rochester, Minn., authorities said.
(Joe Ahlquist / The Rochester Post-Bulletin)
Andy Maxfield brushes snow from his truck outside his home after heavy snow overnight in Rochester, Minn.
(Joe Ahlquist / The Rochester Post-Bulletin)
Reporting from Chicago —
The painfully cold weather holding much of the Midwest in a historic deep freeze sent temperatures plunging to record lows Thursday in several cities as the system marched eastward. But a dramatic swing of as much as 80 degrees was expected within days.
The frigid conditions canceled more commercial flights, and the number of deaths blamed on the cold climbed to 13. Yet there were signs that life was getting back to normal as some students returned to school, train travel resumed and businesses reopened.
A rapid thaw seemed imminent. For instance, Moline, Ill., saw a temperature of minus-33 degrees Thursday and was forecast to hit 49 degrees by Monday, a difference of 82 degrees.
Meanwhile, the extreme cold was settling in over the Northeast. In western New York, a storm that dumped up to 20 inches of snow gave way to subzero temperatures and dangerous wind chills. The arctic conditions caused problems from Buffalo to Brooklyn, where about 200 firefighters battling an early morning blaze in a commercial building took turns getting warm on buses.
New York Gov. Andrew Cuomo said state police would crack down on truckers who violated a travel ban issued for Interstate 90 between Rochester and the Pennsylvania border after a tractor-trailer crash was blamed for a major pileup.
Schools in parts of Wisconsin, Minnesota, Michigan, Illinois and Iowa remained closed Thursday. But students headed back to school in eastern North Dakota, where subzero temperatures were forecast to crawl upward.
The blast of polar air also strained infrastructure with some of the lowest temperatures in a generation, snapping rail lines and knocking out utilities. In Detroit, more than two dozen water mains froze. About 1,700 flights in and out of Chicago airports were canceled.
Chicago's temperature dropped to a low of around minus-21 degrees on Thursday, slightly above the city's lowest-ever reading of minus-27 in January 1985. Milwaukee's low was minus-25 and Minneapolis recorded minus-24 with wind chills as low as minus-38, an improvement from a day earlier.
Rockford, Ill., saw a record low temperature of minus-31 on Thursday. Cedar Rapids, Iowa, set a record low of minus-30.
Towing companies saw a huge demand for service after hundreds of vehicles got stranded. Trains and buses in Chicago operated with few passengers.
The hardiest commuters ventured out only after covering nearly every square inch of flesh against the extreme chill, which froze ice crystals on eyelashes and eyebrows in minutes. The Postal Service even took the rare step of suspending mail delivery in many places, and United Parcel Service also halted deliveries in several areas.
The bitter cold was the result of a split in the polar vortex, a mass of cold air that normally stays bottled up in the Arctic. The split allowed the air to spill much farther south than usual.
The weather-related deaths included an elderly Illinois man who was found several hours after he fell trying to get into his home, an Ohio woman found in a vacant home, and a University of Iowa student found dead behind an academic hall.
In Michigan, state and utility officials warned residents that they risked brief interruptions of natural gas service if they did not help reduce energy. The warning followed a fire at a utility's suburban Detroit facility that affected natural gas supplies. By Thursday, Consumers Energy said it was "cautiously optimistic" that its requests to curb natural gas use were "having a positive effect."
Amtrak began to restore service out of Chicago, one of the nation's busiest rail hubs, after canceling dozens of trains.
In Saco, Maine, firefighters battling a blaze had to worry about frostbite, slippery conditions and frozen gear as they chipped away at ice and snow to move hoses. A siren got stuck, contributing to the bedlam. Firefighters took breaks to warm up, but the conditions wore them down.
"You could see the look on their faces. They were cold," Deputy Fire Chief David Pendleton said.
A fire at the Vermont Farm Show in Essex, Vt., led authorities to evacuate vendors and livestock to get them out of the cold. Horses, sheep and calves were walked out of the building on Thursday. A day earlier, a horse that became stuck between two tree trunks in northern Indiana was rescued by a chainsaw-wielding town marshal.
---
Must-read stories from the L.A. Times
Get the day's top news with our Today's Headlines newsletter, sent every weekday morning.
You may occasionally receive promotional content from the Los Angeles Times.