Wildlife groups scramble for new way to block grizzly bear hunting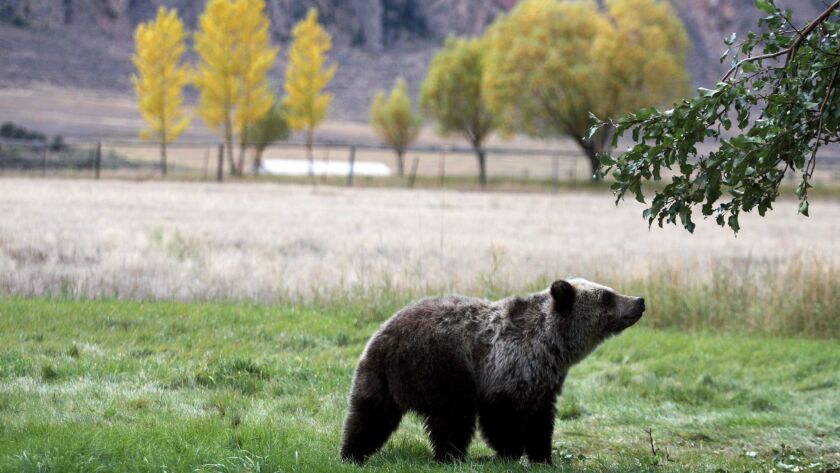 Reporting from MISSOULA, Mont. —
Wildlife advocates scrambled Thursday to find a new way to block grizzly bear hunts set to begin this weekend after a judge said he wouldn't immediately restore federal protections on the bears living in and around Yellowstone National Park.
U.S. District Judge Dana Christensen's delayed ruling prompted the advocates to hurriedly draft a request for a temporary restraining order that would block Saturday's opening of the Wyoming and Idaho hunts, which would be the first in more than 40 years.
Mike Garrity, the executive director for plaintiff Alliance for the Wild Rockies, said it was essential to have a ruling before Saturday.
"It's very important because 30 minutes before sunrise on Saturday morning, people could start killing bears," Garrity said.
The groups plan to file an emergency request with the 9th U.S. Circuit Court of Appeals if Christensen rules against them, Tim Preso, an Earthjustice attorney representing several conservation groups and the Northern Cheyenne tribe, told the judge.
The advocacy groups claim the U.S. Fish and Wildlife Service's decision last year that Yellowstone grizzlies are no longer a threatened species was based on faulty science. They also say they don't trust that the three states that have taken over bear management will ensure the bears' survival. They are asking the judge to reclassify the bears as threatened.
Christensen said at the packed court hearing in Missoula that he would issue a decision as quickly as possible but did not say whether he would rule before Saturday.
Christensen asked Erik Petersen, Wyoming's senior assistant attorney general, if his state would consider delaying the hunt until the judge's ruling is issued. Petersen did not directly answer Christensen but made a counteroffer to the judge.
Wyoming Gov. Matt Mead was willing to "make adjustments" to the hunting season, Petersen said, if the judge leaves Wyoming, Montana and Idaho in charge of managing the bears — even if he rules that the U.S. Fish and Wildlife Service needs to revise its rule declassifying grizzlies as threatened.
"The likelihood of any significant harm to the population is essentially nil," Petersen said.
Christensen did not take Petersen up on his offer in the hearing.
Among their arguments in court, attorneys for the advocacy groups questioned how other threatened grizzly populations in the Lower 48 states would fare if the Yellowstone bears' status changed. They also said the federal wildlife agency ignored recent spikes in overall bear deaths that, when hunting is added to the mix, could cause an unanticipated population decline.
Department of Justice attorneys said the Fish and Wildlife Service considered all the plaintiffs' arguments and proceeded with lifting protections because there is no threat of extinction to the bears now or in the foreseeable future.
---
Must-read stories from the L.A. Times
Get the day's top news with our Today's Headlines newsletter, sent every weekday morning.
You may occasionally receive promotional content from the Los Angeles Times.