#HateWontWin become words to live for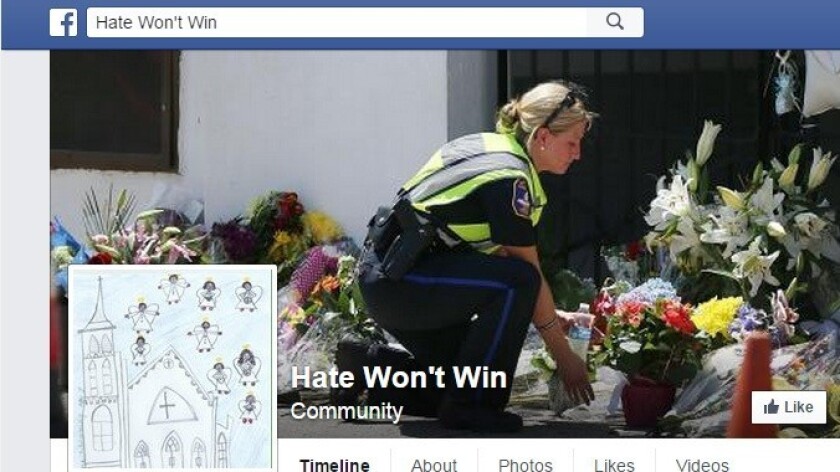 As thousands of mourners packed into the TD Arena on Friday for the funeral of Clementa Pinckney, the Charleston, S.C., pastor who was gunned down last week along with eight others, three words already had begun to turn grief into hope.
Hate Won't Win. Part of a campaign inspired by the granddaughter of one of those other victims, the words quickly gained Internet popularity.
On Twitter, #HateWontWin had garnered hundreds of retweets from across the country. On Facebook, the page had nearly 10,000 followers by Friday afternoon. And in a true measure of its potential ability to go viral, Barack and Michelle Obama in a tweet by @POTUS proudly displayed a T-shirt bearing the phrase.
Alana Simmons, the granddaughter of Daniel Simmons, wanted a phrase that would carry on the legacy of all the victims in the Emanuel African Methodist Episcopal Church shootings. It was a way to show that most of the world condemned hate, she said, and that it was impossible to change someone's heart with policies.
"Show an act of love to someone who is different from you. Someone of a different race, someone of a different religion, gender, even generation, just someone different from you who you may even hold a bias towards, show an act of love to them, post it on your social media account with the hash tag HateWontWin," Alana Simmons said in an interview with CNN. "We want to change people's hearts, and that's how we intend on doing it, by getting the masses to participate in love."
Simmons issued the challenge after using the trending phrase in comments made at the arraignment of Dylan Roof, who has been charged with nine counts of murder. At the hearing, some of the victims' families said they had forgiven the man accused in the killings.
"Although my grandfather and the other victims died at the hands of hate, this is proof — everyone's plea for your soul is proof, that they lived in love and that their legacies will live in love, so hate won't win,¨ said Simmons. ¨And I just want to thank the court for making sure that hate doesn't win."
Daniel Simmons, who had been rushed to the hospital, was the last of the nine to die. His funeral will be held next week.
---
Must-read stories from the L.A. Times
Get the day's top news with our Today's Headlines newsletter, sent every weekday morning.
You may occasionally receive promotional content from the Los Angeles Times.