Hawaii's Kilauea volcano destroys 35 structures; scientists say additional eruptions are likely
The lava destroyed at least 21 homes, officials said.
Lava and gas continued to erupt from Kilauea volcano across a remote, rural neighborhood on Hawaii Island, and by Monday had destroyed 35 structures, including at least 26 homes, authorities said.
Two new fissures produced lava and sulfur dioxide gas before becoming quiet by Monday afternoon, said Peter Cervelli, a geophysicist with the U.S. Geological Survey.
"Additional outbreaks or a resumption of activity are anticipated as seismicity continues in the area," the agency's Hawaiian Volcano Observatory said in a statement. Cracks on Highway 130 widened Monday, and new cracks west of the roadway were observed.
"It's not uncommon for these eruptions to wax and wane," Cervelli said. The fissures have been moving southwest and higher in elevation, Cervelli said.
Lava flows had advanced slowly northward throughout Sunday in the Leilani Gardens neighborhood, in large part fueled by a fissure that had been spewing lava fountains to heights of more than 200 feet, the U.S. Geological Survey said. A lava flow from that crack moved about 0.6 miles to the northeast before it stopped.
Video published by the USGS showed asphalt roads being slowly consumed by a moving wall of molten rock, with thick red-hot lava glowing underneath, as black smoke billowed upward. USGS helicopter footage showed a river of ash cut through lush tropical forest, with a lava fountain that had been active Sunday billowing red hot molten rock around the charred landscape.
At least 12 fissures have developed since Kilauea began a fresh eruption Thursday in the Leilani Estates neighborhood, located about 25 miles east of the summit of Kilauea, one of the world's most active volcanoes and Hawaii Island's youngest.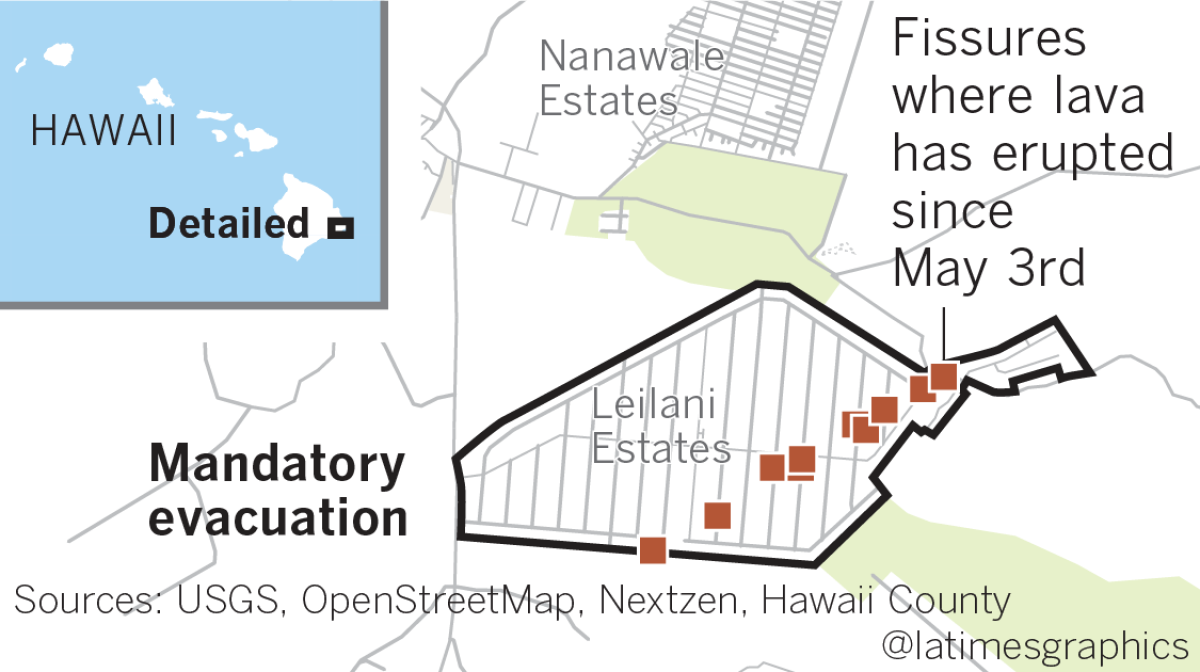 There was no way to say for certain how long the current eruption would continue. In 2014, lava spilled out from the volcano and authorities worried for months that the town of Pahoa would be inundated. In the end, the supply feeding the lava shut down and it never inundated the town; just one home was destroyed.
In 1990, lava flows of up to 80 feet buried the town of Kalapana, known for its historical sites and black sand beaches. A church, a store and roughly 100 homes were destroyed.
The last time Kilauea opened up fissures in a residential area was in 1960, just outside the town of Kapoho. Lava fountains in that eruption were higher — up to 330 feet. When the crack began to seal up, the lava fountain that resulted was even taller.
Efforts to divert the lava away from homes during that event failed. Kapoho managed to survive for two weeks after the first eruption, but its fortunes changed when less viscous lava spilled out. In the end, Kapoho was destroyed.
Kilauea is distinct from other well-known volcanoes, including Mt. St. Helens in Washington state and Mt. Vesuvius in Italy, in the way it erupts.
In those volcanoes, gas does not easily escape from the magma, leading to a buildup of pressure that can result in massive explosions that produce fast-moving and often deadly flows of hot ash and gas.
"Most of the time, that doesn't happen in Hawaii," Cervelli said.
Lava tends to move quite slowly — so that a healthy person would be away to jog away from it, Cervelli said.
The lava destroyed at least 21 homes, officials said.
An estimated 1,800 people live in the affected area of the current eruption, and many have sought housing in shelters, with friends or on surrounding islands.
Hawaii County officials have allowed some residents to return to their homes briefly to retrieve items and pets left behind during the sudden evacuation Thursday. Lava flows have been disrupting electricity and water supply, and officials were working to build a temporary bypass water line to restore water to Kapoho, Vacationland and Pohoiki.
Residents were not permitted access to the nearby neighborhood of Lanipuna Gardens, as levels of toxic gas coming from the eruptions were deemed too hazardous to allow for safe entry to the area.
Other areas in the region may come under risk if the eruption progresses.
Some schools reopened Monday, including those in the town of Pahoa. But four others remained shut.
The state of Hawaii has six active volcanoes, four which are on Hawaii Island. The three others are:
Mauna Loa, which the USGS says is the largest volcano on Earth and last erupted in 1984. That eruption lasted for 22 days and caused flows of lava that got to within about 4½ miles of Hilo, the largest populated area on the island;
Hualalai, which last erupted in 1801, creating a lava flow that is now underneath Kona International Airport;
Mauna Kea, the highest volcano on the island. It last erupted 4,500 to 6,000 years ago.
Maui has one active volcano, Haleakala, which erupted 400 to 600 years ago. The state's sixth active volcano, Loihi, is underwater, about 22 miles southeast of Hawaii Island, and last erupted in 1996.
Hawaii tourism officials emphasized that the volcano threat was limited to a remote region of eastern Hawaii Island and was not interrupting flights. The closest resort areas, in Kona and the Kohala Coast, are on Hawaii Island's west side, more than 100 miles away from the eruption.
Twitter: @ronlin
---
UPDATES:
11:15 p.m.: This article was updated with information on cracks on Highway 130 widening, and new cracks being observed west of the roadway.
8:25 p.m.: This article was updated with information about two new fissures that emerged Monday, and quotes from U.S. Geological Survey geophysicist Peter Cervelli.
This article was originally published at 1:40 p.m.
Must-read stories from the L.A. Times
Get the day's top news with our Today's Headlines newsletter, sent every weekday morning.
You may occasionally receive promotional content from the Los Angeles Times.