Banker in Iran sanctions trial found guilty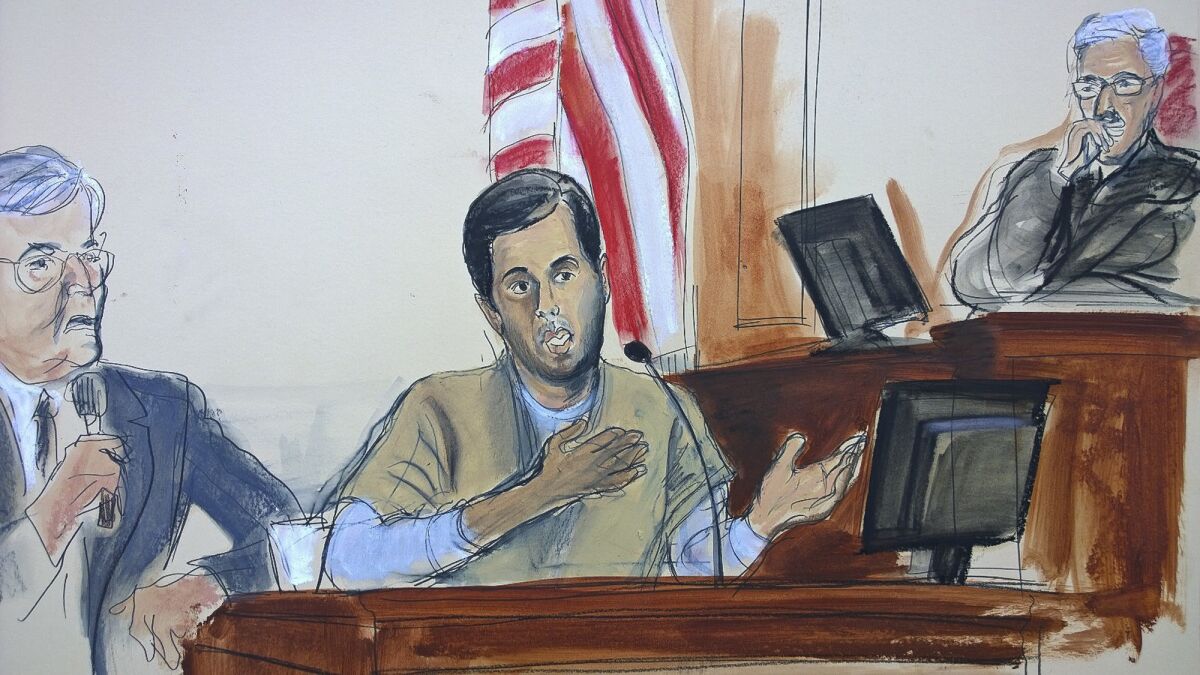 Reporting from New York —
A high-level Turkish banker was convicted Wednesday of participating in a billion-dollar scheme to evade U.S. economic sanctions against Iran, threatening to upend an already teetering relationship between two longtime NATO allies.
Mehmet Hakkan Atilla, the former deputy general manager of Turkey's state-controlled Halkbank, was found guilty by a federal jury in New York of conspiracies to violate U.S. sanctions law, defraud the U.S. and commit money laundering and bank fraud, as well as a substantive charge of bank fraud. He was found not guilty of a money laundering charge.
Atilla was one of nine defendants charged in the case, but he was the only one on trial. His codefendant Reza Zarrab, a Turkish-Iranian gold trader and key figure in the sanctions-busting scheme, secretly signed a plea deal with attorneys for the government in October in exchange for the possibility of leniency and federal witness protection.
"Two men at the heart of this massive and brazen scheme that blew a billion-dollar hole in the Iran sanctions regime now stand convicted of serious federal crimes," acting U.S. Atty. Joon H. Kim said in a statement.
The case, which implicated top government officials, could have consequences for Turkey's economy and worsen deteriorating U.S.-Turkey relations.
The trial began in late November and lasted three weeks before the jury began deliberating. Prosecutors described Atilla as a sanctions expert who devised lies to help Iran cover its tracks as it sought to convert its oil and gas exports into cash, but Atilla's attorneys described him as a "hapless and helpless pawn" in a scheme orchestrated by people more powerful than he.
Zarrab, the government's star witness, testified for seven days. Assuming the posture of a calm, confident business school lecturer and resorting at times to color-coded diagrams he drew from the stand, Zarrab laid out a complex web of fraudulent transactions of gold and food that allowed Iran to spend its oil and gas revenues abroad, including through U.S. financial institutions.
He described using false documentation and paying massive bribes to Turkey's then-Economy Minister Zafer Caglayan and to Atilla's boss, Suleyman Aslan, who was at the time the general manager of Halkbank.
"I am thinking that I paid bribes in the amount of 45 to 50 million euros," Zarrab said when shown a spreadsheet with tallies of his bribes to Caglayan. He said he paid additional bribes to Aslan.
Caglayan and Aslan were also charged in the case but remain at large.
Zarrab's own take may have been as much as $150 million, he said.
During his testimony, Zarrab also implicated current President Recep Tayyip Erdogan, saying that he ordered two additional Turkish banks to participate in the sanctions evasion scheme.
One day later, Zarrab's assets were seized by prosecutors in Turkey.
Erdogan has at times expressed ambivalence regarding the trial, and at other times branded it a conspiracy against Turkey. Speaking to a gathering of his party leaders on Nov. 30, before Zarrab gave testimony about him, Erdogan said, "We have trade and energy ties with Iran. We did not breach the sanctions. Whatever the verdict is, we did the right things."
On Dec. 5 Erdogan told members of his party the trial was part of "an international coup attempt."
Zarrab, a fabulously wealthy businessman who is married to a Turkish pop star, was arrested upon arrival in the U.S. in March 2016 for a visit to Disney World with his family.
He had been investigated in 2013 by the Turkish police for the same gold-for-gas trade, but that investigation was dropped amid pressure by then-Prime Minister Erdogan, who described it as a power grab by followers of the Islamic cleric Fethullah Gulen.
Gulen, who lives in the U.S., is also accused of masterminding a coup against Erdogan in the summer of 2016. Erdogan has repeatedly called for his extradition.
Atilla's trial received little attention in Turkish media, where the number of opposition outlets has dwindled since the attempted coup. Nevertheless, many watched the trial closely on social media, following the proceedings through a handful of U.S. court reporters whose Twitter accounts have gained tens of thousands of followers during the course of the trial.
"This is like watching a drama," said Fuat, a software engineer in Istanbul who asked that his last name not be used for fear of retaliation by the government. "I am watching the tweets with popcorn sometimes."
Opposition leaders in the country have at times praised the trial, which implicates some of the same officials that were detained in the 2013 investigation.
Political observers say the verdict could have ripple effects in Turkey and on U.S.-Turkey relations.
Ties between the two countries have already been strained by Turkey's demands that the U.S. turn over Gulen and by U.S. support of Kurdish soldiers, whom Turkey views as terrorists, in the fight against Islamic State.
"The relationship at the moment is very, very tense," said Henri Barkey, a professor of international relations at Lehigh University and former State Department official who has himself been targeted by the Turkish government. "If the Zarrab case ends up with a big fine, it may be the tipping point."
A large fine on Halkbank, one of Turkey's biggest banks, could put enormous pressure on the Turkish banking system and on the broader economy, which is already experiencing inflation and has low foreign exchange reserves, Barkey said.
But Nate Schenkkan, a Turkey scholar at the research organization Freedom House, said any such fine, which would be imposed by the U.S. Department of Treasury, could be months away and would probably be subject to political considerations.
If a fine cannot be negotiated, Schenkkan said, the U.S. could lock Turkey out of the international banking system — an outcome it seemed prosecutors are hoping for.
"Foreign banks and bankers have a choice: You can choose willfully to help Iran and other sanctioned nations evade U.S. law, or you can choose to be part of the international banking community transacting in U.S. dollars. But you can't do both," Kim said in his statement.
Attila is scheduled to be sentenced April 11. The individual counts with which he was charged carry maximum sentences ranging from five to 30 years. Zarrab's sentencing has not yet been scheduled.
Twitter: @AgrawalNina
Special correspondent Umar Farooq contributed to this report from Istanbul .
Must-read stories from the L.A. Times
Get the day's top news with our Today's Headlines newsletter, sent every weekday morning.
You may occasionally receive promotional content from the Los Angeles Times.