Democratic Nevada congressman, facing inquiry over sexual harassment allegations, won't seek reelection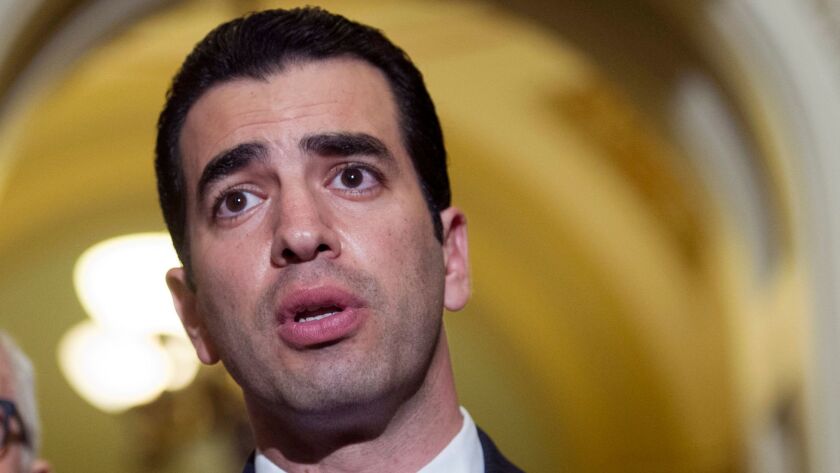 Reporting from Las Vegas —
Ruben Kihuen, a Nevada congressman seen as a rising star in the Democratic Party, said Saturday he will not seek reelection next year amid allegations of sexual harassment and the launch of a House Ethics Committee investigation.
The 37-year-old freshman congressman is the latest lawmaker to say he would not seek another term or resign after being accused of improper behavior toward women.

For the record:
6:50 PM, Dec. 16, 2017
A previous version of this article incorrectly said that Republicans took control of the Senate in the 2016 election. The GOP held majorities in both houses of Congress before last year's election.
Kihuen had been under intense pressure from Democratic Party leaders both in Congress and within Nevada to step aside after stories surfaced in BuzzFeed and the Nevada Independent about inappropriate touching and sexually suggestive text messages to a female staffer and a lobbyist in the state Capitol. Since then, two other women have made similar allegations.
"I want to state clearly again that I deny the allegations in question. I am committed to fully cooperating with the House Ethics Committee and I look forward to clearing my name," he said in a statement. "Due process and the presumption of innocence are bedrock legal principles which have guided our nation for centuries, and they should not be lost to unsubstantiated hearsay and innuendo."
His statement continued: "However, the allegations that have surfaced would be a distraction from a fair and thorough discussion of the issues in a reelection campaign. Therefore, it is in the best interests of my family and my constituents to complete my term in Congress and not seek reelection."
Kihuen was a rising star in the Democratic Party, and his victory in 2016 was one of the few bright spots after President Trump won the presidential election and Republicans held their majorities in both houses of Congress.
But condemnation came swiftly after the first allegations surfaced.
House Minority Leader Nancy Pelosi (D-San Francisco) called on Kihuen to step down. So did a fellow Nevada Democrat, Rep. Jacky Rosen, who is challenging Sen. Dean Heller in next year's election. Heller, perhaps the most vulnerable Republican senator running in the 2018 midterm, also called on Kihuen to quit.
Rep. Dina Titus (D-Las Vegas) was unsparing in her criticism of Kihuen.
"Ruben would not be able to work in my office where we have a zero-tolerance policy on sexual harassment," she said in a statement. "As country singer Lorrie Morgan said, 'What part of no don't you understand?' "
During his tenure in the state Legislature and while running for the congressional seat that covers part of rural Nevada and North Las Vegas, Kihuen often touted his roots — calling himself the first "Dreamer" to be elected to Congress and fighting for immigrant rights. He came to the United States from Mexico when he was 8 years old. His parents lacked legal status, but the family became citizens through President Reagan's Immigration Reform and Control Act in 1986.
Kihuen defeated Republican incumbent Cresent Hardy 48.5% to 44.5% in 2016, and Nevada overall went for Democratic presidential nominee Hillary Clinton. But the tight margins have given Republicans in the state hope of reclaiming the district in the midterms.
Kihuen is the latest member of Congress cutting short his career in the wake of sexual harassment allegations.
On Thursday, Rep. Blake Farenthold (R-Texas) said he would not seek reelection following complaints from former staffers that he was verbally abusive and sexually demeaning.
Earlier this month, Rep. Trent Franks (R-Ariz.) resigned after an aide said he had offered to pay her $5 million to carry his child as a surrogate. Rep. John Conyers Jr. (D-Mich.), the longest-serving member of the House, also resigned this month amid accusations of sexual harassment by several female employees.
In the Senate, Democrat Al Franken of Minnesota said he will resign in coming weeks because of accusations of forcibly kissing and groping women.
Times staff writer Kurtis Lee contributed to this report from Los Angeles.
Twitter: @davemontero
ALSO
Las Vegas victims fund raised $22 million — but it's not enough, so thousands will get nothing
This Colorado city declined to allow pot sales. Now it's having second thoughts
Some associates think Trump will fire his lawyers if Mueller doesn't clear him by year's end
---
Must-read stories from the L.A. Times
Get all the day's most vital news with our Today's Headlines newsletter, sent every weekday morning.
You may occasionally receive promotional content from the Los Angeles Times.