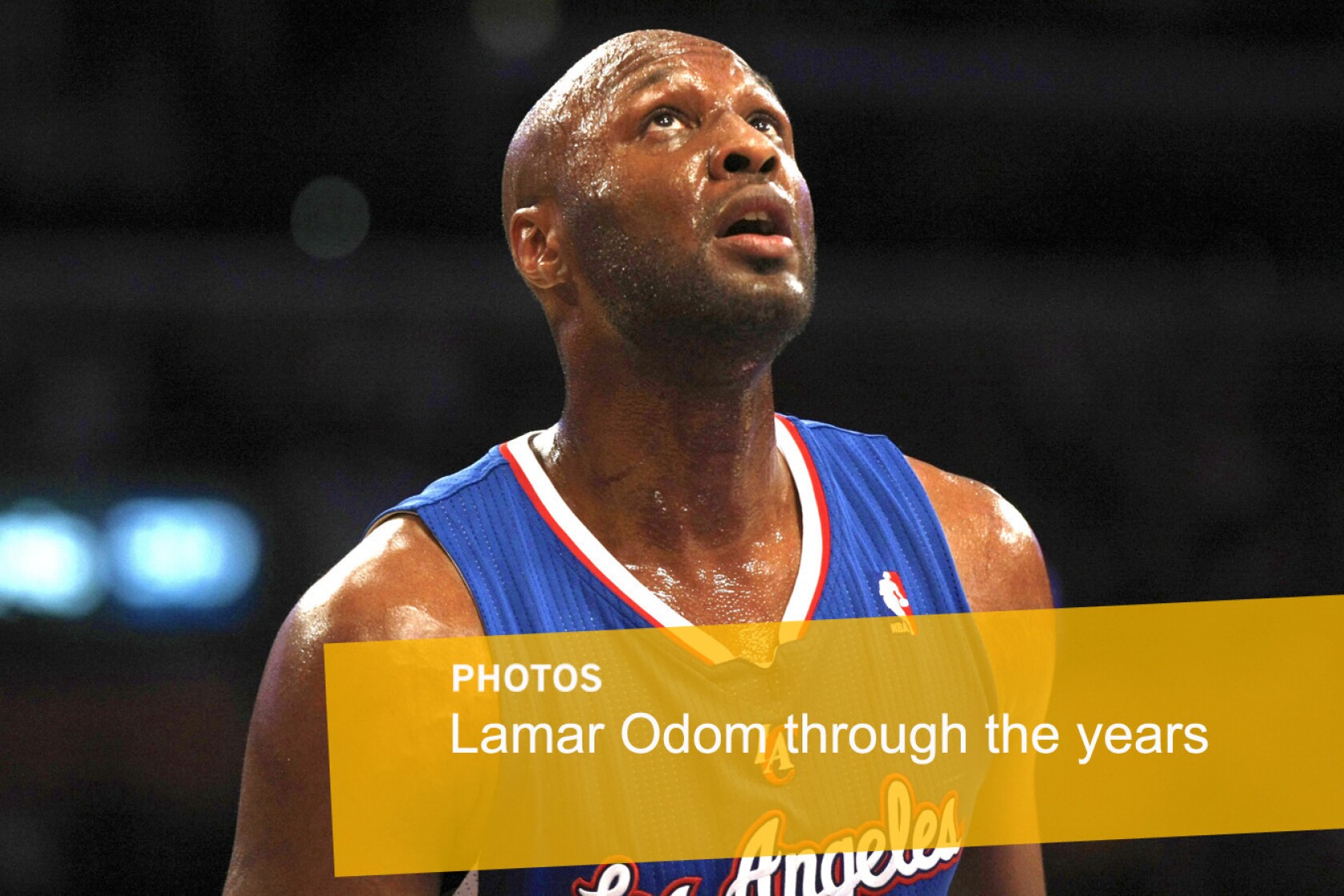 From left: Bruce Jenner, Lamar Odom and Khloe Kardashian play at the 2011 BBVA NBA All-Star Celebrity Game at the Los Angeles Convention Center.
(Noel Vasquez / Getty Images)
Lamar Odom of the Los Angeles Lakers is surrounded by a crush of reporters during Lakers media day at the Lakers training facility on September 29, 2009 in El Segundo.
(Kevork Djansezian / Getty Images)
Television personality Khloe Kardashian and Los Angeles Laker Lamar Odom attend the "AXE Music One Night Only" concert series featuring Weezer at Dunes Inn Motel - Sunset on September 21, 2010 in Hollywood.
(Michael Buckner / Getty Images)
Clippers President Andy Roeser congratulates Lamar Odom after a press conference announcing his return at the Los Angeles Clippers training facility in Los Angeles Monday July 2, 2012.
(Wally Skalij / Los Angeles Times)
Actresss Khloe Kardashian, NBA player Lamar Odom and actress Kim Kardashian arrive at the premiere of Warner Bros. Pictures' "Whiteout" at the Village Theater on September 9, 2009 in Los Angeles.
(Kevin Winter / Getty Images)
Clippers forward, Lamar Odom, during the LA Lakers and the LA Clippers game at Staples Center.
(Robert Gauthier / Los Angeles Times)
Lamar Odom sits for his first interview as a Los Angeles Clipper during Media Day at the Clippers training facility in Playa Vista on September 28, 2012.
(Gina Ferazzi / Los Angeles Times)
Clippers forward Lamar Odom warms up before the game against the Celtics on Thursday, Dec. 27, 2012, at Staples Center in Los Angeles.
(Luis Sinco / Los Angeles Times)
Clippers forward Lamar Odom and Grizzlies center Marc Gasol wrestle for a rebound in the first half of game one of the NBA Western Conference Playoffs at Staples Center.
(Robert Gauthier / Los Angeles Times)
A driver displays a basketball jersey with Lamar Odom's name as the driver exits Sunrise Hospital and Medical Center on Oct. 13, 2015, in Las Vegas. The former NBA basketball player was hospitalized after he was found unconscious Tuesday at a Nevada brothel, authorities said.
(David Becker / Associated Press)
Clippers star Lamar Odom plays against the Golden State Warriors on Jan. 2, 2013, in Oakland.
(Marcio Jose Sanchez / Associated Press)
Clippers forward Lamar Odom during the Lakers-Clippers game at Staples Center in October 2012.
(Robert Gauthier / Los Angeles Times)
The Clippers' Lamar Odom dribbles the ball past the Nuggets' Kenneth Faried at the Staples Center on Dec. 25, 2012.
(Wally Skalij / Los Angeles Times)
Lamar Odom fights for a loose ball against a pair of Sacramento Kings players during a game at Staples Center on Dec. 21, 2012.
(Luis Sinco / Los Angeles Times)
Lamar Odom listens to a question during a press conference announcing his return at the Los Angeles Clippers training facility in Los Angeles on July 2, 2012.
(Wally Skalij / Los Angeles Times)
Khloe Kardashian is alongside Lamar Odom, a forward for the Lakers, who received the Sixth Man Award in 2011 at the Sheraton Gateway Hotel in Los Angeles.
For the record, Oct. 14, 1:54 p.m.: An earlier version of this caption described Khloe Kardashian as Lamar Odom's ex-wife. Their divorce is still pending.
(Rick Loomis / Los Angeles Times)
Los Angeles Clippers' Lamar Odom sticks out his tongue after scoring a clutch basket against the New York Knicks in the closing minute of the game Wednesday, Nov. 15, 2000, in Los Angeles. Odom scored a team-high 16 points and the Clippers came from behind to defeat the Knicks 78-74.
(Associated Press)
A youthful
Lamar Odom
, a versatile 24-year-old forward with the Clippers, scores on a layup against the Lakers'
Horace Grant
.
(Kevork Djansezian / Associated Press)
Heat
forward
Lamar Odom
is all smiles after making a three-point shot in the fourth quarter of a game against the
Chicago Bulls
. Odom scored 25 points to lead Miami to a 90-83 victory.
(Jeff Roberson / Associated Press)
Heat
forward
Lamar Odom
uses his length and leaping ability to attack the basket against
Pacers
center
Jermaine O'Neal
in Game 6 of the Eastern Conference semifinals. Odom had his best statistical season as a pro that season, averaging 17.1 points, 9.7 rebounds, 4.1 assists, 1.1 steals and nearly 1 block a game.
(Doug Pensinger / Getty Images)
EL SEGUNDO, CA. JULY 331. 2009--Lamar Odom signs a new contract with the Lakers as Genreal Manager Mitch Kupchak looks on during a press conference in El Segundo Friday.
(Wally Skalij / Los Angeles Times)
Gallardo, Alex -- - LOS ANGELES, CA - DEC. 1, 2009: Lakers Lamar Odom (7) drives to the basket against the New Orleans Hornets Julian Wright (32) in the fourth quarter in a NBA basketball game DEC. 1, 2009 at the Staples Center. (Photo by Alex Gallardo/Los Angeles Times)
(Alex Gallardo / Los Angeles Times)
Lamar Odom in action against the Golden State Warriors in Oakland.
(John G. Mabanglo / EPA)
Lamar Odom
watches his new team, the
Dallas Mavericks
, play against the
Oklahoma City Thunder
in a preseason game before the start of a shortened
NBA
season.
(LM Otero / Associated Press)
Mavericks forward
Lamar Odom
works inside for a shot against Heat center Joel Anthony during the season opener on Christmas Day.
(Ron Jenkins / McClatchy-Tribune)
Lakers
forward
Pau Gasol
embraces former teammate
Lamar Odom
before a game against the
Dallas Mavericks
last season at
Staples Center
. Gasol and Odom were both traded by the Lakers in a bid to acquire point guard
Chris Paul
, but the
NBA
nixed the deal. Odom demanded a trade after the failed deal and was shipped to Dallas.
(Allen J. Schaben / Los Angeles Times)
Mavericks forward
Lamar Odom
is greeted by longtime
Lakers
fan
Jack Nicholson
duirng his first game back at
Staples Center
.
(Allen J. Schaben / Los Angeles Times)
The next time Blake Griffin (32) elbows Lamar Odom while rebounding, be it accidental or not, it will be as teammates with the Clippers.
(Wally Skalij / Los Angeles Times)
Reporting from Crystal, Nev. —
Lamar Odom continued to fight for his life in a Las Vegas hospital on Thursday, days after the former Laker and reality television star collapsed in a brothel after ingesting what officials said was a mashup of herbal sexual stimulants, cocaine and alcohol.
Khloe Kardashian, part of the hyper-visible celebrity clan, has been at her estranged husband's bedside since Odom was hospitalized after being found unconscious on Tuesday at the Love Ranch in Crystal, Nev.
Kardashian, whose divorce from Odom is not final, has been making medical decisions about his treatment, a person with knowledge of the situation told The Times.
The Rev. Jesse Jackson told reporters on Wednesday that Odom was intubated.
Odom, a former Lakers and Clippers star, had taken cocaine and about 10 doses of a sexual stimulant in the days before he was found by brothel workers, a Nevada sheriff said. Odom had taken multiple 1,875-milligram doses of a packaged supplement called Reload 72-Hour Strong Sexual Performance Enhancer for Men over three days, according to Richard Hunter, a spokesman for the legal brothel.
See the most-read stories this hour >>
Nye County sheriff's Det. Michael Eisenloffel said Odom obtained the supplement over the weekend at the Love Ranch Vegas. The supplements are legal, "as far as I know," he told reporters on Wednesday.
Standing in the Love Ranch doorway, shift manager Lawanna Olberding said on Thursday that the capsules are available at the ranch store and elsewhere. "You can get them at gas stations," she said.
Despite their easy availability, the U.S. Food and Drug Administration has repeatedly warned against such products also known as "herbal Viagra." The products are unregulated and often have contaminants that could be dangerous, especially if mixed with alcohol and illegal drugs, the FDA says.
In 2013, the agency issued a warning about a supplement called Reload because lab tests showed it contained sildenafil, the active agent in prescription Viagra. The product's ingredient list did not include the drug, which can cause deadly problems for those with heart conditions and other ailments.
The FDA does not know if the substance used by Odom is the same product that prompted its warning, Lyndsay Meyer, an agency spokeswoman, told the Los Angeles Times. The FDA has issued public warnings against hundreds of such herbal supplements since 2011, she said.
In general, however, the producers and distributors of the supplements are acting outside the law, but it is difficult to prevent their distribution, she said. When a public warning is issued, suppliers simply just change the name of the product and sell it through a new website.
"The problem is that the supplements are available online, in stores, in flea markets," she said. "It is next to impossible to get them out of the supply chain."
Officials have sent blood samples to be tested hoping to find out what drugs may have played a role in Odom's condition.
Meanwhile, the desert brothel has turned into a tourist destination. Divorce attorney Tina Bennet of Phoenix, N.Y., drove in from Las Vegas with her mother and husband for the typical tourist fare, including Hoover Dam and Death Valley. The Love Ranch Vegas was added to the list when they saw the news that Odom was in the hospital.
Richard Hunter, a media assistant for the Love Ranch, discusses tending to former NBA star Lamar Odom, who was found unconscious at the brothel.
"I want a T-shirt," Bennet, 49, said as she sat in her rental car Thursday waiting for her husband, Richard Foley, to come out of the brothel after he talked his way in.
He emerged with a black plastic bag.
"I got some prophylactics," he laughed across the parking lot before pausing. "Nah, just a T-shirt."
He held it proudly against his chest.
"I told them I was with my wife and mother-in-law and they let me in," he said. "They took pity on me."
Wanda Rice, 57, of New Richmond, Wis., pulled up to the ranch in a minivan with two girlfriends during a trip through the state.
"This would be great to get pictures of," she said before asking a photographer from the New York Daily News to take a photo of the group.
Mona Cox of Pahrump, Nev., brought a friend who is visiting from California. She wanted to go inside but couldn't because Olberding was busy giving tours of the room where Odom had stayed to CNN and Univision journalists.
"All I want is a T-shirt," Cox, 61, said.
After finishing her media escort duties, Olberding took a break in the courtyard and looked around at the tourists.
"It is so morbid," she said.
Odom, 35, came to Love Ranch Vegas seeking privacy. The brothel in this high-desert community is about 80 miles northwest of Las Vegas.
A Love Ranch employee picked up Odom at his Las Vegas home and brought him to the brothel on Saturday, spokesman Hunter said.
It was Odom's first visit to the squat, one-story beige complex, Hunter said. Odom ordered a bottle of cognac and picked two women to accompany him for his stay in the brothel's VIP suite, which owner Dennis Hof usually uses when he visits the property.
For the most part, Odom kept to himself other than to say hello to brothel workers, Hunter and a brothel manager said. Odom did not want contact from people during his stay and went so far as to turn off or ignore his cellphone, Hunter said.
The brothel, near the Last Chance mountain range, is "appealing to celebrities because of the seclusion," he said. "This place, you really have to know where you're going to get here."
Odom told a prostitute he had used "a small amount" of cocaine before he arrived Saturday, Hunter said, but workers did not see him consume any cocaine at the brothel, where drug use is prohibited.
When Odom's two female companions left him Monday night, he was "alert and communicative," Hunter said.
The pair checked in on him Tuesday afternoon, found him unresponsive and called for help.
"All I know is that he's close to not breathing," Mitzy Jones, a brothel manager, told a 911 dispatcher in two calls.
"They need to hurry, please, because he's got blood coming out of his nose, white stuff coming out of his mouth," Jones, said. "We can't get him to wake up. He's, like, almost not breathing."
It reportedly took three paramedics and Hunter to each grab a corner of the bed sheet and move Odom onto a gurney.
Times staff writer Amy Kaufman in Los Angeles contributed to this report.
MORE ON LAMAR ODOM:
Lamar Odom's life of high drama, on and off the court
The scene at the Nevada brothel where Lamar Odom was found unconscious
There are 20 warnings on the type of 'herbal Viagra' Lamar Odom reportedly took
---