Gunman in fatal shooting on Las Vegas Strip surrenders, police say
Reporting from LAS VEGAS —
A man on a bus headed down the Las Vegas Strip pulled out a handgun and began firing Saturday morning, killing one person and wounding another before he surrendered hours later to police, officials said.
The unidentified suspect was described by Las Vegas Metropolitan Police as a local resident in his 50s. Assistant Sheriff Tom Roberts said the man behaved as if he had "some mental issues" as SWAT team negotiators tried to coax him out of the bus after most of the passengers had streamed off it.
"We found that very evident when we talked to him," said Roberts, who said terrorism had been ruled out as a motive.
The initial shooting, which occurred around 11 a.m., forced the closure of parts of the Strip to vehicle traffic for about seven hours; it was reopened just before 6 p.m.
Both victims, who were not identified, were taken to University Medical Center, where one later died.
Roberts said the victim who survived was shot in the stomach. He said the suspect didn't empty his handgun during the shooting, but did fire it from time to time while negotiating with police.
Police did not return fire at any point, Roberts said.
Witnesses heard the sound of an explosion from as far away as the Monte Carlo Resort & Casino; SWAT team units had detonated a device to break the windows of the bus so a robot could enter to check whether the suspect was inside.
The suspect was taken to Clark County Jail. It was unclear whether he has a criminal history.
The shooting happened on a busy weekend in Las Vegas, where a high volume of visitors had flocked in for the popular March Madness college basketball tournament and a sold-out preseason game at Cashman Field between the Chicago Cubs and Cincinnati Reds.
Earlier Saturday, the Bellagio hotel was the scene of a bizarre attempted robbery, when would-be thieves wearing pig masks attempted a heist at a high-end retail shop, using sledgehammers to break into a jewelry case and sending panicked guests fleeing into the street amid reports of an "active shooter."
There were no injuries in that incident, which police say was unrelated to the shootings on the bus later in the day.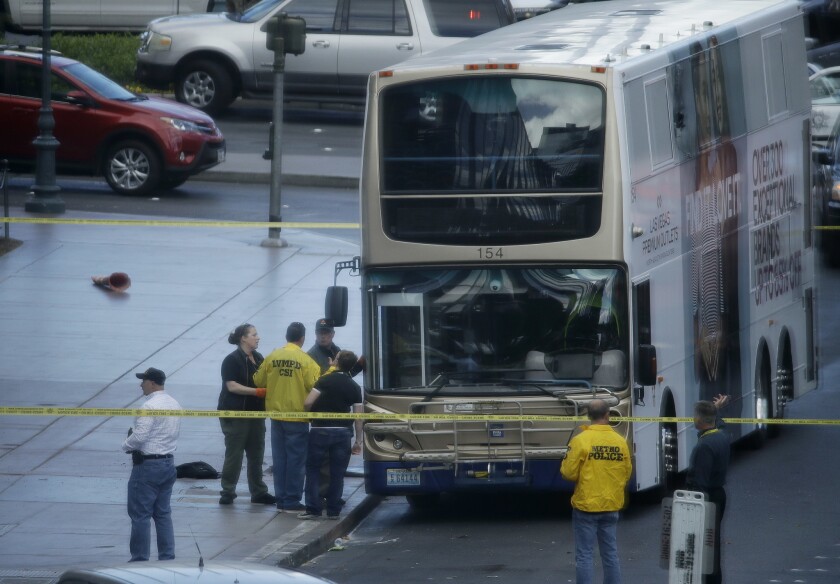 As the shooting unfolded on the two-story bus, people walking on the Strip were asked to reenter nearby casinos. Some workers at the Cosmopolitan Hotel & Casino were sent home early from work after being herded to a safe part of the building. Other people were guided toward the south end of the Strip.
The explosion startled many.
Brittany Smith was working the cash register at a local gadget shop when a crush of customers came in talking about the incident. They compared news from their social media accounts on their phones in an effort to learn what had happened.
Smith wondered whether the loud boom meant a casino was being demolished for redevelopment.
"When I heard the explosion, I thought, 'I didn't think a casino was coming down,'" she said. "They usually let us know that ahead of time."
On an outdoor patio at Rock & Reilly's near the Aria Resort & Casino, people continued to dine without interruption. Inside the Aria, gambling continued as well. But a worker at the Cosmopolitan said some gaming areas were closed during the standoff.
With the Strip closed to vehicle traffic, the famous stretch of road had a surreal appearance, with no sign of cars except for the flashing lights of emergency vehicles parked near Ceasars Palace.
Lewis Wood and two friends had come from New York on his first trip to Las Vegas. The trio posed for pictures in the middle of the empty road, trying to get the emergency lights in the background.
It was one for the memories.
"It's a once-in-a-lifetime thing," Wood said. "It's a photo op."
david.montero@latimes.com | @davemontero
ALSO
Uber suspends its self-driving car tests after one of its SUVs is struck in Arizona
Violence erupts at pro-Trump rally in Huntington Beach
U.S.-led coalition says it may be responsible for airstrike that killed more than 200 Iraqi civilians
---
UPDATES:
7:55 p.m.: Updated with new details throughout.
4:15 p.m.: This article was updated throughout with additional details on the incident and suspected gunman.
3:33 p.m.: This article was updated to report that the suspected gunman had surrendered.
This article was originally published at 2 p.m.
---
Must-read stories from the L.A. Times
Get the day's top news with our Today's Headlines newsletter, sent every weekday morning.
You may occasionally receive promotional content from the Los Angeles Times.