In 'protest suicide,' lawyer famed for gay rights cases burns himself to death in New York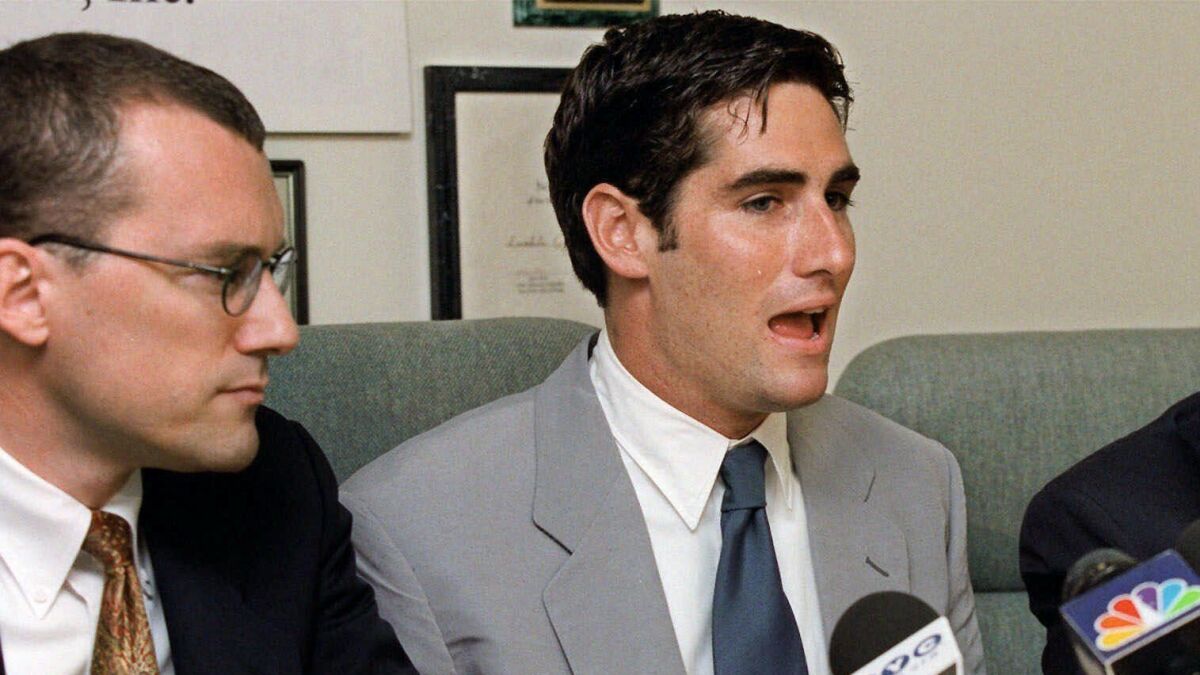 A prominent lawyer known for his impassioned advocacy for LGBT rights and environmental issues doused himself with an accelerant and burned himself to death in a New York City park on Saturday to protest ecological destruction caused by fossil fuels.
The charred body of David Buckel was discovered by police officers, who were initially dispatched to Prospect Park around 6:10 a.m. to investigate what appeared to be a brush fire, police said.
A New York Police Department spokesman said a note was found at the scene and foul play quickly ruled out.
The Daily News reported that Buckel left a handwritten note that said, "My name is David Buckel and I just killed myself by fire as a protest suicide. I apologize to you for the mess."
Buckel also left a longer, typed note and sent a copy to the Daily News, which quoted the note at length. "My early death by fossil fuel reflects what we are doing to ourselves." He added that he hoped that his demise was "an honorable death that might serve others."
A lifetime of service, he wrote, "may be best preserved by giving a life," the newspaper reported.
Buckel's suicide echoed dramatic protests by self-immolation from past years overseas. Buddhist monks burned themselves to death to protest a repressive regime in South Vietnam during the Vietnam War.
In more recent years, Tibetans have done the same to protest Chinese rule over Tibet. Buckel cited the Tibetan self-immolations in his note, the Daily News reported: "This is not new, as many have chosen to give a life based on the view that no other action can most meaningfully address the harm they see."
Buckel had served as the marriage project director for Lambda Legal, the nation's first legal organization for lesbian, gay, bisexual and transgender rights.
Camilla Taylor, acting legal director at Lambda Legal, wrote in a statement Saturday that "David was an indefatigable attorney and advocate, and also a dedicated and loving friend to so many."
Sharon McGowan, director of strategy for Lambda Legal, recalled his influence on her career. "As a young lawyer at the ACLU, I learned so much from David Buckel, one of the giants of Lambda Legal with whom I had the honor of co-counseling a challenge to Nebraska's 'super DOMA.' This is heartbreaking news," she wrote on Twitter.
By DOMA, McGowan was referring to the Defense of Marriage Act. That was the name of a federal law — and laws in some states — which forbade jurisdictions from recognition of same-sex marriages, including those that were held in states where such marriages were legal.
Buckel in 2006 had described Nebraska's version of DOMA as "the most extreme of all the anti-gay family laws in the nation."
The strategy employed by Buckel and many gay rights advocates was to chip away at anti-gay-marriage legislation state by state. In 2006, he told The Times that was how miscegenation laws were fought. He described it as a long, chaotic process that undermined miscegenation laws on a state-by-state basis before the U.S. Supreme Court struck them all down.
Buckel said he had faith the courts would eventually follow a culture that was growing increasing tolerant of same-sex unions.
"This isn't like a valley we're stuck in, and it's over for the next decade," he said. "We're smack in the middle of a huge civil rights movement here."
He was right. In 2013, the Supreme Court struck down a key part of the Defense of Marriage Act. Two years later, it issued its landmark ruling that legalized gay marriage nationwide.
Buckel also helped fight the ban on gays by the Boy Scouts. He helped represent James Dale, a Matawan, N.J., assistant Scoutmaster who was kicked out of the Boy Scouts when leaders found out he was gay. In time, Buckel's side prevailed again. The organization voted in 2013 to end the ban on gay Scouts and two years later ended the ban on gay leaders.
Buckel had gained some fame as the lead attorney representing Brandon Teena, a transgender man who was killed in Nebraska in 1993. His story was dramatized in the 1999 movie "Boys Don't Cry," and Hilary Swank won an Oscar for her portrayal of Teena.
Twitter users recalled his work on the Teena case. "R.I.P. David Buckel," wrote Sydney Bristow. "Thank you for giving Brandon Teena and many others voices. Wish we could have heard your call for help. Can't imagine your pain."
To read this article in Spanish, click here
michael.livingston@latimes.com
---
UPDATES:
9:15 p.m.: This article was updated with more biographical details on David Buckel.
This article was originally published at 7:05 p.m.
Must-read stories from the L.A. Times
Get the day's top news with our Today's Headlines newsletter, sent every weekday morning.
You may occasionally receive promotional content from the Los Angeles Times.