Leaving Las Vegas? Check your bags, grab your boarding pass and dump that pot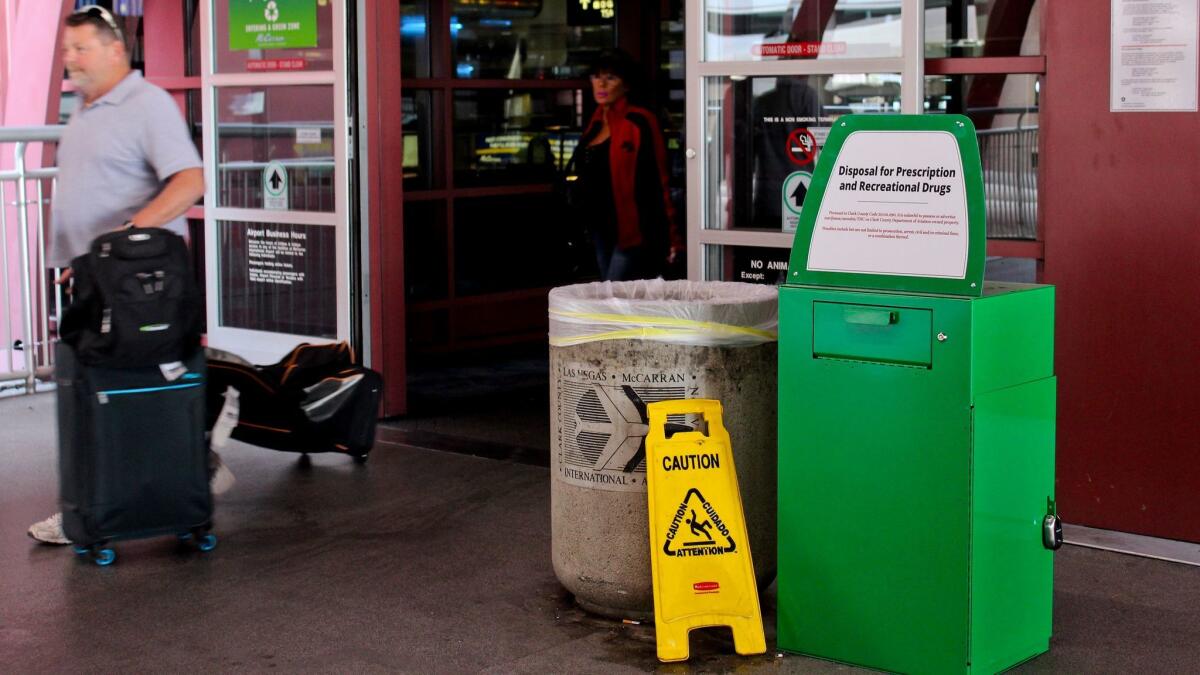 Reporting from Las Vegas —
Check your bags, dump the weed.
McCarran International Airport in Las Vegas is now offering travelers a chance to dispose of any marijuana they might have on them before hopping onto a flight. So-called "amnesty boxes" have been installed at the airport and soon will be located at smaller airports in North Las Vegas and Henderson — 20 dope boxes in all.
More than half are already in place at various passenger drop-off sites and airport car rental sites.
Christine Crews, spokeswoman for McCarran, said the boxes were installed Friday after the Clark County Commission voted last year to ban marijuana possession on airport property to keep the facility in line with federal law.
Possession of marijuana for recreational use was legalized by Nevada voters in 2016 and took effect Jan. 1, 2017, despite the drug still being classified as illegal under federal law. Nevada and seven other states along with Washington, D.C., currently allow marijuana to be sold for recreational consumption.
Las Vegas isn't the first airport to offer amnesty buckets for travelers to dispose of their weed.
After Colorado legalized recreational marijuana six years ago, the Colorado Springs Airport set up amnesty boxes for people to dump their marijuana before takeoff.
But the state's largest airport, Denver International, chose not to adopt such a plan, spokeswoman Stacey Stegman said in an email.
"We've had very few instances of people coming to a checkpoint with MJ [marijuana]. If they do, they are asked to discard it and the police confiscate it," she said. "No one has been in trouble for this. Also, we've not had problems with discarded MJ. All has gone well."
The legalization of marijuana in a patchwork of states is forcing industries and government to grapple with a product that is bought, sold and consumed in a legal gray zone. Banking regulations, which fall under federal law, have made legal marijuana businesses largely cash-run enterprises. And, while it's legal to possess and consume on private property, it remains illegal to smoke pot in public.
Airports are just the latest venue to adapt to the new laws and a more mellow view by the public about marijuana consumption. It's a long way from the days when celebrity arrests at the airport for pot possession resulted in scandalous, splashy headlines. The arrests still happen, but are far less high profile. Remember Fifth Harmony singer Lauren Jauregui's arrest at Dulles Airport in 2016? Or Wiz Khalifa's at El Paso International Airportin 2014? Probably not, neither drew much attention.
Crews said the amnesty boxes are a convenient way for people to comply with the airport's ordinance that prohibits pot on site. She also said other drugs could be dumped into the boxes as well.
"We have had substances surrendered into at least one since the boxes were installed," Crews said. "So they are being used."
A Las Vegas-based waste management company will empty the green boxes — with the pickup schedule to be based on usage. The boxes are also designed to prevent people from trying to reach in and remove disposed drugs. Their locations are in high-traffic areas and anyone trying to break into them wouldn't be able to do so discreetly.
Airports in other states that have legalized recreational marijuana said they hadn't installed amnesty boxes. Portland International Airport in Oregon doesn't have them, and neither does Seattle-Tacoma International Airportin Washington. Neither does Ted Steven Anchorage International Airport in Alaska — though its airport police chief, Jesse Davis, said the idea was discussed.
Perry Cooper, spokesman at Sea-Tac Airport, said the idea had come up in 2014 when the Seattle Seahawks played the Denver Broncos in the Super Bowl (dubbed by some as the "Pot Bowl") and weed had just been made legal in Washington.
He said Transportation Security Administration officers aren't looking for drugs and if a person goes through the terminal and is observed, they will be referred to airport police, who will check to make sure the person is of legal age and has a legal amount of pot on them in compliance with state law.
"Then they'll just send them on their way," Cooper said.
California, which legalized recreational marijuana use last year, has several international airports and officials at the Los Angeles World Airports and San Francisco International Airport said they didn't have the boxes.
Kama Simonds, spokeswoman at Portland's airport, said airport personnel do check to make sure a passenger with marijuana is flying within the state, though transporting cannabis across state lines remains illegal. Those who realize at the airport that their stash is in their pocket or bag will probably arrange to leave it in a place where they can later retrieve it, such as their car, rather than dispose of it, she said.
"Or maybe they'd just give it to a friend," she said. "Or maybe make a new friend."
To read this article in Spanish click here
Twitter: @davemontero
Sign up for Essential California for the L.A. Times biggest news, features and recommendations in your inbox six days a week.
You may occasionally receive promotional content from the Los Angeles Times.