For all your weed needs, there's now a pot superstore in Las Vegas
A look inside Las Vegas' Planet 13, billed as the largest marijuana dispensary in the world.
Reporting from Las Vegas —
The employee in the red shirt counseled the two men on what — or what not — to buy.
"Now, if you start thinking dolphins are talking to you, that might be too much," she explained. The two young men nodded slowly. One stroked his beard. Neither had ever talked to dolphins before. Or even yelled at them on Sundays when they play against the New England Patriots.
Above them, the continuous light show on the ceiling was like an electric lava lamp — orbs expanding and dividing in an endless trip. Then it was gone and replaced by flowers and a Saturn-like planet floating in the sky.
Not many in Planet 13 — dubbed the marijuana superstore — were looking up, however. Most fixed their gaze downward at the rows of flat cases with glass tops. In them were small, clear containers that held dozens of different marijuana bud strains. Each container was topped with magnified glass that revealed details of the buds' shapes and hues. It was reminiscent of seeing an ant leg under a microscope — spikier-than-expected edges and a maybe a little intimidating.
A so-called budtender offered free smells to customers.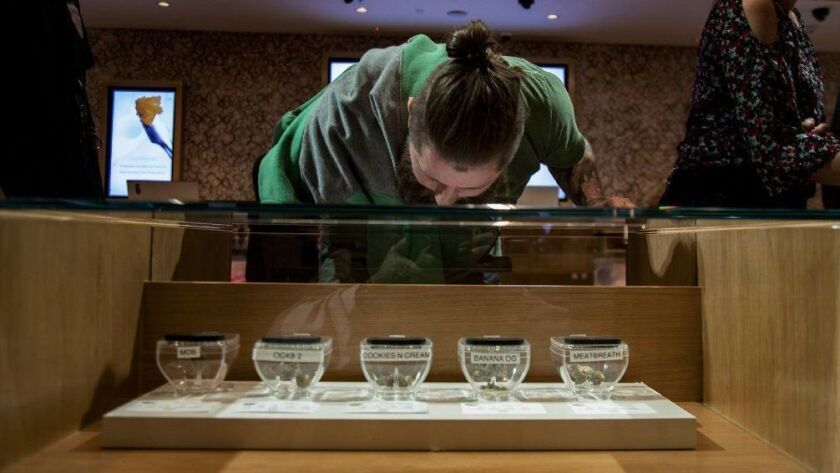 Outside, a steady stream of taxis dropped people off in front of a giant red orb marking the entrance that had water cascading over it while fog curled beneath. Staring at it long enough gave one the feeling the entire world might spin off its axis.
The orb is visible from the top of the closest hotel — the one owned by President Trump — and from windows of several other Las Vegas Strip casinos. Planet 13's exterior is modern, with areas of black metal walls and 13 LED lotus flowers 15 feet tall on the roof. A quote from Buddha about the lotus is inscribed on a plaque beside the orb. Mood matters, too, apparently.
The store is also within walking distance of a massive strip club, which is next door to the Erotica Museum and was recently remodeled to look something like a South Orange County retail outlet, with a sleek steel and stone exterior. The museum, however, has retained its old-school Vegas architecture. Perhaps it's the gentrification of vice.
Planet 13 calls itself the world's largest cannabis dispensary. It comes in at 40,000 square feet and features more than 40 cash registers. "Size matters when you're the biggest," read branded T-shirts that are for sale.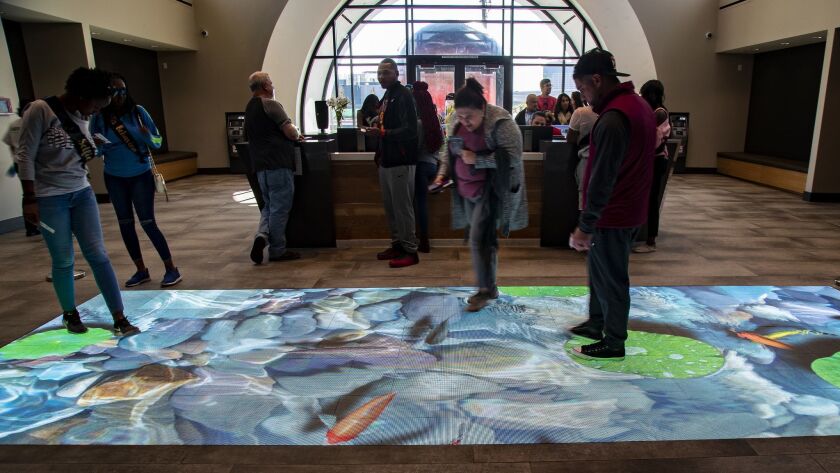 David Farris, marketing director for Planet 13, said that's only the beginning for the store, which opened at the beginning of the month. There is still 72,000 square feet that the company plans to expand into, which means the place could eventually be the size of a typical Costco.
As Farris walked over the LED floor at the entrance, an electronic pond with lily pads and fish, sensors detected his footsteps and created ripple effects beneath him. The electronic koi fish darted away when he stepped near one gliding below.
There is an irony here. The store is huge, with wide-open and airy space all designed for the purpose of selling something that can be purchased legally only an ounce at a time. No need for giant shopping carts here.
The easy comparison is to an Apple store, with clean lines, lots of glass and electronic screens. Techno-style music plays loud enough to stir the senses, but also soft enough that conversations aren't drowned out.
It also appears to be one of the final moves toward making marijuana truly mainstream. When the product being sold is legal in a plurality of states, its stigma is diluted to the point that Hollywood stars openly use it with pride and a pot superstore can take its place among dozens of retail outlets. Perhaps it is simply the dawning of the new age of weed.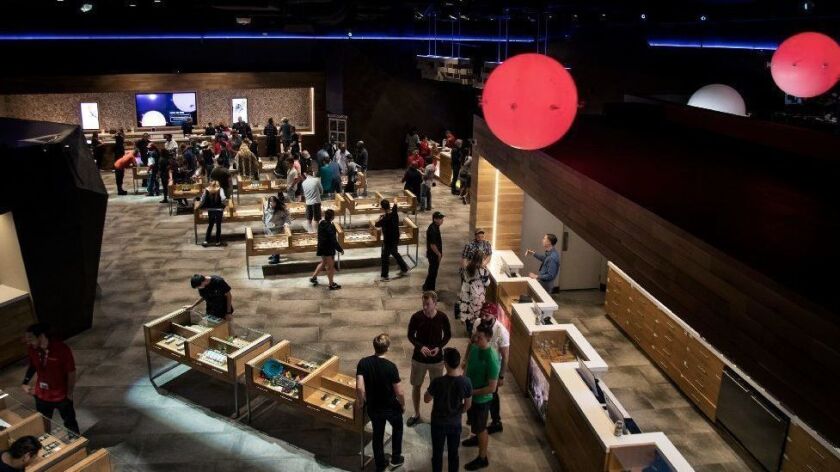 Farris thinks so. He said the company has more plans. He opened up a door to reveal a large open space — about 2,000 square feet — that he imagines will be a coffee shop where people can hang out, work on laptops and have a Starbucks-like experience while also buying their marijuana.
He opened another door and revealed what the building used to be: a massive beer distribution warehouse. He said when his company obtained the site, it came with several safes that were used by the mob back when vice was virtually the only economic engine in Vegas.
But the open space, with large bay doors and docking sites, could someday become places for pot to be consumed on site in a lounge. That's still a ways off, however, as pot can only be ingested legally in a private residence. Like other states that have legalized recreational marijuana, Nevada is in the midst of trying to solve a puzzle — how to market pot to tourists who have no legal place to actually consume it.
"That's the big question," Farris said.
It's also the most common question asked of the budtenders who wander the floor at Planet 13 — named because "M" is the 13th letter of the alphabet and the number was long used as shorthand for marijuana.
Zach Brengman, an employee who had just finished explaining the different effects of a few strains to a group of customers, said he is always asked about where it can be consumed once purchased. He said he's hopeful an answer will come soon as politicians and other leaders wrangle over the emergence of the marijuana economy — once underground — that now tops $500 million a year in Nevada.
For now, the Buddha inscription out front may offer a more philosophical point to ponder: "As the lotus rises on its stalk, unsoiled by the mud and water, so the wise one speaks of peace and is unstained by the opinions of the world."
david.montero@latimes.com | Twitter: @davemontero
---
Must-read stories from the L.A. Times
Get the day's top news with our Today's Headlines newsletter, sent every weekday morning.
You may occasionally receive promotional content from the Los Angeles Times.