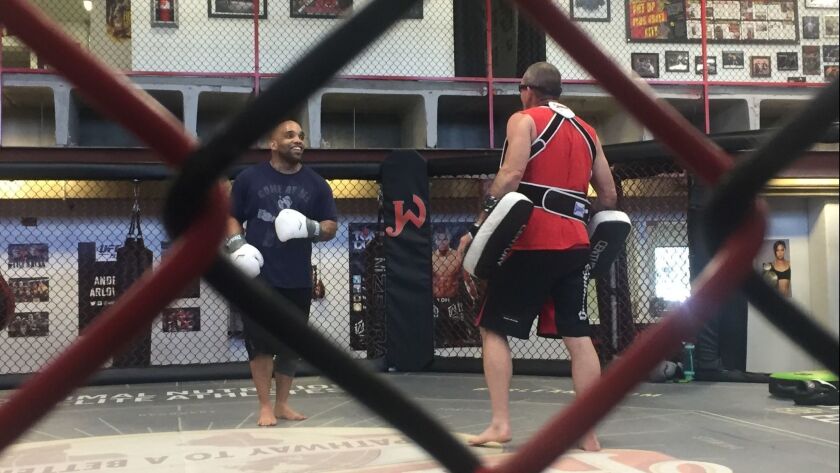 Reporting from ALBUQUERQUE —
The instructions cut through the rustle of rolling bodies, the coach, slope shouldered, ears puffy with cauliflower topography, shouting his pleasure.
"I saw someone being creative, I love that!" Nick Gonzalez said.
Inside the gym the thin, dry air of Albuquerque's desert gave way to a thicker, stench-ridden variety, heavy with hard work. It's the smell of champions in the making.
That's the business of Jackson Wink MMA Academy — world titles and fighters who can win them. The mixed martial arts gym is renowned for its stewardship of top pros like world champion Jon Jones, a sharp-elbowed former college wrestler putatively known as the best fighter in the history of the sport. The gym draws top pros from around the world: Russia, the Netherlands, the United Kingdom.
But it's also home to amateurs and less established pros toiling in the minimum wage ranks of the sport, where $600 is a happy payday that may come only a few times a year. It costs $1,500 a year to train here with world-class fighters, and sometimes the amateurs mix it up with the very best in the world.
The other cost is a promise to compete. That means on formal fight cards, in the eight-sided wire cage before cheering crowds, or simply in the gym to help others prepare for bouts. Every fighter at Jackson Wink is expected to contribute to a culture of winning.
"Goofballs sometimes make it in here, but they're quickly weeded out," said Mike Winkeljohn, co-owner of the gym.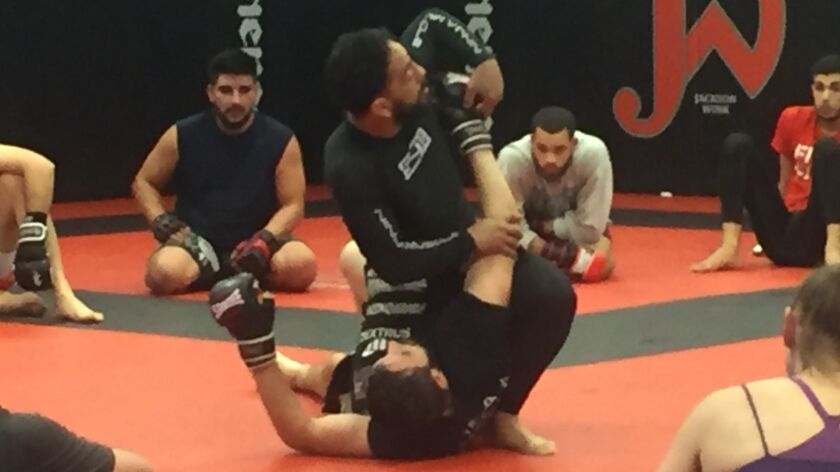 The process of sifting through those who say they want to fight and those who mean it falls in part to coach Gonzalez. One recent day Gonzalez shouted at his students, not out of impatience, but rather with urgency, to get every student to understand the basics and the cost required for success.
"Don't force the submission — hit him!" he said.
At 38, Gonzalez raises the new crop of fighters as his own career nears the end. He was 4-3 in his career, a good all-around fighter, but by his own admission not great at any one discipline. Some students will outpace him. Others won't. All will contribute to the production of the next great champion by sparring and training here east of downtown Albuquerque.
"There's a sense of responsibility," he said of his work with students. "They put their trust in you to take them to where they want to be. Each person that comes in here, you have to nurture their determination."
They wouldn't be at Jackson Wink if they didn't at least have some resolve. Part of the lure is the built-in living quarters, half a dozen rooms with bunk beds for eight. They cost $500 a month. Single bedrooms fetch $1,000, for fighters with families, or just those who can pay.
The rent provides added dollars for a business that earns the better part of its revenue by taking a cut from its top fighters. It also makes the Jackson Wink MMA Academy marketable to foreign fighters who don't want to deal with apartment hunting or the higher rents in California, where other top gyms do business.
Winkeljohn and Greg Jackson built their gym to raise the very best, and over the better part of 15 years it has evolved into a destination gym. Three years ago when they moved to their current location they ensured the space could accommodate living quarters, and the pair hired a Russian manager to help draw fighters from that nation. In this business, it's an arms race for talent.
MMA's roots run deep into human history, including the ancient Greek wrestling and boxing martial art of pankration. The leading MMA promotion company, Ultimate Fighting Championship, began as an oddity with hardly any rules and fighters from every discipline. Boxers fought jiu-jitsu artists, and sumo wrestlers squared off against kickboxers.
Some decried the sport's barbaric streak; Arizona Sen. John McCain once called it "human cockfighting." Now fighters blend numerous fighting styles, and the rule book has ballooned to satisfy state regulators — no more fish-hooking the cheek of an opponent with a hooked finger, or kicking a felled competitor in the head. The changes have allowed the sport to move into iconic venues, like Madison Square Garden, and onto major TV networks, such as Fox Sports.
As in any sport, training starts with the basics.
The amateur fighters — some with potential, some for whom competition may be a distant prospect — grappled and twisted each other's limbs during a lesson in Brazilian jiu-jitsu, that country's accent on the famed and ancient Japanese martial arts style. They were shown the intricacies of chokeholds and what's known as "joint manipulation" — a technical way of saying you're trying to hyperextend a guy's elbow or twist a joint out of its socket.
At first glance, Brazilian jiu-jitsu looks like two people just rolling around on the floor — fighters often call practicing "rolling" — but it demands considerable skill and rewards flexibility, creativity and fluid movements.
The amateurs, many with black eyes and cauliflower ears, huddled around Gonzalez and watched as he showed them how to wrench an opponent's arm until he submitted. On his knees, he straddled a volunteer, the nearly prostrate victim's arm pinned between the teacher's head and shoulder.
"When I pull, I don't just hug, I roll," he said.
Another coach piped in, pointing out how Gonzalez used his own head to achieve the hold: "And look at his head, he's pinching."
Gonzalez wasn't appplying the force he'd use in an actual bout and manipulated the volunteer's limbs as if he were a mannequin.
Reaching the big stage on prime-time promotions like UFC requires a delicately applied recipe of confidence, training and creativity. That's where the art comes in, the way a fighter selects which tools to use. Maybe an attack based on Thai kickboxing. Or wrestling. Or boxing. All disciplines have their place in a fighter's arsenal. It's not uncommon for the most popular fighters to also be the most creative, and among them is Jones, who likes to land elbow to jaw.
He learned that from Winkeljohn, the lead striking coach, renowned for his coaching of that phase of the sport. Jones has a reputation for being ruthless inside the cage and wild outside it — a hard partier who was once suspended for using cocaine and is now at the tail end of a yearlong suspension for using a banned substance.
At the gym there's a mounted photograph of Jones holding his championship belt, along with photos of other top fighters, a reminder of what Winkeljohn expects.
"Prima donnas don't make it in our gym," Winkeljohn said. "Jon Jones is the best fighter in the world, and he trains with amateurs."
Such is life at Jackson Wink MMA Academy. It's an ecosystem of cooperation where the most learned and least learned help each other grow, each reaching for the same stage, to become champions.
D'Urso is a special correspondent.
Twitter: @willdurso
---