Nevada standoff trial postponed as judge orders search for surveillance video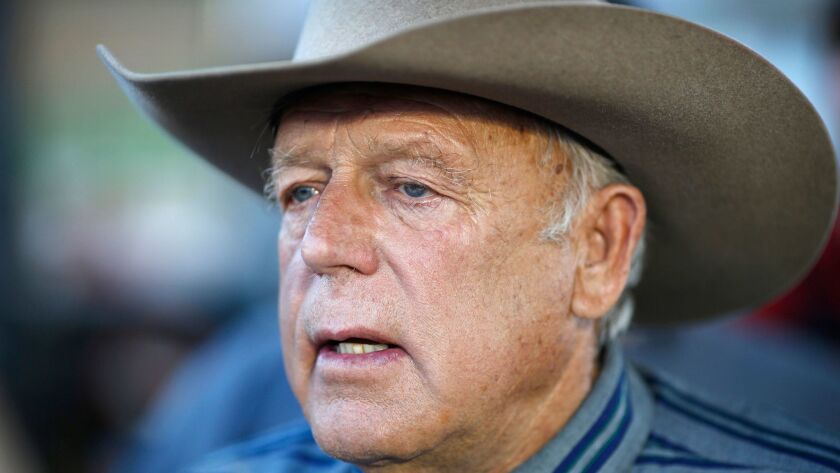 Reporting from Las Vegas —
A federal judge Tuesday delayed opening statements in the trial of Nevada rancher Cliven Bundy amid defense allegations that there may be recorded video related to the 2014 standoff at his Bunkerville ranch that the government failed to turn.
U.S. District Court Judge Gloria Navarro pushed opening statements back to Nov. 14 to give prosecutors time to track down the surveillance footage — though she agreed it was unclear whether the equipment had, in fact, recorded anything at all.
It was yet another twist in a trial that has captivated Americans who view the Bundy trial as a fight against federal government overreach on public lands and infringement on the right to protest.
Cliven Bundy, 71, is on trial with his sons Ammon Bundy and Ryan Bundy — along with cohort Ryan Payne — on a litany of federal felony charges including conspiracy in trying to stop the federal government from seizing cattle grazing on public land, carrying and using a firearm in relation to a crime of violence and threatening a federal officer.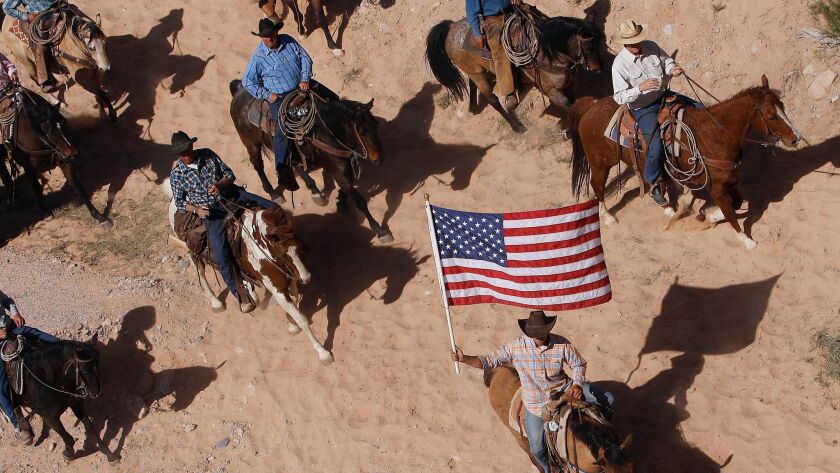 Those charges stem from the 2014 standoff with federal agents who had arrived at Bundy's Bunkerville ranch to seize cattle that had been illegally grazing on U.S. Bureau of Land Management Land for free. That confrontation included armed Bundy supporters taking positions on freeway overpasses and hunkered down in washes to stop federal agents. No shots were fired, though federal agents have said they feared for their lives before they ultimately retreated.
By early Tuesday morning, a line of people — some wearing cowboy hats and more than a few in cowboy boots — waited to go through a metal detector to watch the highly anticipated opening statements in the case. Once inside, Navarro cautioned that the trial "was not a sporting event" and she wouldn't tolerate cheering or outbursts.
Outside the courthouse, about a dozen Bundy supporters held flags and signs — with one man wearing a plastic fence around him and a sign that said "First Amendment Area."
The surveillance footage raised by defense attorneys and Ryan Bundy — who is acting in his own defense — was brought up during a hearing last week when a witness testified that she saw video feeds from a camera streaming onto a monitor during four days of the standoff.
But acting U.S. Atty. Steven Myhre said nothing had been recorded, so there was nothing to hand over to Bundy's defense lawyers. Navarro, however, said "you don't set up surveillance cameras for nothing" as she gave prosecutors time to investigate if anything had been recorded. Ammon Bundy's lawyer, Morgan Philpot, scoffed at the government's characterization that seeking the surveillance footage was a "fantastical fishing expedition."
The stakes for the trial are big for both sides.
Federal prosecutors have had poor results trying to get federal felony charges to stick to the Bundy family and their supporters. Two Las Vegas juries either acquitted or deadlocked on multiple charges this year and a jury acquitted Ryan Bundy and Ammon Bundy on charges related to a 41-day standoff at an Oregon wildlife preserve in 2016.
But federal prosecutors did get Eric J. Parker, 34, of Hailey, Idaho, and O. Scott Drexler, 47, of Challis, Idaho, to plead guilty to one count of obstruction of court order last month.
Supporters see it as a chance to show the federal government has overstepped its authority by controlling hundreds of millions of acres of land. In Nevada, the federal government controls roughly 85% of the land.
Ryan Bundy wore a suit and appeared clean-shaven for Tuesday's court hearing — a stark contrast to his appearance during jury selection where he wore the red inmate jumpsuit and sported a large, bushy mustache. Payne also wore a shirt and tie, while Ammon Bundy and Cliven Bundy opted to stay in their red prison clothes. It was their choice, they told Navarro.
Twitter: @davemontero
---
The Latinx experience chronicled
Get the Latinx Files newsletter for stories that capture the multitudes within our communities.
You may occasionally receive promotional content from the Los Angeles Times.