He may be dead, but brothel owner Dennis Hof wins seat in Nevada state Assembly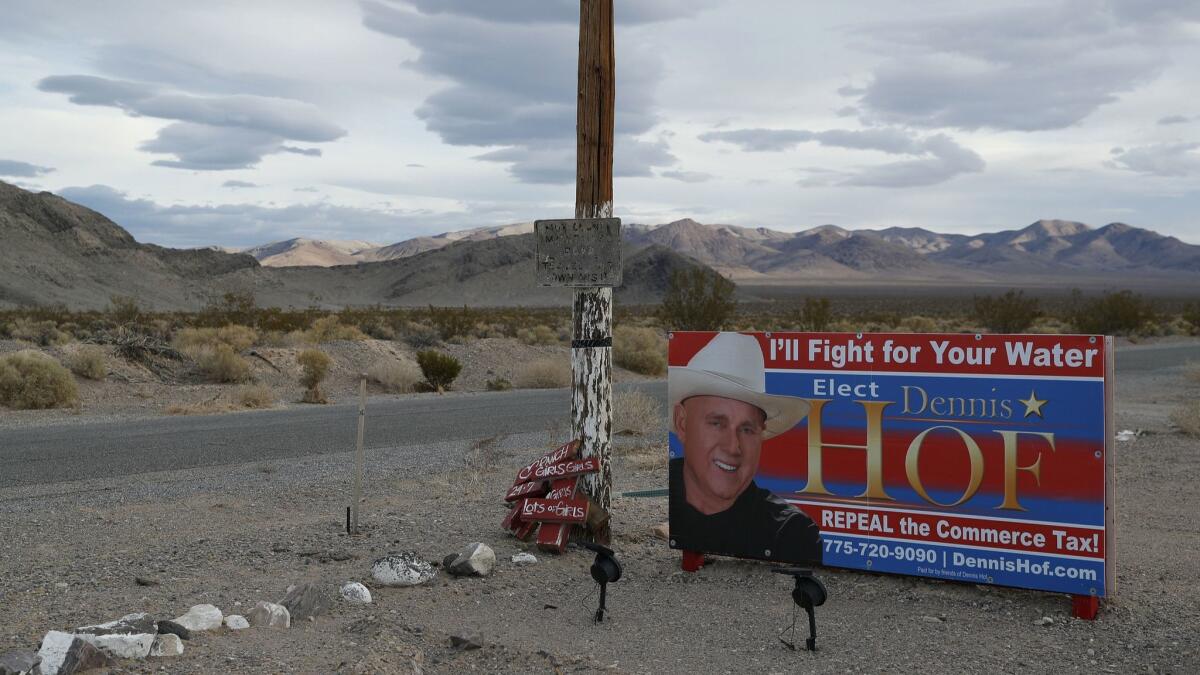 Reporting from Las Vegas —
Even in death, Dennis Hof remains larger than life.
The deceased brothel owner who was elected to a state Assembly seat was one of the few bright spots for the Nevada Republican Party on election day — a drop of red in a state that has been trending blue over the last decade.
Republican Adam Laxalt lost his gubernatorial bid to Democrat Steve Sisolak. U.S. Sen. Dean Heller lost his reelection effort to Democrat Jacky Rosen.
Democrats maintained their control of both chambers of Nevada's state Legislature. Meanwhile, women appear to be on the verge of capturing a majority of the seats in the Assembly.
"It was not a good night for Republicans," said Eric Herzik, political science chair at the University of Nevada, Reno. "If I'm the Republican Party, I have worries after these results."
Nevada Democratic Party Chairman William McCurdy issued a statement on the results, saying they were the fruits of a robust ground game energized by two years of President Trump and a GOP-controlled Congress.
"These candidates weren't the only thing on the ballot this election — everything we hold dear as Nevadans and Americans was on the line," McCurdy said. "Democrats have made it clear that we are the party that fights for working families and for better economic opportunity and equality for all Nevadans."
The Hof race had become a national curiosity, and Herzik said that even if he were alive, he probably wouldn't have had to sweat out the results. Hof cruised to victory Tuesday in his Assembly race — 21 days after he died — against his Democratic opponent, Lesia Romanov.
The victory also came after after a sometimes-raucous memorial service over the weekend that featured male porn star Ron Jeremy, former Hollywood madam Heidi Fleiss and comedy writer Bob Zmuda.
The 72-year-old was found dead on Oct. 16 at Love Ranch, his brothel just outside the city of Pahrump, after being found unresponsive by Jeremy after a campaign event that featured an appearance by Arizona's former Sheriff Joe Arpaio. The Clark County coroner's office has not released a cause of death.
Hof's win wasn't a huge surprise in his heavily Republican district that stretches over three counties — the largest of which is Nye County — and went for President Trump in 2016 by a wide margin.
According to the Nevada secretary of state, a Hof victory ensures that the state Assembly seat will remain in Republican hands, as the three county commissioners will convene and select a replacement from the GOP. Herzik said that probably helped solidify the seat for Republicans and gave comfort to those who may have felt uneasy about electing a brothel owner.
On Wednesday, Romanov posted on her Facebook page: "A huge 'Thank You' to all my supporters, friends and family. I will always appreciate your support and effort through this crazy, twisted race!"
Chuck Muth, Hof's campaign chairman, told a crowd of about 500 at the memorial service over the weekend that he expected a big win over Romanov. When he saw the Nye County unofficial numbers — which showed Hof with 11,116 votes and Romanov with 5,012 — he was happy but cautious.
"I feel pretty good, but I won't be completely satisfied until it's official," he said.
By Wednesday morning, Muth seemed ready to accept the unofficial results showing Hof defeating Romanov by almost a 2-to-1 margin.
"Dennis was the Trump of Pahrump in the primary & Moses in the general; he didn't make it to the promised land with us," Muth wrote on Twitter. "But his campaign victory taught three big lessons for Republicans: Don't raise taxes, don't be boring and don't be wishy-washy."
Muth was joined by friends of Hof at one of the brothel owner's restaurants in northern Nevada for a victory party Tuesday. He said some of the sex workers at the brothel took some time off to join the party. But as results were slow in coming because of long lines at polling places in Washoe and Clark counties, Muth said the crowd of 100 had thinned considerably.
Hof's win capped an improbable rise for the candidate who first made a run for office two years ago as a Libertarian candidate for the Assembly. He was able to trade in on his celebrity from writing a book titled "The Art of the Pimp" and starring in the reality television show "Cathouse" on HBO.
But he still lost to the Republican, James Oscarson.
Hof switched to the Republican Party after Trump's win and used the president's tone and style to defeat Oscarson in the primary. He dubbed himself the "Trump of Pahrump" and won the backing of Nye County Republican leaders.
Top Republicans in the state, however, avoided Hof, refusing to endorse him or campaign with him.
Full 2018 midterm election results »
Hof didn't let that bother him. He paid for roving billboards that touted his name alongside the Republicans running for governor and senator. He campaigned on eliminating the state commerce tax while touting gun rights. Several billboards around Pahrump featured Hof pictured holding firearms.
He was dogged by controversy, however — including several claims of sexual assault leveled against him. The most recent came over Labor Day weekend, when a woman reported to Carson City sheriff's deputies that Hof had sexually assaulted her.
The Nevada Department of Public Safety took over the investigation, which officials from the Nevada Department of Corrections said Tuesday is ongoing despite Hof's death.
Hof had said at the time the allegations were "groundless and politically motivated."
He had also faced other sexual assault allegations, including an incident in 2011 in which Jennifer O'Rourke said Hof raped her at his brothel. She said that she is still traumatized and that she was relieved he was dead "because now he can't hurt anyone anymore."
O'Rourke, 48, said that she has since moved from Nevada and didn't care if Hof were to win. But she said if she still lived in the district, she'd vote for Hof — now that he was dead.
"I'm fine with him being dead and winning," O'Rourke said. "I know a lot of people who were going to vote Democrat if he were alive, but will now vote Republican because he's dead."
david.montero@latimes.com | Twitter: @davemontero
---
UPDATES:
3:30 p.m.: This article was updated with final but unofficial election results and additional reaction.
This article was originally published at 12:10 a.m.
Sign up for Essential California for the L.A. Times biggest news, features and recommendations in your inbox six days a week.
You may occasionally receive promotional content from the Los Angeles Times.