37 Images
The top national news photos of 2013
Nineteen-year-old Boston Marathon bombing suspect Dzhokhar Tsarnaev, bloody and disheveled with the red dot of a sniper's rifle laser sight on his forehead, raises his hand from inside a boat at the time of his capture by law enforcement authorities in Watertown, Mass. (Sean Murphy / Associated Press)
Father Eric Consentino and mourners follow a hearse carrying the casket of James Ferrari from the Church of the Divine Love toward his grave. Ferrari, 59, was killed along with three others when a speeding Metro-North Railroad train on the Hudson Line derailed in New York City. (John Minchillo / Associated Press)
Miles Scott, dressed as Batkid, runs with Batman after saving a damsel in distress in San Francisco. The 5-year-old boy, whose leukemia was in remission, wsa participating in a Make-A-Wish Foundation event. (Jeff Chiu / Associated Press)
Mark Kelly leans his head on the shoulder of his wife, former U.S. Rep. Gabby Giffords as they attend a Tucson news conference asking Congress to pass stricter gun control laws. (Joshua Lott / Getty Images)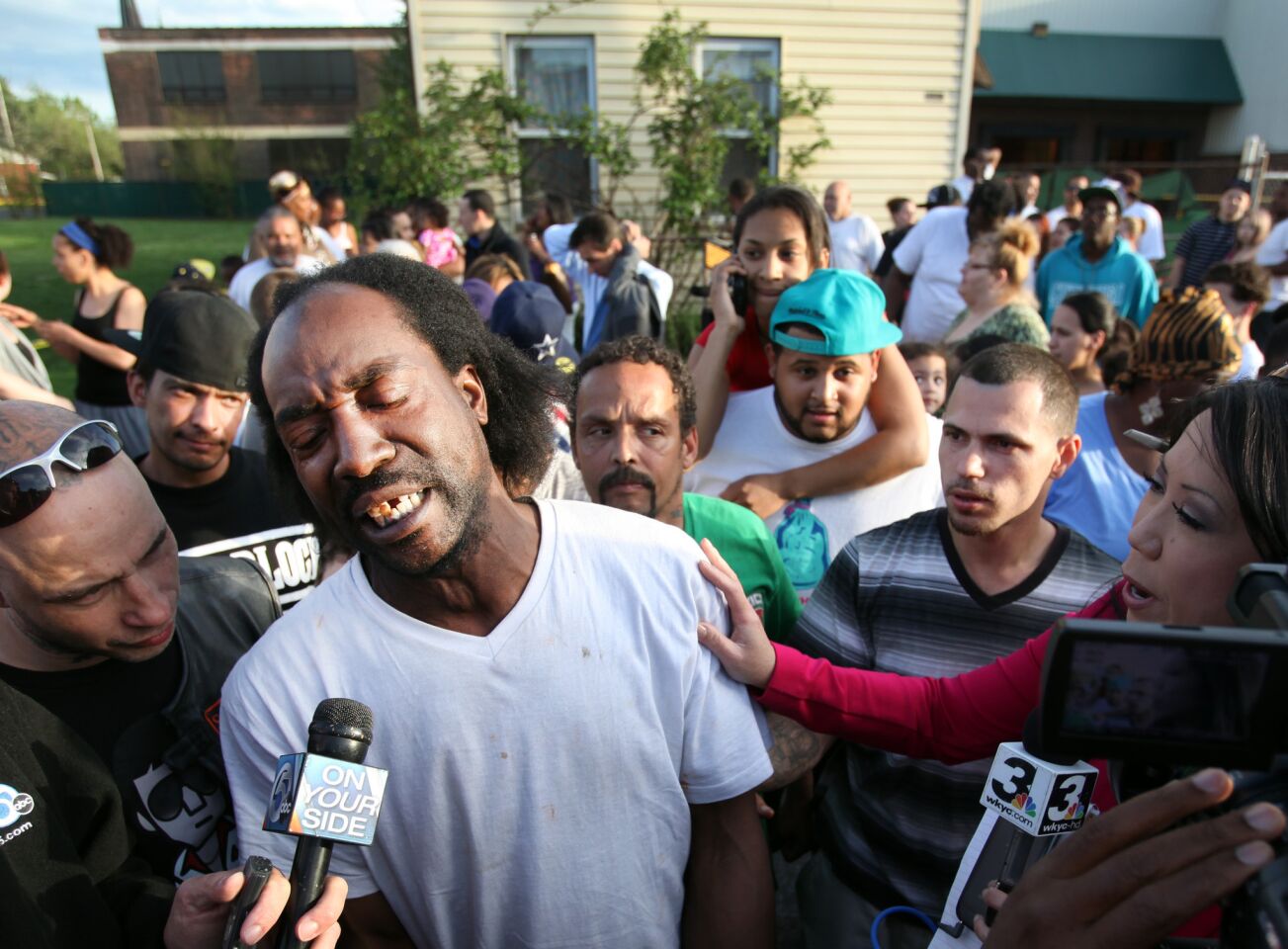 Charles Ramsey speaks to media near a home in the 2200 block of Seymour Avenue, where three women, who were held captive for decades, were rescued in Cleveland. (Scott Shaw / Associated Press)
Ariel Castro pleaded guilty to 937 criminal counts of rape, kidnapping, and aggravated murder, as part of a plea bargain. He was subsequently sentenced to life in prison without the chance of parole, plus 1,000 years. One month into his sentence, prison guards found Castro dead in his cell; he had hanged himself. (Tony Dejak / Associated Press)
A man tries to get into the closed Internal Revenue Service's offices in New York City after nonessential work was halted because of the government shutdown. (Justin Lane / EPA)
The crash site of Asiana Flight 214 at San Francisco International Airport in San Francisco. (Marcio Jose Sanchez / Associated Press)
First responders work to rescue passengers of a Metro-North passenger train that derailed in the Bronx. (Craig Ruttle / Associated Press)
Emergency responders and volunteers push Jeff Bauman in a wheel chair after he was injured in an explosion near the finish line of the Boston Marathon. (Charles Krupa / Associated Press)
Flags surrounding the Washington Monument fly at half staff after the deadly shooting at the Washington Navy Yard. (J. Scott Applewhite / Associated Press)
'Hope' is spelled out in lights at a community ceremony in Union Beach, N.J., marking the one-year anniversary of Superstorm Sandy. (Justin Lane / EPA)
Rev. Bobby Turner of Columbus, Ohio, places his hand on the Martin Luther King Jr. Memorial in Washington. 2013 marked the 50th anniversary of King's March on Washington. (Carolyn Kaster / Associated Press)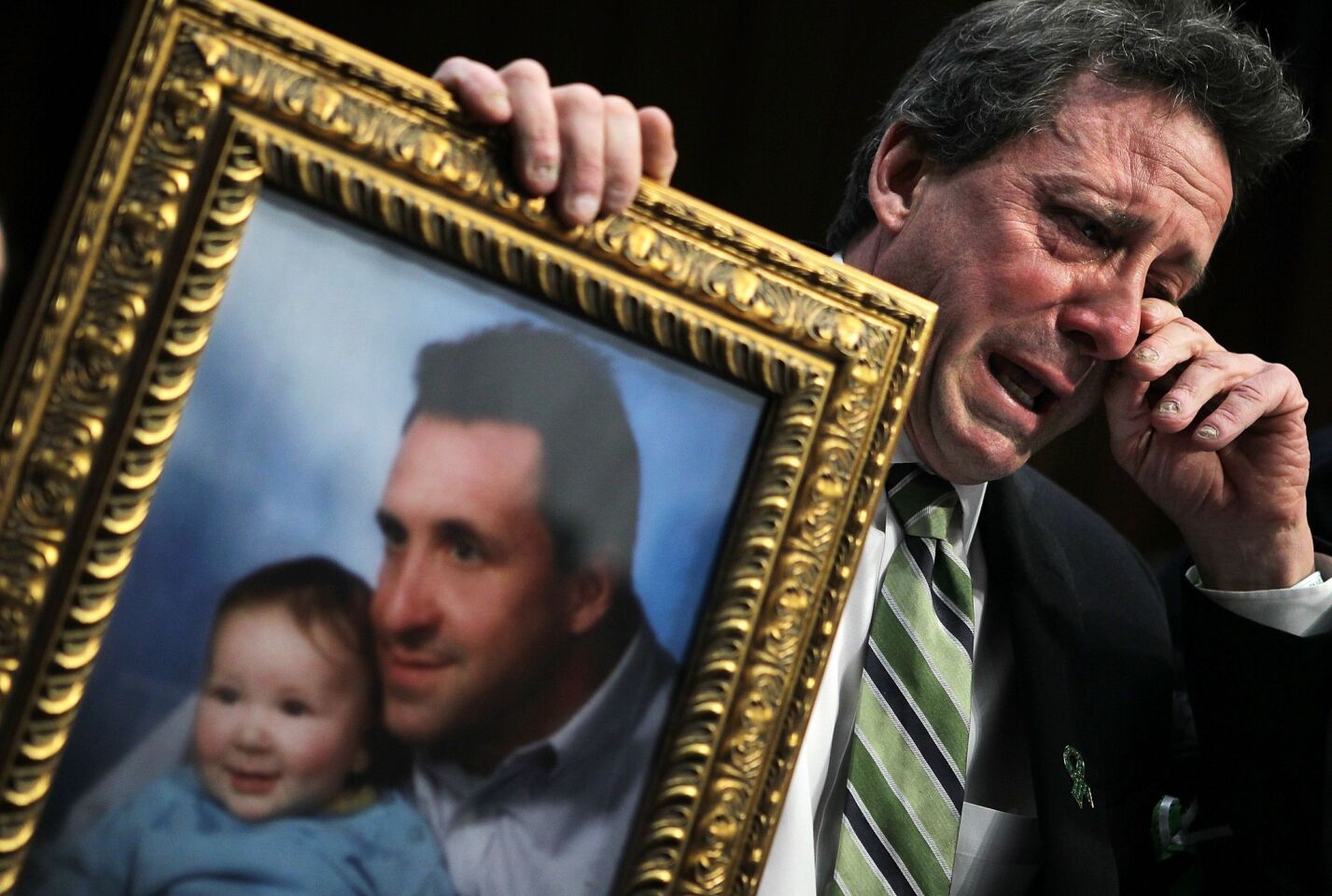 Neil Heslin, father of 6-year-old Sandy Hook Elementary School shooting victim Jesse Lewis, wipes away tears as he testifies during a hearing before the Senate Judiciary Committee on Capitol Hill. (Alex Wong / Getty Images)
Health and Human Services Secretary Kathleen Sebelius prepares to testify about the error-plagued launch of healthcare.gov before the Senate Finance Committee on Capitol Hill. (Chip Somodevilla / Getty Images)
Army Pfc. Chelsea Manning (known until August as Bradley Manning) is escorted out of a courthouse in Fort Meade, Md., after receiving a verdict in his court martial. Manning was sentenced to 35 years in prison for her role in giving material to WikiLeaks.
(Patrick Semansky / Associated Press)
Protestors, including CodePink co-founder Medea Benjamin, left, listen as National Security Agency Director Gen. Keith Alexander testifies before the House Intelligence Committee hearing on potential changes to the Foreign Intelligence Surveillance Act on Capitol Hill. (Susan Walsh / Associated Press)
A women cries out near the scene of a shooting at Cornell Square Park in Chicago that killed multiple people, including a 3-year-old boy. (Chandler West / Associated Press)
Visitors to Mather Point at Grand Canyon National Park look out over a rare total cloud inversion. The phenomenon is caused by cold and warm air masses interacting. (Erin Whittaker / Associated Press)
President Obama and First Lady Michelle Obama share a dance during the Commander-In-Chief Inaugural ball at the Washington Convention Center. (Evan Vucci / Associated Press)
Michael Kiefer, checks out a display of rifles at the Rock River Arms booth during the 35th annual SHOT Show in Las Vegas. (Julie Jacobson / Associated Press)
Carson Dennis stands in the middle of the destruction caused by a flash flood that poured down Canon Avenue, in Manitou, Colo. (Michael Ciaglo / Associated Press)
A section of highway washed out by flooding along the South Platte River in Weld County, Colo. (John Wark / Associated Press)
A man walks with two dogs through floodwaters on Quicksilver Boulevard in Austin, Texas, after heavy rains brought flooding to the area. (Deborah Cannon / Associated Press)
An Amazon.com employee stocks products along one of the many miles of aisles at an Amazon.com Fulfillment Center in Phoenix on "Cyber Monday," the busiest online shopping day of the holiday season.
(Ross D. Franklin / Associated Press)
David Lee Estep sits atop a pile of rubble that was the home he shared with his parents in Moore, Okla., three days after a huge tornado roared through the suburb, flattening a wide swath of homes and businesses. (Charlie Riedel / Associated Press)
New York City Mayor-elect Bill de Blasio speaks with outgoing Mayor Michael Bloomberg at City Hall. (John Moore / Getty Images)
A worker cleans debris from the Fun Town Pier that was damaged by Superstorm Sandy in Seaside Heights, N.J. (Mark Wilson / Getty Images)
Ana Hernandez, with her children Stephanie and Luis, accepts the flag from acting Department of Homeland Security Chief Rand Beers during a public memorial for TSA officer Gerardo Hernandez, who was killed in a shooting at LAX. (Pool / Getty Images)
First lady Michelle Obama pulls back the family dog Sunny after Ashtyn Gardner, 2, from Mobile, Ala., lost her balance during a holiday arts and crafts event at the White House. (Charles Dharapak / Associated Press)
The eternal flame burns at the grave site of President John F. Kennedy, on the 50th anniversary of his death at Arlington National Cemetery. (Mark Wilson / Getty Images)
Meredith Greenberg, left, and Leora Perlman laugh during their wedding ceremony at a pier in Jersey City, N.J. (Justin Lane / EPA)
The sun rises behind the scaffolding-clad Washington Monument in Washington. (J. David Ake / Associated Press)
George Zimmerman is greeted by defense counsel Don West at the start of his trial in Seminole Circuit Court, in Sanford, Fla. He was acquitted of all charges in the death of Trayvon Martin. (Joe Burbank / Associated Press)
Kathy Brown, Virginia Aguiar and Jane Crook, react to a guilty verdict for Jodi Arias outside of Maricopa County Superior Court in Phoenix. Arias was convicted of first-degree murder in the gruesome killing of her one-time boyfriend in Arizona after a four-month trial that captured headlines with lurid tales of sex, lies, religion and a salacious relationship that ended in a blood bath. (David Wallace / Associated Press)
Thania Sayne of Effingham, Ill., leans on the headstone at the grave of her husband, Army Sgt. Timothy D. Sayne, during the playing of taps at a nearby burial service at Arlington National Cemetery. (Manuel Balce Ceneta / Associated Press)
A Boeing 747 takes off the day after it mistakenly landed at Col. James Jabara Airport in Wichita, Kan. (Charlie Riedel / Associated Press)