Obama drops the mic at his last White House Correspondents' Dinner as president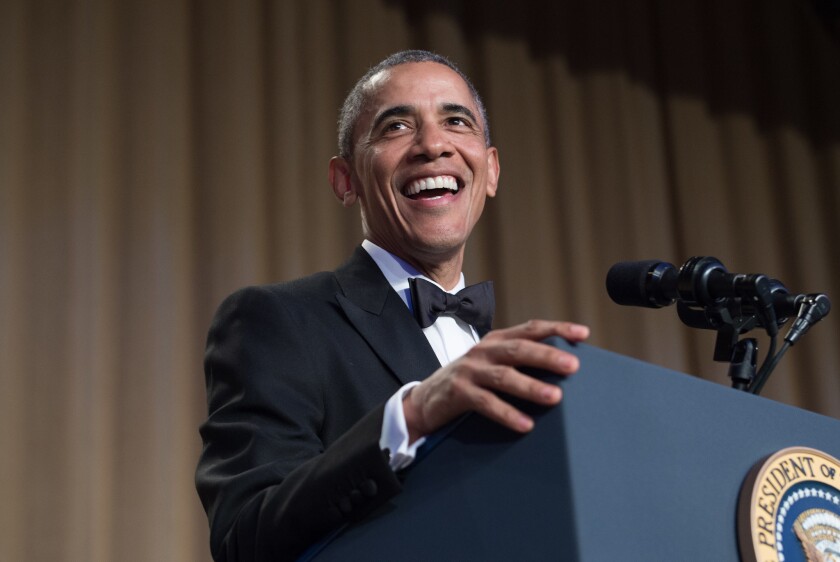 President Obama seemed to relish his eighth, and last, address to the White House Correspondents' Assn. at its annual dinner Saturday night, taking digs at himself, potential replacements in the Oval Office and even Britain's little Prince George, in addition to the partisan rancor that has pervaded his time in Washington.
"Standing here, I can't help but be reflective, a little sentimental," he said. "Eight years ago, I said it was time to change the tone of our politics. In hindsight, I clearly should have been more specific."
See the most-read stories this hour >>
The jokingly reflective remarks were made to a ballroom full of journalists, politicians, advertisers and celebrities at a dinner at the Washington Hilton that celebrates press freedoms and the work of White House reporters as well as funds journalism scholarships and awards.
A look at some of Obama's best lines of the night:
Next year at this time, someone else will be standing here in this very spot, and it's anyone's guess who she will be.

President Obama
On what has changed as he winds down his presidency
"In just six short months, I will be officially a lame duck, which means Congress now will flat-out reject my authority. And Republican leaders won't take my phone calls," he said, in a jab at Capitol Hill intransigence. "And this is going to take some getting used to. It's a curveball. I don't know what to do with it."
He said world leaders are starting to dismiss him as well.
"Last week, Prince George showed up to our meeting in his bathrobe. That was a slap in the face," Obama joked about the 2-year-old prince. "A clear breach in protocol."
---
Trying to fast-track his Supreme Court nominee
Obama touched on Republican senators' refusal to hold a hearing on his Supreme Court nominee, Merrick Garland, and called out two senators in the room:
We've got Republican Sens. Tim Scott and Cory Gardner; they're in the house, which reminds me security, bar the doors! Judge Merrick Garland, come on out, we're going to do this right here, right now.

President Obama
---
Cracking wise on the candidates
Republican presidential candidates, and the Republican Party, were repeated targets.
Obama teased Texas Sen. Ted Cruz for calling a basketball hoop a "basketball ring" during a speech last week on a basketball court in Indiana.
What else is in his lexicon? Baseball sticks? Football hats? But sure, Im the foreign one.

President Obama
Obama feigned that he would skip mocking Republican front-runner Donald Trump, before digging in. During the 2011 correspondents' dinner, Obama repeatedly dinged Trump, and with Trump so prominently in the race to succeed him, a lot of anticipation had built in recent weeks over what Obama would say.
"I am a little hurt that he's not here tonight. We had so much fun the last time," Obama said. "And it is surprising. You've got a room full of reporters, celebrities, cameras, and he says no? Is this dinner too tacky for The Donald? What could he possibly be doing instead? Is he at home, eating a Trump Steak, tweeting out insults to Angela Merkel?"
Election 2016 | Live coverage on Trail Guide | April 26 primary election results | Track the delegate race | Sign up for the newsletter
The Democratic presidential candidates didn't escape the president's barbs either.
Vermont Sen. Bernie Sanders was in the audience and drew quite the crowd before and after the dinner.
"We've got the bright new face of the Democratic Party here tonight –- Mr. Bernie Sanders! Bernie, you look like a million bucks. Or to put it in terms you'll understand, you look like 37,000 donations of $27 each," Obama said, calling out the small-dollar donations Sanders repeatedly touts as evidence of his grass-roots support.
"I am hurt, though, Bernie, that you've been distancing yourself a little from me," he added, teeing up a line about his and Sanders' shared liberal roots: "I mean, that's just not something that you do to your comrade."
Obama compared front-runner Hillary Clinton trying to connect with young people to an older relative learning how to use social media:
---
How he's navigating life after the White House
Obama also recruited an old political rival for advice on the difficulty that comes with the decision to stay in Washington until his youngest daughter, Sasha, graduates high school. The short video included former House Speaker John Boehner tearing up watching "Toy Story."
---
And then, after getting serious for a few moments as the speech wound down, Obama pulled out his own prop for the last word.
ALSO
Obama's got jokes: A look back at the president's best punch lines
Sharpton: Larry Wilmore's calling Obama the 'N-word' was in 'bad taste'
At White House Correspondents' dinner, Obama takes final zingers at Washington
---
Must-read stories from the L.A. Times
Get the day's top news with our Today's Headlines newsletter, sent every weekday morning.
You may occasionally receive promotional content from the Los Angeles Times.