Timeline: O.J. Simpson's journey from sports legend to murder suspect to prisoner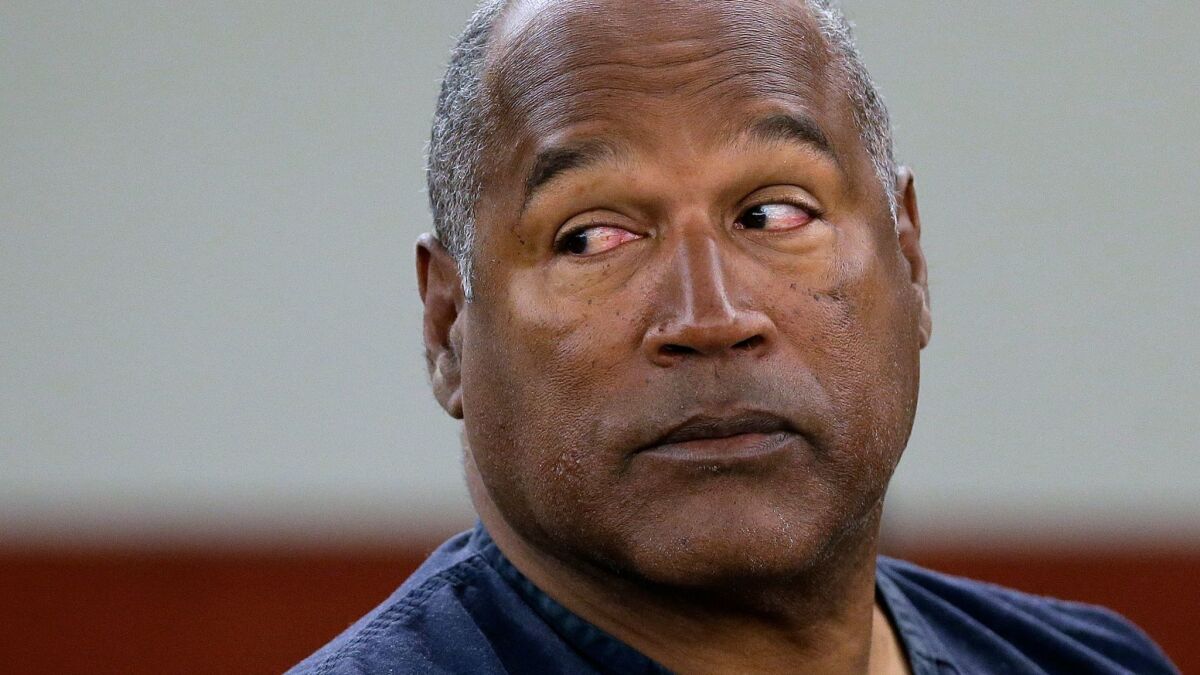 From legendary football star to the man at the center of the "trial of the century" to prisoner 1027820 at Lovelock Correctional Center in Nevada, O.J. Simpson's life has captivated the nation for decades. Here is a look at some key moments.
1966
USC career begins
Simpson transfers to the University of Southern California from City College of San Francisco to play running back for head coach John McKay. Simpson leads the nation in rushing in both 1967 and 1968. In 1969, Simpson wins the Heisman Trophy by the largest margin in the trophy's history. He also wins the Maxwell Award and the Walter Camp Award.
1969-1977
In the NFL
The Buffalo Bills choose Simpson in the 1969 NFL Draft. He struggles his first three years in Buffalo, but he finds his footing in 1972. By the 1973 season, Simpson becomes the first player to break the 2,000-yard rushing mark and is named NFL MVP. He rushes more than 1,000 yards during each of his next three seasons and leads the league in rushing in 1975 and 1976.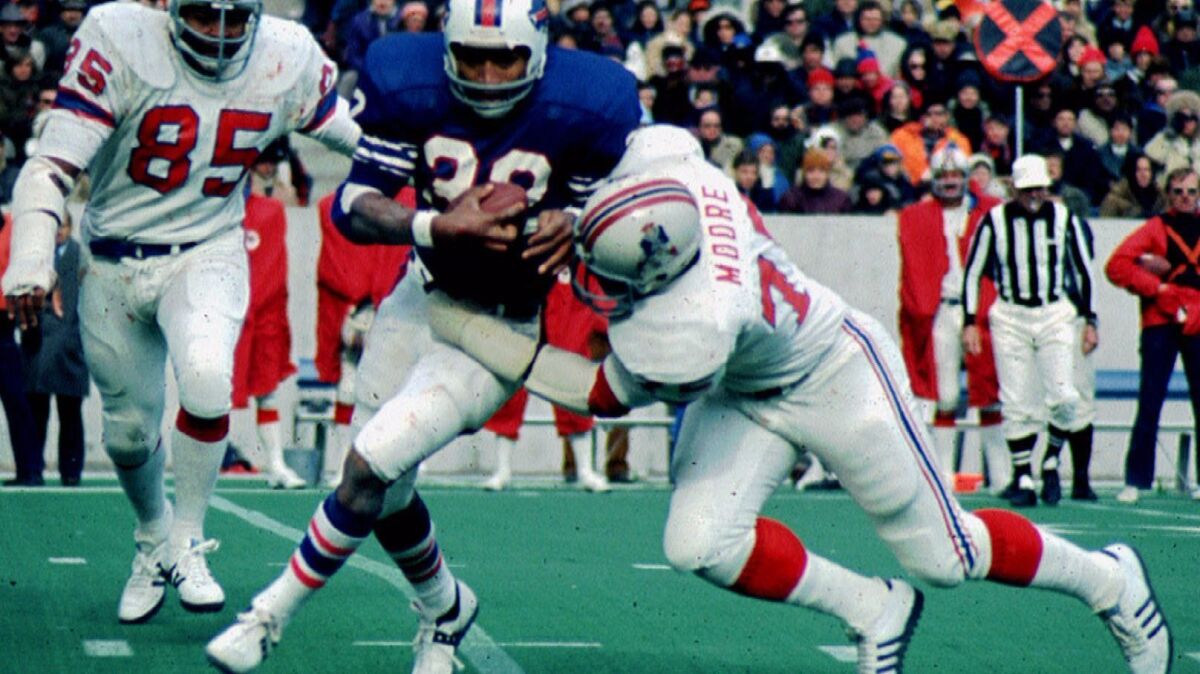 1978-1979
Return to San Francisco
The Bills trade Simpson to his hometown San Francisco 49ers in 1978. Simpson plays in San Francisco for two seasons. His final NFL game is on Dec. 16, 1979, against the Atlanta Falcons.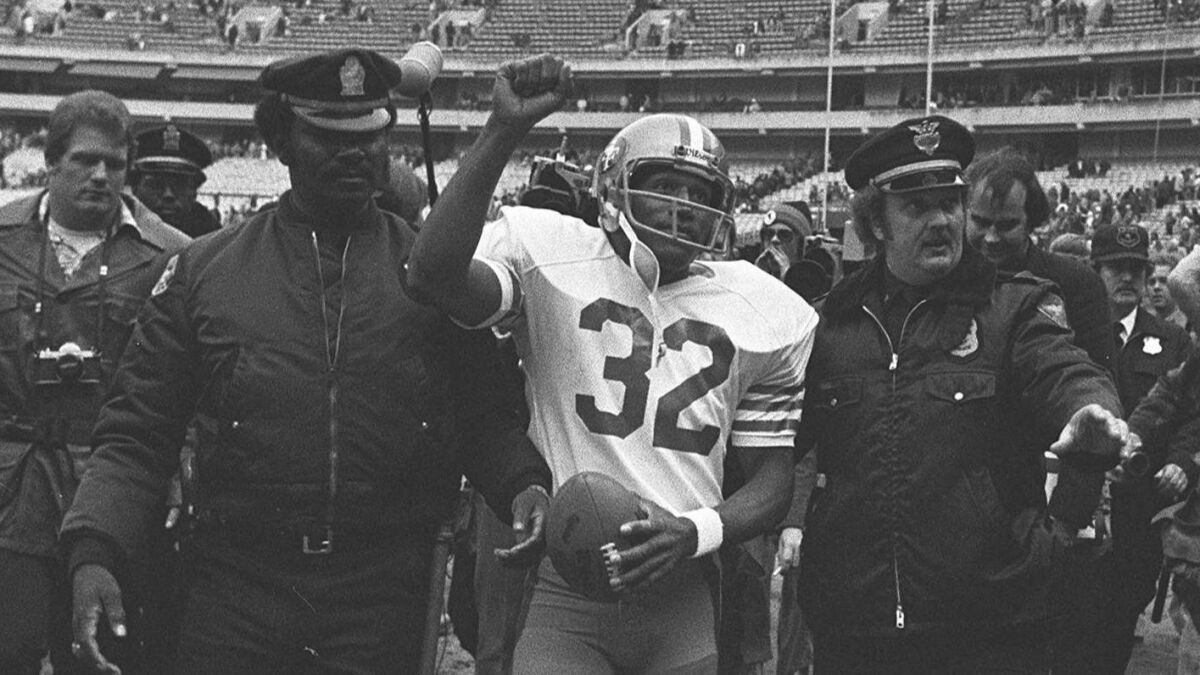 1974-1983
The Hollywood years
Simpson takes on a string of acting projects, including a role in the television miniseries "Roots" in 1977 and motion pictures such as "The Klansman," "The Towering Inferno," "Capricorn One" and "The Naked Gun" trilogy.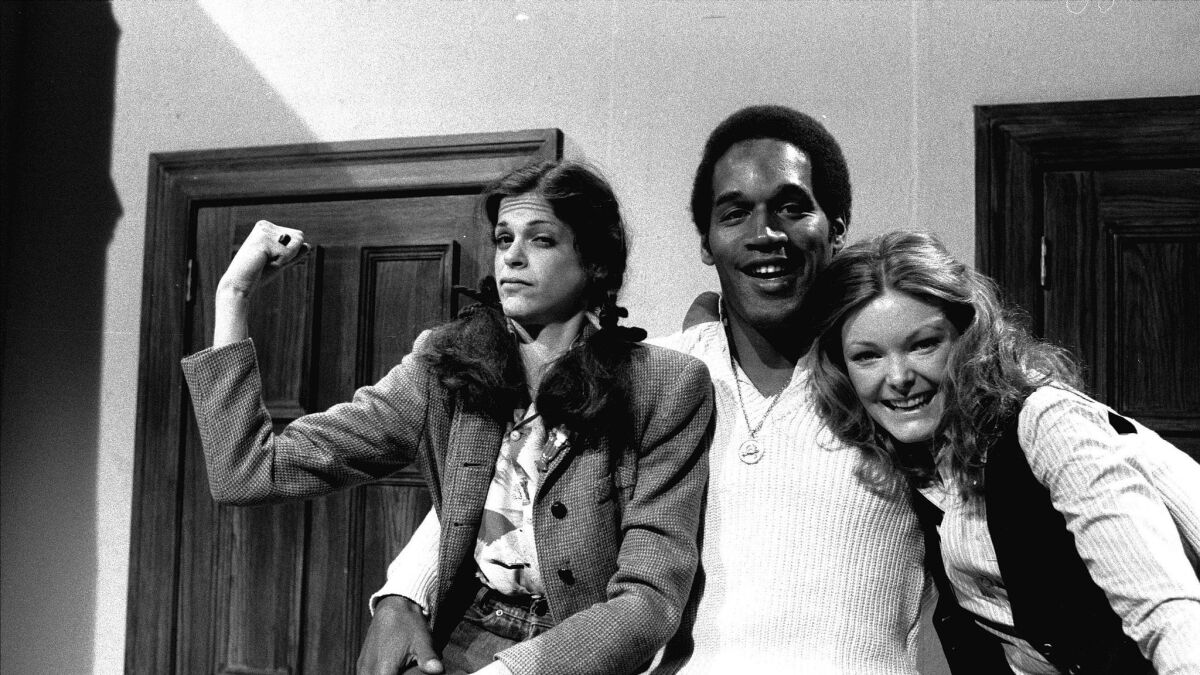 1985
Hall of Fame
Simpson is inducted into the Pro Football Hall of Fame in his first year of eligibility.
JUNE 12, 1994
The deaths of Nicole Brown Simpson and Ron Goldman
Simpson's former wife, Nicole Brown Simpson, and 25-year-old Ronald Lyle Goldman are found dead outside of her Brentwood condominium. Shortly after the grim discovery, police begin searching for O.J. Simpson, learning several hours later that he was in Chicago.
JUNE 17, 1994
The Bronco chase
After agreeing to turn himself in to authorities to face murder charges in the deaths of Brown and Goldman, Simpson and former USC teammate Al Cowlings lead police on an internationally televised car chase. Simpson eventually surrenders at his home and is arrested and charged.
Read The Times' 1994 coverage of the car chase »
SEPT. 26, 1994
'Trial of the century' begins
More than 200 prospective jurors report for duty as the murder trial begins.
JAN. 24-30, 1995
Opening statements
After months of anticipation, prosecutors in the double-murder trial reveal their case to the public, telling a jury of eight women and four men from across Los Angeles County and millions of television viewers that behind the public persona of "The Juice" was a controlling man who had tried to dominate Nicole Brown Simpson and killed her when he failed.
Read excerpts of the prosecution's opening statements »
Johnnie L. Cochran Jr. completes his opening statements on Jan. 30. "This careless, slipshod and negligent collection and handling and processing of samples by basically poorly trained personnel from LAPD has contaminated, compromised and corrupted the DNA evidence in this case," Cochran told jurors.
Read excerpts of the defense's opening statements »
SEPT. 27-28, 1995
'If it doesn't fit, you must acquit'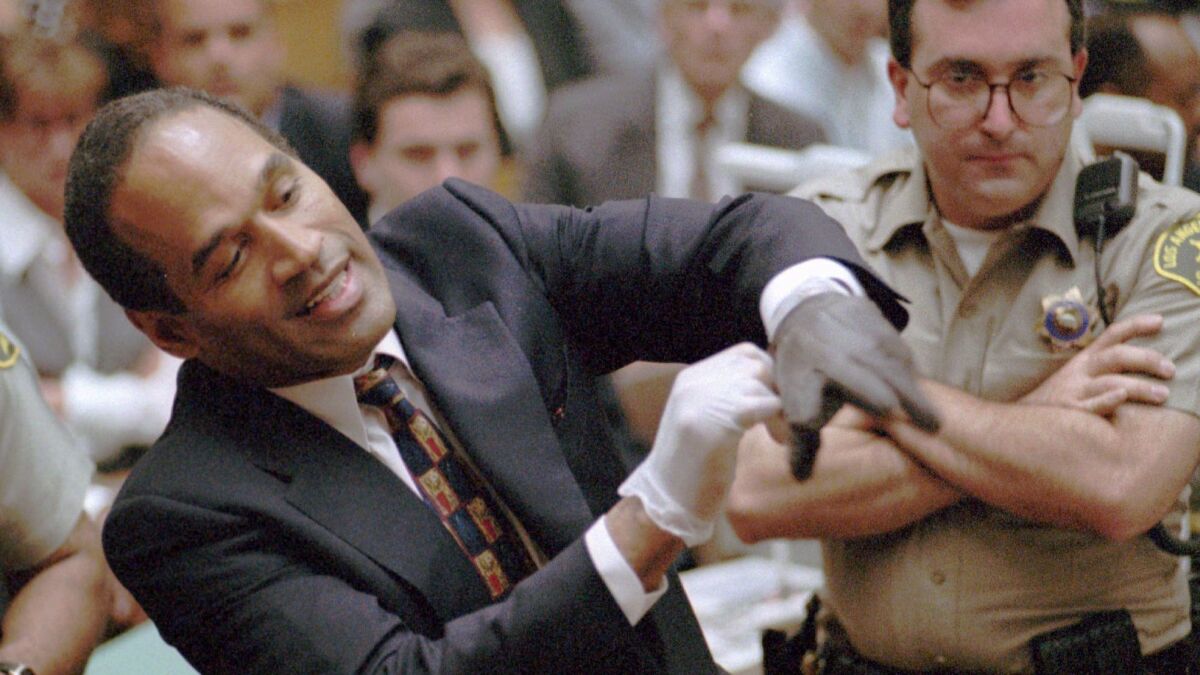 After a grueling trial, prosecutors Marcia Clark and Christopher Darden deliver the prosecution's closing arguments on Sept. 27. The following day, defense attorneys Cochran and Barry Scheck deliver their closing arguments. Cochran famously told the jury: "If it doesn't fit, you must acquit," referencing the leather gloves Simpson had put on during the trial.
Read excerpts of the prosecution's closing statements »
Read excerpts of the defense's closing statements »
OCT. 2-3, 1995
Not guilty
Less than a day after beginning deliberations, jurors reach their verdict. The announcement shocks Simpson, legal analysts, police and the national television audience. Simpson is found not guilty of two counts of murder 474 days after he was arrested and charged.
FEBRUARY 1997
Simpson liable for Brown and Goldman deaths
A civil lawsuit filed by the victims' families ends with a jury finding Simpson liable for the deaths of Nicole Brown Simpson and Ron Goldman. He is ordered to pay the survivors $33.5 million. This decision contradicted the 1995 criminal court verdict that found Simpson not guilty of the murders and left behind questions about the quality of the American justice system, race and gender.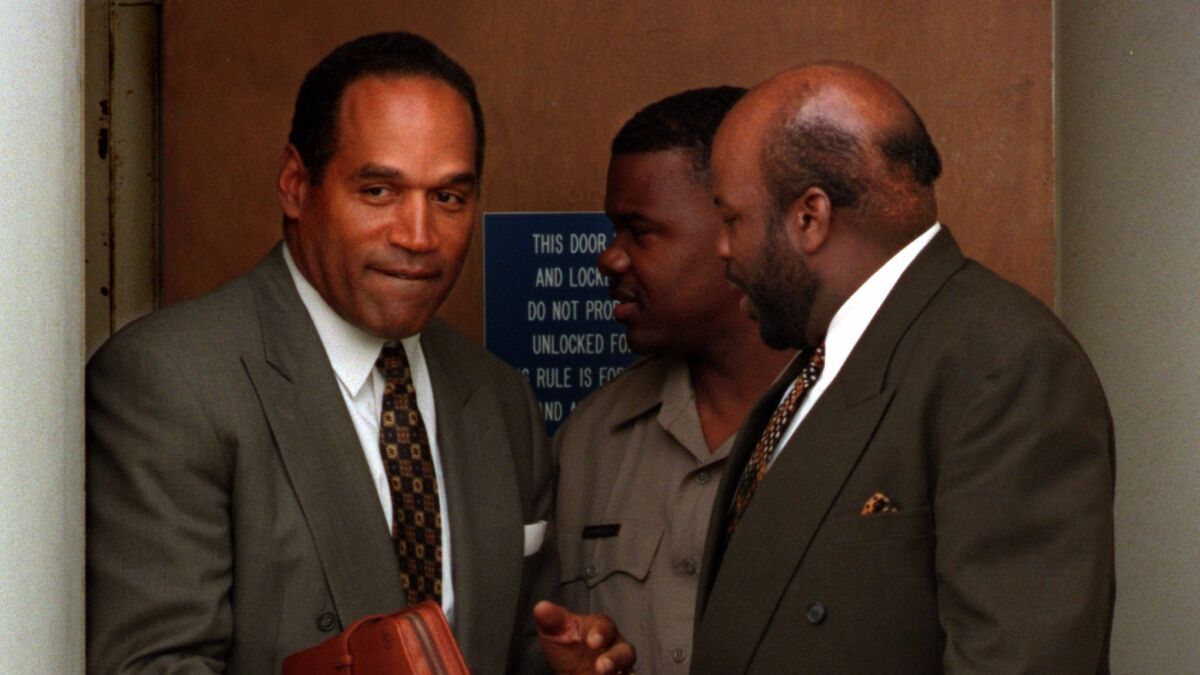 Read more about the Simpson civil trial »
JULY 2007
'If I Did It'
A federal bankruptcy judge awards the rights to a book by Simpson, in which he discusses how he could have committed the killings, to Goldman's family as partial payment of the civil trial judgment. The family renames the book "If I Did It: Confessions of the Killer."
SEPTEMBER 2007
Memorabilia robbery
Simpson, accompanied by five men, confronts two sports-memorabilia dealers in a Las Vegas hotel room over items that the dealers planned to sell that Simpson claimed rightfully belonged to him. With the two men held at gunpoint, Simpson and the others fill pillowcases with memorabilia and other items. Simpson is arrested Sept. 16, 2007, and held without bail.
OCT. 3, 2008, and December 2008
Guilty and sentenced to nine to 33 years
On Oct. 3, 2008 — exactly 13 years after Simpson was acquitted of charges in the double slaying of his ex-wife and Goldman — a jury finds Simpson and co-defendant Clarence "C.J." Stewart guilty of kidnapping, armed robbery, assault with a deadly weapon, burglary and conspiracy. The other accomplices had taken plea deals and received probation.
In December, Simpson is sentenced to nine to 33 years and sent to Lovelock Correctional Center in northern Nevada.
Read The Times' coverage of Simpson's armed robbery trial »
JULY 2013
Parole is granted on some convictions
Nevada officials grant Simpson parole on several of his 2008 convictions for kidnapping and armed robbery, but the former football star still faces prison time on sentences ordered to run consecutively.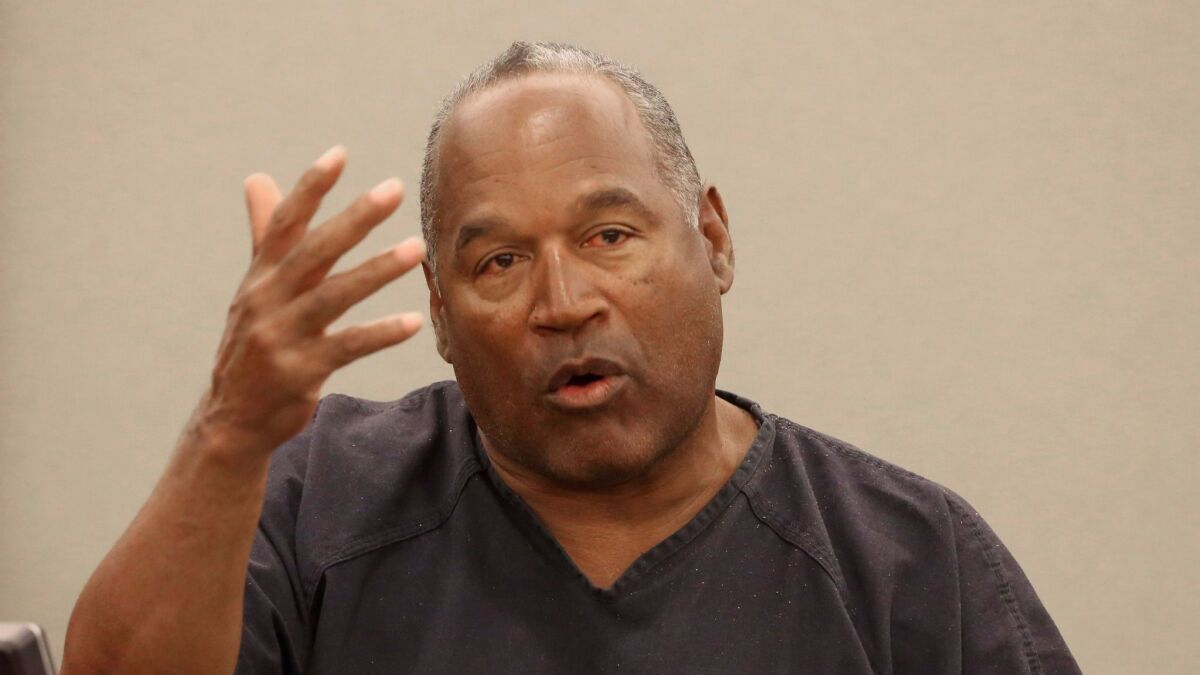 July 2017
Will he be paroled?
Nevada parole officials are expected to decide Thursday whether Simpson, now 70 years old, should be paroled after serving the mandatory minimum of his sentence for robbery.
Retired Lovelock prison guard Jeffrey Felix told The Times that Simpson is the perfect candidate for parole. "That's all he thinks about," said Felix. "If he gets into a conflict [with another inmate], he backs out. He wants to be a free man again."
Read the Times' coverage of what life is like behind bars for O.J. Simpson »
Twitter: @kelceycaulder
---
Must-read stories from the L.A. Times
Get the day's top news with our Today's Headlines newsletter, sent every weekday morning.
You may occasionally receive promotional content from the Los Angeles Times.