Philadelphia's new district attorney isn't who you'd expect. Is his election a sign of more change to come?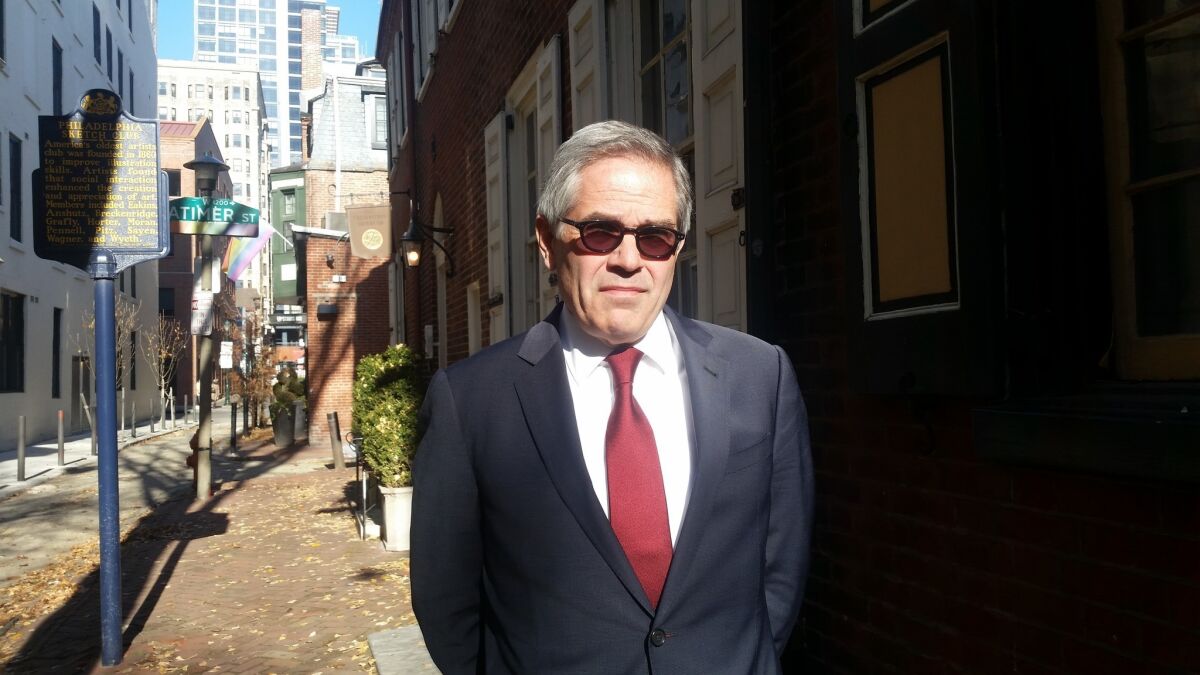 Reporting from Philadelphia —
For seven weeks in 2011, Occupy Philadelphia protesters camped out in a park next to City Hall to call attention to the economic inequality dividing their city and the influence of corporations in government. Police eventually swarmed the plaza, arresting 52 people on charges of failing to disperse and obstructing a highway.
The protesters struck back. Attorney Larry Krasner filed suit against the city and police, alleging that the protesters had been unlawfully arrested while exercising their constitutional rights to free speech and assembly. The city ultimately agreed to settle the case for $200,000.
That was then. Krasner, who has defended countless other activists and accused criminals over a 30-year career, is now preparing for a new role as Philadelphia's top prosecutor. He assumes the office on Tuesday.
The election of Krasner, a longtime champion of individuals fighting the status quo, is viewed by many in this city as a long overdue step toward fighting corruption and injustice in a metropolis that jails people at a rate more than twice the national average and whose last top prosecutor pleaded guilty to federal bribery charges.
Even as Atty. Gen. Jeff Sessions has vowed to get tougher on crime, Krasner joins a growing list of district attorneys around the country — including Eric Gonzalez in Brooklyn, Kim Foxx in Chicago and Kim Ogg in Houston — who have declared that their role isn't simply to prosecute, but to protect defendants from the excesses of the criminal justice system.
Some say Krasner's win may signal a broader shift to come in 2018.
"What happened in Philly is starting to open the eyes of people in other places," said Clarise McCants, campaign director for Color of Change, a racial justice group that works to elect officials who will be responsive to African Americans.
Krasner, 56, never thought about running for district attorney. He spent his career on the other side of the courtroom and sued police dozens of times for corruption and abuse.
But in late 2016, as he was evaluating possible candidates to replace incumbent Dist. Atty. Seth Williams, Krasner didn't think any were fit for the job.
"I saw no potential for real transformational change," he said in an interview.
He decided to run himself.
"The culture around criminal justice has not been justice," Krasner said when he announced his candidacy. He described a record of mandatory and "excessive" sentencing and a system that disproportionately incarcerates minorities and poor people.
He campaigned on a platform of changing that culture, vowing to "decarcerate" Philadelphia, reform cash bail, treat drug addiction as a medical issue rather than a crime, protect immigrants and focus on serious criminals over low-level offenders. He also committed not to seek the death penalty.
Krasner's ties to activists, community groups and national political organizations such as Color of Change and Bernie Sanders spinoff Our Revolution played a pivotal role in helping get him elected, said Richardson Dilworth, a professor of politics at Drexel University in Philadelphia.
The Pennsylvania Working Families Party, which focuses on workers' rights and the social safety net, endorsed Krasner and campaigned for him almost immediately after he announced his candidacy.
"This was the person who had a view point and saw the world through a similar framework as we saw it," said director Brandon Evans, who secured labor support for Krasner and organized a canvassing strategy in voter-rich neighborhoods.
But Evans also said Krasner's candidacy came at the right time. "We're in a Black Lives Matter moment," he said.
An influx of $1.45 million from billionaire George Soros, who has invested in a handful of reform candidates in district attorney races around the country, also helped. The money bought messages on local airwaves and to mailboxes about Krasner's work defending Black Lives Matter activists and suing police.
Krasner won the Democratic primary in May with 38% of the vote, defeating six other candidates in most of the city's 66 political wards.
But he lacked support from key corners. He lost wards in Philadelphia's far northeast and deep south — neighborhoods that voted for Donald Trump in the 2016 general election and which are home to white, working-class voters and police.
Just before the primary, a group of former assistant district attorneys published an open letter describing Krasner as "a radical candidate with no experience prosecuting crime," and someone who had done little to help crime victims.
The Philadelphia Inquirer endorsed Krasner's opponents in the primary and general elections. So did the police union, whose president described Krasner as having "open hostility" to police and said he would be a "danger" to Philadelphia.
"He's going to need those police — and they don't trust him, " said Lynne Abraham, who served as Philadelphia's district attorney from 1991 to 2010.
Abraham, who earned the moniker "deadliest D.A." for her aggressive pursuit of capital punishment, also criticized Krasner for his stance on the death penalty and what she saw as soft-on-crime policies.
"You're supposed to be a tough prosecutor — that's what you're paid to do," she said. "I think he's going to have difficulty trying to convince people that his philosophy is the right philosophy."
Krasner will face a high-profile test early in his administration, in the form of a trial involving the shooting of police Sgt. Robert Wilson in 2015.
At least one of the two accused gunmen in the case had prior convictions, and they are charged with shooting Wilson during an attempted robbery while he was on duty — elements that prosecutors described in court documents as "aggravating factors" that would potentially justify a death penalty.
Krasner has repeatedly said his office will not seek the death penalty, describing it as wasteful, ineffective and racially biased.
But Krasner could be stymied by political pressure. Orlando Dist. Atty. Aramis Ayala, who took office in January, fought and lost a public battle with Florida Gov. Rick Scott over her discretion not to seek the death penalty.
On top of that, much of the day-to-day work of the district attorney's office — meeting with defense attorneys, arguing cases in court — is done by line prosecutors.
"Getting a policy decision made by the D.A. implemented at the local level takes getting buy-in from the rank and file," said David Sklansky, a law professor at Stanford University who has studied the role of prosecutors.
Krasner said he wouldn't presume to force the police to act a certain way. "But what I can do is reject cases," he said. "I cannot put forward evidence that has been illegally seized."
Reforming the cash bail system will also take the support of individuals outside the district attorney's office.
Advocates concede these are complex issues that Krasner can't fix on his own, but they worry he will back down amid political pressure.
Jondhi Harrell, executive director of the Center for Returning Citizens, which helps the formerly incarcerated, said Krasner may have already started backpedaling, by appointing former tough-on-crime district attorney and Pennsylvania Chief Justice Ronald Castille as one of the leaders of his transition team.
"Is he really going to look out for the community or is he going to become a political animal and bow to the pressures of the D.A.'s office?" Harrell asked.
Around the country candidates in other races will be watching.
"Philly presented our first opportunity to shift the entire candidate field and to shift the entire political landscape left," said McCants of Color of Change.
She said her group will be marshaling similar candidates in several district attorney races in 2018, including in Dallas; Durham, N.C.; and Oakland. "The small number of [reform-minded] prosecutors we have elected so far," she said, "is nothing compared to the kind of impact we could have."
And it's not just in prosecutor's races. Evans, of the Working Families Party, said the Philadelphia district attorney's election put Pennsylvania's nascent chapter of the party on the state's political map.
"What people saw was that progressives could get out front and have a major candidate win a pretty significant race in a large city," Evans said, noting that he has since received calls from candidates for local and statewide office who want to launch their campaigns with the Working Families Party.
"There's a progressive pole to point to and say, 'We did that, we can do more of that,'" he said.
Twitter: @AgrawalNina
Must-read stories from the L.A. Times
Get the day's top news with our Today's Headlines newsletter, sent every weekday morning.
You may occasionally receive promotional content from the Los Angeles Times.