His frustrations public, Tillerson tries to tamp down resignation speculation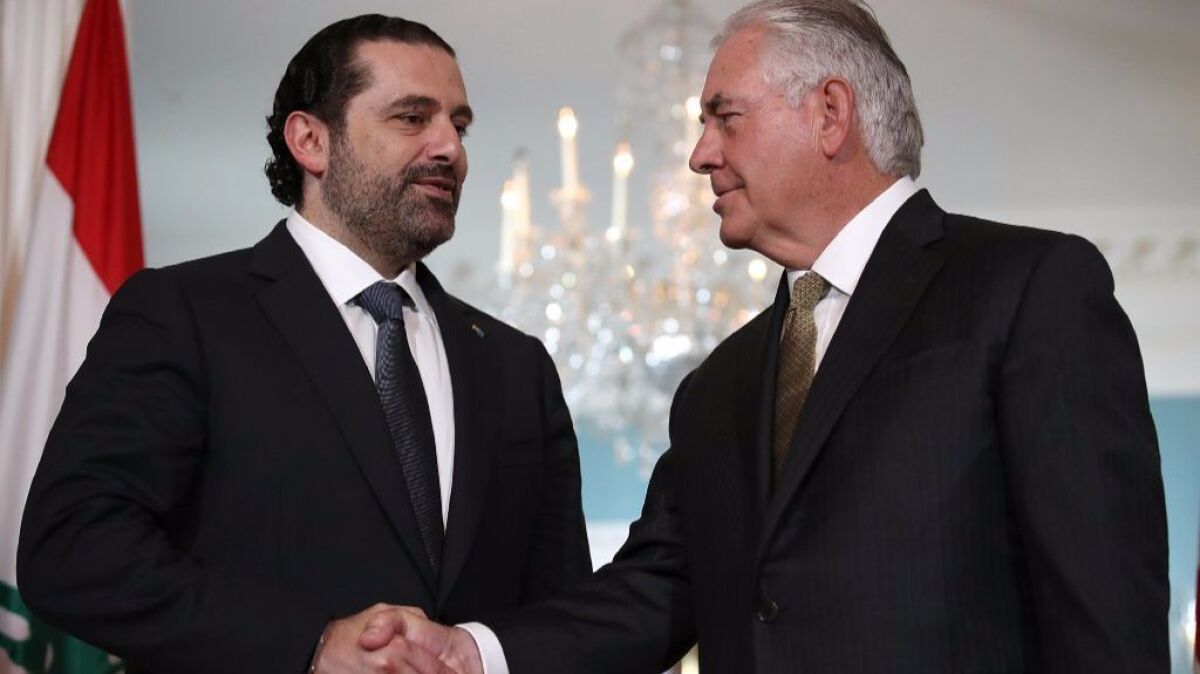 Reporting from Washington —
Secretary of State Rex Tillerson held his first public event in five days Wednesday — a meeting with the visiting Lebanese prime minister — as aides try to quell speculation over whether he is considering resigning.
Speculation about the possibility of a Tillerson resignation has been mounting as the secretary's frustrations with life in the Trump administration have been increasingly on display. His top aides deny he is considering resignation, but that has not stopped the guessing game.
CNN even gave it a clever name: Rexit.
Sen. Bob Corker (R-Tenn.), the chair of the Senate Foreign Relations Committee, said Wednesday he had spoken with Tillerson on Tuesday night and encouraged him to hang on.
"Tillerson is a patriot, he really is, and he wants good things to happen for our country," Corker said at a forum sponsored by the Washington Post.
"I don't think Tillerson is on the verge of resigning. I don't see that," Corker said. "I think he understands how important the triumvirate that exists between him and [Defense Secretary James] Mattis and [national security advisor H.R.] McMaster are for our nation today."
The fact that Corker felt moved to publicly comment on the issue indicates how widespread the speculation has become.
Some officials at the State Department blame the White House for the talk of Tillerson quitting, believing that the rumors are a trial balloon being floated as a way for President Trump to warn Tillerson to keep in line — Trump toying with his secretary of State similar to the way he is publicly tormenting Atty. Gen. Jeff Sessions.
On Wednesday, standing before cameras for a brief meet-and-greet with Lebanese Prime Minister Saad Hariri, the normally taciturn Tillerson seemed to take pains to show how active he has been, going into unusual detail about his day so far.
"So I had a very good working breakfast this morning with [House] Speaker [Paul] Ryan," Tillerson told reporters. "We covered a number of important topics, had a lengthy meeting with the vice president at the White House on some important policy issues today, and now I'm pleased to welcome prime minister of Lebanon Hariri here at the State Department. …
"And I know the prime minister had a very, very positive meeting with President Trump yesterday, and we look forward on kind of building out on some of the details from that meeting."
Later, appearing with the foreign minister of Qatar, Tillerson responded to a question about whether he was staying in his job.
"I'm not going anywhere," he said. Asked for how long, he said: "As long as the president lets me." He added that his relationship with Trump was "good."
Before Wednesday, Tillerson's last appearance was an unannounced speech at the Boy Scout Jamboree in West Virginia on Friday. The State Department public schedule in recent days listed "no public appointments" for Tillerson.
A spokeswoman, Heather Nauert, let slip on Tuesday that he was "out for travel for a few days," possibly to his home state of Texas. Nevertheless, his staff apparently thought it important for him to be back at Foggy Bottom on Wednesday as they were being called on repeatedly to knock down resignation rumors.
Other officials said Tillerson appeared determined to stay in office at least long enough to conduct the wide-ranging organizational overhaul of the State Department that he launched in response to President Trump's orders to slash the budget for diplomacy, foreign assistance and international development work by nearly a third.
To the chagrin of many in the department, the former CEO of Exxon Mobil has embraced the budget cuts and vowed to create a leaner, more efficient bureaucracy.
But Tillerson has also revealed a deep frustration with the mission and the office. Returning earlier this month from a long, grueling trip to Europe and the Persian Gulf region, Tillerson gave a series of surprisingly candid remarks to two reporters on board his private jet.
"Well it is a lot different than being CEO of Exxon because I was the ultimate decision-maker," he said of his current job. "That always makes life easier."
He went on to speak somewhat wistfully of the "efficient," "disciplined," streamlined decision making of a corporate world where he knew all the players and could be confident of the process, by contrast to being an aide to a volatile, inexperienced boss.
The trip to the Gulf, for example, was in large part to smooth feathers ruffled by Trump, who publicly contradicted Tillerson by siding with one ally, Saudi Arabia, in an angry dispute with another ally, Qatar. Trump has also contradicted Tillerson on issues from NATO allegiance to ties with Mexico.
Tillerson also had to fight tooth and nail to get Trump to sign off on certifying that Iran was compliant with the 2015 nuclear accord; failure to do so could have serious international consequences, straining U.S. alliances. Just this week, Trump again publicly threatened to overrule Cabinet members and break the accord.
For more on international affairs, follow @TracyKWilkinson on Twitter
ALSO
GOP senator says 'I'm worried' about Donald Trump, calls Republican congressman 'so unattractive'
Gov. Jerry Brown signs law to extend cap and trade, securing the future of California's key climate program
House approval of Russia sanctions bill is a rebuke to Trump
---
UPDATES:
1:45 p.m.: This article has been updated with a quote from Tillerson at his appearance with the foreign minister of Qatar.
This story was originally published at 1:15 p.m.
---
Must-read stories from the L.A. Times
Get the day's top news with our Today's Headlines newsletter, sent every weekday morning.
You may occasionally receive promotional content from the Los Angeles Times.