Trump aides appear to distance themselves from his Charlottesville remarks, but defend Arpaio pardon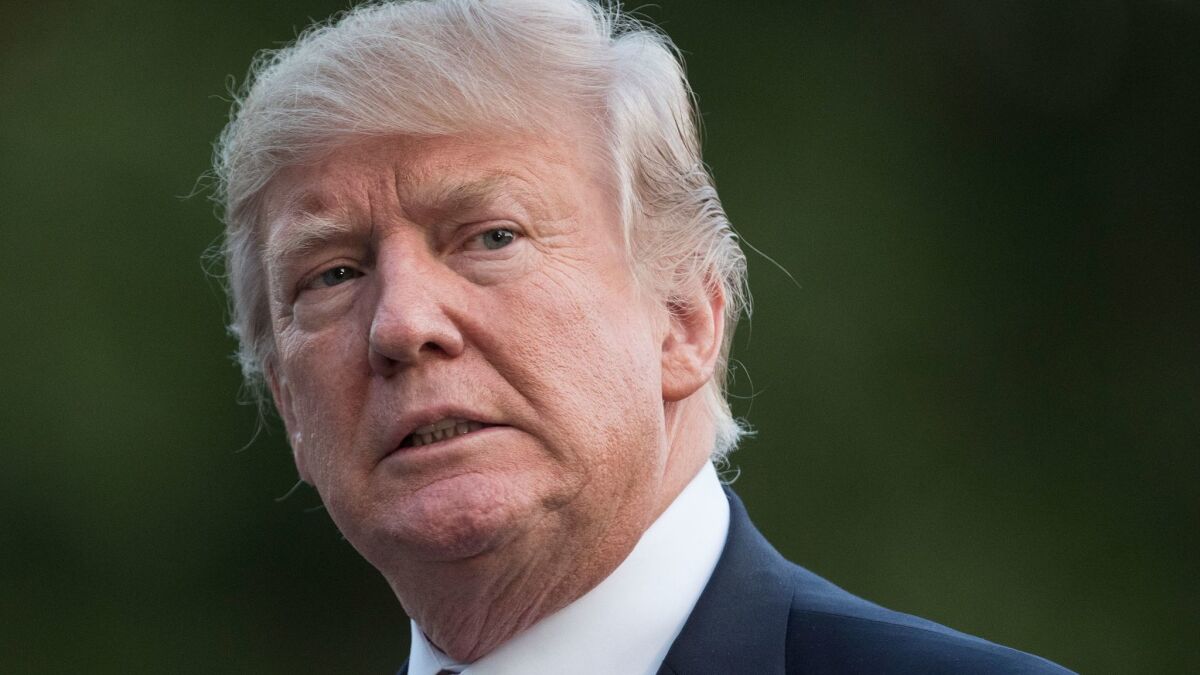 Reporting from WASHINGTON —
The White House on Sunday defended President Trump's divisive pardon of a former Arizona sheriff who had engaged in racial profiling, even as cracks began to appear within the administration over the president's response to white supremacist violence in Charlottesville, Va.
As the outcry over Trump's leadership on race continued to mount, his secretary of State and a top homeland security advisor appeared — unusually — to distance themselves from the president's post-Charlottesville statements, in contrast to the full-throated defense most administration officials had previously offered.
Secretary of State Rex Tillerson, appearing on "Fox News Sunday," was asked about a United Nations panel's recent criticism of the U.S. over its failure at "the highest political level" to "unequivocally reject and condemn … racist violent events."
The U.N. Committee on the Elimination of Racial Discrimination, which normally confines its concerns to the actions of dictators or groups like Islamic State, did not mention Trump by name, but its statement clearly referred to this month's white supremacist march in Charlottesville and its deadly aftermath.
A 32-year-old paralegal, Heather Heyer, was killed Aug. 12 when a car plowed into a crowd of counter-protesters; a 20-year-old Ohio man described as a Nazi sympathizer, James Alex Fields Jr., has been charged in the killing.
Asked about the U.N. panel's statement, Tillerson said he did not believe "anyone doubts the American people's values" with respect to combating racism. But pressed by interviewer Chris Wallace as to whether Trump shared those values, Tillerson replied, "The president speaks for himself."
When Wallace queried him about whether he was separating himself from Trump's views, Tillerson again offered distancing language, saying that "I have made my own comments" as to American values on race and racism.
Trump places a premium on personal loyalty, and his aides tend to staunchly defend him even under the most controversial circumstances.
But even amid the fresh furor over Joe Arpaio, the former sheriff in Arizona's Maricopa County, the White House homeland security advisor, Tom Bossert, seemed to contradict on Sunday the president's contention that there had been "very fine people" marching among the white supremacists in Charlottesville.
Asked about that characterization, Bossert said that "I think you'll have to ask the president how he wanted to parse" the march participants. "I'd ask you to ask the president for clarification," he said on ABC's "This Week."
Queried about his own opinion of those hurling racial invective while marching with Confederate banners, Bossert said, "I don't think anyone chanting those things is a 'very fine person' — period."
He did defend the overall tenor of Trump's remarks condemning racism, however.
"I can't be clearer," the homeland security advisor said after repeatedly attempting to return the conversation to the administration's response to the hurricane that hit Texas. "I think the administration's been clear."
The remarks from Tillerson and Bossert follow a more blunt criticism last week from Gary Cohn, Trump's economic advisor, who told the Financial Times that the administration "must do better" at condemning racism. Cohn said he had considering resigning over Trump's reaction to Charlottesville but decided to stay in his post.
In an essay published Sunday, former Vice President Joe Biden directly accused Trump of emboldening white supremacists and other far-right extremist groups.
Like many Trump critics, the former vice president drew parallels between the Arpaio pardon and events in Charlottesville.
"If it wasn't clear before, it's clear now," Biden wrote in a starkly worded opinion piece ay on the Atlantic magazine's website. "We are living through a battle for the soul of this nation. The giant forward steps we have taken in recent years on civil liberties and civil rights and human rights are being met by a ferocious pushback from the oldest and darkest forces in America."
Now, Biden wrote, Trump has "pardoned a law-enforcement official who terrorized the Latino community, violated its constitutional rights, defied a federal court order to stop, and ran a prison system so rife with torture and abuse he himself called it a 'concentration camp.'"
Bossert played down the significance of Trump's pardon of Arpaio, who had been convicted of criminal contempt of court.
Trump's announcement of the pardon, made late Friday as Hurricane Harvey was bearing down on Texas' Gulf Coast, drew criticism from some high-profile Republicans, including the state's two GOP senators and, on Saturday, House Speaker Paul D. Ryan (R-Wis.), who is normally muted in his commentary about the president's actions, if not cheering him on.
"The speaker does not agree with the decision," Ryan's spokesman Doug Andres said.
Democrats including Rep. Adam B. Schiff (D-Burbank) have expressed concerns that the pardon might be an attempt to undermine the wide-ranging Russia investigation by Robert S. Mueller III, the special counsel who is examining potential collusion between the Kremlin and the Trump campaign.
Schiff, the highest-ranking Democrat on the House Intelligence Committee, said Saturday that the Arpaio pardon could be intended to reassure former Trump associates under scrutiny that the president would undo contempt convictions they might face if they fail to cooperate with investigators.
Some Republicans, including Sen. John McCain (R-Ariz.), said the pardon undermined Trump's promise to respect the rule of law.
Bossert argued that pardoning Arpaio was "pretty straightforward" and "not something that is going to threaten our constitutional order."
"I certainly don't think it's fair to characterize [Trump] as not caring about the rule of law," he said.
Must-read stories from the L.A. Times
Get the day's top news with our Today's Headlines newsletter, sent every weekday morning.
You may occasionally receive promotional content from the Los Angeles Times.