Trump's foreign policy appears in disarray on major fronts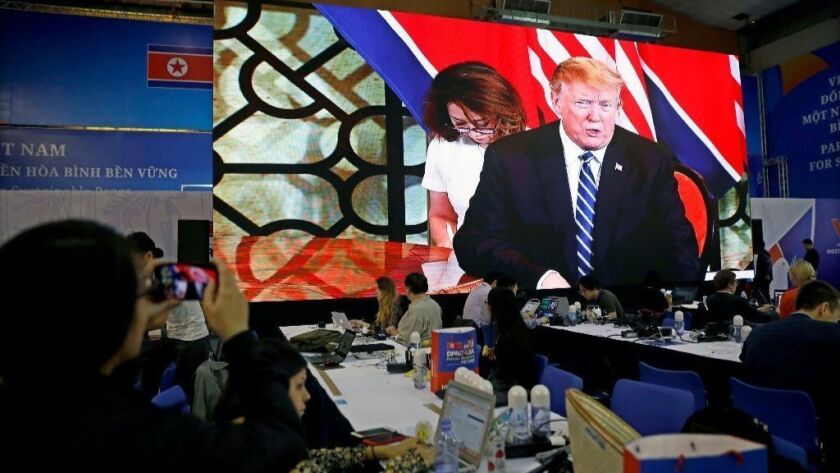 Reporting from Washington —
With the abrupt collapse of President Trump's second nuclear summit Thursday, another key prong of his audacious foreign policy appeared in disarray, at least for now.
The breakdown of talks with North Korean leader Kim Jong Un in Hanoi came as the White House struggled to win regional support for its still-secret Mideast peace proposal, and as Trump's efforts to unseat the president of Venezuela have yet to produce results.
With all three priorities, Trump has discovered that his enthusiasm, flattery and TV-reality-style showmanship haven't been enough to untangle the diplomatic knots in some of the world's most troublesome regions.
Trump has found little international support for his withdrawal from the 2015 nuclear accord with Iran and his pullout from the Paris climate agreement. He has squabbled with America's traditional allies in Europe and Canada and challenged international institutions and alliances as obsolete.
But his signature foreign policy efforts may be the most directly affected by his unconventional approach.
Trump's senior advisor and son-in-law, Jared Kushner, wrapped up a five-nation Middle East tour Thursday intended to raise support for a possible Israeli-Palestinian peace plan — what Trump has called "the deal of the century."
The White House has repeatedly promised to release details of the plan and now says it will do so in April after the Israeli elections. But Palestinian officials have boycotted any meetings with senior U.S. officials, so its prospects for success remain dim.
Kushner's latest visit to the region was overshadowed by his first meeting with Saudi Crown Prince Mohammed bin Salman since the killing of Washington Post columnist Jamal Khashoggi in a Saudi consulate. U.S. intelligence has assessed that Mohammed likely authorized the murder.
According to the White House, Kushner and other officials discussed greater U.S.-Saudi cooperation, the administration's peace proposal, and "ways to improve the condition of the entire region through economic investment." The statement didn't mention Khashoggi.
U.S. efforts to dislodge Venezuelan President Nicolas Maduro, and to install opposition leader Juan Guaido, also have come to naught so far.
Vice President Mike Pence has led the charge. He met with Guaido on Monday in neighboring Colombia and announced new sanctions on Venezuelan officials.
That came two days after a U.S.-backed effort to send convoys of food and medicine into Venezuela from Colombia and Brazil led to deadly clashes between anti-Maduro protesters and Venezuelan security forces, leaving at least four people dead.
The administration has signaled that it will push a resolution at the U.N. Security Council calling for free, fair and credible presidential elections in Venezuela. But Russia, which supports Maduro, is expected to veto it.
U.S. officials insist that members of Maduro's army and spy services have begun to defect to the opposition. But Guaido was reported in Brazil on Thursday, and Maduro appears firmly in control.
Secretary of State Michael R. Pompeo said the anti-Maduro campaign was not doomed.
"We are hopeful that, over the next couple of weeks, we can really begin to make a dent in that problem," he told reporters as he flew from Hanoi to Manila on Thursday. "It is big problem."
The setback for Trump's diplomacy was strongest at the nuclear summit in Hanoi.
"This should not have happened," Richard Haass, president of the nonpartisan Council on Foreign Relations, tweeted after the summit collapsed.
"Busted summit is risk you run when too much faith placed in personal relations w leader like Kim, when summit inadequately prepared, and when president signaled he was confident of success," the tweet read.
Several experts said Trump was correct to walk out in a dispute over Kim's demands to lift some U.S. sanctions in exchange for a promise to dismantle North Korea's main production facility — but not the only one — for the enriched uranium and plutonium used in nuclear bombs.
But, they said, the negotiations should not have reached that point, a breakdown that could impede the resumption of talks.
"This is the risk of trying diplomacy of this delicacy at the highest level," Susan Rice, national security advisor to President Obama, told NPR. "When leaders fail under such a spotlight, it's harder to put Humpty Dumpty back together."
It wasn't clear if Trump acted on his own or at the urging of advisors, something he has not always done.
Trump met alone with Kim at their first summit in Singapore in June. In Hanoi, Pompeo, who has urged more caution on North Korea and openly contradicted the president about the nuclear threat, accompanied Trump.
Trump's national security advisor, John Bolton, also sat at the table in Hanoi with Kim and Trump. Bolton, who views Pyongyang with deep suspicion, was previously sidelined in the nuclear negotiations.
Olivia Enos, a fellow at the conservative Heritage Foundation, which has advised Trump on foreign policy, offered several suggestions for dealing with North Korea that Trump could apply to other international negotiations.
The "emphasis going forward should be placed less on high-level summitry and more on working-level dialogue," Enos said in an email Thursday from Hanoi.
"That is where real progress is made because the thornier subjects can be discussed with a frankness that cannot happen when the two leaders meet during public, high-level summits."
For Trump to attend the Hanoi summit with high expectations — but without a pre-negotiated deal — was a risky strategy. "That should be avoided in the future," she said.
For more on international affairs, follow @TracyKWilkinson on Twitter
---
Must-read stories from the L.A. Times
Get the day's top news with our Today's Headlines newsletter, sent every weekday morning.
You may occasionally receive promotional content from the Los Angeles Times.