No touching during prison visits? Not when these girls see their inmate moms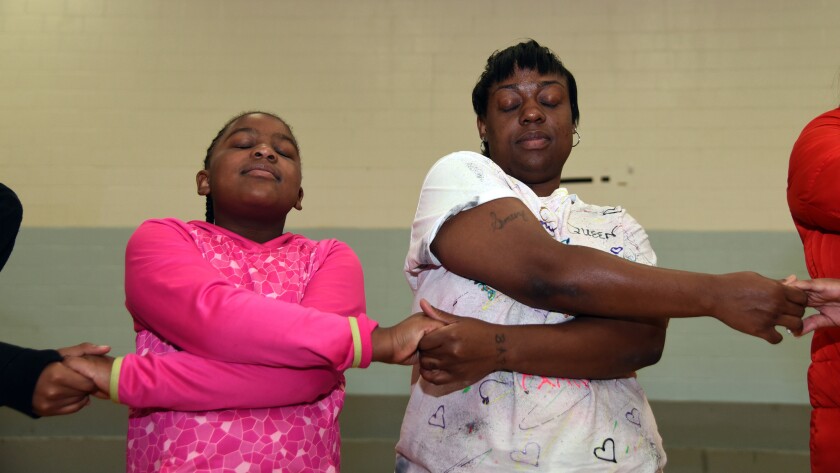 Reporting from JESSUP, Md. —
Nine-year-old Kuhmaria VanBuren ran into the prison gymnasium and jumped into her mother's arms with so much force they almost fell down.
For the next two hours, Kuhmaria let her mom braid her hair and cuddled in her arms, savoring the rare contact. Sapphire VanBuren, 26, has been incarcerated at the Maryland Correctional Institution for Women for over two years.
The VanBurens are among 30 mother-daughter pairs who come together at the Jessup prison twice a month through the Girl Scouts Beyond Bars program. The initiative, now in its 25th year, aims to foster bonds between young girls and their moms, even as metal detectors, locked gates and guards separate them most days of the year.
"It's wonderful just being able to be in her life, despite the circumstances," VanBuren said.
Administrators say the program helps boost the girls' self-esteem and provides them with a community of other children who understand what it's like to grow up with a mom in prison. For the mothers, the visits are a connection to life outside the prison walls and an incentive to get through their sentence without trouble.
The Girl Scouts of Central Maryland was the first to create such a troop, but over the next two decades, the model was duplicated in more than two dozen Girl Scout councils across the country. Since 1992, the Central Maryland council has served more than 400 girls and their mothers.
It was kind of nice to be yelled at again.
Cailyn Moreno, 14
When a woman is sent to prison, it breaks up the family, said Margaret Chippendale, the prison's warden. "This is just the opportunity to help stop that breakage, to bring mom and daughter back together," she said. "Incarceration is tough — it's tough for mom, but it's really tough on children and the families that've been left behind."
Women represent the fastest-growing population of prisoners in the country — increasing 14-fold between 1970 and 2014, according to one recent study. Two-thirds of incarcerated women leave behind at least one child, other figures show.
VanBuren has awhile to go on her 12-year sentence for assault and is grateful she gets to watch her daughter grow up.
"It's the reason why I keep pushing in here, why I stay out of trouble," VanBuren said. "It's all to get home to her."
During regular visitation, the inmate and the visitor sit on opposite sides of a table. There is no touching, save for a brief embrace that's permitted at the very end of the hour. A policy put into effect in 2015 across all Maryland correctional facilities bans touching at the beginning of a visit, kissing on the mouth and taking pictures, an effort to crack down on contraband exchanged during visitation.
In a Girl Scouts session, some of the young girls cling to their mothers for nearly the entire two hours.
Many of the mothers are dressed in the standard uniform — gray pants and a gray long-sleeve shirt. The girls, meanwhile, usually come in khaki pants, white shirts and sashes that signify their Girl Scout rank.
Cailyn Moreno, 14, and her sister, 8-year-old Ciara Wiseman, treasure the time they can spend telling their mother about their day-to-day life. Ciara bragged to their mother, Amanda Cooper, about how she can do eight cartwheels in a row. Cailyn asked for advice about boys at school and tells her mom how she's considering a career in pediatric surgery — she's been watching a lot of "Grey's Anatomy" lately.
But the sessions aren't only a time to catch up with mom, program officials say. The girls also take part in more traditional scouting activities. On this visit, the girls set up a cookie-selling station next to a metal detector in the visitors lobby.
After finishing up sales, the girls knew the routine: Go through the metal detector, lift your arms, get patted down, allow the K-9s to sniff around your feet.
Inside the prison gymnasium, after some free time, everyone stood together for a friendship circle. They sang "Happy Birthday" to those with a November birthday, and they shared special news. One girl talked about being named to the honor roll. Kuhmaria told the group she got a new kitten named Prince Charming.
Together, mothers and daughters recited the Girl Scout Promise and the Girl Scout Law — "I will do my best to be honest and fair, friendly and helpful, considerate and caring, courageous and strong, and responsible for what I say and do."
Then the girls broke up into age-appropriate clusters, joined by their moms, for activities. During one game, the girls were instructed to find out "fun facts" about their moms and each other.
Kuhmaria turned to her mother to ask what her fun fact is. "I love you more today than I did yesterday," VanBuren said.
One of the most treasured parts of the program, the girls say, is the annual sleepover. For an entire night, the moms and daughters can hang out, painting nails and watching movies, and get a brief taste of normalcy.
Cailyn remembers staying up all night for the sleepover — prompting her mother to yell at her to go to bed.
"It was kind of nice to be yelled at again," Cailyn said.
For some girls, it is the first full night they've ever spent with their mothers. An estimated 1 in 25 women is pregnant at the time she is sent to prison.
The program took a financial hit in 2012, when the U.S. Department of Justice stopped awarding money to the national Beyond Bars initiative. The Central Maryland council received federal dollars each year from 2002 to 2012, but now relies on other grants and donations. Some programs elsewhere ended. About 15 councils still have programs, Girl Scouts officials say.
At the end of the recent visit, everyone gathered again in a circle to say what they are thankful for. The mothers and daughters would again be celebrating Thanksgiving apart.
"I'm thankful for my mommy," one girl said. "For my support system," said another. "For Girl Scouts," a few girls chimed in.
When it came time for goodbyes, moms peppered their daughters' faces with kisses, and reached out for second and third hugs.
Through windows that overlook the prison's gymnasium, some of the women waved both hands while their daughters slowly disappeared from view. The daughters, turning back, blew kisses until they were escorted past the windows and through a locked door.
Richman writes for the Baltimore Sun.
---
The Latinx experience chronicled
Get the Latinx Files newsletter for stories that capture the multitudes within our communities.
You may occasionally receive promotional content from the Los Angeles Times.