Aid reaches some in Puerto Rico, but water, food and electricity remain desperately scarce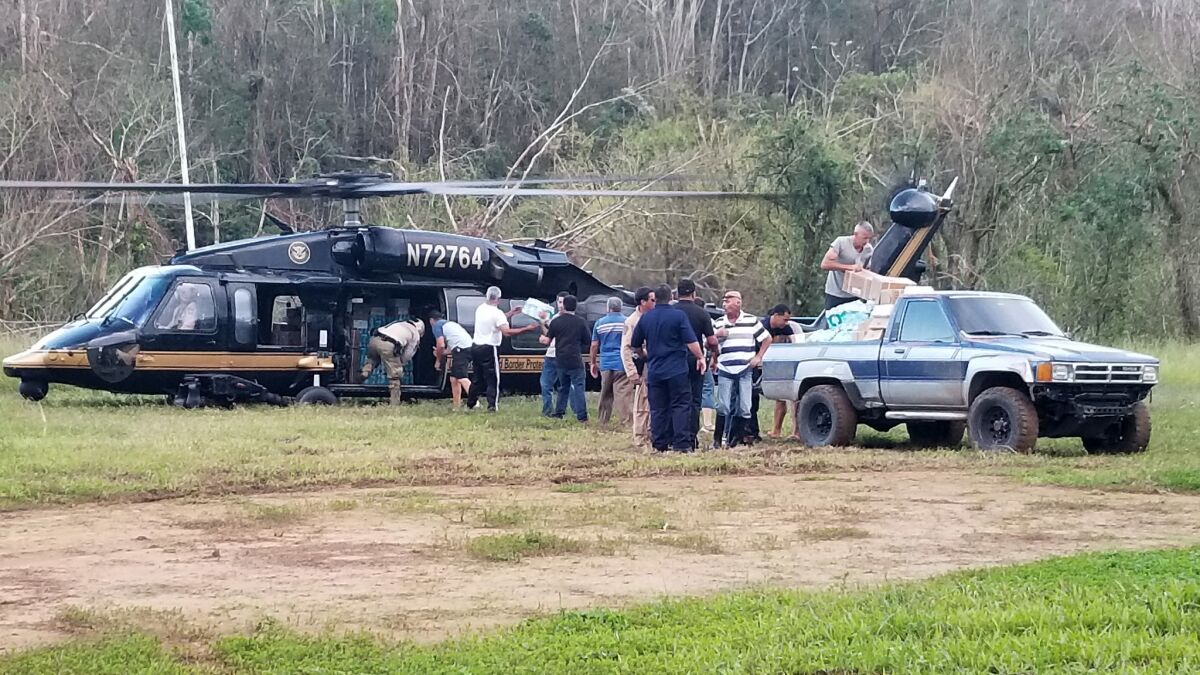 Reporting from CASTAÑER, Puerto Rico —
As soon as the helicopter landed in the mountain community of Castañer, Puerto Rico, Nelson Marchand emerged with much-needed good news for residents gathered at a sandlot.
"I bring water and food," Marchand, an officer with the U.S. Customs and Border Protection agency, yelled in an effort to be heard over the helicopter noise.
Like many Puerto Ricans, people in this former indigenous Taíno enclave — nestled between the towns of Lares, Adjuntas and Utuado in the island's central mountainous region — are struggling to secure their most basic needs.
More than three weeks after Hurricane Maria hit Puerto Rico on Sept. 20, food, water, medicine and electricity remain scarce throughout the island.
The vast majority of Puerto Rico's 3.4 million residents lack power and many remain without running water. The number of deaths related to the hurricane reached at least 48, officials said.
Officials say water-borne diseases pose a growing threat, and the Environmental Protection Agency has warned people against trying to get water from sealed or locked wells at "Superfund" hazardous-waste sites.
The House of Representatives on Thursday approved a $36.5-billion measure that would replenish government disaster aid funds and help the U.S. territory's government keep working. The Senate is expected to take up the bill next week.
Marchand is part of a government and volunteer effort to help distribute supplies to the most isolated areas of Puerto Rico. He was part of a crew from a base near Rafael Hernández Airport in Aguadilla to deliver provisions to the local fire and police teams who take over the distribution of goods.
"We are not FEMA, we are not the military," he said Friday, referring to the Federal Emergency Management Agency. "We are just trying to help out the best we can."
Marchand and others created a human chain to move cases of bottled water and boxes of food — tacos, meatballs and marinara sauce — from the chopper to a pickup truck for distribution to residents. Several dozen people waited in line.
Sgt. Carlos Saliceti of the Castañer police department told those who had come the day before for water and food to wait until the first-timers received provisions.
"I need to deliver to those who are coming here for the first time and then, if there is some left, we distribute to those who have been here before," he said.
Saliceti said he would like every municipality to set up permanent distribution centers where officials could keep inventory. This way, each family could come once or twice a week to receive their rations, he said.
"How many people in your family?" he asked the next person in line.
Among the most fortunate at this particular distribution of goods was Wilmaris Feliciano, 27, a mother of three who went home with a pair of large boxes filled with food and a case of bottled water.
Feliciano said it was the first time she had received provisions. She had tried two weeks before but gone home empty-handed.
In the nearby town of Yauco, Maritza Pacheco collected water from a stream in the Rubios neighborhood. She had given up on the bottled water, trusting that the stream would not make her sick.
Pacheco said she was recovering from throat surgery, which took place a few days before Hurricane Irma missed her town in early September. She had not been able to attend her therapy appointments because many of Yauco's roads had been blocked by mudslides and tumbled trees.
Liliana Quiñones said she was unsure about drinking water from the streams because the 21-year-old and her three children had just recovered from a week of diarrhea. She prefers using bottled water to cook but there are still times when she must resort to finding water in streams, she said.
Puerto Rico's water authority recently confirmed that power outages during the past three weeks caused thousands of gallons of sewage to be discharged directly into the stream of the La Plata River, which residents have used to bathe and wash their clothes.
At the Castañer distribution, Luz Mendez Santiago, 52, though struggling to carry her case of water uphill to her car, was happy knowing she would be able to share with some of the people in her neighborhood.
"We don't have water," she said, "and without it we can't live."
Carrero is a special correspondent.
Must-read stories from the L.A. Times
Get the day's top news with our Today's Headlines newsletter, sent every weekday morning.
You may occasionally receive promotional content from the Los Angeles Times.