Puerto Rico deaths related to Hurricane Maria continued for months after the storm, data suggest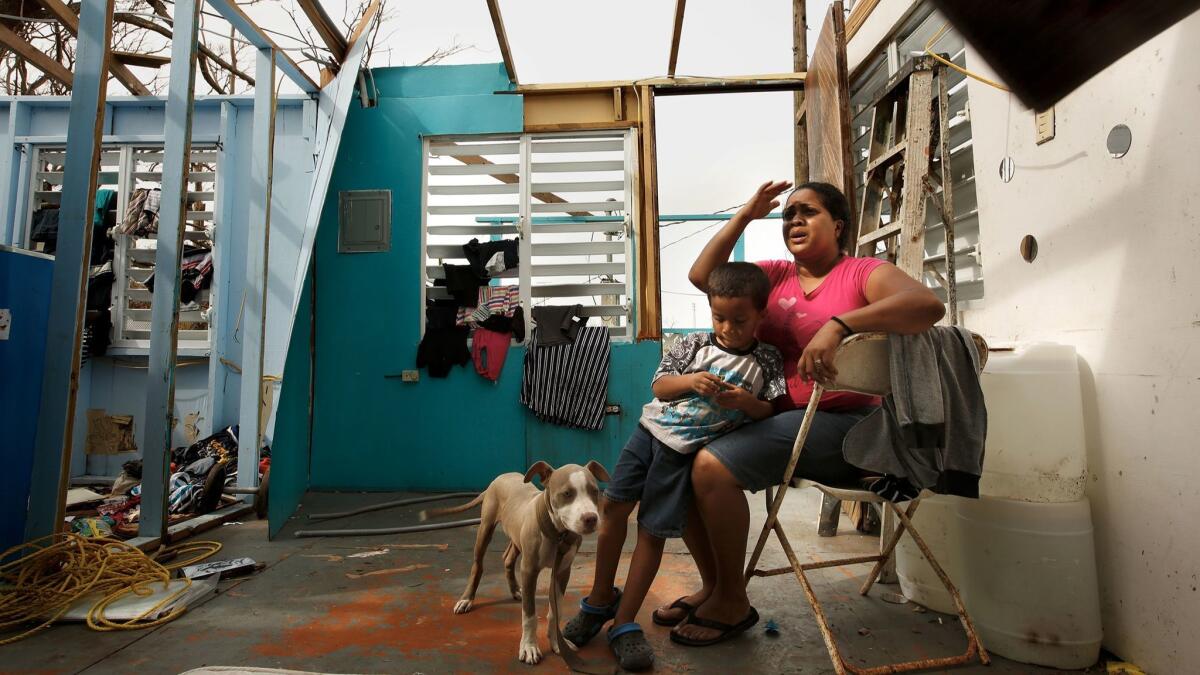 Two months after Hurricane Maria ripped through Puerto Rico, scores of people were still dying in its aftermath, new government data suggest.
The data show total deaths in the U.S. territory by month and do not break them down by cause. But month-to-month comparisons with previous years show the number of deaths after the hurricane — which struck the island on Sept. 20 — was far higher than average.
The total number of deaths above average in September, October and November was 1,230, according to Alexis Santos, a demographer at Pennsylvania State University who obtained the data from the Puerto Rico Institute of Statistics and conducted an analysis that he released to the Los Angeles Times this week.
Of those deaths, 491 occurred in September and 584 in October — figures very close to estimates Santos published late last year based on more limited data.
The new analysis shows the higher death rate continued into November, the most recent month for which he obtained figures, with 155 more than average.
"With the limited information available to the academic and policy community, we can say the humanitarian crisis resulting from Hurricane María continued affecting the people of Puerto Rico after October," Santos said.
The death toll from Hurricane Maria has been a controversial topic. When President Trump visited Puerto Rico two weeks after the storm, he used the official death toll of 16 as evidence that his administration had been highly effective in dealing with the tragedy. After he left, the government announced a new official toll of 34.
Since Dec. 9, it has stood at 64 — a figure that Santos, other researchers and various news organizations have disputed. The question remains unresolved in large part because the Puerto Rican government has denied researchers and journalists access to the database that includes causes and circumstances of each death.
Puerto Rico Gov. Ricardo Rossello announced last week that the government had hired the Milken Institute School of Public Health at the George Washington University to investigate the death count.
Puerto Rico's Center for Investigative Journalism has sued the government requesting access to death certificates and other information that could paint a more complete picture of the reasons for the increase in mortality rates.
"We have faced multiple difficulties gathering the information related to these deaths," said Carla Minet, the center's director.
A more detailed analysis would lead to a greater understanding of how people die in hurricanes — whether from the immediate impact of the storm or after-effects such as disease or shortages of food and water — and potentially how to prepare for future storms.
"To be able to establish public policy that corrects our deficiencies we must have a precise diagnosis," Minet said.
But for now, they can only make estimates.
For his analysis, Santos looked at death statistics going back to 2010 to calculate an average death toll for each month and the amount of variation that could be attributed to chance. He then compared those averages to September, October and November of 2017 to calculate the number of unexpected deaths.
In October, for example, there were 2,991 deaths, or 24% more than in an average October.
The November total was 6.4% higher than average. Santos said that figure offers "a first glimpse at whether or not the crisis has been mitigated," suggesting that it was not.
He said the higher death rate in November occurred despite a declining population on the island, which had 3.4 million people before the hurricane. More than 87,000 people are thought to have since moved to the U.S. mainland.
Carrero Galarza is a special correspondent.
Sign up for Essential California for news, features and recommendations from the L.A. Times and beyond in your inbox six days a week.
You may occasionally receive promotional content from the Los Angeles Times.