At defense forum, Trump's promises on spending draw praise, but other questions linger
Reporting from Simi Valley —
President-elect Donald Trump has promised to increase military spending.
It's a pledge that had widespread support among the hundreds of defense officials — including members of Congress, military leaders and industry executives — who met Saturday at the Ronald Reagan Presidential Library in Simi Valley to discuss national security.
"Peace through strength," said Howard "Buck" McKeon, a former Republican congressman from Santa Clarita, quoting one of Reagan's favorite maxims.
There was also great enthusiasm for Trump's selection Thursday of James N. Mattis, who retired as a Marine Corps general in 2013, for the post of Defense secretary.
But attendees at the Reagan National Defense Forum, an event in its fourth year, were much more muted when it came to talking about the president-elect himself. Panel discussions centered on security threats from Russia, North Korea and Islamic State, as well as cyberattacks and the strength of U.S. forces.
But panelists rarely ventured into questions of how Trump would be likely to handle such issues.
"It's all a mystery to everybody," Eric Fanning, the secretary of the Army, said in an interview.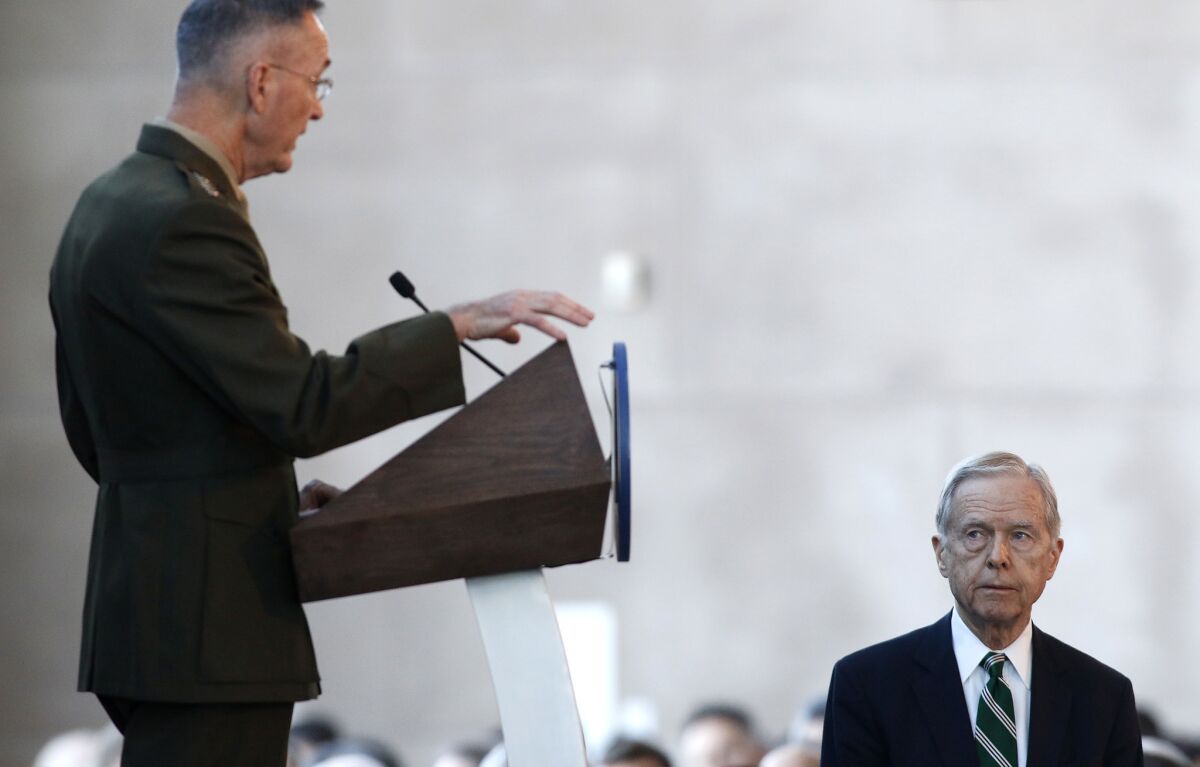 At a lunch banquet, a journalist asked the featured speaker, Gen. Joseph F. Dunford Jr., the chairman of the Joint Chiefs of Staff, about the anxiety that Trump had caused in Europe with his comments that seemed to undermine U.S. commitment to the NATO and what the president elect-could do to offer reassurance.
"I'm clearly not going to get into the policies of the next administration," Dunford said.
He added that he felt confident the U.S. would continue to honor its NATO obligations. Dunford also answered a flat "no" when asked whether he had any concerns about Mattis leading the Defense Department — a job traditionally held by civilians — so soon after leaving the military.
The crowd responded with laughter and applause to Dunford's "no."
"How about 'hell, no?' " said the emcee, former California Gov. Pete Wilson.
There appeared to be widespread agreement that Mattis, who is nicknamed "Mad Dog," would be demanding on the Pentagon but could also make a strong case to Congress for providing more money for defense spending.
The forum attendees included many establishment Republicans who had opposed Trump during their party's primary elections. It was difficult to find any willing to criticize him now. Even Trump's break with four decades of protocol Friday to take a phone call from the Taiwanese president — prompting a diplomatic protest from China — didn't appear to cause alarm, at least not publicly.
"I personally don't think it should come as a major surprise," said Steve Womack, a Republican congressman from Arkansas. "This is not a business-as-usual president-elect."
Asked about Trump's inexperience on foreign policy and national security, Womack said: "He has the right people around him who will bring him up to speed."
Ellen Tauscher, a California Democrat and former member of Congress who served as undersecretary of State for arms control and international security affairs during Obama's first term, said that many people in the Republican-dominated defense establishment were viewing Trump with "a wait-and-see attitude."
Many speakers avoided talking about Trump at all. In a panel entitled "Passing the Baton: Prioritizing national defense in the next administration during the transition," he barely came up.
ALSO
Hawaii's highest peaks get 2 feet of snow—and more is on the way
Thousands of veterans converge on North Dakota to aid pipeline protest
Trump's call with Taiwanese president was his latest break from diplomatic norms
---
Must-read stories from the L.A. Times
Get the day's top news with our Today's Headlines newsletter, sent every weekday morning.
You may occasionally receive promotional content from the Los Angeles Times.