The latest innovation to hit the Las Vegas Strip: Robot bartenders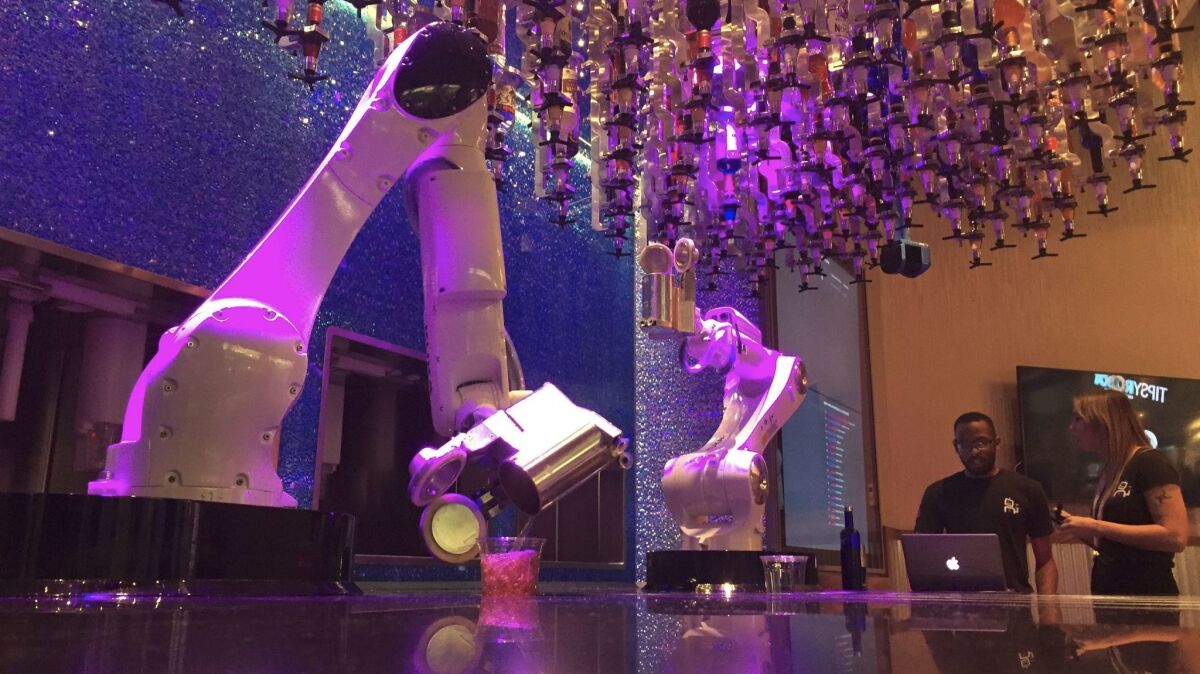 Reporting from Las Vegas —
They will make your drinks, but they won't listen to your problems.
Robot bartenders have made their way to the Las Vegas Strip — evidence perhaps that Skynet is closer to becoming self-aware and will have a convenient place to take the edge off.
Bar owner Rino Armeni swears this isn't yet another move to replace human beings.
"No, no, no," he said gamely and with a laugh. "It's entertainment — like the Bellagio fountains." Though, it should be noted, the fountains have not joined the labor force and been retrained to become, say, baristas. Yet.
The Tipsy Robot opened last month inside the Miracle Mile Shops next to Planet Hollywood Casino, squeezing its way onto the Las Vegas Strip along with a roller-coaster atop a tower, replicas of iconic world landmarks and a 24-7 world of gambling, booze and quirkiness. It celebrates the weird, the new and the now. Tomorrow is strictly for the hangover.
The futuristic setting inside the Tipsy Robot feels like a mash-up of a bar, Apple Store and car manufacturing plant. The centerpiece of the watering hole is the two bartender robots affixed to a stage-like bar. They are white, mechanized assembly-line arms moving with jerky fluidity.
Above the robots, liquor bottles hang upside down like hummingbird feeders, and the steel arms whirl, twirl and stretch upward to let the alcoholic nectar flow down into the mixer with precision before pouring the mixed drink and then place it onto a grooved slat.
The futuristic setting inside the Tipsy Robot feels like a mash-up of a bar, Apple Store and car manufacturing plant.
The finished product is then slowly slid to the edge of the bar — already forgotten as the robotic arm moves to the next order on the alcohol assembly line.
Sarah Thatcher sat in front of the smart tablet used to place orders and looked over the drink options. The 24-year-old said she was a simple girl — Guinness was her drink of choice — but a "galactic ambassador," who was decidedly human, explained that the robots don't pour beer. That pedestrian task was left to a person who stood alone on the other side of the bar and occasionally glanced over at the machines.
Thatcher looked at the robots, which stared back impassively. Waiting.
"I'm not that great with technology," she said. "It's kind of weird. I'm a millennial, but I don't even have music on my phone."
The offerings included specialty drinks named Binary Berry, Mr. Roboto and Cosmic Cucumber. She scrolled through bright screens. House and dance music pumped through the speakers. A crowd of people stood outside the bar in a mall thoroughfare and took video and pictures of the robots with smartphones.
Michael Beanes, a 29-year-old wearing a cowboy hat and faded Iron Maiden T-shirt and sporting a pierced lip, said drinking in there made him feel a bit like being an animal at the zoo.
The robots certainly draw the curious, but perhaps in time, like so much in Vegas, they will become routine.
Armeni praised the automated arms, saying they don't call in sick, and don't need lunch breaks, smoke breaks or take vacations. But the Tipsy Robot delayed its opening by a few days due to computer glitches. He shrugged. Technology isn't perfect, he said.
Jordan Davidson, a galactic ambassador, said these two robots do have a few limitations. They can't salt a glass rim for a margarita and can't add garnishes — though she thought those things may be possible additions in the future.
Thatcher had been trying to make her own customized drink, but after adding all the ice, liquor and some flavored additions, the smart tablet flashed "error message."
"A real person would never say 'error message,'" she said. "But they might be rude about it, too."
A galactic ambassador came to the rescue. Thatcher swiped her finger across the smart tablet again, unsure if she'd end up with a drink, a date or a car door.
The robot went to work.
She was able to watch her name on a large screen as it flashed the status of her order — like the arrival and departure monitors at the airport. Davidson said a lot of people don't put their real names on the screen. Some choose obscenities, but in this brave new world, the technology made no moral judgments.
The drink was ready in minutes and she went to pick it up. Next to one of the robots sat a tip jar. Davidson said the humans get to share the tips. The robots don't. They've never complained. Yet.
Thatcher headed back to her stool with her drink. It was a Long Island iced tea. She took a sip. It was strong. She simultaneously smiled and winced.
"Like rocket fuel," she said.
But she didn't stick around. Most don't. The bar isn't really suited for sitting and gabbing, as there is little table space at each ordering station, where the smart tablets dominate. Also, the stools don't face each other. In a city where liquor can be consumed in public, it does seem to have a drink-and-go vibe. Order. Watch the robots. Question mankind's place in the world. Leave.
So far, the two robots don't have names, but — lowering his voice in front of them — Armeni suggested they might be replaced by a single robot with multiple arms that can make drinks faster anyway. Call it electronic evolution 2.0. Take a drink, Charles Darwin. Maybe make it a double.
To read this article in Spanish, click here.
Twitter: @davemontero
---
Must-read stories from the L.A. Times
Get the day's top news with our Today's Headlines newsletter, sent every weekday morning.
You may occasionally receive promotional content from the Los Angeles Times.