Renegade soldiers killed a teen couple. The Army could've prevented it, lawsuit says
Reporting from SEATTLE —
There's no question who murdered 19-year-old Michael Roark and his 17-year-old girlfriend, Tiffany York.
Four renegade soldiers from Ft. Stewart in Georgia — members of an anti-government militia that had grandiose plans of assassinating the president and toppling the government — lured the couple into the woods near the Army base on Sept. 30, 2011, shot York in the head, then forced Roark to his knees and executed him.
Roark, who had just been discharged from the Army, had been in the militia too, and his killers were worried that he or York would tell authorities about the scheme.
Three of the killers are serving life sentences for murder and conspiracy to commit murder; the fourth testified against the others in exchange for a shorter sentence.
Now the saga appears to be headed for a civil trial in a wrongful-death lawsuit filed in 2014 against the Army. The victims' parents allege the Army knew the men posed a danger but did nothing to stop them.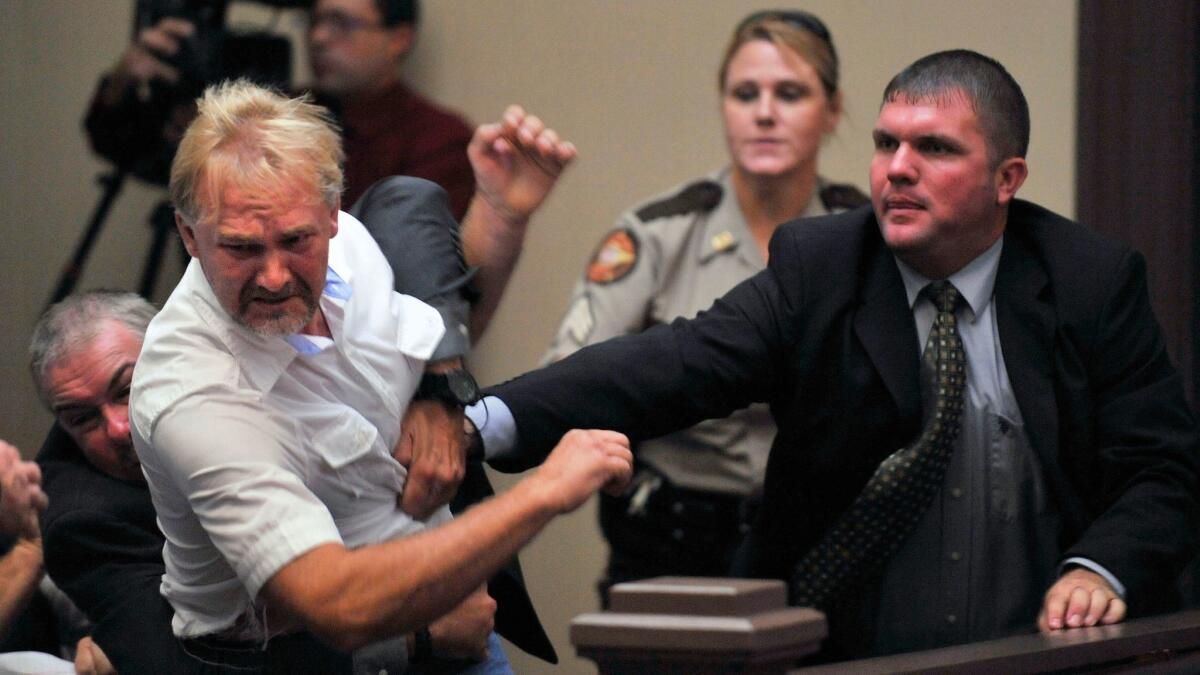 At the center of the case is the ringleader, Pvt. Isaac Aguigui, who was under investigation in the death two months earlier of his pregnant wife, an Army sergeant, but still received her military life insurance payment of $500,000.
Government entities are generally immune to civil suits, and the U.S. has been trying to get the case dismissed.
One U.S. District Court judge, who was considering only the Roark portion of the claim, sided with government late last year and ruled that his parents had no legal basis to sue — a decision they are appealing.
But a different judge, Barbara Rothstein, who is considering the York killing, has recently given strong indications that she will allow that side of the case to proceed under the Federal Tort Claims Act.
Rothstein still has to rule on a government motion to dismiss the case, but she has instructed the government to provide a list of witnesses it intends to call for trial, which is scheduled for May.
And last month she issued an "adverse inference" finding suggesting that the government was withholding evidence that could help the plaintiff's case.
The Army, which said it had been investigating Aguigui and his militia at the time of the murders but had no advanced warning, claimed it could not find some of the documents and that others were protected from disclosure.
The judge wrote that the FBI and the Army were aware two months before the killings that Aguigui was buying weapons with the life insurance payment and that he "posed a substantial risk of committing a violent act against members of the public."
Aguigui spent as much as $78,000 on weapons and ammunition in preparation for his group's terrorist plot, according to Georgia authorities who prosecuted the criminal case. They said he also bought militia members a car, gifts and a $16,000 night out at a strip club.
Now 25, he is serving two life sentences: One for murdering Roark and York, the other for killing his wife, Sgt. Deirdre Aguigui, and their unborn son.
In one videotaped interview, Aguigui referred to himself as "the nicest cold-blooded murderer you will ever meet."
The day his wife died, he texted his girlfriend: "Baby, you want to know something sexy? I'm not working another day, baby. We'll have plenty of money. All I need is your body whenever I want it."
His militia called itself FEAR, which stood for "Forever Enduring, Always Ready."
Members told investigators they discussed kidnapping Army officers and blowing up vehicles, poisoning water supplies and apple crops and destroying a hydroelectric dam on the Columbia River near Wenatchee, Wash., where Aguigui grew up.
Georgia prosecutors said militia members were also planning to take over their 4th Brigade barracks as the first step in assuming control of Ft. Stewart, a 280,000-acre base with 21,000 soldiers and 33,000 family members and civilians. Aguigui bribed one of his commanders and roamed the base, according to court filings, telling others of his plans to create an "active shooter" situation in a base takeover. He said he'd already mapped out the sewer system for use in a sniper assault.
FBI Agent Bradford Snider said in court documents that the group's long-term goal "was to give the United States back to the people on July 17, 2031" — the twentieth anniversary of the murder of Aguigui's wife.
Brian Brook, the New York attorney representing the families of Roark and York, said the Army should have known about the looming danger the militia members posed.
"Long before Aguigui and his cohorts lured Roark and York into the Georgia woods, they left a trail of tragedy and misconduct that, through exercise of reasonable care, should have led to intervention by Army commanders and disruption of the FEAR terrorist conspiracy," he said. "Had such intervention occurred, Roark and York would not have been killed."
Instead, he said, "The Army gave half a million dollars to a sociopath suspected of killing his wife."
Anderson is a special correspondent.
ALSO
Official calls stabbing of black man by white Army veteran an assault on diversity
Bay Area murder suspect could be released on bail after offering $70 million in property
Civil rights groups alarmed at Justice Department's review of local police settlements
Sign up for Essential California for news, features and recommendations from the L.A. Times and beyond in your inbox six days a week.
You may occasionally receive promotional content from the Los Angeles Times.