In the path of gentrification, a Seattle coffeehouse finds a way to grind it out
Reporting from Seattle —
Jennifer Carrasco and Phil Yates moved to West Seattle in 2002, a year before C&P Coffee opened up in a repurposed century-old bungalow near their home. The couple began frequenting the shop, and were instantly smitten with its husband-and-wife co-owners, Cameron and Pete Moores.
"The first time I had a meaningful conversation with Cam, I looked at her and said, 'Cameron, you have been a great source of kindness and comfort to me,'" recalls Carrasco, a 76-year-old commercial painter who'd created murals for clients like Tommy Bahama and Seattle restaurateur Tom Douglas. "I think something was sealed then."

For the record:
9:00 a.m. April 5, 2018The caption on the lead photo in an earlier version of this article incorrectly identified the couple in the picture as Pete and Cameron Moores.
As for Yates, Carrasco says, "He didn't love a lot of people, but he loved Cameron. He called her his sunshine girl."
A bond was formed. Yates, a skilled carpenter, would fix the Mooreses' chairs and tables when they got wobbly. Cameron started teaching watercolor at the coffeehouse. But all of this came to a halt in late 2017, when Yates died after fighting cancer.
Shortly after his death, the Mooreses received some news that threatened C&P's existence as well: Their elderly landlord had decided to sell the old bungalow, advertising it as "a terrific development opportunity." She quickly secured a $1.285-million offer from a local developer specializing in modern dwellings.
In Seattle, a high-tech hub with an exploding urban population and skyrocketing rents and property values, this is typically where the story ends: Beloved small-business owner gets her property sold out from under her and bids adieu to her customers as the land gives way to another cookie-cutter residential structure with generic, ground-floor retail tenants.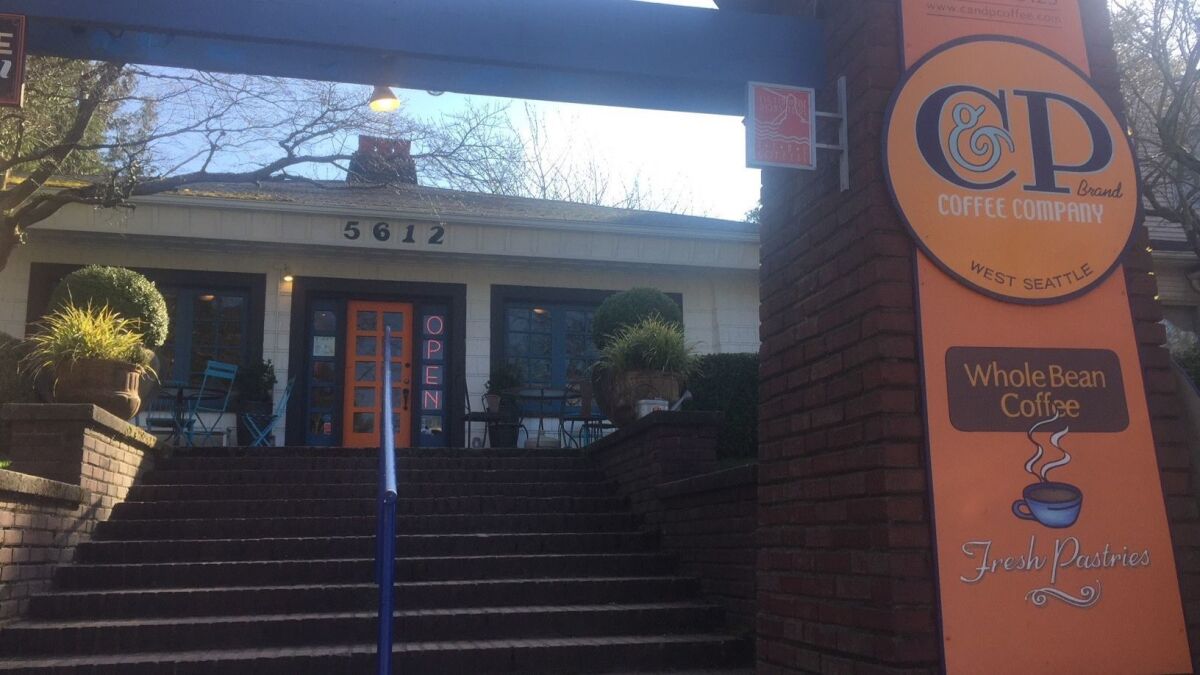 When C&P regular Elizabeth Bachman, who works for Microsoft, got the news, she felt an immediate sense of loss. "I cried and called my mom. I just had no idea how they were going to stay in business."
But C&P's story didn't end there.
The couple's lease stipulated that they had the right of first refusal, giving them a short window to try to buy the site themselves. Those prospects initially seemed bleak — without considerable outside help, there was no way they could scrape together enough money for a down payment.
That help arrived, however. Carrasco decided to hold Yates' memorial at C&P, and made it a fundraiser with donations earmarked for the coffee shop's survival. Bachman then convinced Cameron to launch a GoFundMe page that, within days, had raised more than $77,000 for a down payment. Friendly lenders, realtors and investors got involved to solidify the offer, and in early March, the Mooreses announced that they'd reached an agreement to purchase the property and leave the place intact.
"I could have never imagined the community would come together like this," says Cameron, clad in the Seattle uniform of fleece vest and flannel, at her shop. "It's a miracle."
But short of such freakish occurrences, what can really be done to save mom-and-pop shops threatened by exploding real estate markets?
"It always happens in America that money is the power," says Carrasco. "We can feel good about beating the system for a while with C&P's survival, but it's an issue that will come up again and again."
Carrasco suspects she too may one day run up against the lopsided odds of surviving gentrification.
"I'm 76 years old and I'm not rich. I've been fortunate that I can make money as an artist because I do commercial work. But I'll probably have to leave Seattle because I'm going to need help and the property taxes are going up and the cost of living is expensive."
Similarly, Cameron worries about her employees' ability to continue living near their workplace, noting with no small amount of irony that she and several other entrepreneurs originally relocated to West Seattle due to the "cheap rent." She marvels at how swiftly new edifices are erected. "I don't think I could build a treehouse in my backyard as fast as some of these buildings are going up."
"People are really feeling like they need to pause and find out, 'What are we?'" she says of her fellow Seattleites.
We can feel good about beating the system for a while with C&P's survival, but it's an issue that will come up again and again
— Jennifer Carrasco, C&P Coffee customer
About a mile north of C&P on California Avenue sits Blueprint Capital, the development company that was poised to purchase the bungalow until the Mooreses' miracle happened. Interestingly, had Blueprint's purchase gone through, they may have found a way to keep C&P as a tenant, albeit in a dramatically different building.
"Our goal is to try and preserve existing businesses in developments that have commercial space," says Blueprint co-founder Mark Knoll.
Lest one suspect mere lip service, Blueprint recently purchased the property and quirky building housing local favorite Spud Fish & Chips in the neighborhood of North Seattle from the restaurant's owner-operators. This, too, would typically spell the end of a business like Spud, but instead Blueprint has entered into an agreement to lease ground-floor space to Spud once the proposed development — a 59-unit residential complex — is completed.
Pamela Cordova-Smith, Spud's 55-year-old co-owner, who's worked at the restaurant since she was 14, is thrilled with the possibilities. She's got equipment to replace, and Blueprint has promised to foot the bill for capital improvements she says she otherwise might not have been able to afford. She and her husband turned a profit of over $2 million on the $3.1-million sale of the property, which they purchased in 2001, but she says, "On paper, the profit looks good, but nobody knows how much we owe. We have two kids going to college, and that's our life savings."
Constructed in 1959, Spud's "Googie"-style building (Route 66 kitsch, basically) was nominated for landmark protection, thus threatening to wrap Blueprint's project up in red tape. But Seattle's Landmarks Preservation Board voted 4 to 3 not to grant the structure such status, so things should proceed as planned.
Back in West Seattle, the Mooreses have been spared such uncertainty. On a blustery Wednesday night, C&P is packed for a reading by the salty local poet John Olson, who will be followed by a dozen novices taking advantage of an open mike to hone their craft.
Olson starts his set by quoting a line from "The Big Short," an Oscar-nominated film about the recent mortgage crash: "Truth is like poetry, and people [expletive] hate poetry." As if to prove this point, an ill-mannered espresso machine drowns out whatever he says next.
Seely is a special correspondent.
---
Must-read stories from the L.A. Times
Get the day's top news with our Today's Headlines newsletter, sent every weekday morning.
You may occasionally receive promotional content from the Los Angeles Times.