On the Ground: Old Volvos are an object of affection in Seattle, where drivers tend to hate driving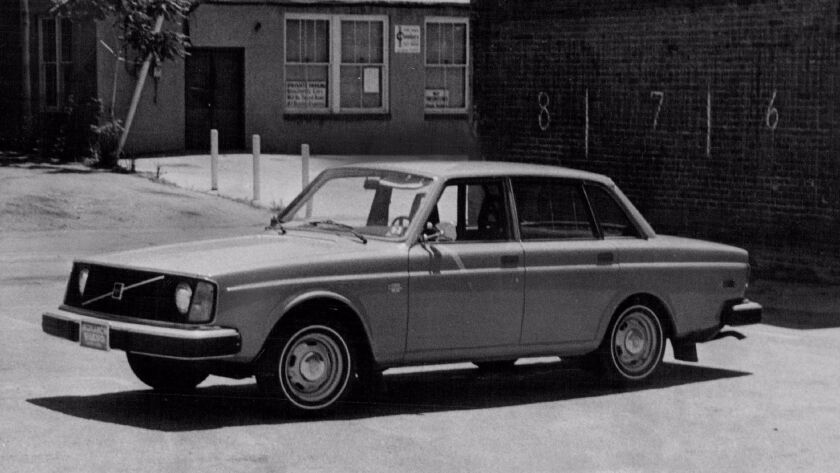 Reporting from Seattle —
While most rappers speak of Escalades, in Seattle one fawns over Volvos of a certain vintage.
"Born in '86, the same year that I was," Grynch says of his silver 240 wagon in the video for the song "My Volvo." Appropriately for Seattle, a mist slicks up the cobblestone he's standing on, forcing him to pull a sweatshirt's hood over his cleanly shorn head. As a heavy bass throbs in the background, he raps:
"I've laughed in that car. I've cried in that car. Knock on wood, man, I'll probably die in that car."
His listeners disagree.
"You're not going to die in that car," replies one viewer of the video on YouTube, while another takes it a bit further, saying, "Only way to die in that car is to drive top speed and crash Semi-truck than take out pistol and shoot yourself because of guilt of killing someone."
They're not wrong. "Drive it like you hate it" was Volvo's cheeky advertising slogan from the early 1960s, effectively highlighting the seeming indestructibility of its cars. But in so doing, the Swedish automaker unwittingly foretold a paradox for one of its most passionate American markets.
With an exploding population, crushing gridlock and a commuter-rail system that came at least 20 years too late, Seattle is a place where people tend to hate driving.
One could argue that Seattle tends to hate its drivers right back, obliterating functional traffic lanes on major thoroughfares to appease cyclists, make way for articulated buses and cut down on accidents.
In the '60s, you had hippies who were very proud of a vehicle that would take abuse and still come back. It's the longevity and the quirky design.
Dick Libby, an artist of local renown
But for all of this two-way acrimony, Volvos — particularly the boxy 240s built between the Carter and Clinton inaugurations — remain beloved in Seattle, for reasons both mechanical and cultural. The late rocker Kurt Cobain was among the legion who have driven a 240.
Stats are hard to come by, so it's hard to quantify this love affair. And with so many people moving to Seattle — about 57 a day according to the Census Bureau — many Volvos may be transplants and not sold locally. But just look around: They're everywhere here.
"Our climate is wonderful for keeping cars forever," says Swedish Automotive owner Dave Winters, pointing to Seattle's mild weather and distaste for salting its roadways as the key reasons cars don't disintegrate in the sun or rust out. Most Volvo engines, adds Winters, are "bulletproof." (The faithful hope their electric motors will be too, as Volvo recently announced it will cease producing exclusively internal-combustion vehicles in 2019.)
Rare among grease monkeys in that he commutes to work by bicycle and rents out part of his office to a yogi, Winters, who lives a little more than a mile from his West Seattle shop, still drives a 240 sedan from 1982 with over 420,000 miles on it. That's nothing: 240s of that era have been known to reach 1 million miles with diligent maintenance.
If you've never seen a 240 built in the '80s, imagine a car designer was tasked with creating a vehicle with no curves and professorial eyes (headlights). All right angles, it chugs down an arterial like a low-carb breadbox, trying — and failing — to go unnoticed.
Dick Libby's 1983 240 wagon is virtually indistinguishable from Grynch's, save for the color. (Libby's is powder blue.) A 73-year-old artist of local renown who occasionally uses old Volvo parts to construct his metal sculptures, Libby appreciates his "workhorse" because when he backs it into a stall at an art fair, he can set up his entire exhibit on the car's perfectly flat roof.
But his '64 544 has curves, and whenever he pulls it into a service station, people want to talk about it. There's also a plastic turkey hanging off its rear bumper.
"There's not a lot of humor in a car unless you add something like that," says Libby, whose pal Walt Tartar drives a 1953 444 that was once owned by the glass artist Dale Chihuly, who had it imported from Europe. "In the '60s, you had hippies who were very proud of a vehicle that would take abuse and still come back. It's the longevity and the quirky design."
Seattle's affinity for sturdy old Volvos extends to transplants like Quincy Oster, who moved to Seattle from his native North Dakota in 1997.
"There were no Volvos there except for semis," he recalls. "I had no idea what a Volvo passenger car was."
Oster soon made the acquaintance of a gentleman who had a 1972 164 sitting latent in his driveway. The man told Oster that if he could get it running, he could have it. And thus began a love affair.
So Oster ventured to Northern European Auto Recyclers, fetched the proper parts, and managed to revive the dead rig. His confederate kept his promise to give the Volvo to Oster, touching off a romance with the manufacturer that perseveres to this day.
"I've driven those old cars back to the Midwest at least a dozen times in the middle of the summertime heat, and can only remember being on the side of the road once," says Oster, a 43-year-old who estimates he's owned a dozen Volvos since acquiring that 164.
The father of two young boys with a purple house and a wife who's gunning for her doctorate at the University of Washington, he's intent on narrowing his fleet to a pair of 240s. One's a '91 sedan with just 120,000 miles on it that he bought from his neighbor; the other's an '89 wagon that he estimates has about 400,000 miles on it. (The odometer tuckered out at 350,000.)
Grynch's "My Volvo" video focuses on the car, not Seattle, but the ambiance is inescapable. A bit gray, a bit rainy, windshield wipers flapping. And it's hard not to sing along to the refrain "V-O-L-V-O. My Volvo!"
Also appropriately, Grynch shot the video in Ballard, Seattle's most Scandinavian neighborhood. Northern European Auto Recyclers is located there, and every May 17, Libby, Tartar and their fellow Volvo Sports America club members drive their classic Volvos slowly through the neighborhood during America's largest Norwegian Constitution Day parade. ("Norway never produced cars, so Swedish cars are the closest you can come," explains Libby.)
Ballard is also where, on a sunny Saturday one late August, a pot-bellied man with a sixer on the floorboard pulled up to a stoplight on Leary Way in a blue 1985 Volvo 240 sedan. To his right was a blue Volvo 240 sedan, and to that car's rear was another blue 240 sedan.
The three drivers all rolled down their windows — manually — and chuckled in unison. It was a good day to be alive. It was a good day to be in a Volvo. And because these drivers were in Volvos, they rested assured that there would be many more good days to come.
Full disclosure: One of those drivers was me.
Seely is a special correspondent.
ALSO
Dig in Brooklyn may settle mystery into lost grave of famed Maryland 400 soldiers from Revolutionary War
A pipeline that would cut through the iconic Appalachian Trail sparks a fight over natural gas expansion
Body camera video shows police trying to explain why they pulled over Florida state attorney
---
Must-read stories from the L.A. Times
Get all the day's most vital news with our Today's Headlines newsletter, sent every weekday morning.
You may occasionally receive promotional content from the Los Angeles Times.