Father of slain Iowa student: 'Please leave us out of your debate'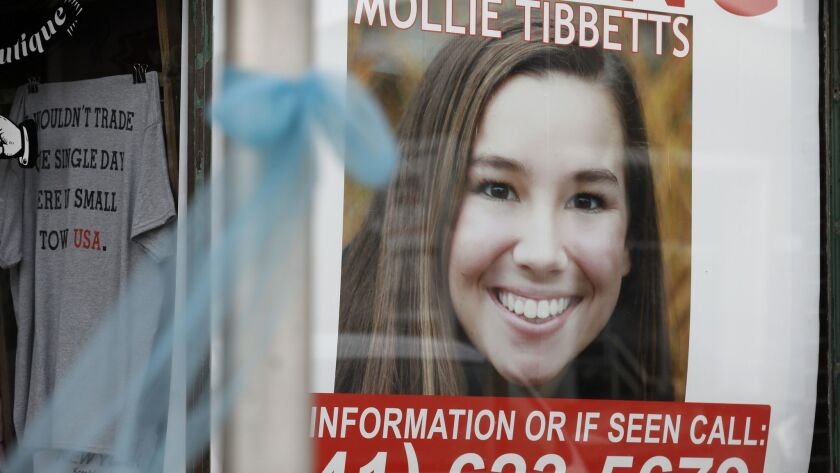 Reporting from Brooklyn, Iowa —
The father of slain Iowa college student Mollie Tibbetts spoke out in an opinion piece against those using his daughter's death to support "views she believed were profoundly racist," a call that comes after President Trump and others seized on the suspected killer's immigration status to argue for changes in U.S. immigration laws.
Authorities have said the University of Iowa student was abducted while she was out for an evening run in Brooklyn, Iowa, on July 18. The man charged in her death, 24-year-old Cristhian Bahena Rivera, a Mexican farmworker who is suspected of being in the U.S. illegally.
Trump and other politicians quickly noted that element of the case and called for changes to immigration law.
Rob Tibbetts wrote in the opinion piece published by the Des Moines Register on Saturday that while he supports debate on immigration, some politicians and pundits went too far in using his daughter's death to promote political agendas. He said his stepdaughter is Latina and argued that the suspected killer "is no more a reflection of the Hispanic community as white supremacists are of all white people."
"Do not appropriate Mollie's soul in advancing views she believed were profoundly racist," he wrote. "The act grievously extends the crime that stole Mollie from our family and is, to quote Donald Trump Jr., 'heartless' and 'despicable.'"
The quote was taken from, and meant to rebut, a Friday opinion piece by Donald Trump Jr. that criticized the media and Democrats for not emphasizing the suspect's immigration status.
"Despite what some Democrats may wish in the depths of their hearts, Mollie was murdered by an illegal alien and her murder would never have happened if we policed our southern border properly," the president's son wrote.
Iowans began receiving recorded phone calls citing Mollie Tibbetts' death to push white supremacist views on Tuesday, just days after her funeral. The robocalls cited comments Rob Tibbetts made in defense of Latinos during her funeral.
The calls question whether his daughter would feel the same if she were still alive and describe Rivera as "an invader from Mexico."
Rob Tibbetts wrote in his opinion piece that his daughter was "nobody's victim. Nor is she a pawn in others' debate."
"She may not be able to speak for herself, but I can and will," he went on to say.
"Please leave us out of your debate. Allow us to grieve in privacy and with dignity. At long last, show some decency. On behalf of my family and Mollie's memory, I'm imploring you to stop."
---
Must-read stories from the L.A. Times
Get all the day's most vital news with our Today's Headlines newsletter, sent every weekday morning.
You may occasionally receive promotional content from the Los Angeles Times.