U.S. trade commission recommends tariffs on solar energy equipment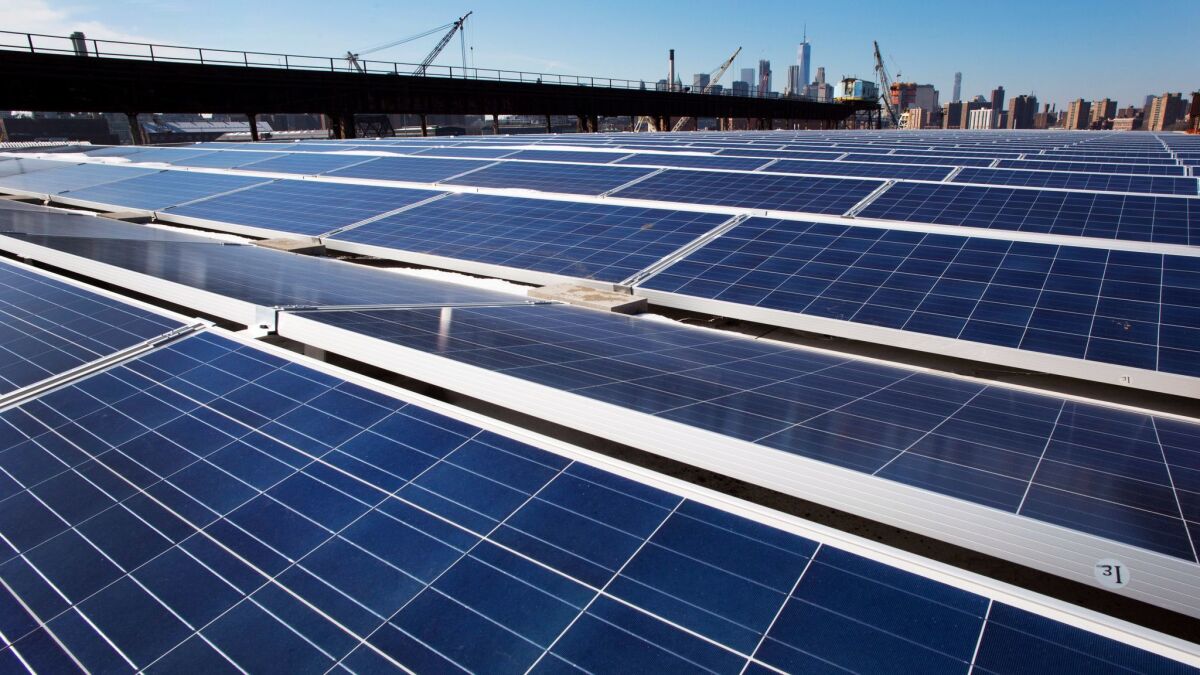 In a case that has riven the booming American solar energy sector for six months, the U.S. International Trade Commission recommended levying comparatively modest tariffs on imports of silicon-based solar photovoltaic cells and solar panels.
The measures recommended Tuesday by the ITC's four commissioners include establishing a licensing fee on some equipment, an idea developed by the Solar Energy Industries Assn., and tariffs on silicon-based solar cells of up to 30%, as well as tariffs on solar panels that range from 10% to 35%.
The recommended remedies, which the ITC will transmit to President Trump by Nov. 13, were considerably lower than the 78-cents-per-watt tariff suggested by Suniva and SolarWorld Americas, the international companies that brought the tariff case late in April.
In a tweet Tuesday, MJ Shiao, head of Americas Research at GTM Research, a unit of Wood Mackenzie, said levying a 30% tariff would increase the price of solar panels by 10 cents to 15 cents per watt. Rooftop solar panels were priced earlier this year around 35 cents per watt, and 55 cents per watt for a utility-scale solar panel.
Shiao projected that the 10% tariff level could reduce utility-scale installations by 9% but would have only a slight influence on rooftop solar installations.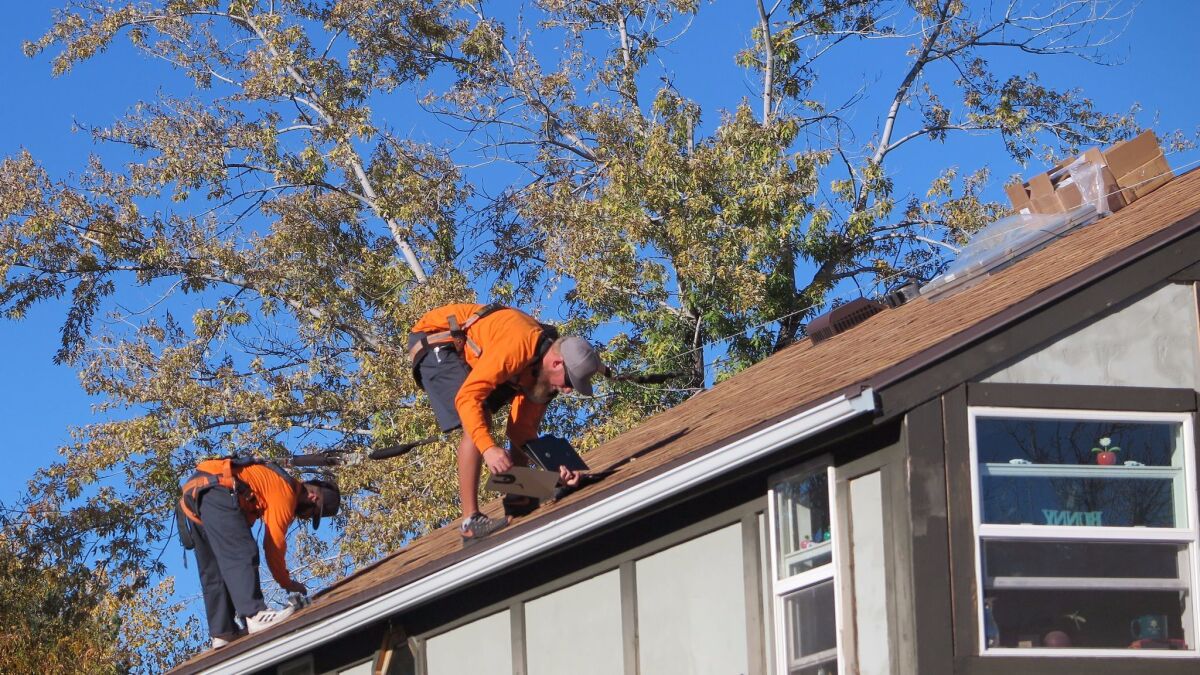 "Will hurt projects on the cusp," Shiao tweeted, "but not overly destructive to installs."
Mark Marion, vice president of operations for Juwi Americas, the Colorado-based unit of a German company that builds utility-scale solar stations, said he expected prices to rise by about 10 to 12 cents a watt. "That would put us in the high 40 cents, a price point which would have been great in 2016," he said.
"What was recommended isn't debilitating," Marion added. "The industry can work with it. But it still doesn't resolve the uncertainty because the policy environment is so volatile."
The Solar Energy Industries Assn.'s recommendation for a licensing fee instead of a tariff gained considerable traction from Meredith M. Broadbent, one of the four ITC commissioners. She proposed that Trump establish a quota on silicon-based solar imports and manage the quota by establishing an auction for import licenses. The minimum selling price would start at 1 cent per watt.
The sale of import licenses could generate revenue for the U.S. government of at least $89 million in the first year, and increase by $14 million annually in the three subsequent years until the four-year tariff case ends. Broadbent recommended that the funds be used to aide domestic solar manufacturers injured by less-expensive imports.
Suniva, owned by a Hong Kong company, shuttered its solar plants in Georgia and Michigan. SolarWorld laid off 500 of its 800 employees at a solar plant in Oregon. Both companies said they could not compete with less-expensive imported solar equipment, principally from China.
"The commissioners clearly took a thoughtful approach to their recommendations, and it's worth noting that in no case did a commissioner recommend anything close to what the petitioners asked for," Abigail Ross Hopper, president and chief executive of the Washington-based Solar Energy Industries Assn., said in a statement. "That being said, proposed tariffs would be intensely harmful to our industry. While we will have to spend more time evaluating the details of each recommendation, we are encouraged by three commissioners' reference to alternative funding mechanisms, including our import license fee proposal."
Suniva expressed its disappointment with the recommendations in a prepared statement. "Suniva calls on President Trump to implement the remedy recommendations as submitted by Suniva and SolarWorld, reject the ITC's weak remedy recommendation, and take the courageous steps necessary to save American manufacturing with a strong remedy that will reinvigorate this sector, and help protect U.S. energy security and economic prosperity."
SolarWorld Chief Executive Juergen Stein called the ITC measures a "useful first step."
"We look forward to President Trump establishing remedies that will place this industry back on a path of robust growth and put manufacturing workers back to work in an industry that will be a key to our nation's future," Stein said in a prepared statement.
Trump has until Jan. 12 to make a decision on solar import tariffs. He has full authority to follow the ITC recommendations, decide his own remedies or not to act at all.
Follow me on Twitter #modeshift
ALSO
Under Trump, the lines are drawn for a battle over resources in the West
Trump administration to reconsider protections for rare sage grouse
Tesla has built a solar farm to power a storm-damaged children's hospital in Puerto Rico
---
UPDATES:
3:05 p.m.: The story was updated with comments from Mark Marion.
The story was originally posted at 2:05 p.m.
---
Must-read stories from the L.A. Times
Get the day's top news with our Today's Headlines newsletter, sent every weekday morning.
You may occasionally receive promotional content from the Los Angeles Times.