6 Images
Tornadoes rip Virginia
An aerial view of some of the damage caused in Suffolk, Va., by one of three tornadoes that tore through the state Monday. The tornadoes smashed houses, tossed cars and injured more than 200 people.
(Steve Helber / Associated Press)
A rescue worker uses his cellphone to snap a photo of a pickup truck that was thrown into a Suffolk, Va., building by a tornado. Officials in Suffolk reported that 125 homes and 15 other buildings were uninhabitable.
(Alex Wong / Getty Images)
A tornado obliterated some Suffolk homes while causing little or no damage to others just a few feet away. Virginia Gov. Timothy M. Kaine declared a state of emergency and planned to visit some of the hardest hit areas today.
(Steve Helber / Associated Press)
Suffolk firefighters Mike Turner and Scott Brower examine the tornado damage to a strip mall. Of the 200 people injured by the tornadoes, only six were listed in critical condition and six were listed as serious.
(Alex Wong / Getty Images)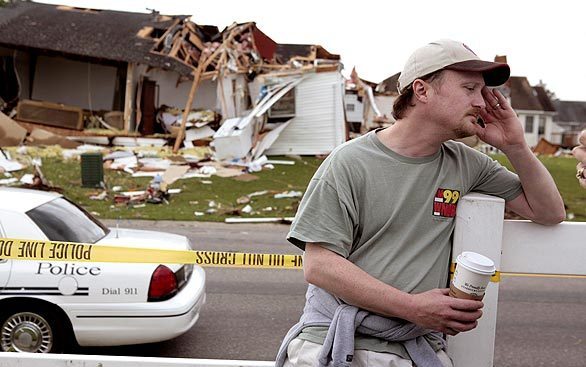 Chris Donahue waits outside a police barricade to return to his tornado-damaged home in Suffolk, Va. Donahue and his family escaped injury during the storm, but he was eager to survey the damage to his property and check on his two cats.
(Matthew Cavanaugh / EPA)
A rescue worker and her dog search for possible victims at a strip mall that was damaged by a tornado in the King's Fork area of Suffolk, Va.
(Alex Wong / Getty Images)