The Trump administration wants more than 400,000 people to leave the U.S. Here's who they are and why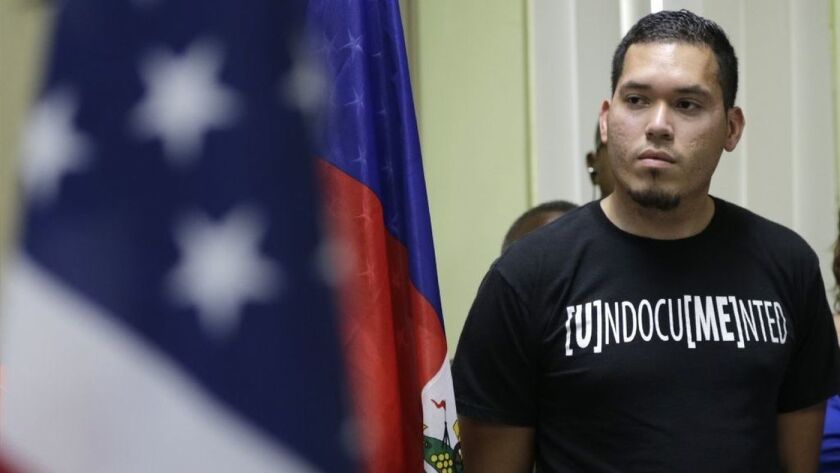 For nearly three decades, the United States has allowed immigrants from certain countries plagued by civil war or natural disasters to live here until conditions in their homelands improved.
Such immigrants entered the country under what is known as Temporary Protected Status. Every 18 months, Department of Homeland Security officials review whether conditions in countries under TPS have improved to the extent that people can safely return.
Kirstjen Nielsen, the Homeland Security secretary, on Thursday extended TPS for roughly 500 immigrants from Somalia. It was a rare move by the Trump administration. More than 400,000 people from countries such as El Salvador, Haiti, Nicaragua and Sudan have had their legal protections stripped under the administration and must leave the U.S. within 2½ years.
Ending protection for immigrants under TPS isn't new. President Obama revoked TPS status for the West African countries of Guinea, Liberia and Sierra Leone.
But immigrant rights advocates say the Trump administration has been unusually aggressive in revoking TPS status, often on flimsy grounds. Advocates have noted that many immigrants have been in the United States for so many years that it makes little sense to compel them to leave, especially if they have U.S.-born children. Defenders of the administration's policy argue that TPS is, by definition, temporary and should end when living conditions improve in an immigrant's homeland.
Here, based on information compiled by the Department Homeland Security, are the immigrant groups that the Trump administration has asked to leave:
El Salvador
Approximately 262,500 nationals of El Salvador must leave by September 2019. Salvadorans are the largest group of immigrants that has benefited from the program. Salvadorans were granted temporary protection in 2001 after a series of earthquakes.
Over the years, the George W. Bush and Obama administrations extended TPS status for immigrants from El Salvador, citing drought, poverty and gang violence. California is home to the most TPS holders from El Salvador, approximately 49,100 people. Nielsen revoked protections after determining that recovery efforts after the 2001 earthquakes were complete.
Haiti
Nearly 59,000 Haitan immigrants will have their legal protections stripped on July 22, 2019. Haitians were allowed to stay in the U.S. following a massive earthquake in their home country in 2010. Homeland Security officials revoked TPS status for Haitians citing economic improvements and decline in number of displaced people following the earthquake.
Honduras
Temporary protected status for 86,000 Hondurans is set to end in January 2020. Hondurans were granted protection in January 1999 after severe flooding and damage from Hurricane Mitch. Nielsen determined that conditions have improved and people can safely return. Past administrations have renewed TPS status for Hondurans. The country continues to be plagued with violence and corruption.
Nepal
The Trump administration is giving immigrants from Nepal until June 2019 to leave. Homeland Security officials estimate that roughly 14,800 Nepalese were granted protection following a 7.8-magnitude earthquake that struck on April 25, 2015. The Trump administration terminated protections after deciding that conditions in Nepal have improved.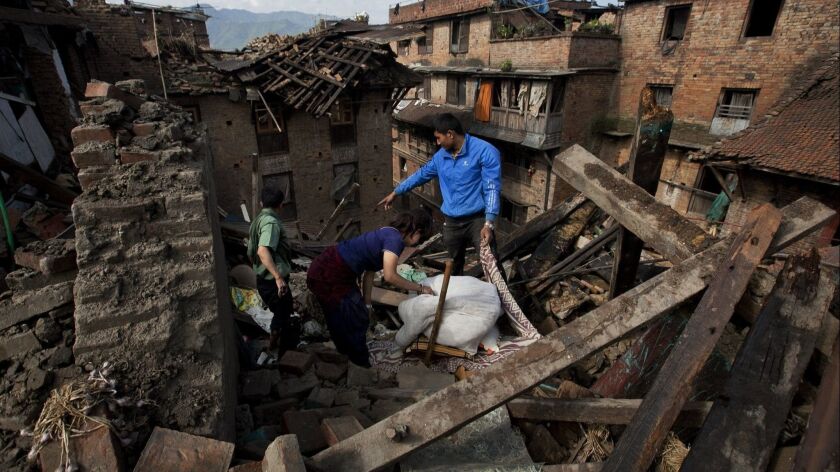 Nicaragua
About 5,300 immigrants from Nicaragua benefit from TPS status. The program for Nicaraguans is set to expire in January 2019.
Nicaragua was granted TPS status January 1999 after the devastation caused by Hurricane Mitch. The last extension was given in May 2016 after officials determined conditions had not significantly improved. The Trump administration justified lifting TPS status for Nicaragua by saying recovery efforts had ended.
Sudan
An estimated 1,040 immigrants from Sudan benefit from TPS status. Come November, Sudanese immigrants will have their protections stripped. The immigrants had been granted protection in 1999 because of armed conflict and violence.
Former acting Homeland Security Secretary Elaine Duke lifted TPS status for Sudanese immigrants last September. Despite continued food shortages and a United Nations report that found 2.3 million people have been displaced, Duke said that the ongoing armed conflict is limited to particular areas and residents' safety is no longer threatened.
Follow me on Twitter @melissaetehad
---
Must-read stories from the L.A. Times
Get the day's top news with our Today's Headlines newsletter, sent every weekday morning.
You may occasionally receive promotional content from the Los Angeles Times.