Once dismissed as 'Tumbleweed Tech,' UNLV joins the ranks of top-tier research universities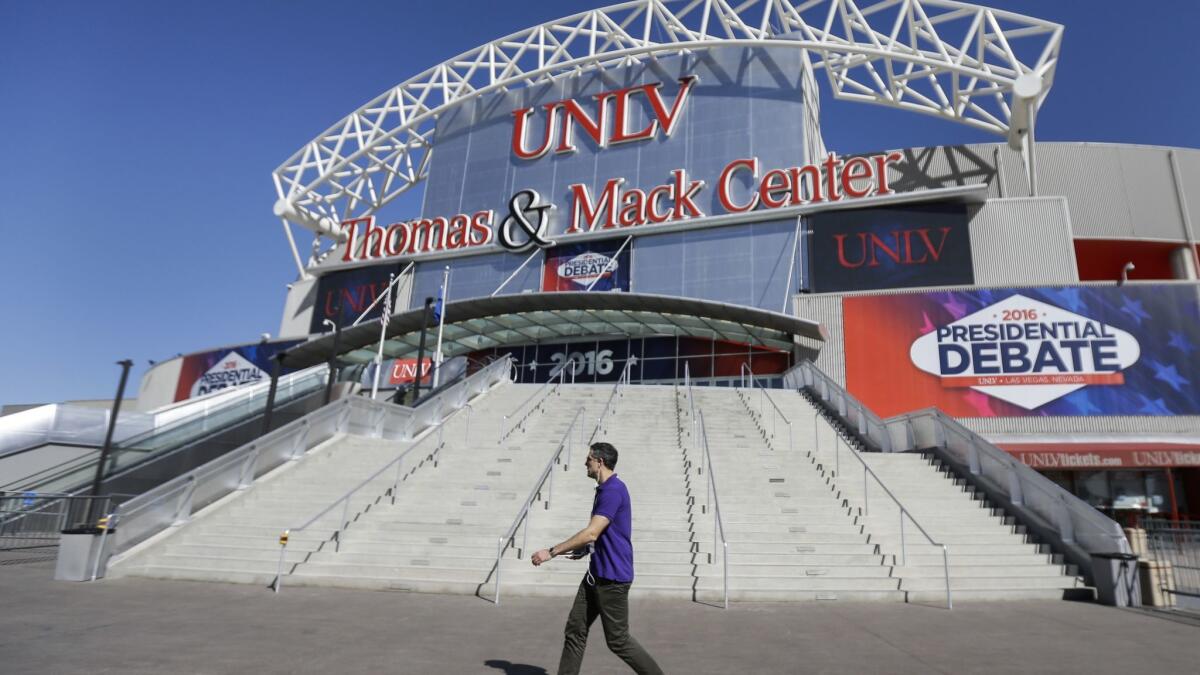 Reporting from Las Vegas —
Marta Meana was sitting down at her desk in her office at the University of Nevada, Las Vegas, on a recent morning when she opened an email she hadn't been expecting.
She read it. And then read it again to make sure. "Maybe five times," she said with a laugh.

For the record:
3:45 p.m. Dec. 22, 2018An earlier version of this article said Victor Borden is a professor of higher education at the University of Indiana. He is a professor at Indiana University
The UNLV president, satisfied the contents were true, immediately went down the hall to tell the provost and executive vice president, Diane Chase. The school had just received a recognition it had been working toward for decades: being named a top-tier research university by the Carnegie Classification of Institutions of Higher Education.
"I was a little bit quiet at first," she said. "Then, of course, I wanted to shout it from the rooftops."
It was a critical — and big — step for the school as it joined the top 2.5% of universities to achieve such a designation. The Carnegie Classification now has 130 universities with that label and added 15 this year, including a second university in the Silver State — the University of Nevada, Reno.
The designation means greater availability to grants and contracts, more prestige to draw faculty and students.
Victor Borden, professor of higher education at Indiana University and director of the Carnegie Classification, said the designation is based on the universities' level of research activity and spending, staffing and the conferral of doctorates.
Others that achieved the designation this week included Auburn University, Mississippi State University, Oklahoma State University and the University of Texas at El Paso. They join a list of long-standing R-1 schools such as Harvard, Stanford and Johns Hopkins. The R-1 designation stands for "very high research activity."
It's also a big step for Nevada, which was named the fastest-growing state in the country this week along with Idaho, according to U.S. Census data. Nevada's population rose 2.1% to surpass the 3 million mark this year.
With the recent addition of its first professional sports team — the NHL's Golden Knights — and the arrival of the NFL's Raiders in about two years, as well with UNLV launching its medical school in 2017, the designation is further evidence of an ongoing evolution of Las Vegas from a transient tourist destination known for its excesses to a place where people actually live, work and share a sense of community.
John L. Smith, a columnist for the political online news site the Nevada Independent and the author of a dozen books charting key drivers and developers in Las Vegas — including casino moguls Steve Wynn and Bob Stupak, said it wasn't long ago that UNLV was known as "Tumbleweed Tech." Or, he said, as a basketball powerhouse that just so happened to have a school attached to it.
Vegas, he said, has largely been known for the glitz of the Las Vegas Strip and all of the trappings that came with its moniker, Sin City.
Not that tourism is disappearing.
It's still a lifeblood, and the city sees about 40 million people arrive annually to experience gambling, shows and the wink-and-a-nod debauchery it sells. But, he said, the city is also maturing and building more of a foundation seen in other metro areas. A research university, he said, is a cornerstone to that growth.
"I think these recent developments, which have happened quickly, are contributing to the kinds of things that people look at and say 'we've arrived and we're a city in full,' " Smith said. "There is greater depth here than the boomtown that people once only thought of when it came to Las Vegas."
Research, he said, is one of the key points to drawing companies to a place. It produces more jobs, partnerships and a lure for employees to see the existence of big-city amenities, he said.
UNLV reported expenditures in research rising from $42 million in fiscal year 2015 to $66 million in 2017.
The University of Nevada, Reno, saw its research expenditures hit $100 million in fiscal year 2017 and hoped to see that figure climb to $130 million within two years, according to statements made last year by the school's president, Marc Johnson.
Reno has been touted as a high-tech growth sector, and the population of the city and surrounding Washoe County has grown recently by almost 2%.
Mridul Gautam, vice president of research and innovation at the University of Nevada, Reno, said the designation will continue to help the school draw research talent from the Bay Area and fortify the expansion of jobs in the Reno area.
"To be among the best and be categorized as an institution pursuing research, well, there is a lot more to attracting talent to your school than just a good laboratory," Gautam said. "They want to come to a place with an innovative ecosystem that also produces jobs within the community."
By way of comparison, more established schools with the R-1 designation — such as Harvard and Stanford — have expenditures in excess of $1 billion for research and development.
Mississippi State University, which joined the R-1 designation this year, was at about $241 million in overall research and development funding, according to the school's news release.
Once an R-1 designation is obtained, however, it doesn't mean the school automatically retains it forever. Borden says schools can be stripped of their R-1 status if they fail to meet the criteria when universities are reviewed every three years. Dartmouth College, for instance, lost its R-1 status before regaining it this year.
Meana said UNLV hopes to "double or triple" its research expenditures in the coming years. She said she saw UNLV really pushing forward on health care, with a large emphasis on neurological brain disorders.
As the school continues to grow — it currently has an enrollment of about 30,000 students — the designation will likely lure more talent to the campus, both for faculty and those seeking advanced degrees., she said.
"The whole thing, from where we were to where we are now, is a culture change in which you have to build institutional confidence," Meana said. "That is what we're doing. More and more of our faculty and staff are dreaming bigger than ever."
david.montero@latimes.com | Twitter: @davemontero
Sign up for Essential California for news, features and recommendations from the L.A. Times and beyond in your inbox six days a week.
You may occasionally receive promotional content from the Los Angeles Times.