Love letters in the wall: A historical mystery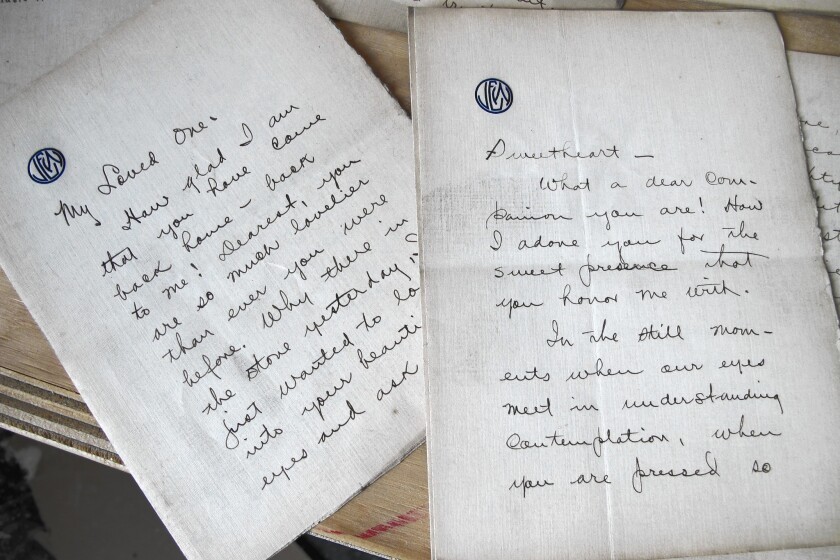 Reporting from RALEIGH, N.C. —
J. Edwin certainly loved Annie. But did Annie love him back?
A century ago, a lovesick young man wrote passionate letters, brimming with longing and desire, to his girlfriend. "You make me so mad with love," he wrote in one missive dated Aug. 22, 1916.
Fifteen of J. Edwin's ardent letters, written in exquisite longhand on monogrammed stationery, were hidden inside a brick wall decades ago. They were discovered two days after Christmas, during renovation of a 19th century building in downtown Raleigh.
Like an early Valentine Day's gift, the letters are now the property of two modern young lovers, Kathryn Volpe and Brandon Garner. Garner presented them to Volpe after discovering them inside a dusty crevice at a gym he's renovating.
Volpe fell in love with J. Edwin and Annie. "As cheesy as it sounds, I got that warm, fuzzy feeling — just all gushy inside," she said, thumbing through the letters just a few feet from the crevice where they lay hidden for so long.
"Anyone who has truly loved someone can identify with J. Edwin, even if they can't articulate their feelings as beautifully as he does," she said.
She decided to share the love. Volpe began posting the letters, serial style, at sweetpeabakerync.com, the website of a bakery she owns, in the hope that someone would identify the couple so that she could donate the letters to surviving family members.
Readers can follow the love affair as it blossoms through the florid hand of J. Edwin. He was an ornate stylist capable of torrid pleadings, such as, "Yield up your own precious being to the impassioned arms and lips of him who bears this love for you."
Whew.
On Valentine's Day, Volpe plans to publish the last of the 15 letters — and the likely identities of J. Edwin and Annie. The letters so fascinated two state government archivists and two amateur genealogists that they unearthed old documents linking the letters to a real-life couple.
They discovered that J. Edwin wrote the letters while living in a YMCA in Virginia. Annie apparently was in a mountain cabin in the same state.
Before offering what Volpe calls "the big reveal," let's hear more from J. Edwin:
Letter Four, Aug 19, 1916: "Oh, speed the hours Loved One of mine, when I may take your lovely self again, and hold you and press you again to my aching breast, and feel my love re-kindled as I worship at your shrine!"
Volpe's running blog commentary: "J. Edwin is doing some serious pining."
Letter Seven, Aug. 22: "Sometimes a man will lose his useless head completely when his own Love gives him the precious privilege of looking into her eyes."
Volpe: "J. Edwin gets real."
Letter Eight, Aug. 23, in which J. Edwin meets with Annie — and her mother: "Dearest, the hours you gave me last night were the sweetest ones I have known, and you were so full of love."
Volpe: "Things are heating up."
You get the idea. So did Garner. He said the letters intrigued him, but he thought Volpe would appreciate them more, so he handed them to her, albeit unceremoniously. But then Garner picked up his game, romantically speaking, and read several of the letters aloud to Volpe.
She was smitten.
So were some of the kickboxers and mixed martial arts fighters helping Garner renovate his gym. "All these tough guys at the gym, they read 'em," Volpe said. "They don't tell each other, but they tell me."
There are only letters from J. Edwin, not Annie, but it appears that, in time, she reciprocated his love. Records show that a man named John Edwin Walker and an Anne Goodyear were married in June 1918. J. Edwin was 26. Annie was 22.
Raleigh city directories reveal that the couple lived as husband and wife in a downtown hotel in 1927 and 1928, and in 1929 in a nearby neighborhood. Walker is identified as vice president of the Nash Motor Co., a few blocks from the building where the letters were found.
But the story doesn't end well. At some point, J. Edwin and Annie began living apart — Annie in her native Virginia, J. Edwin in North Carolina. No one has found divorce papers, Volpe said, but public documents show that the lovers went their separate ways sometime after 1930.
Annie worked for a school in Charlottesville, Va., according to documents provided to a Raleigh newspaper by the amateur genealogists. J. Edwin got a job as a bank manager in Sanford, N.C., 42 miles south of Raleigh.
J. Edwin's death certificate is a portrait of despair. It reveals that he died alone, of "diverticular colon," on Oct. 30, 1971, in the Sanford hotel where he lived. He was 70.
The certificate lists him as "widower," but that word is crossed out and replaced with "married." Under "surviving spouse," the document lists "Annie Goodyear."
Annie outlived J. Edwin by 19 years. She died at age 94 on June 15, 1990, and was buried in Charlottesville.
But Annie apparently made one last gesture of love to J. Edwin. One of the enterprising genealogists told the News and Observer newspaper that a 90-year-old Sanford man who knew J. Edwin told her that Annie traveled to Sanford in 1971 after J. Edwin's funeral to help tie up his affairs.
Even if Annie did make that final visit, other mysteries endure. Had Annie returned the letters to J. Edwin? Had J. Edwin demanded them back? Why and when were they stashed in the brick wall? Could J. Edwin no longer bear to read them?
Volpe can only wonder. As she continued to post the love letters, she said she chose to focus on the romance of the couple's early years, and on Annie's apparent final farewell to the man who called her his "beloved."
"Everyone wants a happy ending," she said. "But even love lost is something to appreciate. They were lucky to have their love for as long as they did."
Twitter: @davidzucchino
---
Must-read stories from the L.A. Times
Get the day's top news with our Today's Headlines newsletter, sent every weekday morning.
You may occasionally receive promotional content from the Los Angeles Times.