A new president, a new predator and a liberal island is worried about its way of life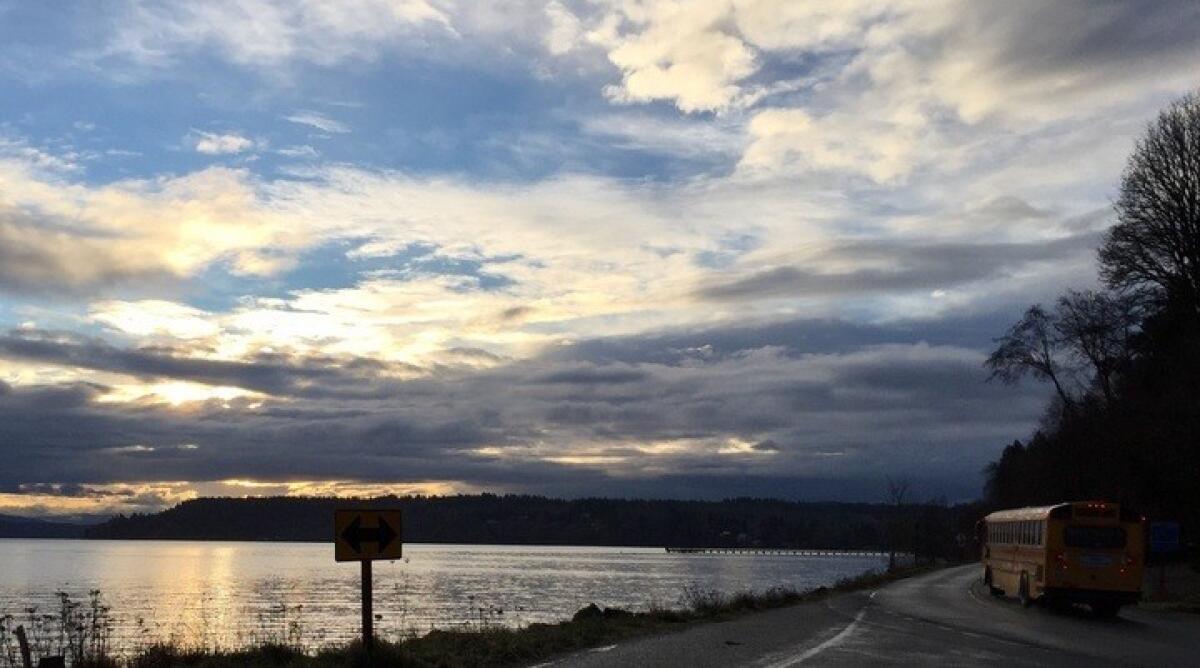 Reporting from VASHON ISLAND, WASH. —
Shortly after Donald Trump accepted the Republican nomination for president last summer, a cougar swam across a salt-water channel to this island oasis amid Seattle and its suburbs.
At the time, many people here viewed the candidate and the big cat as interlopers, soon to be exposed and expelled. But both are still around — and one is clearly causing more concern than the other on this increasingly anxious island.

For the record:
9:34 p.m. Dec. 2, 2023This article incorrectly spells Tristan Gornall's last name as Dornall.
"If we could have the cougar or Trump for the next four years, I'd take the cougar," said Tristan Dornall, 27, who has not ventured alone into the woods near his house since he had a startlingly close encounter with the animal there in November. "I mean, definitely."
If Seattle is the predictably Democratic capital of the Pacific Northwest, Vashon, just 20 minutes away by ferry, is one of the region's experimental laboratories, a place where new strains of environmentalism and progressivism flourish, unencumbered by mainland reality. It presents an increasingly rare constituency: rural but not red.
Country roads curve through art galleries, alpaca farms and sustainable distilleries. A nonprofit's popular "rewilding" program teaches families "our renowned approach to deep nature connection and the bundle of teachings we call Coyote Mentoring."
Of the 7,701 people here who cast ballots for president in November, fewer than 13% voted for Trump, and nearly 78% backed Hillary Clinton.
Now, as the Trump era unfolds, Vashon is confronting what many parts of liberal America feel, an uncomfortable blend of realization, determination and fear. And this being an island — a bubble, yes, islanders know that — there is also a temptation to retrench, to shrink the world to the immediate shoreline.
"I tend to be very globally minded, and I think my processing right now is to think more locally," said April Sherman, whose great-great-grandfather homesteaded here in the 1870s. "I feel a little out of control, like I can't do much."
Some Vashon residents say they want to reach out, to bridge the cultural and economic divisions Trump's campaign helped reveal. Many also express resolve to fight harder than ever to protect the planet and their unique piece of it.
"Since the advent of environmental laws, I think there is more gravely at risk now than ever before," said Amy Carey, whose fight to stop a gravel mine from being dug here more than a decade ago led her to found Sound Action, an assertive nonprofit that works to protect nearshore areas all over Puget Sound. "And we have no gimme room for error."
A couple of years ago, stories shot across the Internet declaring Vashon the most liberal place in the United States based on an analysis of political donations. Not long after, that analysis was debunked by an island newspaper, which concluded that, using the same measure, Vashon was merely more liberal than Seattle. Other skeptics have questioned what liberalism really looks like in a wealthy enclave where more than 90% of its 10,600 residents are white.
Islanders, ever self-aware, are trying to answer the question themselves. They have been working to finalize a new zoning plan that aspires to a challenging progressive balance — increase the amount of affordable housing without compromising their rural way of life or giving too much freedom to developers they do not trust.
One idea is to create a nonprofit that would build only as much housing as island workers need and in a way that puts the environment first.
"I know we are grieving with the results of the national election," Martin Baker, a longtime resident and environmental activist, wrote to concerned residents last fall. "I suggest this is a place to take action. It is, after all, our home."
That word, "home," resonates deeply here. Cashiers in the grocery store pick up conversations with customers from the last time they came in. Baristas anticipate orders. Not only do people leave their cars unlocked, some leave the keys on the seat.
The novelist Michael Chabon once lived on Vashon and has said it helped inspire the setting of his 2002 book, "Summerland." In the book, the fictional Clam Island was connected to the mainland until a bridge collapsed. It did not take long for islanders to view their new isolation as a good thing. Vashon never had a bridge, but its residents, like those in the book, are content to come and go by ferries, which run frequently from two terminals on the island.
"You could not get a cup of coffee or clam chowder, or hear all about your neighbor's sick cousin or chicken, on the Clam Narrows Bridge," Chabon wrote, adding, "Islands have always been strange and magical places. Crossing the water to reach them ought to be, even in a small way, an adventure."
As for Trump, some here are trying to take a long view — hoping that his election is an aberration, a difficult but not insurmountable hurdle in the march toward a more progressive era.
Many residents note that the West Coast voted overwhelmingly Democratic (some big cities and counties voted more decisively for Clinton than Vashon did). They emphasize that Clinton won nearly 3 million more votes nationwide (suggesting they may not be in such a bubble after all), and they point out that Trump is viewed with suspicion even among many in his own party (another reason, they hope, he might not win a second term).
"You have to empathize with and understand those people," Derek Churchill, who teaches sustainable forestry practices on Vashon but also in conservative timber towns, said of Trump voters in rural areas. "A lot of these folks are so desperate.
"They live in places where schools are closing, where there are meth addiction problems, these communities that are slowly spiraling downward. That is something we need to figure out how to address. That's got to be a wake-up call."
Bianca Perla, who grew up on the island, earned a doctorate in ecology at the University of Washington and now runs the Vashon Nature Center, said that, although she fears a Trump administration, it may not be a bad thing that his election pierced what she called Vashon's "bubble mentality."
"Now we see more widely," Perla said. "Our island, the nice thing about it is we can be sort of insular and have this beauty all around us. But the cold reality is that it's affected by larger systems. It's all connected."
That dynamic, in fact, is what prompted the cougar to make his big swim last summer.
Sergeant Kim Chandler of the Washington Department of Fish and Wildlife said the cougar likely was seeking a bubble of its own — a place with lush forests and abundant prey, a refuge from the increasingly developed region beyond Vashon. Now, however, after the cougar has been linked to at least four alpaca deaths, the state is trying to trap it. If the state succeeds, the animal may be outfitted with a GPS collar and released in the Cascade Range.
"If you picked that island up and plopped it down somewhere near the mountains," Chandler said, "it'd be exactly the same habitat."
ALSO
Trump's cabinet is complete: No Latinos for first time since 1989
As soon as he takes office, Trump will move to clamp down on immigration
Mnuchin commits to looking into Trump's foreign debt
Sign up for Essential California for news, features and recommendations from the L.A. Times and beyond in your inbox six days a week.
You may occasionally receive promotional content from the Los Angeles Times.